Financing is the first issue that many people ask about when considering buying a property abroad. It opens the door for a lot of buyers.
In fact, in my experience, financing is the single most important factor in a development's sales. I've seen condos "fly off the shelves" when financing is available, while similar projects in the same area languish when it's not.
Among those who seek financing, I see three major groups:
People who don't have the cash for an overseas purchase, which is often a second home.
Investors who want to spread their available cash around, using leverage to increase their returns.
Young buyers who want to "get their foot in the door" now, while prices are good—especially beachfront prices—and then save the property for their eventual retirement.
Bank financing is usually hard to get overseas, especially for nonresidents of the country where the property is located. Some private sellers will finance your purchase, but this is normally for a short term… often a year or two. And some buyers will take a second mortgage on their property back home, using the money to buy abroad… a great option if you can do it.
But the most common form of financing you'll find abroad is developer financing. It's usually easy to qualify and quick to set up.
Here are a few of my favorite projects that are currently offering developer financing.
Mexico: Terrazas Condos, Luxury On The Mexican Riviera Maya
Terrazas is part of the world-famous Bahia Principe Residences & Golf, which, in terms of amenities and infrastructure, is the most impressive residential development on Mexico's Riviera Maya. Bahia Principe Residences & Golf is a high-end, master-planned community, located about 20 developer-minutes south of Playa del Carmen (32 minutes actual time). The complex features 4 hotels, 11 specialty restaurants, 22 bars, 7 pools, 3 spas, 5 tennis courts, a basketball court, a beach club, and a shopping center. Plus, a championship 18-hole, par-72 golf course, as well as an executive 9-hole, par-27 course… both designed by Robert Trent Jones II.
Within Bahia Principe Residences & Golf are several sub-communities, each with its own private amenities. The Terrazas condo project is one of these sub-communities.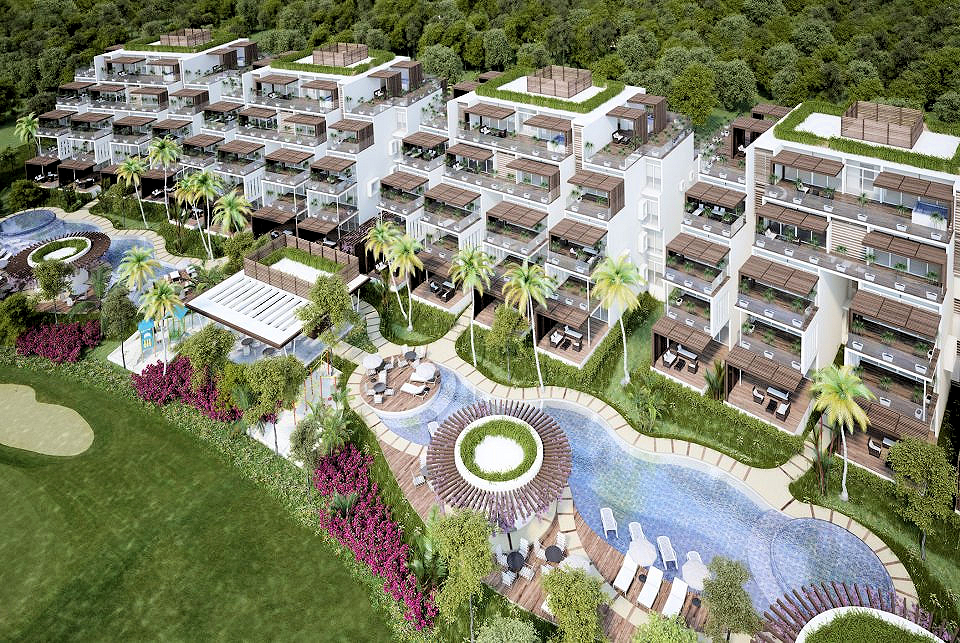 Terrazas is a new, contemporary-styled condo complex that will include a total of six buildings. The project has a total of 90 units, one to three bedrooms, ranging from 60 to 277 square meters (738 to 2,720 square feet) in size. The buildings in Terrazas feature an innovative design based on overlapping rectangles; the result is large, open spaces, big terraces, and spacious floor plans. The project is located at the 7th hole of the main course.
Prices at Terrazas start at US$169,530 for one-bedroom units and go up to US$409,500 for a three-bedroom penthouse. Units are available now.
Each unit comes with a fully equipped kitchen with granite countertops, marble- and ceramic-tiled floors, high-quality wood finishing, and expansive floor-to-ceiling windows with views of the surrounding golf course. Further, all units will utilize mini-split-type air conditioning. (If you're not familiar with mini-splits—which are common outside the United States—check it out here.)
If you'd like to rent your condo out, the developer offers a fully turnkey rental program.
Residents in Terrazas will enjoy two lagoon-style pools with recreational areas, a playground for children, an outdoor social area for grilling, two multi-purpose rooms, and a gym. Plus, residents will have access to the entire resort's amenities (listed above).
Financing terms:
Down payment – 50%
Term – five years
Interest rate – 7%
I think this project is best for those wanting a second home in a luxury setting, with a huge package of high-end amenities… including 11 restaurants and plenty of golf. I'd also recommend it to those who want a rental property on the Riviera Maya.
The Terrazas developer, Bahia Principe, has a long track record of success with large developments around the world. You can contact them via this page.
Belize: Grand Baymen Oceanside Offers Luxury Beachfront And Good Returns
Grand Baymen Oceanside is a luxury residential beachfront resort, condo-hotel, and conference center located on the island of Ambergris Caye (pronounced key), which is a narrow, 26-mile-long island just off the coast of the Belize mainland. Ambergris Caye is the big draw in Belize, accounting for the lion's share of Belize's (significant) tourism income.
Grand Baymen Oceanside is situated on a section of prime beachfront, just a few minutes' walk south of San Pedro Town. The immediate area has a great assortment of seafront fine dining options, as well as local restaurants, cafés, shops and grocery stores. For more variety, you can walk into town.
I recently went to see the area and the resort site. Seeing the property took all of 20 minutes… but I managed to stretch the evaluation into four days, while enjoying the local waterfront restaurants, beaches, and amazing diving on the world's second-largest reef.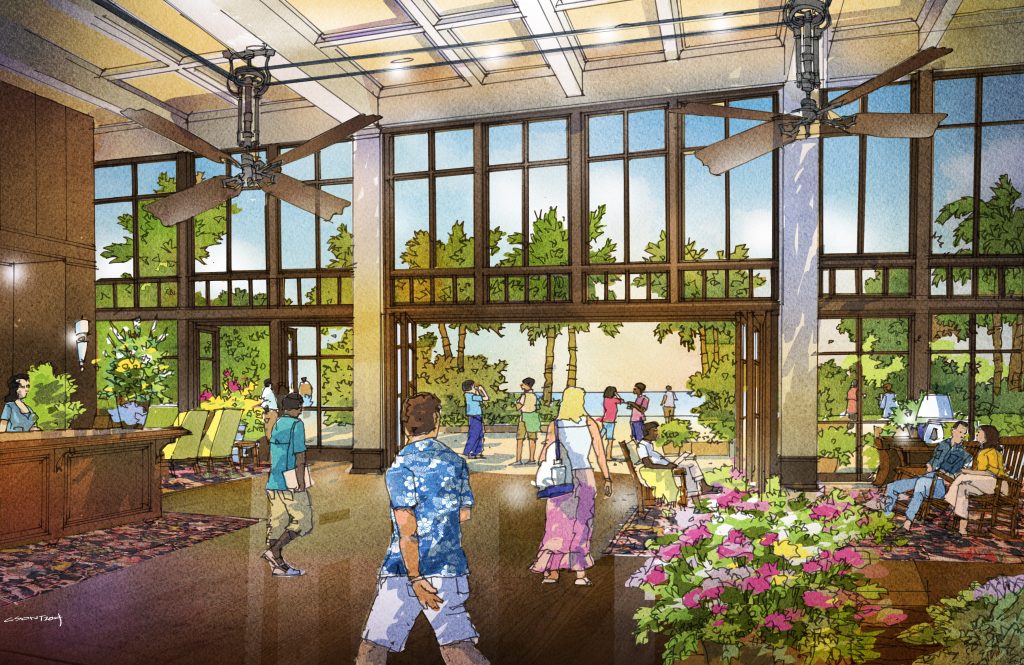 Of the 144 units being built, only 54 units are available for purchase. Of those, all but 14 are sold. The units on offer are studios as well as two-bedroom and three-bedroom apartments. Construction is now underway.
To operate the resort, the developer (ECI Development) has signed a Letter of Intent with a major, worldwide hotel chain. So you can buy an apartment, put it into the hotel's rental pool (when you're not there), and then split the income. It's not mandatory that you join the rental pool, but there are a limited number of condos that may be kept out of the rental pool, per the agreement with the hotel operator. Inquire using this link to check on availability.
Grand Baymen Oceanside will be loaded with the amenities that you'd expect in a high-end resort. But in my view, its biggest unique asset is the conference center. Aside from the British-colonial design, this is one thing that really sets them apart from the competition… it will be the only high-capacity conference center of its type in the entire country.
This will help to keep the rooms full and boost everyone's ROI.
Units at Grand Baymen Oceanside range from US$239,900 for a studio, to US$689,900 for the largest unit in the best location. (Prices do not include taxes or furniture.) For those in the hotel pool, projected ROI's range from 6.1% to 8.8% by year five, and increase from there as hotel rates go up.
Financing terms:
Down payment – 50%
Term – five years, with option to refinance*
Interest rate – 6.9%
*You can finance your unit for five years initially, and you can choose an amortization rate of between 5 and 30 years to control the size of your payment. A balloon payment is due in five years, after which the developer has made local financing available.
Grand Baymen Oceanside is best for those who want to invest—or own a second home—in one of Belize's premium locations. For those seeking rental returns, the projections here are among the best I've seen. Follow the link to get in touch with the developer.
Dominican Republic: Vista Golf Project In Playa Nueva Romana
Vista Golf is situated on the nine-hole executive golf course that's part of Playa Nueva Romana… a large, master-planned, luxury beach and golf resort. Vista Golf is a sub-project that's within Playa Nueva Romana… a relationship much like the Terrazas project above.
Playa Nueva Romana is located on a sandy cove, on the DR's Caribbean coast near La Romana… about an hour east of the capital, Santo Domingo. The community features more than 2 kms (1.25 miles) of private beach (the entire bay), a world-class, 18-hole golf course with 4 holes on the beach, a 9-hole, par-3 executive golf course, and a large marina with 228 moorings. To date, approximately 300 homes and condo units have been built, and another 100 are under construction. Additionally, another 150 lots have been sold.
Vista Golf is an exclusive 18-unit apartment complex nestled within Playa Nueva Romana's 9-hole, par-3 executive golf course. The complex will be composed of three buildings, each consisting of six two-bedroom units. Construction will begin shortly.
Aside from the private beach and golf courses, Vista Golf residents will have access to shopping and leisure areas throughout the development, including a grocery store, boutiques, restaurants, bars, a casino, and a beach club. There is also a full-service hospital onsite, and a bilingual international school for residents with young families.
In addition to having access to the amenities of Playa Nueva Romana, residents of Vista Golf will have their own amenities, as well, such as a large adult pool, a kids' pool, and an outdoor social area for grilling.
Each Vista Golf Apartment unit comes with a fully equipped kitchen with granite countertops, marble- and ceramic-tiled floors, high-quality finishes, and floor-to-ceiling windows with views of the surrounding executive golf course. All units will have mini-split-type air conditioning. The units feature two bedrooms… one with an en-suite bathroom. They also have a small terrace with views of the golf course.
The starting price for Vista Golf apartments is US$198,000, and you can get in touch here.
Financing terms:
Down payment – 50%
Term – seven years
Interest rate – 7%
Local bank financing is also available to nonresidents in the DR.
Vista Golf is good for the income investor, with occupancies in this resort currently running over 80%. (The developer offers a fully turnkey rental program.) And, if you're a golfer who would like a luxury second home, Vista Golf could be just what you're looking for.
Whether you have cash on hand or not, it will pay you to consider developer financing. On pre-construction projects, it will lower your risk… because the developer doesn't have all your money. And, perhaps more importantly, it allows your cash to go farther, making it available for other investments.
Lee Harrison
Editor, Overseas Property Alert