A Great Lifestyle With Inexpensive Beachfront
Ecuador's coast has lots of beautiful, unspoiled, and fairly undeveloped seaside towns. In fact, Ecuador's undeveloped coast is what draws a lot of people to the country.
But if my agenda were to enjoy resort-style amenities—restaurants, cafés, nightlife, groomed beaches, and an active real estate market— then Salinas is where I'd buy.
I first visited Salinas back in 2002, and have kept an eye on it over the years. Recently, two things changed that have affected the property market:
Ecuador's major coastal earthquake in 2016 actually caused an increase in tourist and rental traffic to Salinas.
Salinas—always accessible from the international airport at Guayaquil—now has its own airport with flights to Quito… making it accessible to Ecuador's other major international airport.
When you come to Salinas, Ecuador, during the North American winter, you'll find an energetic, bustling Pacific resort city soaking up some of the world's best weather. As I write this (on Saturday, April 29), Salinas is enjoying a mixture of clouds and sunshine, with high of 83°F (28°C)… a forecast that remains pretty much the same for the next 10 days.
In the real estate market, condo prices a few blocks back from the beach start at around US$65,000… while frontline oceanfront properties begin at around US$125k.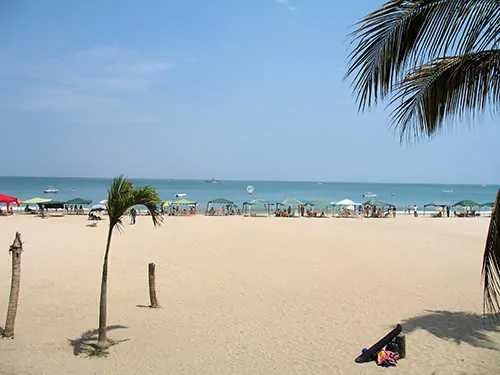 The North American winter brings warm sunshine to the wide beaches of Salinas
Salinas Commands A Great Position On The Ecuadorian Coast
Located at Ecuador's westernmost tip—on its south-central coast—Salinas occupies a unique position in more ways than one.
It is Ecuador's premier resort destination; a mature resort with a substantial rental and property market and a healthy tourist trade.
With around 50,000 residents in town, Salinas is a small city… but large enough to offer the services and infrastructure required by year-round residents.
It's fairly convenient to the international airport in Guayaquil (about two hours away), and it now has its own airport, with direct flight service to the nation's capital, Quito. Apart from Salinas, only Manta and Esmeraldas have airports with commercial service on the coast.
Salinas draws rental traffic during off-season periods in a way that I haven't seen elsewhere in Ecuador. More on that later…
Ecuador suffered a devastating earthquake in 2016, leaving many coastal cities damaged, and Salinas relatively unscathed. This has resulted in increased tourism and rental traffic in Salinas, as vacationers redirect their plans from places like Manta, Bahía, Canoa, and Pedernales.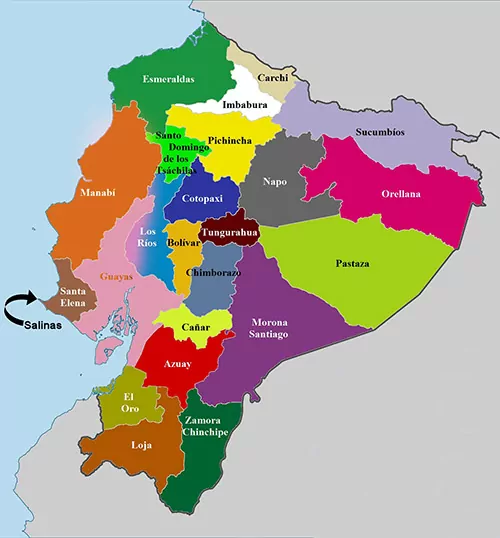 Salinas is located on Ecuador's south-central coast, on its westernmost tip
The beach here at the western end of Salinas is wide, sandy, and clean, bordered by the blue Pacific waters. Looking toward the end of the peninsula (west), you'll see quite a few motor yachts and sailboats from around the world parked in the attractive marina. Salinas has two nice yacht clubs in a country that has very few marinas… I've seen less than a half-dozen on the entire coast.
Looking to the mainland, the curving shoreline stretches for miles into the distance, with modern, tall buildings lining the waterfront mixed with old-fashioned apartments and seaside restaurants. A well-kept boardwalk runs the length of the beach.
On the beach, people relax under colorful umbrellas, play games, and swim in the safe waters. Just offshore, jet skis race back and forth leaving shimmering wakes trailing behind. It's no wonder that Cuenca and many other mountain cities empty out during vacation periods, filling Salinas to capacity.
Salinas boasts one of the few marinas anywhere on the Ecuadorian coast
My favorite part of greater Salinas is Chipipe, which is in the western part of the peninsula close to the naval base. It draws a quieter crowd… and because it's at the end of the beach areas, there's less traffic. The beaches are also wider and nicer than anywhere else in town. Just a couple of blocks in from the beach, you'll find a pleasant downtown area, with fine old homes and lower property prices.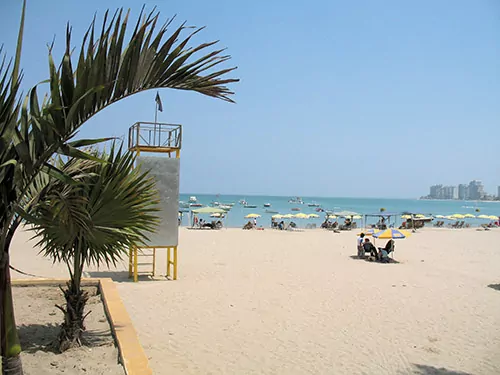 Viewed from the beach at Chipipe, you can see the high rises at the other end of the cove
Salinas is also famous for sportfishing, and has set a number of world records for sailfish, tuna, and black marlin.
Pay Attention To The Weather And This Rental Market Quirk
The year's best weather starts in November, with sunny skies and pleasant temperatures. From about February through April, this weather gives way to sunny mornings with showers in the afternoon… still quite pleasant. From May through to November, it's often cool, dry, and overcast. If you burn easily, you might like it during this time… if you crave sunshine, you won't.
But even during its period of overcast weather, Salinas benefits from the school schedule in Cuenca. The kids are out of school during June and July, and that's when a lot of families go on vacation. So there's a fair demand for vacation rentals during the time of year with the least pleasant weather.
This is good for North Americans, who can escape their winter to enjoy Salinas's best weather of the year… yet have some rental demand during the off season.
Beachfront Real Estate Prices Are Remarkably Low For A Seaside Resort
One thing that continues to attract buyers to Salinas is the low cost of real estate and low cost of ownership. Here are a few properties on the market today.
If you want immediate beach access and an unobstructed view, each of these properties is frontline:

This one is a luxury property at the higher end of the market. Located in a high-rise building facing the malecón (coastal promenade), this beachfront apartment is on the 14th floor and offers a spectacular view for miles. The size is 230 square meters (2,475 square feet) and the unit is only 4 years old.
It offers four bedrooms, three-and-a-half bathrooms, and two parking places, as well as an elevator, garden, pool, sauna, and gym. The unit is not furnished and the HOA fee is about US$200. The asking price is US$220,000.

Located in the exclusive Chipipe neighborhood, a few meters from the Yacht Club, this first-floor apartment offers a great beach and ocean view. The 25-year-old unit is completely remodeled, fully furnished, and, in its 160 square meters (1,722 square feet), offers four bedrooms, five bathrooms, parking, and an elevator. The monthly HOA fee is about US$120 and the asking price is US$130,000.

Located in the San Lorenzo area—one of the quieter neighbors of Salinas—this beachfront apartment is on the sixth floor with 95 square meters (1,022 square feet) of living space. It's got three bedrooms and two bathrooms, with parking, storage, a pool, terrace, and elevator. The building is 4 years old, and the HOA fee is US$150. The asking price is US$183,500.

Also located in San Lorenzo, this beachfront apartment is on the ninth floor and in its 60 square meters (650 square feet) houses two bedrooms and two bathrooms. Also included are parking, storage, a pool, terrace, and elevator. The building is four years old, and the HOA fee is US$150. The asking price is US$125,000.
My primary real estate contact in Salinas is Renato Gheno. Renato is an expat from Italy, who made Salinas his home last year. You can contact Renato directly at puravidaecuador@yahoo.com.
My preferred attorney is Grace Velastegui, who has done all of my Ecuadorian legal work since I met her in 2002.
Comparing Salinas To Playas
It's natural to compare Salinas to Playas because they're close to each other and they're both a convenient distance to the airport in Guayaquil.
Generally speaking, Salinas has a more mature second-home market, with a long, proven track record. If you're managing a rental, occupancies will probably be higher. If you live in Salinas full- or part-time, you'll find more year-round residents than in Playas. Also, the market is somewhat more liquid because of the high traffic and international crowd.
Playas, on the other hand, is a quieter setting that has more upside gain potential because it's more recently developed… and is just now gaining recognition. It's somewhat closer to the airport than Salinas.
Finally, Playas has more sunshine all year, since it's farther from the cold Peru Current that causes Salinas's part-year, overcast weather.
Getting To Salinas
As I mentioned earlier, there are now two ways to approach Salinas:
You can reach Salinas by first flying to the international airport in Guayaquil, and then driving. The flight to Guayaquil will take around four hours from Miami, and six-and-a-half hours from New York. Salinas is located just over one Realtor-hour from Salinas according to local agents… which comes out to an actual time of 2 hours, 12 minutes (as measured by my watch) to travel 91 miles (147 km).
Salinas now has its own commercial airport, which allows you to fly into Quito instead of Guayaquil, and then take a flight of less than one hour to get to Salinas.
Is Salinas For You?
I think Salinas is your best choice in coastal Ecuador if you want to live there part-time and rent your place out part-time. You'll have great weather during the North American winter, and some rental traffic during North America's summer.
Unlike most of Ecuador's coast, it's not off the beaten path, and it's far from undeveloped. But if you'd like a mature yet affordable market and the amenities that it brings, then Salinas may well be for you.
Lee Harrison
Editor, Overseas Property Alert
***
Letters To The Editor
Lee,
Is there any way to close out a Panama corporation you own (and that owns a house) and put the house in your personal name?
What would be the fees associated with this? Is it worth the hassle?
RC
What you need to do is buy the house from the Panama corporation. The fees will be those of a normal sale, except you won't pay a real estate commission. The transfer fee is 2%, and there is usually a 3% withholding when the corporation sells something.
Unfortunately, there's no American-style quitclaim in Panama to simplify the process. A real estate agent can easily estimate the fees for you.
Once you own the home, the corporation will die a natural death when you stop paying the annual fees.
As to whether it's worth the transaction, that's a function of how much you pay each year in corporate fees and filings (plus how much hassle it is to comply with the corporation's requirements) and how long you plan to own the home… If you're going to own it for a while, it's probably worth getting rid of the corporation.
***
Hi Lee,
I am considering investing in the mango farms in Panama for my retirement income, as I am 62 years old. Besides the currency risks (as I am living in Canada) there will be additional risk of Simply Natural going insolvent in the future and my title in the farmland not having much intrinsic value to provide any security. Your views on these will be appreciated.
I would also like your opinion whether I should invest in my personal name jointly with my wife and only daughter to avoid probate and inheritance problems if something happens to me… or should I open an offshore LLC and invest in its name. I believe opening and operating an LLC has substantial costs. Is there any tax or probate advantages that would justify the additional costs of an LLC?
Ashok
When deciding whether to hold a property in your own name versus an LLC, much of it has to do with your personal situation.
If you own property in Panama, you can manage inheritance by putting the property in your own name, and executing a will in Panama… as Panama has liberal inheritance laws when compared to most of Latin America. (Also, having it in your own name will help you to qualify for residency, if you choose to do that.)
You may want to opt for the LLC, however, if you have property in many different countries. That way, you can manage succession within the LLC, rather than having your heirs go through probate in several countries. LLCs also provide a layer of asset protection for large estates.
As to the solvency of the agro-management company, they've been around for a while, and the early buyers are receiving checks… so there are testimonials out there. But since it's not a public company, there's limited public information.
What I chose to do is visit the plantations myself (the ones in Panama), see the operations, and meet the management team and farm operators. I looked at their land, their water supply (and backups), and their practices for organic certification.
I'm not saying this so you'll take my word for it… I'm suggesting that it's a way for an investor to establish confidence in their operation and business. They're more than willing to host investors on such tours.
Follow this link to contact the developer about investing your own parcel of mangos or avocados.
***
Lee,
You've undoubtedly provided this information previously but I've missed it: Who is your attorney in the Dominican Republic?
Thank you
Bob
If you're interested in residency or a second passport, my attorney in the DR has it down to a science.
Have a question? You can write to Lee here.