Plus: Looking For Projects That Are Close To Nature
April 28, 2015
Mazatlán, Sinaloa, MexicoUS$1=C$1.23=15.83 Mexican pesosDear Overseas Property Alert Reader,
Mazatlán, Mexico, opened its first tourist hotel and restaurant in 1850 and has been a major international tourist destination since the 1940s. It began to fall out of favor in the 1970s, as more travelers opted for its cousin Puerto Vallarta, some 270 miles to the south.
But Mazatlán has undergone a mostly unnoticed resurgence during the past few years and has gained popularity with tourists, travelers, and expats.
A big factor in this comeback is Mazatlán's historic center, which has undergone a rebirth and now rivals the beach scene in popularity.
Prices for seafront properties are good in Mazatlán, by North American and most Latin American standards. And, recently, a market quirk involving the Canadian dollar has resulted in some properties trading at an additional 20% discount when compared to just two years ago.
Mazatlán is located on Mexico's Pacific coast, one (long) day's drive from the U.S. border. The main attraction here is almost 20 miles of beautiful beaches bordering the deep blue Pacific.
The beaches are lined with an excellent resort infrastructure, with loads of shopping, restaurants, and cafes, as well as the requisite banks and commercial establishments needed for full-time living.
Another reason Mazatlán is popular with North Americans is its excellent "winter" weather. From December through March, you can expect daytime temperatures in the high 70s degrees Fahrenheit, with lows in the low 60s, with little to no rain. Between July and October, temperatures will average around 90, with most rain falling between July and September.
With Mazatlán's great weather, convenience to the United States, good prices, and enjoyable atmosphere, I believe it's time for a closer look.
Mazatlán now has two major attractions: the reborn historic center and miles of beaches
Haven't Thought About Mexico For A While? Here's Why I Like It Today
The markets in many areas of Mexico are depressed. The Great Recession took its toll in Mexico, especially in the areas popular as second-home markets. Even today, many still have not recovered.
And, what's more, Mexico has not had the best of publicity during the past six years or so. The Great Swine Flu Epidemic of 2009 fizzled after a few cases, but its legend lasted for years. And the drug violence in some border cities (and beyond) has affected the perception of the entire country.
They're a culturally familiar neighbor. Having lived in South America since 2001, I'd forgotten Mexico's familiarity, which shows up in many small ways… like eating enchiladas instead of guinea pigs… or seeing full-size, V8, American pickups and SUVs on the road instead of those wimpy Chinese vehicles.
You can drive there. Mazatlán lies about 720 miles (1,160 kilometers) south of the Arizona border, a simple drive on highway 15D all the way, which will take you a little more than 12 hours to cover by car.
If you fly, it's two hours nonstop from Mazatlán to Phoenix, with nonstop service also going to Dallas, Los Angeles, and Minneapolis. As I write this, the flight to Phoenix is less than US$300 round-trip. Canadians have nonstops to Edmonton, Calgary, Toronto, and Vancouver, making Mazatlán one of the most convenient destinations for Canadians in Latin America.
The dollar is strong. At today's exchange rate of 15.38 pesos per U.S. dollar, prices are cheaper in Mexico than they've been in a long time. Real estate in Mazatlán most often trades in U.S. dollars, but the strong dollar makes everything else inexpensive.
U.S.-Canadian Dollar Exchange Rate Produces Unexpected Bargains
Properties in Mazatlán generally trade in U.S. dollars. So I was surprised when a local property expert told me that the strong dollar was creating bargains in Mazatlán's luxury property market. According to expat entrepreneur Shaun Klynstra, good deals were coming to market from Canadian sellers.
It wasn't obvious to me why this should be true in a U.S. dollar market, but it was worth looking into.
As it turns out, Mazatlán is a buyer's market right now. And many Canadian sellers have readjusted their expectations and decided to base their acceptance of an offer based on how it compared to what they paid in Canadian dollars, rather than U.S. dollars.
For example, let's say a Canadian seller bought his property in 2011 and paid US$350,000… which at the time was equal to C$350,000. Then, in 2014, he wanted to get his money out of the property and listed it for US$350,000. It didn't sell.
So the Canadian seller decided that he'd be happy to recover his cost in Canadian dollars instead, given that it's his home currency. At today's exchange rate of C$1.23 per U.S. dollar, his C$350,000 final price works out to around US$284,600.
So the Canadian seller heads home to Alberta and redeposits every penny he took out to buy the property… while the American buyer gets more than a US$65,400 discount.
There are some good deals in Mazatlán on U.S. dollar-priced properties… but the deals from Canadian sellers are often better.
Mazatlán's Centro Histórico Is Better Than Ever
The historic center here in Mazatlán was a pleasant surprise, and it turned out to be my favorite part of the city. While somewhat seedy in years gone by, Mazatlán Centro Histórico has undergone a renaissance in recent years. It is a compact, attractive, and walkable peninsula, with an orderly Spanish colonial street layout.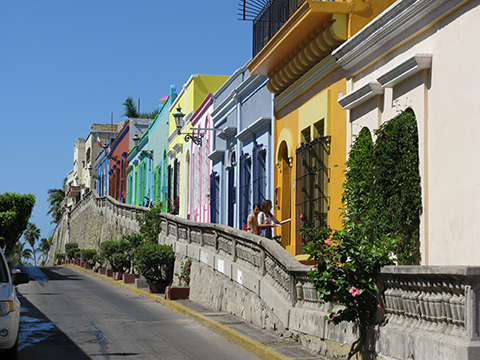 The Centro Histórico in Mazatlán has undergone a major transformation
Ground Zero for this renaissance is Plaza Machado, which is now surrounded by a pleasant array of outdoor cafes and international restaurants. Forming the eastern border of the plaza is Calle Carnaval, which is a pedestrian walkway at the square and becomes a street when you get more than a block away.
Just off the plaza is Teatro Ángela Peralta—a beautifully restored theater, originally opened in 1874, which is open for concerts, tours, performances, and events.
The closest beach to the Centro Histórico is called Olas Altas, which means "high waves." It's about four blocks west of Plaza Machado. I'm not sure how it got its name, because the water here is sheltered and tame. The beach itself is a crescent-shaped, sandy cove about a quarter mile (400 meters) in length.
The shoreline of Olas Altas is lined with cafes, restaurants, and a couple of hotels. Bright and early each morning, the tables at these seaside venues fill up with locals and expats who come down for a good cup of coffee and breakfast.
Centro Histórico is best for a buyer who wants "more Mexico, less resort." The areas around Plaza Machado and Olas Altas beach have plenty of visitors and expats, but the rest of Centro Histórico is old-fashioned Mexico.
If you walk just two blocks north and two blocks east from Plaza Machado, you're in the middle of a bustling downtown that is genuine Latin America, with hundreds of small shops, banks, businesses, and parks.
If a nontouristy Mexican lifestyle is your objective, I think you should consider Mazatlán's Centro Histórico. It's also the best area if you're considering buying and restoring a vintage property.
What's On The Market Today?
| | |
| --- | --- |
| | In Centro Histórico, we looked at several available apartments in the Majestic building. The penthouse was my favorite, with two bedrooms, three baths, and 1,882 square feet of living space… which is 175 square meters. The units in this building are brand new and located only a half block from Olas Altas beach in a nice neighborhood for restaurants and cafes. It's around three blocks from Plaza Machado and across from a small park. The asking price is 3.63 million pesos, which is about US$234,900 at today's exchange rate. |
| | |
| --- | --- |
| | The best project I found in Centro is a building called Vue Centro Histórico. It's a modern condo building with a pool and all the amenities, on the edge of Centro Histórico and on the waterfront road with unobstructed views. My favorite unit here was 701, a furnished three-bedroom, two-bath apartment with magnificent sea views. This should go for US$260,000 at today's exchange rate. Another available unit was 605, an attractive two-bedroom, two-bath condo, selling for US$219,000. |
Take a look below at a photo I took from apartment 701: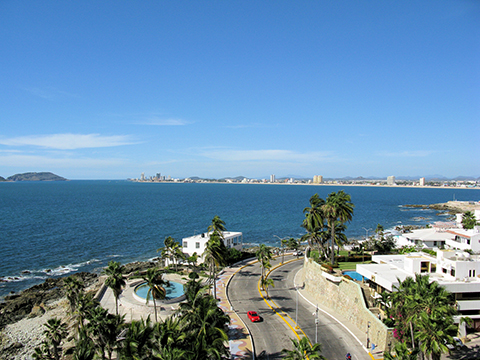 Enjoy amazing views from the living room, master bedroom, and terraces of the Vue Centro Histórico building
My Real Estate Resource In Mazatlán
My preferred real estate contact in Mazatlán is Shaun Klynstra, an expat in Mazatlán since 2002 and founder of Solutions Mazatlán, a real estate and property management firm. Shaun lives on the beach near the Centro Histórico with his young family. You can reach him at shaun@solutionsmazatlan.com or call 1-877-282-0864 from the United States.
He's got inexpensive properties too, down to around US$34,000… be sure you don't miss his peso-priced properties on the site. You can take a look at his entire inventory here (https://www.solutionsmazatlan.com/).
Is Mazatlán's Centro Histórico For You?
Mazatlán does a great job of blending old-fashioned coastal Mexico with modern restaurants, attractions, and amenities. The Centro Histórico offers an attractive beach, with blue seas and warm waters. The weather is brilliant, sunny, and comfortable during the North American winter, while offering rental income opportunities all year.
Mazatlán is convenient to the United States and Canada, with frequent nonstop flight service to a number of cities. And once you land at its international airport, you're just minutes away from town.
The historic district will be best for those who like the feel of a colonial Mexican city, yet want to be convenient to the ocean. It's also perfect for those who don't want to own a car.
Mazatlán also has almost 20 miles of beachfront, extending northward from Centro Histórico and the Olas Altas beach. We'll take a look at these beach areas next week.
Lee Harrison
Editor, Overseas Property Alert
***
Letters To The Editor
Hi Lee,
We are looking for recommendations for buying in a development strictly for a rental investment. We really like Panama but are not fond of the Coronado area. So we think our investment would need to be in a tourist destination.
We don't want a lot of amenities like golf and horses, etc. We really would like it to be simple and as close to nature as possible.
Thank you for your help.
Toni
Buying in a tourist destination is a good idea for rental income, but it's tough to get good rental traffic in a "close to nature" setting. Coronado, whether one likes it or not, is a pretty good choice for owning a rental.
But that doesn't mean it's impossible. Here are a few choices where you can own a rental in a natural, peaceful, off-the-grid setting. I'll include links to previous articles I've written, in case you want to read more:
***
Lee,
Is there a good source that lists worldwide real estate developments and/or developers? I am interested in eco-resorts that use sustainable practices.
Thanks,
Wade
I don't know of any composite list of eco-communities abroad. There are a number of foundations and groups that support sustainable development, but I haven't seen a developer or project list.
My advice would be to focus on countries that are between the tropics and offer reasonable access to residency. Once you've ruled out countries that don't qualify, then focus your search on sustainable or eco-communities.
But in the meantime, check out the three communities in my answer above. They may fit the bill for you.
Have a question? You can write to Lee here.