1 U.S. dollar equals 18.00 Mexican pesos.
Just last week, we closed on a brand-new condo right on the boardwalk here in Mazatlán, Mexico. This came after two years of exploring up and down the Mexican coast and then evaluating one neighborhood against another within Mazatlán's 20 miles of beaches.
I preferred Mazatlán on Mexico's west coast for a number of reasons:
1. You can "go local"… or not.
Mazatlán is a "real" city of almost a half-million people. When you move here, you can choose to be part of the American/Canadian community, speak mostly English, and ease your way into Mazatlán aided by people who have come before you…
Or within a few hundred yards, you can live in one of several Mexican environments, speak only Spanish, and immerse yourself in Mexico's rich culture.
2. It has a large and well-maintained colonial center.
Many colonial centers are just a few blocks of Spanish colonial architecture, but the historic district in Mazatlán is quite large, offering a wide range of price, style, and state of renovation.
3. Mazatlán offers almost 20 miles of beautiful beaches.
The city boasts mile after mile of well-maintained, sandy beaches with warm, swimmable waters. Much of this beachfront is bordered by a wide, lighted "boardwalk," normally busy with people strolling, jogging, or biking.
The beaches and boardwalk are contiguous, so you can walk the entire stretch from one end to the other.
4. Prices are great.
Whether you're dining out or buying a property, you'll find prices to be remarkable at today's favorable exchange rates. The best property bargains are often priced in Mexican pesos or Canadian dollars, but most properties are low when compared to other beachfront markets around the world.
5. Home Depot, Sam's Club, Walmart, Costco, Office Max, and company…
Mazatlán has an entire city full of local shops and Mexican supermarkets both large and small. But it's nice to know you can go to Home Depot or Walmart for some one-stop-shopping if you're doing a project.
6. You can drive here.
The trip from the Arizona border is just one long day or two easy days of driving.
Last year I wrote a series of reports from Mazatlán while we were looking for properties. They included articles about Mazatlán's historic center, as well as the historic center's closest beaches, and the beaches farther to the north.
See those articles to get the background info on the area, the city, and the neighborhoods.
Analyzing The Best Place To Live, Among Many Good Options
I was here in Mazatlán for almost three months earlier this year. We enjoyed the stay quite a bit… found lots of super restaurants and cafés… walked our dog on the boardwalk every day… and got a membership to an oceanfront gym.
But mostly what we did was compare and contrast neighborhoods and properties. To get an overview of the areas, see the links above… and I've put a map below, for easy reference.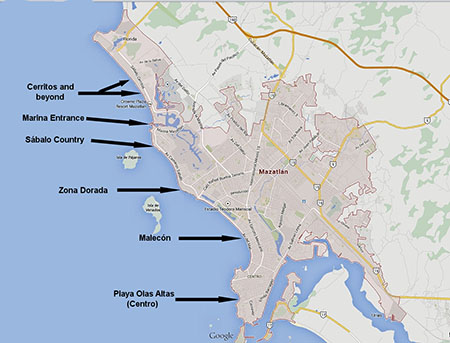 Courtesy of Google Maps
We ruled out a few good neighborhoods because they didn't quite suit our needs at this time. There are great locations just off the beach for single-family homes, a marina district, and some beautiful, less crowded beach areas a bit farther from town… all of which will be just right for some.
Here are some observations about my three "finalist" sectors.
1. Sábalo Country
Before even coming back to Mazatlán, we had pretty much decided on the Sábalo Country area… specifically, a building called Las Gavias Golden Shores (one of three Las Gavias projects on the coast here). It's a luxury building with beautiful facilities. As it sits directly on the beach, you can walk from the swimming pool area right onto the sand. Apartments in this building are sought-after and fairly liquid. In fact, we were "stalking" the building for several months waiting for something to become available.
You can walk to the Golden Zone (Mazatlán's tourist hub), which would make it a good all-season rental. There's no boardwalk in this area, so it has more of a residential feel.
This is one of only two condo buildings in the sector with direct, on-the-sand beachfront access.

At this time, I know of two large, two-bedroom, three-bath units available at Las Gavias Golden Shores; one on the 7th floor, and one on the 10th. Both have an asking price of US$375k. Rents on these units will exceed US$3,000 per month in wintertime. Check out the view below: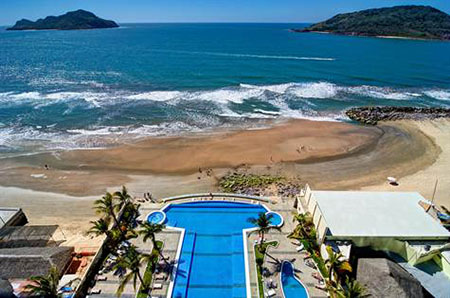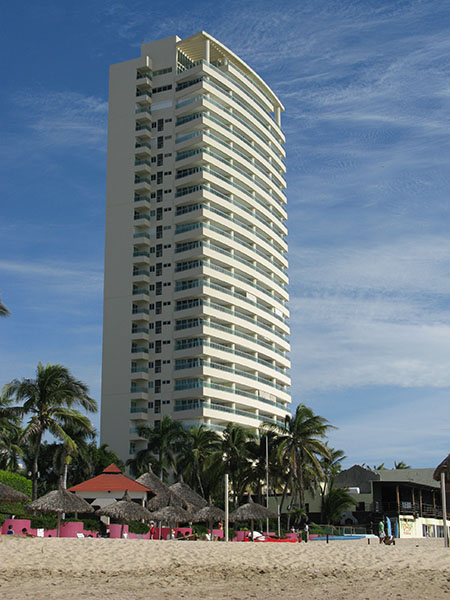 Las Gavias Golden Shores, in Mazatlán's Sábalo Country district
2. Centro Histórico
The historic center has made a big comeback in recent years. In fact, I was gone for just eight months in 2015 and was amazed at the progress that had been made when I returned. The renovation of the historic district seems to be snowballing. The nicer it gets, the more investors and expats it draws… and the more buyers it draws, the faster its renovation proceeds. It was remarkable to see.
The Centro Histórico is home to most of the city's fine-dining options (but not all), and it has the best Spanish colonial architecture. It's also the most walkable area that I've found among the beach-oriented neighborhoods.
Many expats I've met, including most full timers, live in the historic center… which serves as a good testimonial for living there.
The historic center has a small crescent beach called Olas Altas (high waves). It's not the city's best beach (see that one below), but if you live in Centro Histórico, you'll appreciate the fact that you can walk to it or watch it from the nearby cafés.
3. The Malecón Sector
I know I said we were pre-disposed to Sábalo Country. But I had to seriously consider the Malecón sector.
"Malecón" in English means seawall or breakwater, and is also used to describe the seafront road or promenade in parts of Latin America. Here in Mazatlán, it's also used to describe a beachfront sector, between the Centro Histórico and Sábalo Country.
None of the buildings in Malecón are as sought-after as Las Gavias Golden Shores, but there were plenty of good, upscale options… at lower prices. One of the city's best gyms on the beachfront here and one of its largest malls are within walking distance inland. In addition to the mall, you can walk to a number of restaurants and the area's best wine shop. From the south end of the Malecón sector, you can walk to Centro Histórico.
Best of all, you're on the area's best and longest beach, bordered by what they claim to be the longest boardwalk in the Americas.

Here's the best condo value in Mazatlán today: Unit 1501 is located on the top floor of the Horizon Sky building. It's a three-bedroom, two-bath condo that is right on the city's best and longest beach. It has a view of the offshore islands, the sunset, and the beaches heading north. It's large, at around 1,950 square feet (187 square meters), and it comes completely furnished. This one's priced in pesos, so the exchange rate is giving you a big advantage. At today's exchange rates, the asking price is only US$222,200 (3,999,900 Mexican pesos).
Check out the view from the front porch…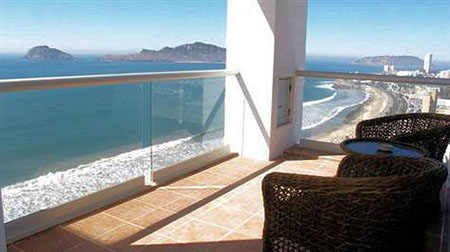 Horizon Sky is the best value in Mazatlán today
The Winner For Me? Historic Center… But On The Beach
In the end, we selected a unit in Centro's only new condo building on the waterfront… a project named Olas Altas 1. It's a new building with a total of only six large condos. Ours was just completed last week.
The condos have three bedrooms and either three or three-and-a-half baths. They're large for seafront units at 2,450 square feet (228 meters). The living room and master bedroom look out over the boardwalk and the ocean, while the rear of the apartment looks over the pool and gardens.
The building is right at the end of a long string of waterfront cafés, which fill up every morning with expats and locals alike looking for a good cup of coffee and perhaps fresh-baked muffins or a full breakfast. All of the fine-dining options in the historic center are within walking distance as are the famed Plaza Machado and the Ángela Peralta Theater. No need for a car at this address.
The current asking prices are US$325,000 with all the basics but without the finishings and US$375,000 with all the wood trim, closets, granite counters, appliances, etc. Right now, the two penthouses are the only units left, although the owner will probably sell the model as well. You can get more info here. Ask for info on the Olas Altas condos.
Financing may be available from the developer for qualified individuals, and prices will be subject to change. I took the photo below from one of the last two available units here: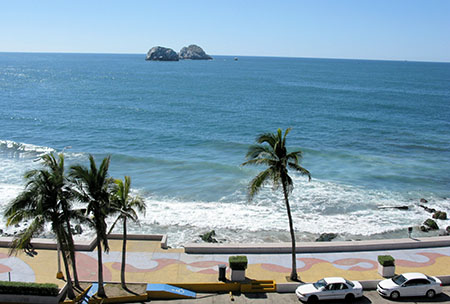 View from the available penthouse at Olas Altas 1
My real estate contact in Mazatlán is Shaun Klynstra, an expat in Mazatlán since 2002. Shaun also lives on the beach near the Centro Histórico with his family. You can reach him here.
Hard As It May Be, Try To Take The Long View
I always try to picture what everyday life will be like after the place is ours… and after the wow factor created by the view and the building wears off.
For example, each time we looked at an apartment in Las Gavias Golden Shores, we marveled at the view… an unobstructed view of the offshore islands, the beaches, and the bay. But thinking ahead, I realized that as time went by we would not be spending all our time standing on the terrace looking over the balcony… the location, its walkable amenities, and its convenience would become more important the longer we were there.
Also, after a month or so in town, we found that we were in Centro Histórico almost every evening. The theater, the restaurants and cafés, and the comradery among the local folks on the boardwalk in the evening were all a draw, one that we wanted nearby.
So we bought in the place where we enjoyed spending the most time.
Of course my analysis will only work for me… all of our preferences are different, and the "right" answer—no matter where you're buying—is different for everyone. But the one lesson that we'll all benefit from is to stay in your prospective location long enough before you buy to know the advantages and disadvantages of each of your options.
Lee Harrison
Editor, Overseas Property Alert