Plus: Investments That Qualify For Residency
I've been writing for the past few weeks from Mazatlán, Mexico, and have fallen into a pleasant routine here.
Each day starts with a morning walk along the beach at sunrise (fellow dog owners will understand why I'm out there so early), followed by a day of exploring the colonial historic center and beaches that make Mazatlán a famous vacation spot.
I've got an apartment on the waterfront, which also has easy walking access to the historic center. It's a good place to enjoy the best of both worlds… but it also points out the difficulty in deciding where to settle here. Both lifestyles are attractive, and I'm finding it hard to decide between the two.
Founded in 1531, Mazatlán lies about nine miles south of the Tropic of Cancer (21km) on Mexico's Pacific coast. It enjoys pleasant sunny winters—with warm waters—that draw visitors from the rest of North America, including Mexico itself.
Summers temperatures, however, will hit 90˚ (32˚C)… with periods of high humidity. It's not a great place to be for Canadians and Americans in the summer, but it does manage to maintain a steady stream of visitors from Mexico during school vacations in those months.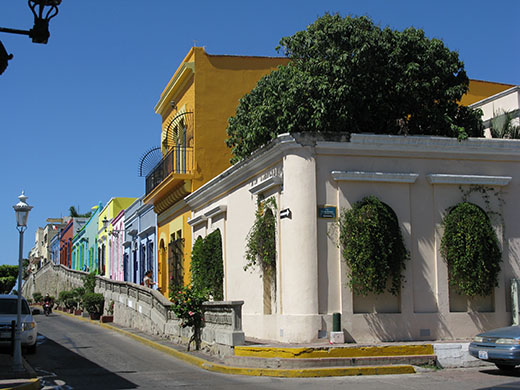 This row of restored homes extends right to the sea in Mazatlán's historic center
Here's Why Mazatlán Appeals To Me As A Second Home Destination
There are a number of reasons why I like Mazatlán specifically, despite the fact that Mexico offers so many other coastal options.
1. You can "go local"… or not
Mazatlán is a true city of almost a half-million people. When you move here, you can choose to be part of the American/Canadian community, speak mostly English, and ease your way into Mazatlán aided by people who have come before you.
But within a few hundred yards, you can also live in one of several Mexican environments, speak mostly Spanish, and immerse yourself in Mexico's rich culture.
2. It has a large and well-maintained colonial center
Many colonial centers are just a few blocks of Spanish colonial architecture, but the historic district in Mazatlán is quite large offering a wide range of prices and styles.
More on what's happening in the colonial center in a moment…
3. Mazatlán offers almost 20 miles of beautiful beaches
The city boasts mile after mile of well-maintained, sandy beaches with warm, swimmable waters. Much of this beachfront is bordered by a wide "boardwalk," normally busy with people strolling, jogging, or biking.
We'll take a close look at the beach scene next week.
4. Prices are great
Whether you're dining out or buying a property, you'll find prices to be remarkable at today's exchange rates. The best property bargains are often priced in Mexican pesos or Canadian dollars, but most-all properties are low when compared to other beachfront markets around the world.
5. Home Depot, Sam's Club, Walmart, Costco, and company…
Mazatlán has an entire city full of local shops, and Mexican supermarkets both large and small. But it's nice to know you can go to Home Depot or Walmart for some one-stop shopping if you're doing a project. They're also good for items that can otherwise be hard to find in Latin America.
6. A newly completed highway adds a "path of progress" angle to the market
Durango is the inland city closest to Mazatlán, and the drive between the two used to be an arduous, all-day affair. But a new highway (including 60 tunnels) was recently completed between the two cities and has drastically reduced the drive time to around two and a half hours. This makes Mazatlán an easy destination from Durango—a city of 650,000 people in a state of 1.7 million—and has made it much more viable as a second-home market.
7. Last but not least, you can drive here
You can drive from Arizona in just one long day or two easy days of driving.
Mazatlán's Historic Center Continues Its Renaissance
The colonial center in Mazatlán begins right at the beach, and it's the heart of the city. While somewhat seedy in years gone by, Mazatlán's historic center has undergone a major renaissance in recent years. It's an attractive and walkable area with an orderly Spanish colonial street layout.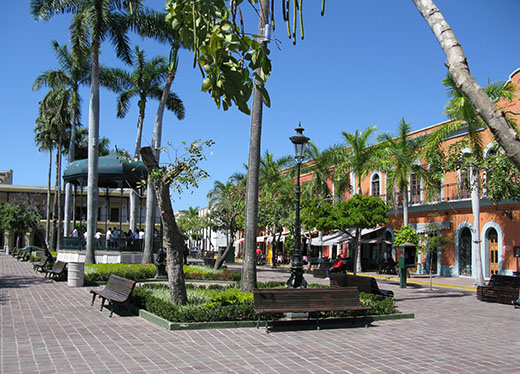 Plaza Machado will come to life a midday, when the restaurant owners bring their tables outside and open for business
But the big surprise for me is more recent. I was impressed with progress in the historic center when I left here in March of this year… but the progress that's been made over the last eight months is amazing. On some streets, almost the entire block had been converted from decaying buildings to attractive colonial homes.
And the restaurant scene is blossoming in the historic center. We've ate out every day for the past two weeks and are having a great time discovering Mazatlán's culinary treasures hidden away among the old buildings. And I'm not talking about burritos and rice… some of the chefs here in Mazatlán are doing an impressive job.
And the renovation of the historic district seems to be snowballing. The nicer it gets, the more investors and expats it draws… and the more buyers it draws, the faster its renovation proceeds. It was encouraging to see.
Ground Zero for this renaissance is the square called Plazuela Machado, which is now surrounded by a pleasant collection of outdoor cafés and international restaurants. At the west end of the plaza is Teatro Angela Peralta, the city's most famous theater, which opened its doors in 1874.
Located about four blocks west of Plazuela Machado, the closest beach to the Centro Histórico is called Olas Altas, which means "high waves." The beach itself is a crescent-shaped, sandy cove about a quarter mile in length (400 meters).
The shoreline of Olas Altas is lined with cafés, restaurants, and a couple of hotels. Bright and early each morning, the tables at these seaside venues fill up with locals and expats who come down for a good cup of coffee and breakfast.
If you walk just two blocks north and two blocks east from Plaza Machado, you're in the middle of a bustling downtown that is genuine Latin America with hundreds of small shops, banks, businesses, produce markets, and parks.
Special Considerations When Buying In Mazatlán's Centro Histórico
Here are a few things that I've learned to keep in mind when looking at properties in the historic district.
1. Desirability is gaged by the distance from Plazuela Machado
Proximity to the beach in this area, while desirable, is secondary.
2.Do you need a garage?
Historic properties in Centro, most often, do not have a garage. The sector is walkable, so many people will prefer to be without a car anyway; but, if you're driving down, you'll need to either buy a home with a garage or use one of the local lots to house your vehicle… as if you were living in Manhattan.
3. Don't plan on changing the façades
I looked at a large, colonial home with a center courtyard last week, and my first idea was to widen one of the arched doorways so I could drive my pickup inside.
Forget it.
The city is very strict about restoring historic homes to their original condition. Modification work on these gems is subject to a stringent architectural review. What's more, city building inspectors roam the streets constantly looking for violators. There are a number of non-original homes in the Old Town that would not have this problem
Take A Look At What's On The Market In The Historic District Today
Here are a few properties that caught my attention so far in December.

The best modern project I found with access to the historic center is where my apartment is located. The project is called Vue Centro Histórico. It's a modern condo building with a pool and amenities on the edge of Centro Histórico. It's located on the waterfront road with unobstructed views.
My favorite unit here is 602, a furnished two-bedroom, two-bath apartment with magnificent sea views from the veranda, living room, and both bedrooms. The asking price is CA$330,000, which works out to around US$239,000 at today's exchange rate. Several other units are available, both smaller and larger.
Take a look below at a photo I took from a neighboring apartment: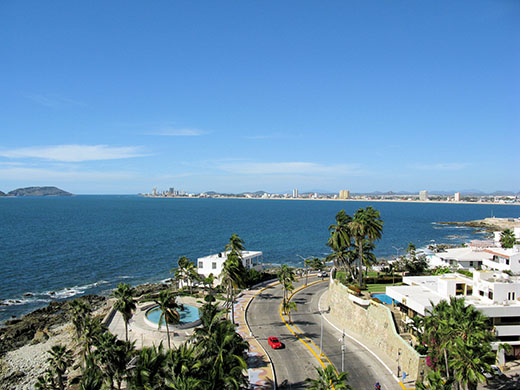 Enjoy this view from the living room, bedrooms, and terrace of this apartment

An example of a nicely restored colonial home in the historic center—complete with interior courtyard and a coveted garage—located about a five minutes' walk from Plazuela Machado. With two bedrooms, two baths, the owner did a great restoration job… and the home comes completely furnished. The asking price is US$269,000.

Located just one block from Plazuela Machado, and the Angela Peralta theater, I found a perfectly located home in this prime area. It's not a colonial, but rather more of a city home in the Spanish style. With four bedrooms, three baths, and 2033 square feet (189M2), the asking price is US$150,000.

Once you get out of the coveted area around Plazuela Machado, prices drop sharply. I saw a small two-bedroom house of about 1,000 square feet (96M2) going for an asking price of only 350,000 Mexican pesos… that's US$20,300 at today's exchange rate. So, if you want to live in Mazatlán but don't need to be near in the center of the action, you can buy here very cheaply.
My real estate resource in Mazatlán is Shaun Klynstra, an expat in Mazatlán since 2002, and founder of Solutions Mazatlán, a real estate and property management firm. Shaun lives on the beach near the Centro Histórico with his young family. You can reach him at shaun@solutionsmazatlan.com, or call 1-877-282-0864 from the U.S.
He's got inexpensive properties too; down to around US$35,000 for a fixer upper. You can take a look at his entire inventory here(https://www.solutionsmazatlan.com/).
Is Mazatlán's Historic District For You?
Mazatlán's historic center is best for those who seek Spanish colonial living with easy access to the beach. If you want to spend most of your time on the beach, then there may be better options for you in Mazatlán. I'll have more information on Mazatlán's beach scene in the coming weeks.
The historic center is best for a buyer who wants "more Mexico, less resort." The areas around Plazuela Machado and Olas Altas beach have plenty of visitors and expats, but the rest of Centro Histórico is old-fashioned Mexico.
If a non-touristy Mexican lifestyle is your objective—or you want to restore a colonial property—then you should consider Mazatlán's Centro Histórico.
Lee Harrison
Editor, Overseas Property Alert
***
Letters To The Editor
Lee,
I am an advanced traveler with residency in various Latin American countries.
Did I read where you reported on an investment in Columbia (sic) that results in permanent residency?
Nice job on your newsletters. I'm landing Panama City Christmas night, trying to expand my footprint in the Americas.
Best,
Peter
You might be referring to a recent offer by First American in Medellín. They frequently offer investments in residential renovation projects that will qualify the investor for residency.
Whether you get temporary or permanent residency through an investment depends on the investment level, with the lowest threshold starting at around US$20,000 for residency (usually US$25k for his projects). Founder Rich Holman had one such offer on the table last week, but it was almost sold out. To see if any shares remain, you can contact Rich here.
A permanent visa (5 years) would require an investment in real estate of about US$129,000… most rental apartments will break this threshold.
Those are just two of 17 visa options in Colombia, however. It's the easiest place I've found to obtain residency.
They will, however, refuse your application if you spell Colombia with a "u"…
Have a question? You can write to Lee here.