A Beachfront Project With Quiet Beaches And Island Views
The view from the 23rd-floor model condo was designed to impress… and it worked. The two islands I saw framed by the picture window are one of the most sought-after views in Mazatlán.
Behind the islands, the shipping channel is off in the distance. You can watch as container ships, tankers, cruise ships, and Mazatlán's large commercial fishing and shrimp fleets enter and leave the port. In the near distance, in front of the islands, you often see dolphins and sea lions swimming in the bay.
The beach here is quiet and tranquil… removed from Mazatlán's tourist attractions, cruise passengers, and traffic, yet close enough to be at the largest restaurant zone in 10 minutes.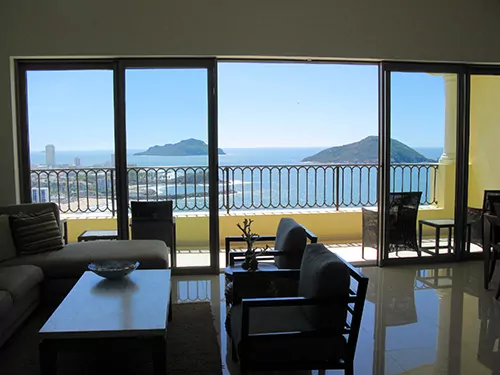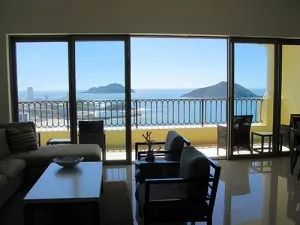 Today I'm going to show you a chance to buy into a pre-construction deal at a steep discount…in a high-end, luxury, beachfront building on Mazatlán's most beautiful and uncrowded beach.It's a good opportunity for capital appreciation and will position you in the high-end rental market if desired… not to mention the chance to grab a perfect winter getaway or retirement spot.
The name of the project is Las Gavias Grand.
Mazatlán Is A Good Choice For A Luxury Project And A Property Investment
First off, I should mention that I own a home here in Mazatlán. So I obviously believe in its desirability for a property purchase.
There are a number of reasons why I like Mazatlán despite the fact that Mexico offers so many other coastal options.
You can "go local"… or not
Mazatlán is a "real" city of almost a half-million people. When you move here, you can choose to be part of the extensive American/Canadian community, speak mostly English, and ease your way into Mazatlán aided by people who have come before you.
But you can also choose to live in a Mexican environment, speak mostly Spanish, and immerse yourself in Mexico's culture.
It has a large and well-maintained colonial center
And hidden away in this colonial center, you'll find a wealth of fine dining, cafés, galleries, shops, museums, and theaters.
Mazatlán offers almost 20 miles of beautiful beaches
The city boasts mile after mile of well-maintained, sandy beaches with warm, swimmable waters. Much of this beachfront is bordered by a wide "boardwalk," normally busy with people strolling, jogging, or biking.
Prices are great
Whether you're dining out or buying a property, you'll find prices to be remarkable at today's exchange rates. Property prices are low when compared to other beachfront markets around the world… including elsewhere in Mexico.
The Home Depot, Sam's Club, Walmart, and company…
Mazatlán has an entire city full of local shops and Mexican supermarkets both large and small. But it's nice to know you can go to The Home Depot or Walmart for some one-stop-shopping if you're doing a project.
It's easy to get here from the United States and Canada
Mazatlán has nonstops to four U.S. cities, and five Canadian cities. If you'd rather drive down, it'll take you about 13.5 hours from the Arizona border.
A newly completed highway adds a "path-of-progress" angle to the market
The old highway between Mazatlán and Durango was one of most scenic in Mexico, but navigating the mountains, valleys, and switchbacks between these two cities could take up to eight hours. This year, thanks to a new highway—with 115 bridges, 63 tunnels, and the world's highest suspension bridge—the trip takes just two Realtor-hours (three hours actual time).
And here's the result: For people in Durango, Mazatlán is no longer just a venue for the annual vacation… it's now the perfect spot for a second home on the beach that they can use over a long weekend.
This reduced drive time has increased the number of weekend visitors, but more importantly, it has increased demand in the property market.
Las Gavias Grand Is In A Quiet Area With Low Traffic And Uncrowded Beaches
Las Gavias Grand is located in an area called Cerritos, which is a quiet, high-end, beachfront sector with elegant projects and miles of uncrowded beaches. See the photo below.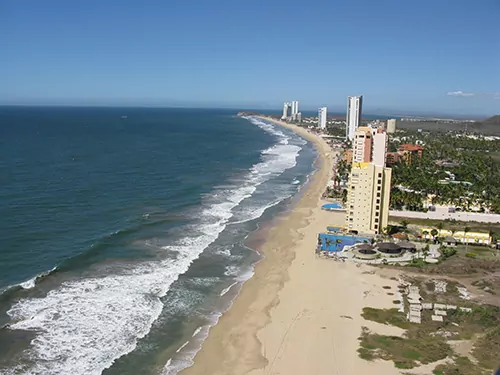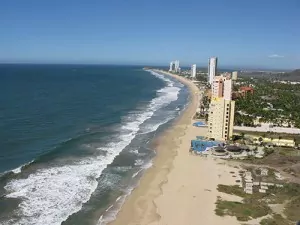 Cerritos is an area that rents well all year. In the winter it fills up with Canadians and Americans, which is no surprise. But in the hot, humid summers, there's a strong demand from Mexican nationals, whose children are out of school for the summer. More on this later…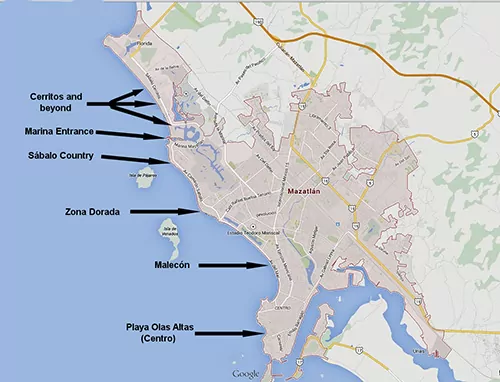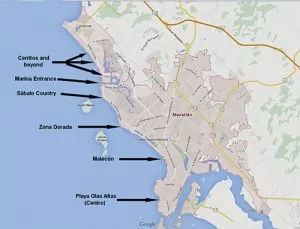 Cerritos lies just north of Mazatlán's marina, the point where the character of Mazatlán changes completely.
South of the marina, the Mazatlán beachfront road has been busy and bustling with cafés, restaurants, condo towers, and hotels. But when you get to the marina that changes. The loop that you have to take to get around the marina provides somewhat of a barrier between the tourist areas and Cerritos.
Just north of the marina, in Cerritos, you'll find a dramatic drop in the amount of traffic, few passersby, and few visitors to the beaches. There are not many things you can walk to in this area, which has generally resulted in the projects here having more and better on-site amenities.
People come to Cerritos to leave the crowds behind… for peace and quiet… for a luxury setting. They do not come to be at the center of the action.
Residents in Cerritos—even those with cars—often use public transportation to travel to the famous Zona Dorada or historic center to enjoy Mazatlán's cafés, restaurants, and clubs. The bus line—which runs every 10 minutes—is clean, modern, and inexpensive (about 75 cents today).
Here's What Las Gavias Grand Has To Offer
There are a number of ongoing projects in Cerritos. The reason I was drawn to Las Gavias Grand specifically was because of the developer's previous projects in the area. Las Gavias Golden Shores was his last offering in the luxury market, and he hit a home run with it. I've toured many apartments in that building, and it's easy to see why it's become one of the premier addresses in Mazatlán.
And as I mentioned, Las Gavias Grand has that sought-after island view.
The new south tower has 73 units, counting the penthouse, while the center tower has 64 units.
If you want golf, the Marina Mazatlán golf course is within sight of the project… I spent a few minutes watching fish jump in their lake from the window of one of the condos. And Mazatlán has a number of other good courses, some also within minutes of Las Gavias Grand.
If you're a boater, the large, sheltered marina is just around the corner.
If you're neither a golfer nor a boater, you still need to pay attention to those amenities… because your renter or resale buyer may well be interested.
All apartments have large private terraces, 12-foot ceilings, contemporary, open kitchens with granite counters, and porcelain flooring.
Las Gavias Grand is the continuation of a luxury line, and the completed apartments I saw last week bear this out.
In addition, the Las Gavias Grand complex offers these features:
Infinity pool
Fitness center and spa
Restaurant and bar
Community home theater
Business center
Garage parking
400 feet of sandy beach
Project Status: One Tower Is Finished And Sold… With The Remaining Two Underway
The north tower is finished and has only one unit left. (The north tower is the left-hand tower in the rendering below.)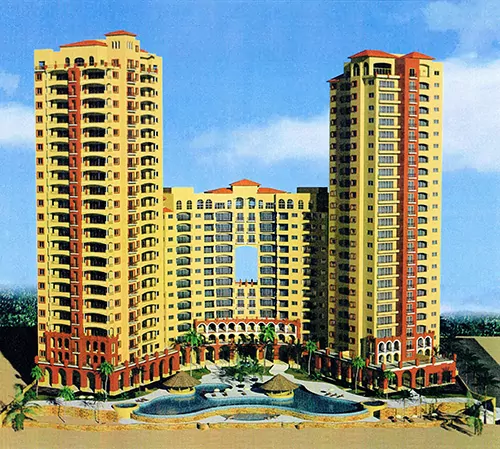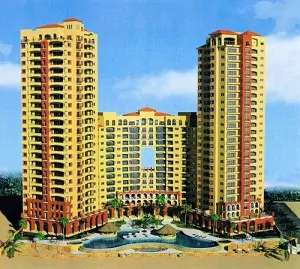 The center tower is under construction and is about 50% complete. The south tower is also underway and is just coming out of the ground. Take a look at the photos below, which I took in early March.
Know Your Fellow Buyers: Who Has Bought In Las Gavias Grand So Far?
Most people buying a property (or renting) abroad want to experience the local culture, and that's hard to do if you're isolated in a "gringo tower"… that is, a condo tower exclusively occupied by Americans and Canadians.
I've seen lots of gringo towers in various countries, and they may or may not rent well. But they don't sell well, since they're not appealing to the entire market. If the purchase is an investment, a mixed bag of residents will make it more appealing on resale, proving that it appeals to multiple markets. Mexicans make up the lion's share of the buyers in Mazatlán, so they represent a segment that you can't afford to ignore.
At Las Gavias Grand, I was pleased to find that most buyers are Mexican. According to the homeowners association, here's how the current buyers break down.
75% Mexican
13% American
9% Canadian
3% Colombian
When it comes time for renting or resale, you'll have broad appeal at Las Gavias Grand.
Renting Your Unit In Las Gavias Grand
One thing that surprised me in Mazatlán was the strong off-season rental demand… during a hot-weather period when I'd assumed no one would want to be here.
This off-season demand is particularly felt in Cerritos.
According to data compiled by the Las Gavias Grand Homeowners Association—using data through March 1, 2017—the occupancy for their rental units is 80% in non-owner-occupied units.
During the winter, renters come exclusively from Canada and the United States. During the summer, many of the owners are in residence, so the rental pool is relatively small at Las Gavias Grand; about 20% of the units, mostly Canadian-owned. This is probably why it's relatively easy to rent these units in the summer "off season."
Keep in mind that these statistics will probably change when all the units are completed and some portion of the 137 new condos are added to the rental pool.
Here's What's Available, And What It Costs
The new condos at Las Gavias Grand are offered with one, two, or three bedrooms. All units have ocean views. The smallest unit is a one-bedroom, two-bath unit of about 770 square feet (71.45 meters)… the largest three-bedroom, four-bath unit has about 1,875 square feet of living space (174 meters).
Construction of Las Gavias Grand is scheduled for completion on Aug. 31, 2018.
The public launch of Las Gavias Grand is set for April 30, 2017. The model units will be ready, and full-scale public marketing will begin at that time. The pricing below is only good until that time.
Today the developer is offering our members an exclusive pre-launch, pre-construction discount of 10% (a discount of between US$19,000 and US$72,000 depending on the unit).
Financing is available to Global Property Advisor members (who saw this offer two weeks ago) and Overseas Property Alert readers. Terms are 30% down with the balance paid over 18 months at 0% interest. Payments can be made monthly or quarterly.
Or if you'd prefer, you can take advantage of a 15% cash-up-front discount, which can save you as much as US$108k.
A fully refundable 10% deposit will hold your unit for 30 days to give you time for an on-site inspection of the project and the area.
Here's an example of what I believe to be the best model in the project… a two-bedroom, three-bath corner unit in the south tower. I'll use the 17th floor for this example:
List Price
US$400,444
Pre-Construction Discount
US$40,044
Pre-Construction Price
US$360,400

or…

Cash Discount
US$60,067
Cash Price
US$340,377
But there's a catch. Actually, two caveats:
First, this offer (the discount and financing) is strictly limited to 10 units. Lief Simon and Omar Best tried to get this raised, but the developer held fast. Once those units are sold, our premium-member discount is over.
Once we get to the launch date (April 30) all bets are off. When the model units are finished the project begins marketing full-scale, and all these pre-launch deals are void.
If you have any questions, the developer's man in charge is Alfonso Galindo. He can give you up-to-date info on availability, provide you with floor plans, and answer questions about the area. Go to this page to get in touch with Alfonso directly… he'll get right back to you.
Is Las Gavias Grand For You?
If you want to be at the center of all the action, with restaurants, cafés, and clubs within an easy walk, then frankly, there are better residential options in Mazatlán.
Las Gavias Grand is best for someone who wants peace and quiet… little traffic… uncrowded beaches… and luxury surroundings. I think it's best suited for someone who wants a part-year home, a vacation getaway, or a place to hide from the northern winters.
It's also good for those who want to operate a rental. My idea would be to live here in the winter and then rent to wealthy Mexican vacationers in the summertime.
If you're interested in Las Gavias Grand, I'd send a fully refundable 10% deposit to Alfonso Galindo and come down to have a look. If it's not for you, you get your money back… and if it is, you'll get your pick of the units. You can contact Alfonso here.
Lee Harrison
Editor, Overseas Property Alert
***
Letters To The Editor
Hi Lee,
What are your current feelings toward the Mexican real estate market? Prices appear to be dropping in some markets (I'm currently in Mazatlán).
Is it the cartel violence that has frightened the potential buyers?
And in your opinion, is this possibly one of those opportune moments to go where others fear and score a great deal? Any regrets on your recent purchase?
Kelly
The Mexico market is a mixed bag right now, but I don't think it has much to do with drug cartels. Over the past few years, drug violence has remained away from the major expat and tourist areas, and property buyers are mostly ignoring it (as they do in the United States).
It's also a mixed bag in Mazatlán. Over the past few months, I've seen sales in some areas pick up. Properties that had been languishing on the market for years have suddenly disappeared. Bargains are harder to find in Cerritos and the historic center, and I'd guess that the best deals are still in the malecón district.
There are some fantastic deals in Mexico right now, and the best deals will be in non-expat areas where properties are priced in pesos. I wouldn't go where "others fear"… but I would go where other expats are not buying because they're not yet trendy.
***
Lee,
You commented in a previous letter that it sometimes doesn't benefit you to have a will in a country where you have investments, as that country will disperse those assets according to their laws regardless of what your will says.
Hypothetically, if a U.S. citizen has an agricultural investment in Panama and dies, leaving no spouse or children, how would Panama handle the disbursement of that investment? Who would get that investment?
Martin
I think it's a good idea to have a will in any country where you hold property in your own name… although, as Martin says, it's possible that such a will would have no practical effect.
For example, if you and your wife have children together and own property abroad, most civil law countries will pass your property to the children whether you have a will or not.
And if you make a will leaving your property to the church, for example, many countries' laws would assign it to your kids anyway, since it would be illegal to disinherit a child.
According to the Panama Civil Code, the law that applies to inheritance issues is that of the main and permanent residence of the deceased, i.e. where a person lives, has his permanent business/work place, and where his family lives. So your home-country will could serve for a property in Panama, if you are not a resident of Panama.
If you have no children, spouse, and parents—and no will—then the property would likely be lost to the state one day, unless someone comes forward to claim it.
Follow the link to read more about inheritance rules abroad.
***
Hi Lee,
I have a manual you wrote on Uruguay a few years ago… it was well put together and informative. You spoke very highly of living in Montevideo, and in particular, the Centro neighborhood.
Are you still invested there, and what are your general thoughts on Uruguay as a real estate investment destination?
You've written about Brazilian opportunities… but what about less-discovered parts of the Uruguayan coast around Rocha and closer to the Brazilian border?
Alex
I hope you got a good discount on that book… I last updated it in 2011.
I am a resident of Uruguay—and I use their banking services—but I no longer live there. I do, however, still love Uruguay's lifestyle and culture and especially enjoy life in Montevideo's Centro and Punta Carretas neighborhoods. When I return to Uruguay, this is where I prefer to stay.
The department of Rocha (the last department before you cross into Brazil) still has some of Uruguay's best buys for seafront property and its most unspoiled beaches. I think it's a good long-term investment and a great place to enjoy spending the South American summer.
Have a question? You can write to Lee here.