Look To The Maritimes For Canada's Best Real Estate Buys
It started as a joke, people fleeing the United States after the election. But after putting up the website "Cape Breton If Donald Trump Wins," creator Rob Calabrese saw more than a million visitors to the site within the first few weeks.
Then after the election, Canada's immigration website crashed, as potential "refugees" investigated actually moving to Canada.
Thousands of people wrote to Calabrese personally, asking how they could relocate to Cape Breton.
Oddly, these people included a lot of Trump supporters.
Why?
Because houses on Cape Breton, and in all of Canada's Maritime provinces, are a great deal for interested buyers… especially those with U.S. dollars. And, like the president himself, everyone likes a great deal.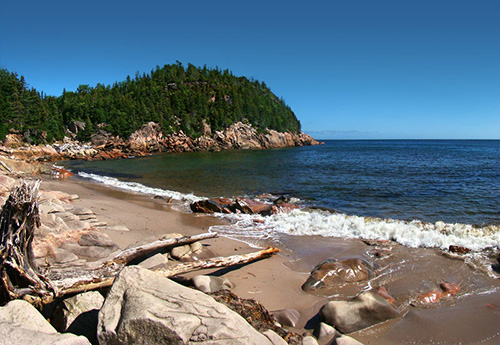 The Maritime provinces are known for their unspoiled, rugged coastline (Photo by Tango 7174)
The Maritimes Are Rich In History And Perfect For Retirees
Canada's Maritime provinces (Nova Scotia, New Brunswick, and Prince Edward Island) offer an ideal escape, but not just for political reasons. The opportunity to live by the sea—in an almost stuck-in-time tranquility—is enough to entice many retirees from both Canada and the United States to make the move.
Perfect for retirees, the Maritime provinces have some of the oldest average ages in the country. Instead of settling for a retirement destination that turns out to be a trendy tourist hotspot for partying travelers, retirees in the region enjoy cultures and communities full of historical attractions, traditions, architecture, and monuments.
Aside from the rich and deep histories of North America's original First Nations and aboriginal peoples, this region's history goes back further than any other in North America.
Forget Christopher Columbus (and not just because of his genocidal tendencies). Despite all the myths we've learned about his "discovery" in 1492, he was not the first European to set foot in the Americas. Not by a long shot. In fact, nearly five centuries before Columbus, a crew of Vikings led by Leif Erikson landed in the present-day province of Newfoundland (not technically part of the Maritimes but still part of Atlantic Canada). The remnants of this settlement are now a UNESCO World Heritage Site and are widely accepted as evidence of pre-Columbian transoceanic contact between Europe and North America.
Other historic areas in the Maritime region date back to European settlements from the 16th, 17th, 18th, and 19th centuries. Halifax, Sydney, Cape Breton, Charlottetown, St. John, Fredericton, and Moncton are some of the urban centers that still feature Old World architecture and historical monuments.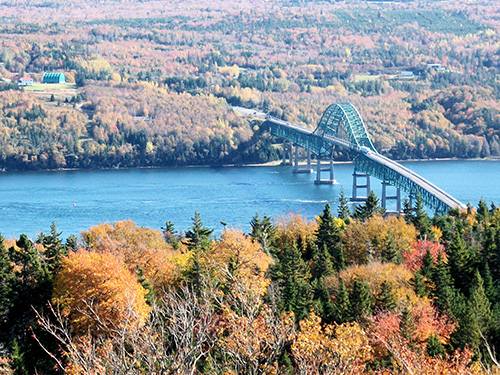 Historic Cape Breton welcomes retirees and expats (Photo by GRMike)
The Maritimes' Population Trends Are Creating Real Estate Bargains
Behind the clever "Cape Breton If Donald Trump Wins" marketing campaign is a real problem common throughout the Maritimes: people… or, rather, a lack of them. Cape Breton's population has been shrinking for decades and shows little sign of relenting—from 131,000 in 1961 to 117,000 in 1991 to 94,000 in 2016.
For generations now, the Maritime provinces have seen their economies slowing, their industries shuttering, and their youth packing their bags for greener pastures. While initiatives to attract immigrants and settle refugees are buoying hope among some in the region, the allure of big cities like Toronto, Montréal, and Vancouver is tough competition.
While an aging and shrinking population may make for hard times for provincial coffers, it also makes for ample opportunities for home buyers.
Property in the Maritimes sells for much, much less than in those big cities like Toronto, and out-of-towners are taking notice. U.S. buyers have increased in the region, and they're not just "political refugees."
Instead, it's been the deep U.S.-dollar discount that has been driving the trend during the past 18 months or so as the Canadian dollar has fallen behind its surging U.S. counterpart. Hitting a high of CA$1.46 per U.S. dollar in January 2016, the window of opportunity remains open for U.S.-dollar holders as the exchange hovers around CA$1.35 per U.S. dollar today.
And, while it may not be what brings in the young blood the region seeks, U.S. retirees interested in a rustic cottage for a seaside retirement should take notice of the affordable and historic homes on the market.
What's On The Market In The Maritimes Today
If you're looking for bargain coastal real estate in Canada, the Maritimes are worth your attention.

On Nova Scotia's Cape Breton Island, you could move into a quaint country cottage just a few minutes from the ocean and a few more from the small city of Sydney, Nova Scotia. The fully furnished, 95-square-meter (1023-square-foot), one-bed, one-bath home sits on just under a half acre of land, making for a perfect vacation home or hideaway. The property is nothing luxurious, but it's been kept in immaculate condition… all for the bargain price of CA$50,000 (US$37,000).

If you seek something a little more urban, consider Halifax, the largest city in the Maritimes, with a population a little over 300,000. You won't have to give up any of the historic charm just for going bigger, either—Halifax was founded in 1749 and its city center is full of historic properties. The South End neighborhood is full of Victorian-era buildings. For CA$259,900 (US$192,500), you could live in a bright, tastefully designed, 70-square-meter (753-square-foot), one-bed, one-bath condo in an old converted row house close to parks, shopping, downtown, and universities.

Just a short drive across the river north of Fredericton, New Brunswick, is a newly renovated, three-bed, two-and-a-half-bath farmhouse on 1 acre of lush, green land. With plenty of deck space, a two-car garage, separate work space, and a basement waiting for the finishing touches of development, this home would be perfect for a family or a home craftsman. All for CA$399,900 (US$296,000).

On Prince Edward Island, for as low as CA$159,900 (US$118,400), you could live in a mid-19th century cottage with 1.35 acres of land just 10 minutes from the sea and live like Anne of Green Gables (the story was written and based in PEI). The rustic character of this one-and-a-half story, 220-square-meter (2,370-square-foot), four-bed, one-bath home includes two antique, cast-iron wood-burning stoves, Victorian-style wallpaper, and hardwood floors, along with modern amenities and appliances in the kitchen, a Jacuzzi-style tub, satellite dish, and an outdoor swimming pool.
As a result of being such a tiny province, nonresident ownership restrictions exist on Prince Edward Island, but they only apply to properties over 5 acres or with 50 meters (165 feet) of shoreline. The provincial legislation, with roots that predate Canadian Confederation, defines a resident as someone who has resided on the island for 365 days in a 24-month period and is a Canadian citizen or legal resident. Nonresidents will also be subject to a small but noteworthy one-time purchase fee of CA$550 (around US$407) or 1% of purchase value (whichever is higher).
Don't Fear The Cold Weather
One thing that routinely comes up when speaking with Americans about Canada: the cold winters. It's true that Canadian winters can be harsh, but generalizing about the entire country's various climates is like saying Minnesota's climate is the same as Miami's because they're both in the United States.
Maritime winters are like those in other coastal communities in New England, and the summers are mild. There's the odd hurricane that blows, but usually nothing like the battering that the southeastern United States and the Gulf Coast get.
Suffice it to say that if you're looking for something hot and tropical, this isn't the place for you.
But if you can stand a few months of winter weather, or you plan to depart for those months to a warmer location, the opportunity to buy in Canada's Maritime provinces is presenting itself at a great bargain thanks to the currency exchange rate between Canada and the United States.
Matt Chilliak
For Overseas Property Alert
Editor's Note: Matt Chilliak is a political organizer from Saskatoon, Saskatchewan, with an honors degree in political studies from the University of Saskatchewan and minors in economics and Spanish. He has traveled throughout the United States and Latin America, including Mexico, the Dominican Republic, Cuba, Colombia, and Panama. He also holds certification from Fine Art Bartending School and mixes a mean Old Fashioned.
***
Letters To The Editor
Lee,
After spending three months in Medellín this fall, I've decided it's the place I want to live for up to six months out of the year. I also want to buy a condo there that I can rent out through Airbnb during the time I'm not there. My questions are:
1) What do you think of the area between Laureles and Belén? An apartment (condo) I'm considering is on the border of those two communities.
2) Would I pay Colombian taxes on the rental income or U.S. taxes?
3) I'm setting up a brokerage account with a Colombian company to transfer my dollars to pesos, and they go through Citibank of New York. Does that sound like the normal process?
Thanks,
Ed
First, congratulations on your choice of Medellín… you can hardly go wrong in that city. I like Laureles, generally speaking, and it's becoming quite popular with expat buyers lately… especially those who prefer more level streets than those in El Poblado.
Remember though, that most buildings do not allow short-term rentals, so if that's your plan, verify that the building allows it. If not, plan to rent your unit for more than 30 days.
Your rental income will be subject to tax in Colombia if you earn enough of it. (You're allowed to take certain expense deductions.) And if your rent money is being deposited into a Colombian bank account, they'll come looking for the tax sooner or later.
But if you do pay tax in Colombia, you can take a tax credit directly against the tax you owe on your U.S. return.
It's normal that when transferring money to Colombia, you would send it to their bank account in New York. This is good for you because you can send it using a domestic transfer, which is usually free… and it's good for the broker because it gives them the option of accepting payment in the United States, and then crediting your account in Colombia without having to actually move your money between the two countries.
***
Lee,
As a long time follower of your writing and travels, my wife Andrea and I are wondering about much of your recent advice about how it's a good time to buy property overseas because of the strength of the U.S. dollar.
I am currently writing this from Medellín, Colombia, where we have spent our winters for the last six years. In this city, as in many of the other cities on your real estate beat, properties are priced in American dollars.
You make it sound, because the dollar is doing so well compared to the local currency, that real estate is a bargain here. But from where I sit, with the prices of real estate in the city priced in American dollars, I don't see how one can reap the benefit of the strength of the U.S. Greenback.
Richard
First of all, in Colombia, properties trade in pesos, not dollars. In fact, you couldn't even do the transaction in dollars (in Colombia) if you wanted to. If you're working with a realtor who is listing properties in dollars, find someone else… he's probably trying to take the dollar savings for himself, rather than passing it on.
With the agency I recommend, properties trade in pesos… as they should.
Otherwise, you're right. In non-U.S. markets that trade in dollars, you won't get a currency advantage, generally speaking. In Mexico, for example, properties can legally trade in either pesos or dollars… with the peso-priced properties reaping the real bargains.
Other U.S. dollar markets include Panama, Ecuador, Uruguay, Nicaragua, and Costa Rica. You won't find a currency advantage here.
The best places right now for the dollar's buying power are Colombia, Brazil, and the EU… as well as peso-priced Mexico.
Have a question? You can write to Lee (or Matt) here.