Back in the year 2000, on one of my final retire-overseas exploratory trips, I looked at a small, rustic home beside a rushing river in Mexico. Giant trees grew all along the riverside, shading both the house and most of the large property.
And among the trees I found a plant that I didn't recognize… it turned out to be a coffee plant, lush with ripe berries. I plucked a few berries from the tree and thought about how great it would be to grow my own coffee right on my property. I still have the berries today, as a souvenir.
We didn't buy that house just south of Xalapa, but I never lost sight of the dream of one day having my own coffee crop.
If you'd love to grow, sun-dry, roast, and brew your own coffee—from berry to cup—here are three options that are perfect for doing so…
Coatepec: Enjoy A Great Climate In The Coffee Capital Of Mexico
Coatepec is a small city of about 50,000 people. It's located a few miles south of Xalapa, the capital of the eastern state of Veracruz. Coatepec sits at an ideal 4,000 feet (1,250 meters) above sea level, which is not only perfect for coffee, but also assures you of moderate weather year-round.
Coatepec was named a "Pueblo Mágico" in 2006… a title bestowed by Mexico's tourism department as part of their program for identifying towns that offer a "magical" experience due to their natural beauty, cultural riches, or historical significance. It's an attractive and charming colonial town.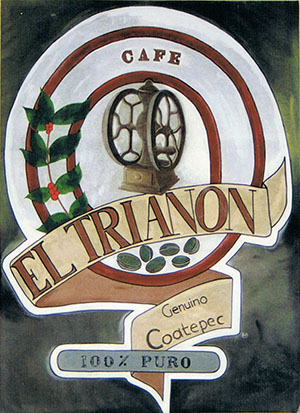 I found this painting in El Trianon, a small coffee village (population 21) next to Coatepec
Sometimes called the coffee capital of Mexico, Coatepec offers good weather all year. The coldest month is January, with an average high of 72°F (22°C), while the warmest month is May, at 86°F (30°C). The nights are always cool however, and even in May, overnight temperatures will remain in the 50s (less than 15°C).

A mile or so outside of Coatepec and 6 miles from Xalapa, there's a 2.5-hectare (6.18-acre) farm for sale. With 400 meters of river frontage, the fruit trees and coffee plants have year-round irrigation. Located at the center of the property is the grand 250-square-meter (2,690-square-foot) farm house with three bedrooms, two bathrooms, view terrace, and a grand chimney in the living rooms. Floor-to-ceiling windows provide lots of light. There is also an independent apartment, storage area, and a covered outdoor barbeque/party area. The asking price is 6,000,000 Mexican pesos (US$326,979).

Located in the village of Xico, near its border with Coatepec, we found a small farm on the market with 7,500 square meters (1.85 acres) of land planted with mature coffee plants, citrus and banana trees, exotic fruits, and a large array of tropical plants, bromeliads, and flowers. Its flat landscape means this property is easily accessible all year and includes a small guard house. The 126-square-meter (1,356-square-foot) farm house has a charming tiled kitchen, a fireplace in the living room, four bedrooms, and two bathroom arranged on two stories. This property is irrigated by the La Marina river bordering it, and there are good cell and Internet signals on the property. The asking price is 2,180,000 Mexican pesos (US$118,736).
Manizales, Colombia: Sophisticated City Life In The Coffee Triangle
A cornerstone of Colombia's famous Coffee Triangle, Manizales is a sophisticated city, serving as capital of the department (province) of Caldas.
Some expats refer to Manizales as the San Francisco of Colombia, owing to the city's hilly terrain. It even has a few cable car circuits, which are part of the public transit system. In fact, you can take the cable car from the main bus station to the city center, saving you an arduous 1.25-mile walk (2 km).
Manizales is a prominent university town with one of the highest number of universities in Colombia. The large student population brings the city a sophistication and energy that's often found in university environments.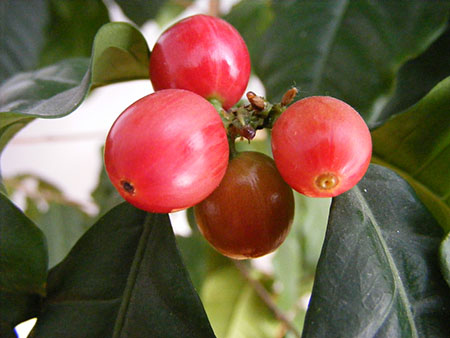 Ripe coffee berries, (photo by Stanislaw Szydlo)
Perched at an elevation of around 7,000 feet (2,160 meters), the average high temperature in Manizales is just over 70°F (21°C). Lows average slightly above 54°F (12.4°C). You'll see only about one degree of seasonal temperature variation throughout the year.

Located 12 minutes from the center of Manizales, there's an 18.5-hectare (45-acre) coffee farm for sale. It currently produces two types of coffee, aloe, and bananas. The property includes three houses, one designed for coffee workers, one as a casita guest house, and the other as the main house with four bedrooms on a single floor, plus gardens. The property has a reliable water source and is accessible by two different roads. The asking price is 600,000,000 Colombian pesos (US$207,182).

Also located outside of Manizales is a coffee farm on Via La Cabaña, producing bananas, yucca, citrus and other fruit trees, along with 4,000 coffee plants. The property receives water from Manizales but also has backup water from local streams. The 2-hectare (just under 5 acres) property includes a house with 125 square meters (1,325 square feet) of living space with four bedrooms, one bathroom, and all services (including cable) for the asking price of 125,000,000 Colombian pesos (US$43,162).
Vilcabamba, Ecuador: Pure Mountain Living With Year-Round Coffee Production
I finally got my own coffee finca in Vilcabamba, Ecuador, in 2002.
Situated at the perfect altitude of 5,000 feet (1,500 meters), Vilcabamba also offers what many believe to be the world's best weather—warm, pleasant days and cool nights all year. Vilcabamba is very sunny, but water flows through the valley all year. The rain they have falls during a few mini-rainy-periods between October and April.
Vilcabamba is best known for its reputation of having the world's greatest concentration of people over 100 years of age. This fact is unsubstantiated scientifically, but I can attest to the fact that many people there live to a very old age. The Vilcabamba valley is often called the Valley of Longevity.
I've heard the local longevity of residents being attributed to everything from a magnetic vortex to space aliens, but I'd give credit to pure air and water; organic, natural food; and lots of aerobic exercise from climbing the local hills.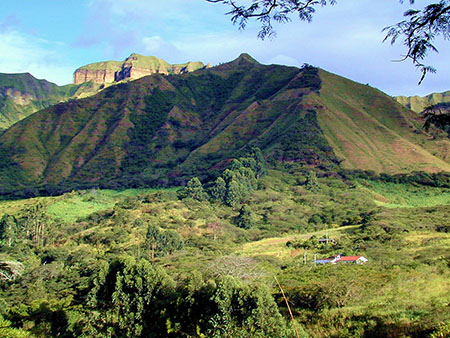 Coffee country in the Vilcabamba Valley, Ecuador
When we got the place in Vilcabamba, the locals were harvesting coffee two times per year. Being impatient for our own coffee, we started picking ripe berries every time we saw them. A blossom would form right after the berry was picked, and eventually we had blossoms and ripe berries on the same tree, at the same time… so we were producing ripe coffee continuously, all year long.

Ten minutes outside of Vilcabamba, at an elevation 1,680 meters, we found an organic farm with just over 32 acres (13 hectares) of land, a two-year-old house, shop/garage, and a casa antigua, which was the original ranch house. The new house has 160 square meters (1,721 square feet) of living space with two bedrooms and two bathrooms. The land includes magnificent views of the Andes Mountains in addition to hundreds of mature, organic coffee plants and fruit trees. The year-round cloud forest at the nearby Podocarpus National Park supplies potable, irrigation water by canal. The asking price is US$320,000.

A smaller coffee farm in the area has 6,435 square meters (1.59 acres) of productive land with 2,500 coffee plants in addition to fruit trees and traditional vegetables. There are also chicken coops and seven other sheds available for miscellaneous projects. The seven-bedroom farmhouse has all services, and there is plenty of covered parking for vehicles. The farm boasts 50 meters along the Malacatos River and is located in the Chorrillos area on the Loja-Vilcabamba road. The asking price is US$193,050.
Coffee land can be in some of the world's most beautiful locations, and thanks to coffee production's need optimum elevation, it's often grown in the world's best weather.
If you've got a spirit of adventure and take the time to do a little ground work, you could be harvesting your own coffee crop by this time next year.
Lee Harrison
Editor, Overseas Property Alert
***
Letters To The Editor
I am responding to Lee's answer to Leslie on
where single women can live on a budget in Mexico
. There are other places in Mexico for single women besides Álamos.
Mérida is full of single women, there is also a healthy gay population, and apartments start at US$125 a month. There are an abundance of fixer-upper houses for sale at low prices, although US$50K may be unrealistically low. It is the safest place in Mexico, it's full of cultural offerings, and it's easy to make friends through events at the English library.
Nearby is the Gulf Coast, from Celestún to Dzilam de Bravo, where I know of many single women living on a budget.
There are also many house-sitting opportunities; look at the Facebook pages for the coast such as Telchac Puerto or the large town of Progresso where it is easier to meet people. In the winter there are active expat groups in the coastal towns with many volunteer opportunities though which you can meet people.
My sister, two dogs, and I live full time in Mexico, traveling from beach to beach every few months. We return to Mexico's Bargain Coast (the Progresso area near Mérida) every year because of the friendly people, low prices, safety, convenient services, outstanding medical care, and variety of available day trips.
And Álamos is not the only place where single women can integrate quickly. The area north of Manzanillo is also excellent for single women, but it is not cheap like the Mérida/Progresso coastal area. Mahahual, on the Caribbean coast in the far south, is an outstandingly friendly place with a bit younger crowd and fantastic restaurants.
A similar place in lifestyle is the Oaxaca, eco-friendly coastal area of Mazunte – Zipolite if you can live in a more remote area than Mérida/Progresso.
If you are a single woman on a budget, have no doubts that Mexico has many places and people to welcome you.

Kelly
***
Hello,
Have you seen the New York Times article "Evictions by Armed Men Rattle a Mexican Tourist Paradise" (Aug. 16, 2016) about Tulum, Mexico?
Regards,
Jean-Claude
Singapore
To summarize the article, Mexican authorities have evicted a number of people from land they were occupying… some of whom had invested a lot of money in developing that land. This latest seizure and eviction involved 17 properties, including hotels, private homes, boutiques, and a beach club.
The land they were evicted from was originally communal land, which is common throughout Latin America.
This communal land is called ejido land in Mexico. An ejido is a group of people who have been granted the land to live on it and work it as a community. As communal land, it cannot be sold as-is, either by the group or by any individual in the group, unless it's been converted to private property, a long and complex process.
Yet it is frequently offered for sale without having been converted to private property. Personally, I've been illegally offered communal land in both Nicaragua and Ecuador, twice by scammers and once by local residents who didn't know any better.
The people evicted in Tulum never should have bought the land. Some stated they were aware they were buying ejido land but bought it anyway. Some built without the proper permits. Some bribed public officials to make the sale and permitting appear legal. They did something illegal and got caught.
I'm sure some owners probably acted in good faith… but they all took a gamble on ejido land and lost.
The New York Times makes it sound like third-world storm troopers swept in and took the poor foreigners' land. But, in fact, you can't blame anyone for a situation like this except yourself.
We at Live and Invest Overseashave been warning people away from ejido land in Mexico for decades. The risks of losing use of the land and your investment are just too high. When the "communal land" flag is raised on your title search, I'd just move on to another property.
***
Lee,
I just wanted to thank you for your articles. I enjoy reading them and wanted to comment on something you said about Puebla, Mexico.
I lived in Puebla for two years. I'm from Hawaii, and I'm not a city girl… but I loved this magical, beautiful, loving city and all her surroundings.
I do hope it stays a secret to most, as I don't want gringos to start ruining it… even though I'm a gringo. I have lived and traveled to many places, and Puebla is one of the most stunning and beautiful places ever, not to mention the beautiful hearts of her people; it really does have a complete package!
Mahalo Nui,
Debra
Have a question? You can write to Lee here.