Plus: Spain's Best Weather | Upcoming Coverage Of The Dominican Republic
Everyone who made it beyond third grade has heard of Cartagena, Colombia. It's Colombia's #1 draw for foreign visitors and home to a sizeable expat community.
But just 150 miles up the Caribbean coast is Santa Marta. It's a town that offers excellent diving, sandy beaches, calm waters, an upbeat and energetic culture, and a collection of diverse and attractive living options.
The way I think of it, Cartagena is where the world comes to visit, while Santa Marta is preferred by Colombians and a few savvy expats.
And with today's resurgence of the U.S. dollar, prices here are better than ever. A smaller apartment can set you back a little more than US$46,000.
Colombia's Oldest City Has Been Reborn
Columbus visited Santa Marta on his second voyage in 1499, and it was officially founded as a city in 1525. It's the oldest city in Colombia. It was here that one of Columbus's crewmen documented the wealth and riches of the local indigenous people, which gave rise to the myth of El Dorado, the fabled city of gold.
It's always warm in Santa Marta, with highs hovering in the high-80s to low-90s all year (31.5°C to 33.5°C). There's a rainy season that lasts from May to November, turning the surrounding mountains a lush green, while it's very dry the rest of the year.
When I first visited Santa Marta in 2010, it was definitely a "work in progress." The formerly seedy downtown was undergoing restoration, bringing the fine colonial homes, parks, and churches back to their original splendor. The first leading-edge investors were prowling the city.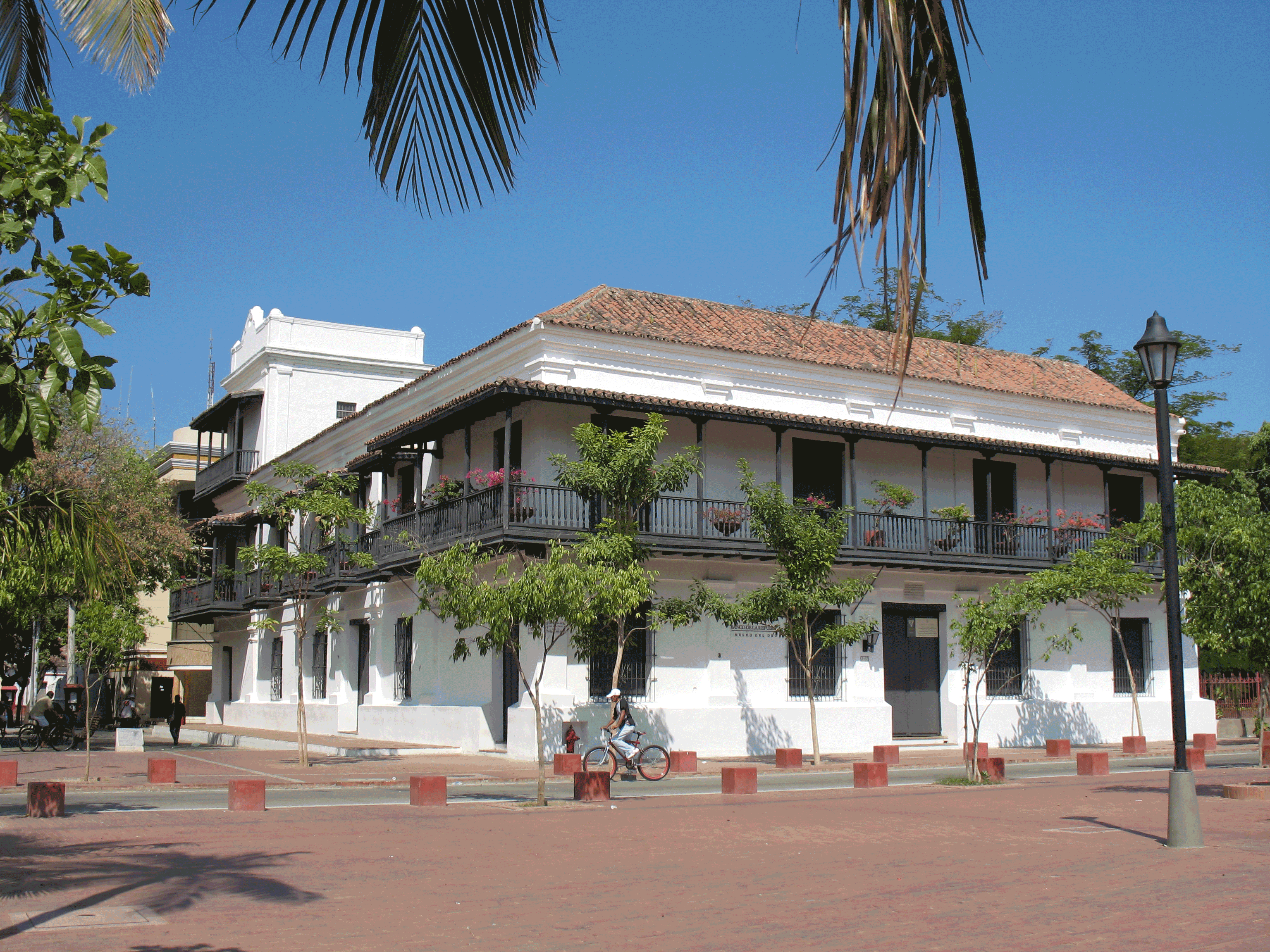 Today's Santa Marta is a different story. The downtown now has an attractive seafront park, plenty of small cafes and bars, as well as coffee shops, boutique hotels, excellent seafood restaurants, and even a cruise-ship port. The long-rumored 256-slip marina is now completed and operational, and new, tasteful condo projects have sprouted up around the entire area.
When I refer to "Santa Marta," I'm talking about the Santa Marta metro area, which extends 13 miles (21 km) from Taganga in the north to the airport in the south. This stretch of Caribbean coast is home to an amazing diversity of beachside destinations.
Let's take a look at them from north to south, starting with Taganga.
Taganga
Taganga is a small village surrounded by tall mountains that sits on an expansive, sparkling, deep-blue bay. The beach is long and unspoiled and is bordered by a new boardwalk. Taganga's bay is terrific for diving and snorkeling, and you'll find a number of dive shops and excursions available.
Santa Marta
Santa Marta (the city itself) contains the original historic center and the cruise-ship port. This is the part that underwent the dramatic restoration. Santa Marta also hosts a number of inland neighborhoods, such as Bavaria, that would be great for full-time living away from the tourist traffic.
El Rodadero
El Rodadero lies about 10 minutes south of Santa Marta. It's been the main draw in the area for years, as people sought to avoid the once-seedy historic center. The beaches are in fact far longer, wider, and better-kept than Santa Marta's, creating a giant crescent-shaped shoreline that's several miles long. El Rodadero offers a small-town feel that you won't find in the city.
On the oceanfront, El Rodadero boasts a fine sandy beach lined with palm trees along the warm, calm waters. The palm-shaded boardwalk is filled with people walking and patronizing the kiosks, which sell everything from fresh-made pizza to fresh-squeezed fruit juice.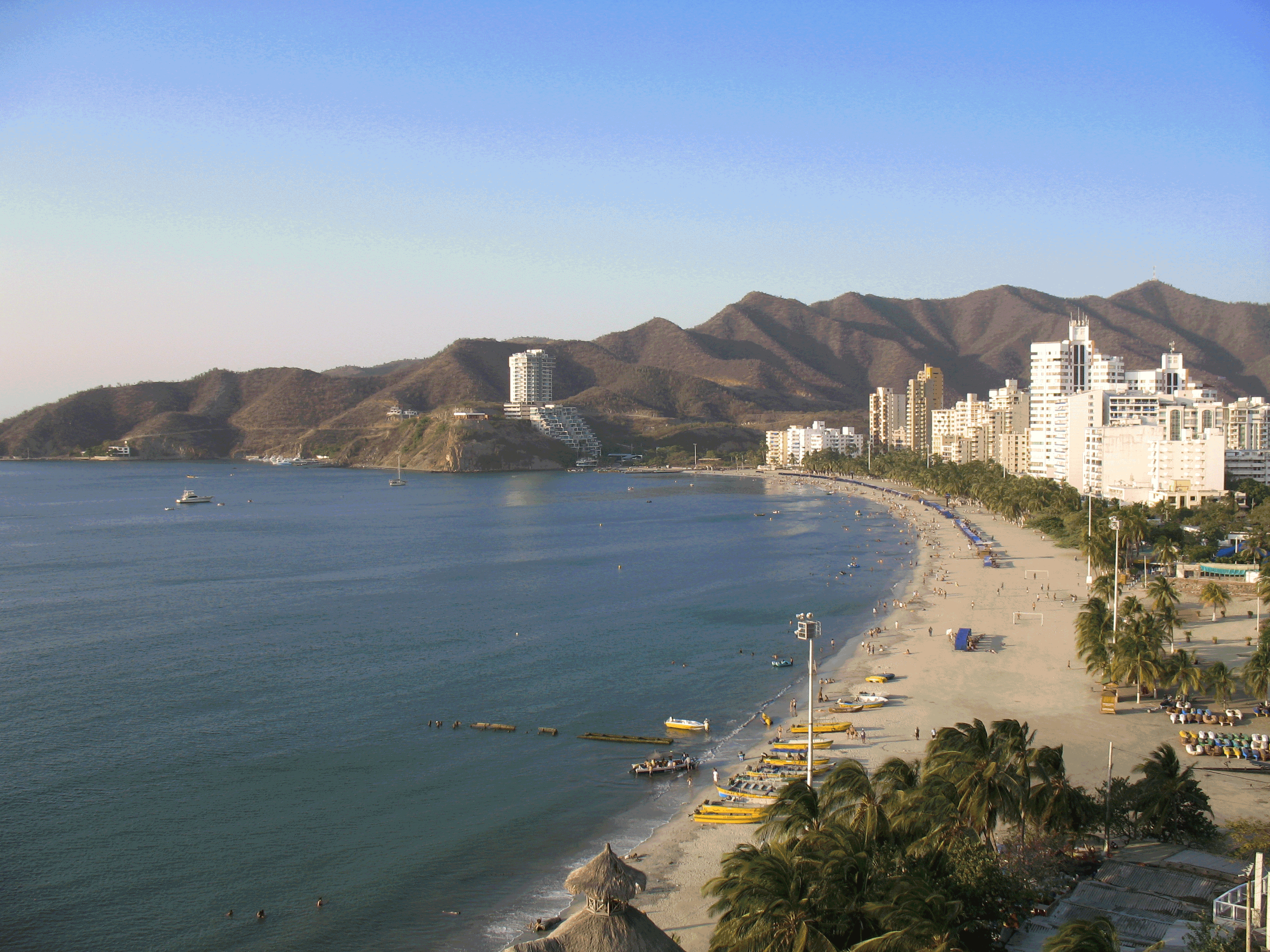 Weekend nights turn into an impromptu beach party, with families turning out by the hundreds to enjoy (and dance to) the local music of wandering music groups.
I think of El Rodadero as the family destination within the Santa Marta area. It's bustling with people enjoying the beach, markets, shops, and boardwalk. It maintains a safe, friendly, and laid-back feel. I like to call it the "Unpretentious Caribbean."
The Southern Sector
The southern sector consists of neighborhoods Rodadero Sur, Playa Salguero, Pozos Colorados, and Bello Horizonte. It lies south of Santa Marta and El Rodadero, but before the airport. These areas feature quiet, well-tended, and more-exclusive beaches than you'll see in Santa Marta or El Rodadero. They're also the site of quite a few new, upscale condo buildings.
This southern sector is the current direction of expansion in the Santa Marta market, where you'll find most of the new construction and pre-construction deals. The condo projects here are generally high-end, of large size, with nice finishings and amenities.
The southern sector is long on natural beauty. Bello Horizonte has the widest beach I saw in the area, and most of the beaches along this stretch are frequented only by the neighboring residents, with little to no tourism. It's peaceful.
When I came here as a foreign traveler, I found the southern sector a bit dull compared to the party atmosphere in El Rodadero or even Santa Marta Centro.
But now I understand its attraction for those who want to escape the bustle of Medellin or Bogotá (or El Rodadero, for that matter).
Current Exchange Rates Have Rolled Back Santa Marta's Property Prices
Property prices have risen notably since I first came here in 2010, although, for U.S. dollar buyers, the clock has been rolled back a few years. Again, let's look at some examples from north to south. Remember, the U.S. dollar price will vary with current exchange rates.

Taganga:
Here we found a three-story townhouse with great ocean views. It has three bedrooms, three baths, and 102 m2 (1,097 square feet) of living space. The property includes a garage, air conditioning, and a spacious rooftop terrace. The Homeowner Association (HOA) fees are US$25 per month in this seven-home complex. The asking price is US$77,500 (159 million pesos).

Santa Marta Centro: In the historic center, a three-level apartment is available furnished, with two bedrooms, two baths, and 106 m2 (1,140 square feet), recently remodeled. It is located close to the banking district, one block from Parque Bolivar and one block from the Caribbean and the newly refurbished waterfront park and marina. The furnished price is US$78,000 (160 million pesos). The HOA fees are US$12.50 per month.
A more-upscale apartment, this unit is 55 m2 (591 square feet), with a single bedroom and bath, and is also available furnished. The building is a classy modern structure in the colonial style, with four floors, four swimming pools, panoramic elevators, interior courtyard, sauna, and Wi-Fi. Located one block from the ocean, the price is US$151,000 (310 million pesos). The HOA fees are US$125 per month.
In El Prado, a third-floor penthouse sits in a green area, three blocks from the ocean. It has two bedrooms and one bath in 53 m2 (570 square feet). Built in 2010, it's in good condition but with no elevators. This would be a great rental. The asking price is US$46,300 (95 millionpesos).

El Rodadero: An attractive two-story house in the gated community Brisas del Lago has 136 m2 (1,463 square feet), three bedrooms, four baths, air conditioning, a study, and maid's quarters. It's located steps from the sea. The asking price is US$161,000 (330 million pesos), and the HOA is US$103 per month.
A 12th-floor apartment is available furnished, which has great sea views from everywhere in the unit. It's three blocks in from the water, with three bedrooms, two baths, 132 m2 (1,420 square feet), and maid's quarters. They're asking US$175,500 (360 million pesos). The HOA is US$122 per month.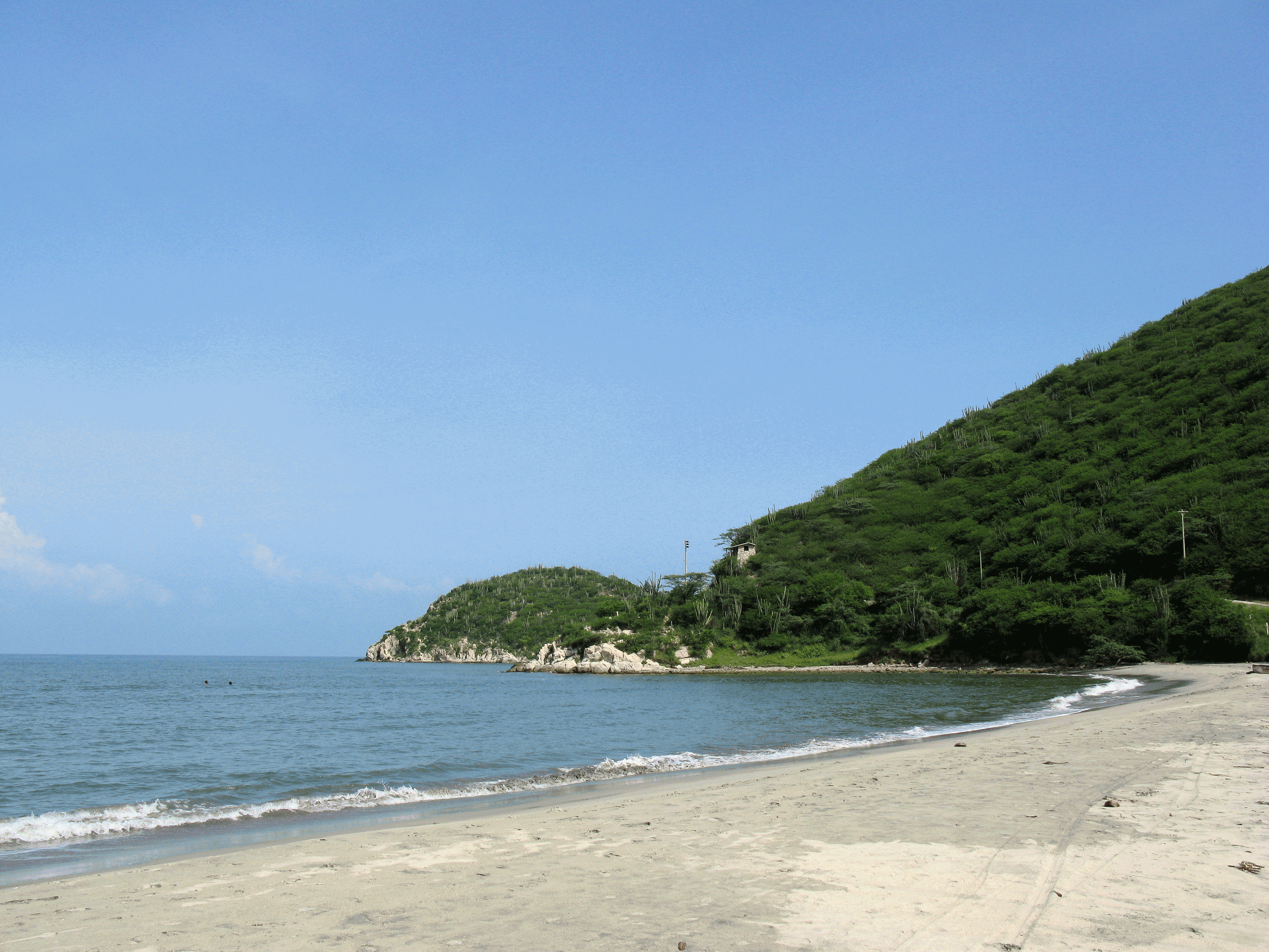 The southern sector boasts quiet beaches and higher-end properties

Playa Salguero:
In the quiet, more-private southern sector, directly on the exclusive beach at Playa Salguero, we found an apartment with two bedrooms, three baths, and 115 m2 (1,237 square feet). It also has air conditioning, two balconies, and a single parking space. The asking price is US$178,000 (365 million pesos) and the HOA is US$195 per month.
If you speak Spanish, contact Efraim Negrette via his Santa Marta property website ( https://www.miapartamentoensantamarta.com/ ). And even if you don't speak Spanish, you should check out his properties. For English, try Buy Colombia Realty ( https://www.buycolombiarealty.com/ ) and write to my friend Mauricio Jaimes.
Is Santa Marta For You?
Santa Marta is my favorite spot on the Colombian Caribbean coast. It doesn't have Cartagena's impressive colonial architecture, but neither does it have Cartagena's prices or tourism annoyances.
From the pristine bay at Taganga to the classic port ambience of Santa Marta to the energy of El Rodadero to the gleaming towers of the southern sector, Santa Marta seems to have something for everyone.
If you want a Caribbean home at reasonable prices, then Santa Marta could be right for you.
Lee Harrison
Editor, Overseas Property Alert


***
Letters To The Editor
Lee,
How about doing a piece on Dominican Republic north coast?
Paul
This is a good idea, and in fact, it's in the works. Stay tuned to Overseas Opportunity Letter (our free e-letter) for coverage on the DR from our Editorial Manager, Kaitlin Yent. Also, Kathleen Peddicord and Lief Simon are traveling there in November, and we've just scheduled our first Live and Invest in the Dominican Republic event for 2015.
***
Lee,
Hi, I have the same climate question as Jim but in reverse. Jim said, "One thing I don't like is hot, humid, rainy weather, at least not most of the year. Is there a location or country with four seasons, with mountains, that is also desirable in general terms for expatriation?"
You responded that for this type of weather, Chile was head and shoulders above the competition.
I am a resident of Chile (Los Andes at the base of the cordillera) and a temporary resident of Spain. I love Chile's weather but I find the cost of living very high and I would like to become a permanent resident of Spain.
Where can I find a dry climate in Spain without the extremes of temperatures; i.e. unbearably-hot summers and cold winters?
Thank you in advance for your expert advice.
Jean-Louis
Spain is my personal favorite destination in Europe, but I'll admit that I've been a fair-weather visitor. Aside from one winter stay in Madrid, I've always been there in the summer. So I asked some of the Live and Invest staff members who've spent significant time there.
Lucy Culpepper said, "I would direct him to the southern end of the Costa Brava region of Spain (avoiding Lloret de Mar…horribly touristy), and the northern end of the Costa Daurada, notably Tarragona, Torredembarra, and the more pricey but lovely Sitges.
"These areas have four seasons, though spring and fall are short, sometimes only one month each. There is a brief period of slightly sticky weather (nothing like the tropics) in July and August, but that brief discomfort is compensated by lovely crisp winters, sometimes warm enough to spend the day on the beach in shorts and T-shirts. Average temperatures in July and August are 70–75, and the average lows in January and February are 46–48."
Also, you can follow the link to read Lucy's recent report on Barcelona.
Finally, Lief Simon suggests that you take a look west of Gibraltar, where the Atlantic currents provide a cooling effect that you won't find in the Mediterranean.
Have a question? You can write to Lee here.