Plus: Buying In Bali | Buying With Your 401k
Nov. 11, 2014
Salinas, Ecuador
Ecuador uses the U.S. dollar
Dear Overseas Property Alert reader,
When you come to Salinas, Ecuador, in November, you'll find an energetic, bustling Pacific resort city soaking up some of the world's best weather. As I write this, Salinas is enjoying a sunny high of 82°F (28°C)—a forecast that remains the same for the next 10 days.
Ecuador's coast has a lot of beautiful, unspoiled, and fairly undeveloped seaside towns. And, in fact, Ecuador's undeveloped coast is what draws a lot of people to the country.
But if my agenda were to enjoy resort-style amenities—restaurants, cafes, nightlife, groomed beaches, and an active real estate market— then Salinas is where I'd buy.
Best of all, condo prices here start at just US$40,000.
Located at Ecuador's westernmost tip, on its south-central coast, Salinas occupies a unique position in more ways than one.
It is Ecuador's premier resort destination—a mature resort with a substantial rental and property market and a healthy tourist trade.
With around 35,000 residents in town, Salinas is a small city, but it is large enough to offer the services and infrastructure required by year-round residents.
It's convenient to the international airport in Guayaquil.
Finally, Salinas draws rental traffic during off-season periods in a way that I haven't seen elsewhere in Ecuador. More on that later…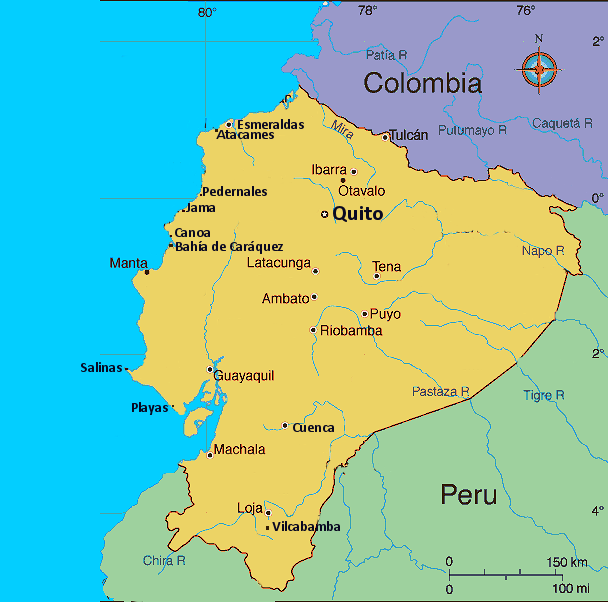 Salinas is located on Ecuador's south-central coast, on its westernmost tip
The beach here at the western end of Salinas is wide, sandy, and clean, bordered by the blue Pacific waters. Looking toward the end of the peninsula, you'll see quite a few motor yachts and sailboats from around the world parked in the attractive marina. Salinas has two nice yacht clubs in a country that has very few marinas—I've seen less than a half-dozen on the entire coast.
Looking to the mainland, the curving shoreline stretches for miles into the distance, with tall, modern buildings lining the waterfront, mixed with old-fashioned apartments and seaside restaurants. A well-kept boardwalk runs the length of the beach.
On the beach, people relax under colorful umbrellas, play games, and swim in the safe waters. Just offshore, jet skis race back and forth, leaving shimmering wakes trailing behind. It's no wonder that Cuenca and many other mountain cities empty out during vacation periods, as Salinas fills to capacity.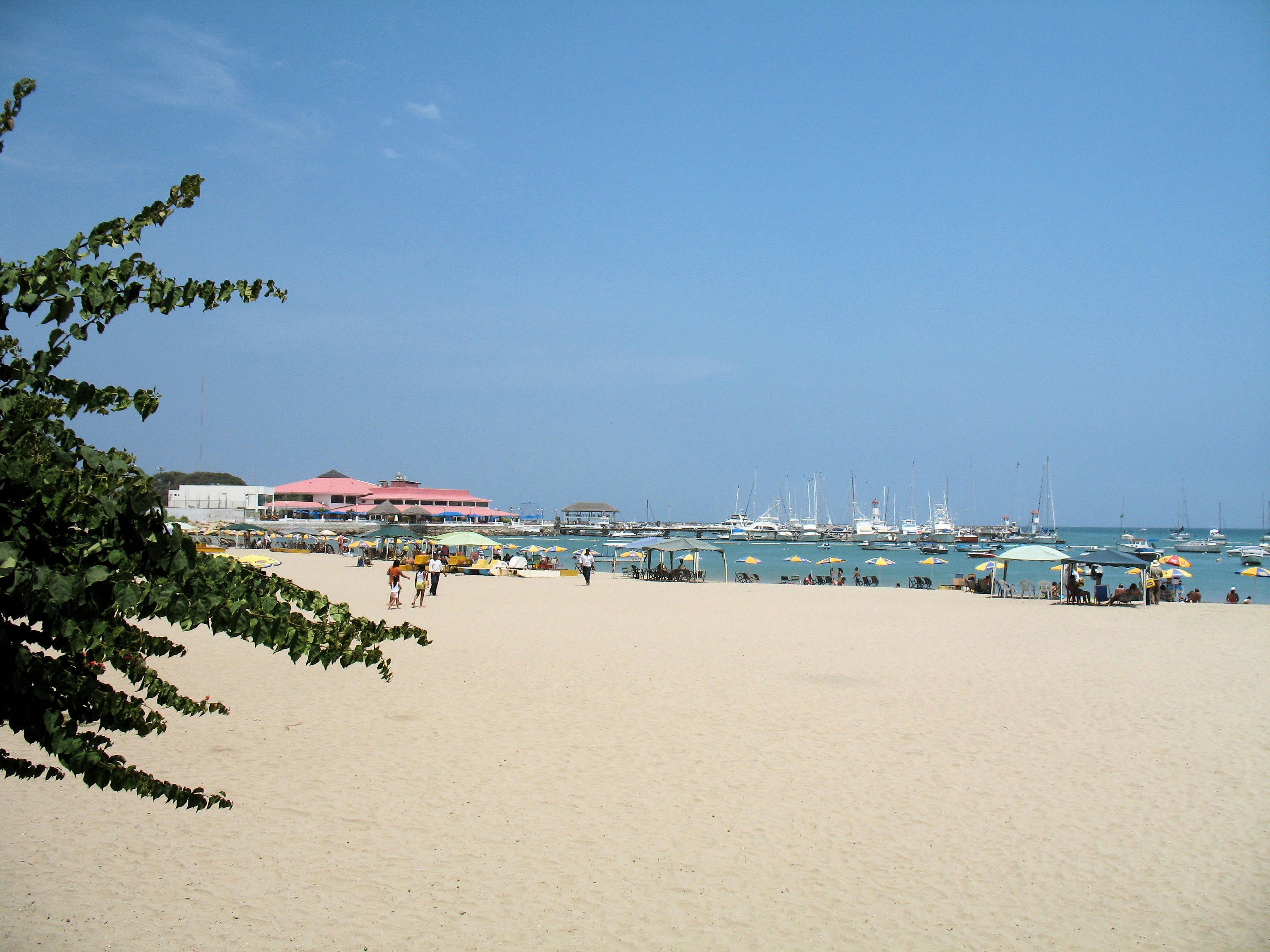 Salinas boasts one of the few marinas anywhere on the coast
My favorite part of Salinas is Chipipe, which is in the western part of the peninsula close to the naval base. It seems to draw a quieter crowd, and because it's at the end of the beach areas, there's less traffic. Also, the beaches are wider and nicer than anywhere else in town. And just a couple of blocks in from the beach, you'll also find a pleasant downtown area with fine old homes and lower property prices.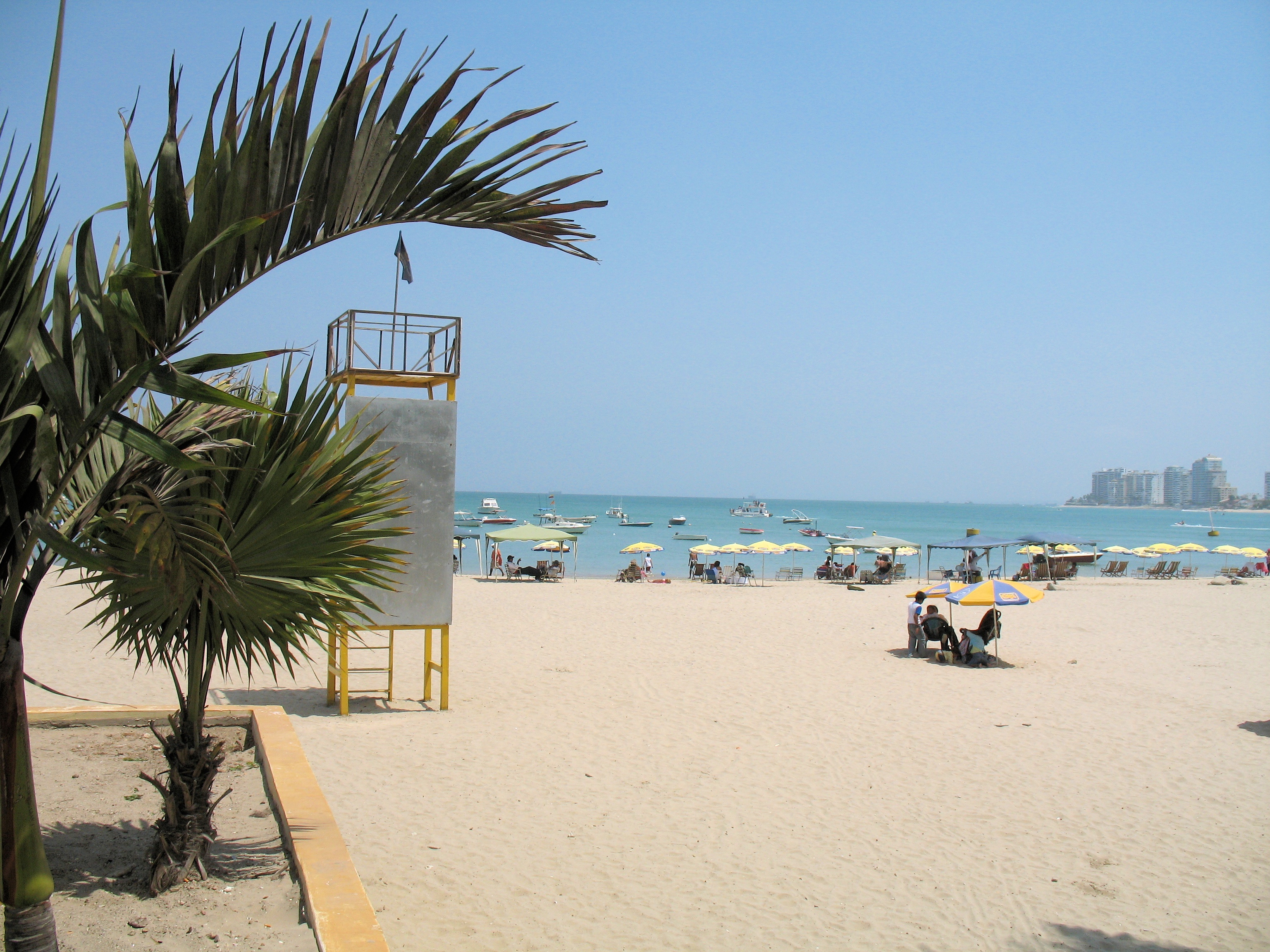 Viewed from the beach at Chipipe, you can see the highrises at the other end of the cove
Salinas is also famous for sport fishing and holds a number of world records for sailfish, tuna, and black marlin.
Pay Attention To The Weather And This Rental Market Quirk
The year's best weather starts in November, with sunny skies and pleasant temperatures. From about February through April, this weather gives way to sunny mornings with showers in the afternoon…still quite pleasant. From April through November, it's often cool, dry, and overcast. If you burn easily, you might like it; if you crave sunshine, you won't like it.
But Salinas benefits from the school schedule in Cuenca. The kids are out of school in Cuenca during June and July, and that's when a lot of families go on vacation. So there's a fair demand for vacation rentals during the time of year with the least-pleasant weather.
This is good for North Americans, who can escape their winter to enjoy Salinas's best weather of the year, yet have some rental demand during the off-season.
Real Estate Prices Are Remarkably Low For A Seaside Resort
One thing that continues to attract buyers to Salinas is the low cost of real estate and low cost of ownership. Here are a few items on the market today.
We found a two-bedroom, two-bathroom condo—in an older, well-maintained building near the beach—with 100 m2 (1,076 square feet) of living space. It has a kitchen with new cabinets, a living-dining area with built-in seating, laundry room, and a bonus room that can serve as a maid's quarters, office, or third bedroom. The unit is a walk-up, located on the third floor,

but the asking price is just US$40,000

.
| | |
| --- | --- |
| | Another condo is less than 2 years old and located in a complex with direct beach access in a residential area of Salinas, just a short drive from the malecón entertainment zone. (In this part of Latin America, the malecón is the beachfront road or often a boardwalk.) The complex has a gym, pools, social area, sauna, and 24-hour guard. The living area is 70 m2 (743 square feet), and includes two bedrooms, two baths, laundry, Internet, and DirecTV. The complex has parking and a pool and social area. This property is on offer, furnished, for US$90,000. |
| | |
| --- | --- |
| | Located in a quiet beachside community about 10 miles north of Salinas, with tranquil beaches within easy driving distance to entertainment and amenities, we found a 117 m2 condo (1,259 square feet) with three bedrooms, three baths, a kitchen, a living-dining area, and a large terrace with Jacuzzi. From its hilltop location it offers panoramic long-distance ocean views. The complex has parking and a pool and social area. Furnishings are included in the list price of US$125,000. |
| | |
| --- | --- |
| | With ocean views from the center of the beach district, we found a four-bedroom, four-bath oceanfront condo with a large balcony. With 160 m2 (1,722 square feet) of living area, it comes fully furnished and move-in ready for the asking price of just US$115,000. |
| | |
| --- | --- |
| | A large, 300 m2 (3,229 square feet) condo with two master suites, is located on the 10th floor of a well-located building on the malecón of Salinas and has amazing views. There are three large bedrooms, three baths, a huge living room and dining room, and an oversized terrace. The views from the terrace are incredible due to the high floor location of this unit. The owner says you can see north up the coast to Manta (87 miles away) on a clear day. The beach is right across the street, and stores, bars, restaurants, and pharmacies are also right outside. The asking price is US$150,000. |
My primary real estate contact on Ecuador's coast for more than 10 years has been Mike Sager.
My preferred attorney is Grace Velastegui, who has done all of my legal work since I met her in 2002.
Comparing Salinas To Playas
It's natural to compare Salinas to Playas because they're close to each other and they're both a convenient distance to the airport.
In broad strokes, Salinas has a more-mature second-home market, with a long, proven track record. If you're managing a rental, occupancies will probably be higher. If you live in Salinas full or part time, you'll find more year-round residents than in Playas. Also, the market is somewhat more liquid because of the high traffic and international crowd.
Playas, on the other hand, is a quieter setting that has more upside gain potential because it's more recently developed and is just now gaining recognition. Also, there's a large development underway nearby, which should drive the local market and provide more area amenities while raising prices. Finally, Playas has more sunshine all year, since it's farther from the cold Peru Current that causes Salinas's part-year overcast weather. Follow the link to see my full essay on Playas, Ecuador.
Getting To Salinas: One Of Its Best Features
You reach Salinas by flying to the international airport in Guayaquil. The flight to Guayaquil will take a little more than four hours from Miami and six-and-a-half hours from New York. According to local agents, the airport lies less than one realtor hour from Salinas (a realtor hour is the time quoted by agents and developers, based on how close they wish the airport was to their market). Despite what they'll tell you, the actual drive time is 1 hour, 53 minutes to cover 153 kilometers (95 miles).
But make no mistake, less than two hours (on good roads) from the airport to the beach in Ecuador is fantastic. The only closer place is Playas, at 1 hour, 17 minutes. Bahía de Caráquez would take between three-and-a-half and four hours. And Atacames (from Quito's airport) would be more than five hours.
So in the end, the distance from the airport to your second home is one of Salinas's strong points.
Is Salinas For You?
I think Salinas is your best choice in coastal Ecuador if you want to live part time and rent your place out part time. You'll have great weather during the North American winter and some rental traffic during North America's summer.
Unlike most of Ecuador's coast, it's not off the beaten path and it's far from undeveloped. But if you'd like a mature market and the amenities that it brings, then Salinas may well be for you.
Lee Harrison
Editor, Overseas Property Alert
***
Letters To The Editor
Hi Lee,
I would like to know if you have investment advice for Bali, Indonesia. I'm considering buying or building small villas to rent out. Many thanks.
Best regards,
Shoresh
The Netherlands
Although it's one of the world's most beautiful places with one of its hottest property markets, Bali would not be high on my list of places to invest as a foreigner. One issue is the expense—Bali is one of the world's most expensive places to buy.
But, more importantly, there are heavy restrictions on a foreigner's right to own land in Indonesia. You can get around this by forming an Indonesian business, but that may be more overhead and reporting that you'd like. You could also marry an Indonesian citizen, but that also may incur more overhead than you'd like.
There are also long-term leaseholds, and ways to buy in the name of a third party, neither of which is to my personal liking. But to be sure, foreigners are acquiring property on Bali every day, so where there's a will, there's a way.
For more information, take a look at this previous feature on Bali in Overseas Retirement Letter.
***
Lee,
We have been following your posts for quite some time and we attended the Live & Invest Overseas Seminar in San Antonio last fall. We just recently made our move from Colorado to Costa Rica, and at present are renting before we determine when and if we want to purchase our retirement home.
Our question is do you know if it is possible to convert a 401k into something that you can use to purchase your "own home?"
Thanks,
Joe & Linda
Costa Rica
First off, congratulations on settling in one of the world's most beautiful countries. As to the 401k, converting an employer's 401k plan into a 401k that can purchase overseas properties is fairly easy. Contact Woody Funderburk for more information on setting up a Solo-401k plan. Also, follow this link to see my previous essay on buying overseas property with a 401k.
But using your investment property for your residence is a "prohibited transaction" in IRS terms. I don't know of any legal way around it. Follow the link to see the IRS's explanation of prohibited transactions.
But there are other things you can do. One is to borrow money from your Solo 401k. You can borrow up to US$50,000 or half of the plan's assets. There are no restrictions on how you use this money.
Another creative partial solution I saw was a case where a number of small lots were for sale. The individual bought one lot on which to build his home and used his 401k plan to buy the surrounding vacant lots.
As time went by, he planned to transfer each of the surrounding lots from the 401k plan to himself (one each year), documenting it as a distribution and paying the tax. I believe this is legal if you don't personally use the surrounding land, but ask an expert to be sure. Developers will sometimes subdivide large lots to allow you to do this.
***
Lee,
I've got to ask. Are you getting some kind of kickback when you write about these real estate deals, like the one the other day in Envigado, Colombia?
Jim
Florida
No, unfortunately for me, I don't receive any commissions. I'm paid pretty well to travel and write these essays, and that's my compensation.
I do however, accept donations from readers like yourself. (There's a US$10,000 minimum donation.) Write back for my PayPal account if you're interested.
Have a question? You can write to Lee here.