April 1, 2014 Cali, Colombia
Dear Overseas Property Alert Reader,
My recent trip to Cali, Colombia, brought the most pleasant surprise of the past five years. The weather was great, the city was fun, the restaurants and nightlife awesome, and the people welcoming, open, and friendly.
Best of all, I saw rock-bottom prices—some of the best property prices on the continent. And these low prices can result in rental yields of between 10% and 20%.
If you didn't see my first Cali report, follow the link to read up on Cali's neighborhoods and property deals.
Rental yields are the best investment play in Cali. You can earn a 10%, "hassle-free" yield by managing a long-term, furnished rental. But if you want to take on the additional work of monthly or weekly furnished rentals, that yield can go over 20%. More on that to follow…
With respect to capital gains, Cali is a great place to buy an inexpensive home in a warm climate in a friendly country. But I would not buy in Cali to flip the property for a profit near-term. I didn't see any market force in Cali that was poised to push prices up. I'd expect steady, slow growth in prices…but no more than that.
If you're in the market for an income property, you should take a hard look at Cali
The market for high-end rentals looks good, and the market for furnished, high-end rentals is wide open.
But the first question to ask yourself when you see a "wide-open" market is whether there's any demand. You don't want to invest in the equivalent of a burger joint in India just because no one else is doing it.
In Cali, I think the demand for furnished rentals is there.
To start with, Cali itself has a lot to offer. The weather is great for someone who wants to escape the North American winter, or a visitor who just wants to enjoy Cali's nightlife. Also—as the world's salsa capital—the salsa trade draws people from all over for dancing, dance instruction, or the nighttime action in Cali's many salsa clubs and discos.
Also, there's a demand from Cali's business travelers who need longer-term, furnished accommodations; people who are in town longer than a few days, but not long enough to enter into a long-term contract.
Finally, there are a number of apart-hotels and furnished apartment rentals already on the market. But more-importantly, there is a big new apart-hotel project under construction, reflecting today's rental demand.
As a landlord in Cali, you can have an advantage over both the apart-hotels, and the existing rentals on the market. Here's why…
With respect to the apart-hotels, most of us would rather live in a building that had actual residents, to get a feel for what "real life" is like, especially if we're considering living or buying in Cali. So in my experience, a private furnished apartment will rent before a unit in a large apart-hotel project.
And with the existing rentals, frankly, many of them are just not that nice. They photograph poorly, are located in so-so areas, or are not equipped to high standards. You can easily do better.
One notable exception is this luxury furnished apartment in Cali ( https://www.calirentapartments.com/two-bedroom/ ), but units like this one are scarce. It's in a super location in a modern building, and it's bright, well-equipped, and tastefully furnished. I'd be very happy in this apartment…but I saw nothing else quite like it.
Like any investment, owning a rental here is not the same as printing money
There are risks and challenges. In my view, the main challenge here will be marketing your property.
Many of you will have a target market in mind. But if you don't, there's not much of an infrastructure in Cali to keep your unit occupied. In Medellín, we've got well-established, local property managers, with high standards, who keep the units full on a large scale. The best example is The Apartment Medellín, where I've got two of my own units listed.
In Cali, that mature, furnished rental infrastructure doesn't exist; although you can find units using airbnb, VRBO, or CaliRentals.net ( https://www.calirentals.net/index.html ).
So the trick to managing an income property in Cali won't be the available margins, but rather your ability to keep the unit full using a full-service rental manager.
There are a couple of market quirks to keep in mind in Cali. One is that Homeowner Association fees are high, starting at around US$3,000 per year in a nice building. No one could explain why they were so much higher than Medellín, but it's a fact of life.
The second quirk is that long-term, unfurnished rentals are bringing unusually-high returns, which is great for the investor.
Let's take a look at a two examples: high-end apartments located in prime areas
In the Mirador del Rio building, there's a two-story penthouse for sale for US$146,300 (300 million pesos). It's a high-end property with a river view, granite counters, marble floors, fine wood trim, and two balconies. The location is great, in El Peñón, within easy walking distance of its restaurants, cafes, and clubs…and it's about five minutes to the trendy San Antonio and a 15-minute walk to the popular Granada gastronomic and club district.
Here's what I calculate this place would earn:
| | | |
| --- | --- | --- |
| | Gross | Net |
| Unfurnished, long term | 9.3% | 7.7% |
| Furnished, monthly | 14.4% | 8.8% |
| Furnished, short term | 22.3% | 14.8% |
And while those high numbers for furnished units look tempting, the one that should really get your attention is the unfurnished, long-term contract. A net return of 7.7% is fantastic, and not just because of the money. A long-term rental will also be far less hassle because you're not going to furnish it and don't have to turn it around between clients, and the tenants take care of routine maintenance and HOA fees.
The disadvantage of the long-term rental is that you can't use it yourself as a vacation home.
To give you an idea of the carrying costs, here are my numbers, using the actual values in Colombian pesos. I'm assuming that you're buying good-quality, high-end furniture.
I figured the dollar equivalents at today's exchange rate of US$1 per 2,050 Colombian pesos.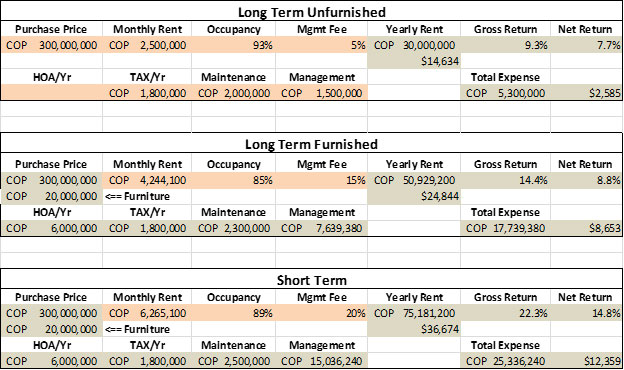 Here's another example; an apartment in Normandía with 2 bedrooms and 2 baths, and 89M2 (958 SF) of living space. It was located right on the river that separates Normandía from the restaurant district in El Peñón, with tall riverside trees and a river view, on the famous park Gato del Rio. They're asking US$78,000 at today's exchange rates (160 million pesos). This unit is not only an easy walk to El Peñón's gastronomic areas but also to historic San Antonio and the restaurants and clubs of Granada.
| | | |
| --- | --- | --- |
| | Gross | Net |
| Unfurnished, long term | 12.6% | 10.2% |
| Furnished, monthly | 21.7% | 12.3% |
| Furnished, short term | 36.7% | 24.1% |
As you can see, it's possible to generate a great income stream; one that's relatively independent from the U.S. economy and the value of the U.S. dollar.
My preferred realtor in Cali is Alba Lucia Polanía, of Coldwell Banker, and she showed me both of these properties. You can write to her in English at albalucia.polania@coldwellbanker.com.co, or see their website here ( https://www.coldwellbanker.com.co/co/index.aspx ), also available in English.
Make no mistake. Buying a rental property in Cali is a leading-edge move. You'll be a pioneer, in the way that the Medellín expat-landlords were seven years ago. You're not stepping into a mature, proven market with a long track record.
But like those early Medellín expats, you'll be in on the ground floor, and can enjoy the monetary rewards that come from your early-in risk.
Lee Harrison
Overseas Property Alert
***
Letters To The Editor
Dear Lee,
Great story about Cali two weeks ago.  Any plans to visit Bucaramanga?  I have always been wondering about this "university town," but being located not very far from Venezuela makes me wonder.  Any opinion, please?
Provda
I took a scouting trip to Bucaramanga, and found it to be a great city for living with a good property market. There's not much of an expat community, but if you'd like to be part of an exciting Colombian city, I find it a good lifestyle choice, with some good investment opportunities. Follow the link to see my full report on Bucaramanga. It's free to Overseas Retirement Circle members, and 10 bucks for everyone else. Also, here's an overview of Bucaramanga you can read free.
Dear Lee,
Congratulations on your new pub, Overseas Property Alert. I love it!
Lee, if you were just now starting out, would you buy an apartment in Panama City or in Medellin, considering both ROI and capital appreciation? I'm looking at about 200k for my first overseas purchase. Thanks!
William
That's an easy question for me…although it really shouldn't be. I'd go with Medellín.
That said, at this time, I think that both cities will produce a good rental return if you choose the right property. And while Medellín has performed well in recent years with respect to capital appreciation (about 8.5% per year on the Golden Mile), Panama City is now also experiencing a resurgence in prices, with some great values available. Panama City has the advantage when it comes to moving money, with Colombia's exchange controls adding a complexity you won't find in Panama. Also, it can be possible for a foreigner to get financing in Panama.
The simple reason I'd pick Medellín is because I like it better. I enjoy the weather, the cleanliness of the city, the social life, cafes, and restaurants. And since I need to spend time in the city where my investment property is, I'd rather it be the one I'd enjoy the most.
Lee,
How does the tax on rental property compare among Ecuador, Brazil, and Colombia?
Merrill
As a non-resident, you'd owe tax on in-country rental income in each of these countries. In Brazil or Ecuador, you'd likely be lost in the background noise. In Colombia, however, your bank will require you to get a tax ID number when your deposits exceed a certain level. And remember, in addition to what you owe the foreign country, you may also owe income tax to your home country.