A Life By The Lake? Here Are 7 Top Places To Go..
"Hurry up, Mom!" shouted Grace, waist-deep in the lake. "It's warm… like bathwater."
It was like bathwater… only yesterday's water that somebody forgot to drain.
But, coming from our home near the southeast coast to the lakes of the Irish midlands, I agreed with my 10-year-old daughter that Lough Ree was at least a couple degrees warmer than our Atlantic waters.
We spent our staycation this year at my in-laws' home a couple of miles outside the town of Athlone. Athlone is smack bang in the middle of Ireland. Thanks to the M6 motorway that runs horizontally across the country, you can be east to Dublin or west to Galway in an hour. It's also home to Ireland's oldest pub, Séan's Bar—a much-loved watering hole in the town, and one that, despite holding its Guinness World Record, has a feel that's both local and low-key.
But neither pubs nor big cities were on our agenda for this summer holiday. Athlone sits on Ireland's longest river, the Shannon, just below the southern shores of Lough Ree (lough, pronounced "lock," is Gaelic for lake). With a family boat at our disposal, we spent some of the best days cruising around the waterways and diving off piers.
During our time on the lake, I couldn't help comparing it to beach life…
While I love the crash of surf on a beach walk, there was something to the stillness and silence of the lake. Ireland does good waterways, and the views around the inner lakes of Lough Ree are just as (if not more) spectacular than our coasts.
On a practical level, on this holiday, there was no sand to fill the car, drag through the house, and fill our beds.
What I did carry home with me, though, was a new appreciation for lake living. So today, we're going to take a look at some of the top places in the world to go for a lake lifestyle… along with some current listings on or near the water…
Let's begin in the Americas…
1. El Peñol, Colombia
About 90 minutes from Medellín, you'll find Lake El Peñol and the towns of Peñol and Guatape. This pristine lake is like the Lake of the Ozarks meets Lake Tuscany. Crystal clear lake water, reasonably priced lakefront lots, and wonderful scenery. The area is a popular weekend destination for locals coming from the city and a year-round destination for international visitors—many of whom come to climb the national monument, Piedra del Peñol.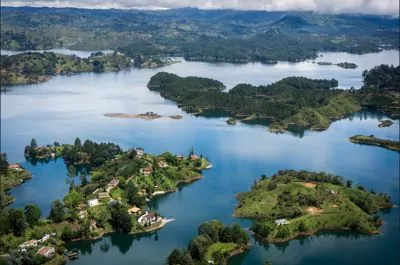 In Guatape, I found a chalet with views over the lake and mountain. It's 80 square meters with two bedrooms, two bathrooms, living room, and balcony overlooking the lake. Price: 560 million COP (US$144,270).
2. Gatún Lake, Panama
When the Panama Canal was created, the Chagres River was dammed up, and left behind was the beautiful and wild Gatún Lake, south of Colón. As well as acting as a major cog in the canal system (it holds the water supply for the locks), Gatún attracts nature-lovers who come for wildlife safaris around its islands. One expat we know recently opened an eco-friendly campsite on the shores of the lake.
If you're interested in a tourist venture, I found an eco-hotel for sale. The hotel—on over 8 hectares, with 150 meters of lakefront—has five bedrooms, a pool, garden, boat, horses, and comes with official tourism permits. Price: US$450,000.
For something more private, there's this three-bedroom lake house with a swimming pool for US$163,000.
Both properties are in the Costa Abajo area. Here you have the benefit of being on the lake, close to the Caribbean coast, and just 2.5 hours from Panama City.
3. Lake Bacalar, Mexico
Also known as "Lake of the Seven Colors" for its changing hues, Lake Bacalar is in Mexico's Yucatan province, three hours south of Tulum. It attracts visitors from the Riviera Maya, as well as over the border from Belize (the lake is less than an hour from the town of Corozal in Northern Belize—an easy daytrip for the increasing number of expats settling there). With a limestone bottom, the 42-kilometer-long lake is renowned for its purity and is popular for swimming, diving, kayaking, and paddling.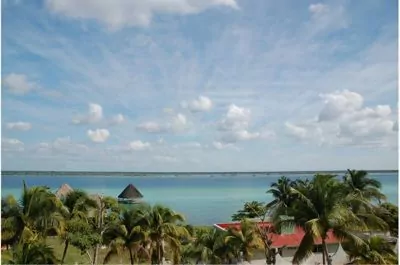 In a new development here, scheduled for completion in 2022, two-bedroom condos with views over the lake are priced at US$178,610.
Just 20 minutes from the colonial city of Granada, surrounded by wild nature, you'll find Lake Apoyo. Formed in the caldera of an extinct volcano, Apoyo is a protected nature reserve. It's a welcome weekend escape for city folks, who come here to relax and enjoy the opportunity to hike, swim, kayak, and fish.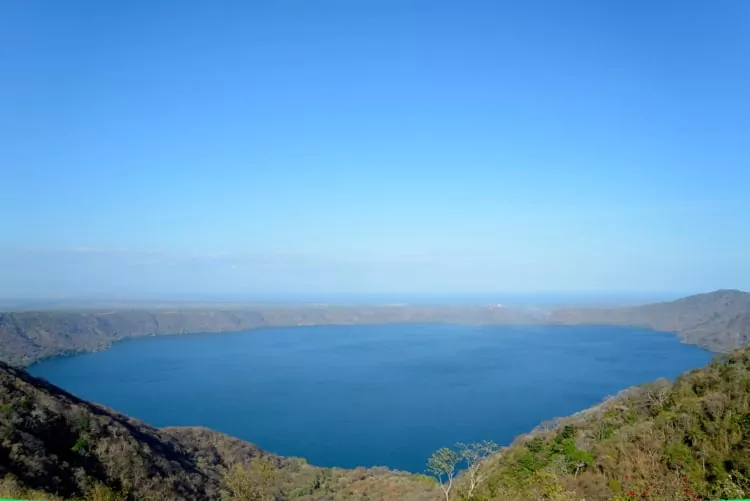 Life here would be quiet—though you'd have the attractions of Granada close by. Of the limited stock here, most property is put on the short-term rental market.
In the Laguna Apoyo Resort, there's a three-bedroom property currently on offer for US$75,000. The resort has two swimming pools, as well as three restaurants on the lake's edge.
Now, it's Europe's turn…
5. Skadar Lake, Montenegro
The largest lake in Southern Europe, two thirds of Skadar belongs to Montenegro (the remaining third is claimed by Albania). The Montenegrin area of the lake is a protected national park, bordered on its three sides by dramatic mountains. This is a pure, pristine landscape… an enchanted world for those who are lucky to travel here or call it home. Below its karst floor, some 50 springs help to keep the water clean and clear. With over 270 species of birds, it's also one of Europe's biggest bird preserves.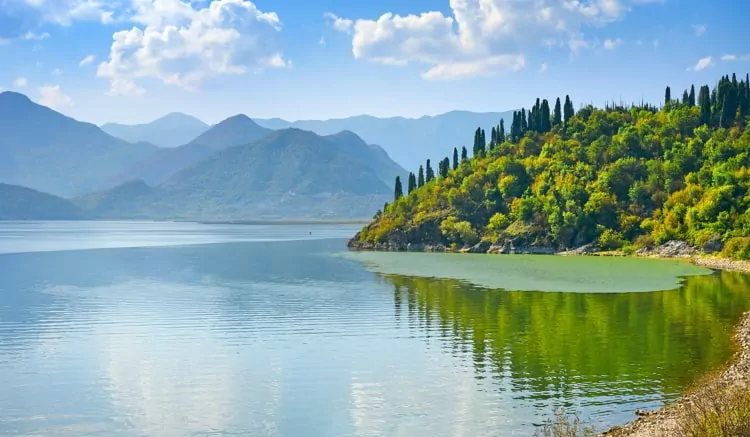 Construction is highly restricted in Skadar Lake National Park, so you won't find a whole lot of options for pure lakefront. Just steps from the lake, I found one property with a commercial unit on the ground floor and a four-bedroom apartment above. It's asking 220,000 euros (US$257,700).
For the same price (220,000 euros), there's this stone house just five minutes from the lake. In the heart of the Crmnica wine region, it has three bedrooms, two wet rooms, an open-plan kitchen and living area, a vaulted wine cellar, swimming pool, and vineyard.
6. Lake Annecy, France
Lake Annecy is located about two-thirds of the way down France's eastern frontier, just minutes from Geneva, Switzerland, and about an hour and a half from the Italian border. Despite being in the middle of the Alps, it's only at a 500-meter elevation (about 1,650 feet). Surrounded by ski resorts at higher elevations all around it, Annecy is just as much a winter destination as a summer one.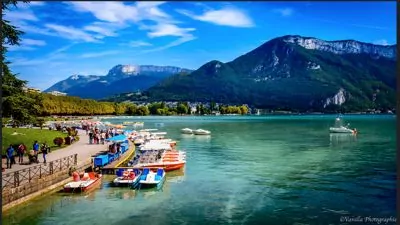 In Focus: Europe Editor Kat Kalashian, who recently visited the area, says: "The lake—the cleanest in Europe—is the place to be when it gets hot. The water is shallow all around the coastline and so crystal clear that you can easily see to the bottom until it's at least 10 feet deep.
"Marinas, boating schools, water sport rentals, and every other kind of shoreside activity and amenity are found all over, both at the beaches and in between. And there's no shortage of patronage for all these activities… it seems a requisite to visit the lake with your family. We saw no singles… and I don't recall any couples either. This is the most multi-generational family-friendly town I think I've ever visited."
As a favorite vacation spot here on the border with Switzerland, with year-round traffic, this isn't the place to come for a bargain—at least not for lakefront. Best I could dig up on the shores of Annecy was this one-bedroom apartment—with great views of the lake—for 215,000 euros (US$251,900).
7. Lough Ree, Ireland
We're back to where I started this issue… in the heart of Ireland. Lough Ree (meaning "Lake of the Kings" in Gaelic) is the second largest lake on the Shannon river with borders in Counties Westmeath, Roscommon, and Longford. It's part of the Waterways Ireland network with marinas and services at villages and towns along the 360 kilometers of the Shannon.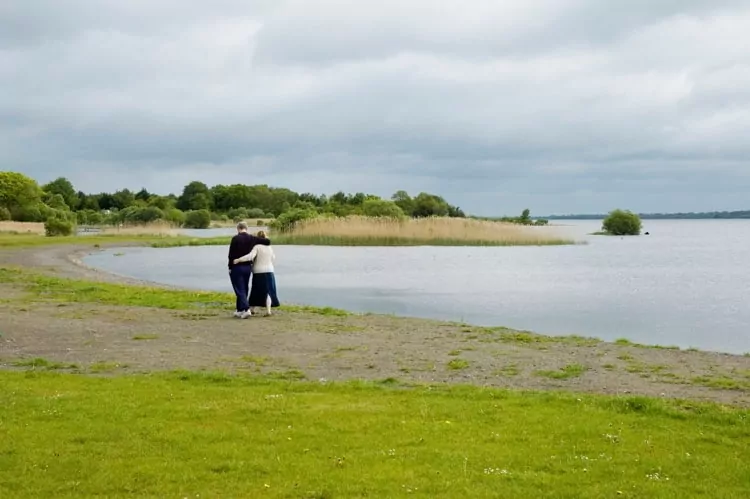 From Lough Ree, you can travel north to Lough Key Forest Park (with zip lining, cycling and walking trails, camping ground, picnic areas, and the ruins of a 12-century abbey). Going south, you'll pass through Athlone, the 6th-century monastic site of Clonmacnoise, the sister lake of Lough Derg, all the way down until you meet the Atlantic at Limerick City. But there's plenty to enjoy around Lough Ree itself, including Hodson Bay (with its hotel and water adventure park) and the charming village of Glasson which is popular for its scenery, fine dining, and Christy O'Connor Jnr. golf course.
Long before the pandemic, property on the shores of Lough Ree came at a premium. With limited stock available, it's a seller's market across Ireland right now with little to no room for negotiation. I found this three-bedroom bungalow, on a 0.7-acre site, with lovely views of the lake and surrounding countryside, for 290,000 euros (US$338,460).
My favorite, though, is this cottage on the lake island of Inchmore. Set on an acre and without electricity or water supply, it's an opportunity to go off the grid. Cooking is done on the open fire or gas cooker, and there's an outhouse with compostable toilet. For more comforts, you could install a generator or solar power here. But left as it is, for the right person, it could be a welcome vacation escape and/or charming summer rental. Inchmore has a public dock, and once you make the short spin to the mainland, you're just a few minutes from Glasson village. Price: 120,000 euros (US$140,080).
Lynn Mulvihill
Editor, Overseas Property Alert