Peru: Offering The Best Destination You're Not Hearing About 
Plus: She's Stealing Your Apartment! And Where To Invest US$150,000
My first trip to Peru revealed one of my absolute best discoveries in Latin America… and also one of my most disappointing.
And my biggest and best surprise was found by looking into Peru's immigration and citizenship laws… they've got one of the best residency and citizenship programs out there.
I started my trip by flying directly from an assignment in Montreal to Lima, Peru's capital. Lima was the disappointment.
Although it almost never rains, the skies are grey and overcast for most of the year. So if you weren't already depressed by the noise, knotted traffic, and eye-watering pollution, the damp fog and lack of sunshine will eventually wear on your good nature. Of course you could go to the nearby beaches, but the weather is no better, the water's cold, and the city's sewage is pumped into the ocean. 
After a day of discovery, I knew I was not going to recommend Lima as an expat destination. I wasn't even tempted by apartments for less than US$20k… at least not very tempted.
But my disappointment was a good thing. I spent the rest of my days in Lima as a tourist, exploring its wealth of fine restaurants, cafés, museums, and even ancient ruins… all while getting to know some of Lima's great people. I got a look at Peru's fascinating culture, which I probably wouldn't have if I'd been out looking at properties.
I'll have to admit that one of the factors that brought Arequipa to the top of my list was how it compared to Lima.
Arequipa Offers Sunshine, Blue Skies, And Fresh, Spring–Like Temperatures
About 40 minutes after breaking out of Lima's overcast ceiling, I could see the city of Arequipa shimmering in the distance, through the crystal-clear air, from perhaps 75 miles away. I paused at the top of the roll-up stairs while getting off the plane, to take in the brilliant Andean sunshine, deep blue skies, and the fresh, spring-like air.
If there were any place on earth more different from Lima, I can't imagine where it would be. The city's towering volcano, Volcán Misti, with its perfect cone, looks down on the old colonial city alongside its snow-capped neighbors.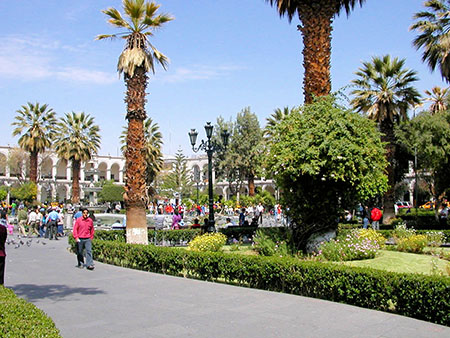 The Arequipa town square is bright, colorful, and cheerful
Founded by Pizarro in 1540, Arequipa maintains its original colonial charm, even though much of it was re-built following an 1868 earthquake. The central plaza is clean, vibrant, and busy. Its lush lawns, neatly trimmed shrubs, and tall trees are complemented by a sparkling fountain, and the plaza maintains a festive atmosphere. Most of the surrounding buildings are constructed with portales (or arches), which is a somewhat rare treat in these colonial plazas. The cathedral on the square is the widest in South America, taking up an entire city block.
Arequipa is Peru's second-largest city and third-largest tourist destination. It was named a UNESCO World Heritage Site in 2000.
It's known as the Ciudad Blanca, or "white city," because many of the buildings are built using sillar, a white stone block made from volcanic rock found in the area.
The architecture has a strong Moorish influence. The construction quality is good here compared to what I've seen in other colonial cities. In the old buildings this is due to the use of stone-like sillar instead of adobe (which is made from earth), while in the newer buildings it's because they're built to withstand earthquakes.
Arequipa sits at an altitude of 2,300 meters (7,600 feet), so the environment may not be suitable for people with respiratory ailments… others will be acclimated in a few days. Alcohol has about twice the normal effect at this altitude (based on my own scientific study), and it will require about six months of diligent "training" to adapt to this phenomenon.
The rainy season here is from January to March, but the desert surrounding the city tells me that it doesn't amount to much. In fact, it rains about half as much as the deserts around Phoenix. The average daily high temperature is about 71°F, while the average low is around 44°F (that's 22°C and 7°C respectively).
Arequipa takes their tourist trade seriously. They do a good job maintaining the tourist infrastructure with a well-kept colonial center as well as a good number of restaurants and tourist attractions. Tourism is what makes the city thrive, and they obviously intend to keep it that way.
While the tourism industry brings an economic advantage and higher-end amenities to Arequipa, it also brings, well, tourists. There are always a large number of North Americans and visitors from other countries in the area around the square, which is fine if you're a traveler but may become annoying as a resident.
If I were shopping for property here (which I did) I'd concentrate on the areas in the historic center that are outside of the blocks that form the square's perimeter—or on one of the nice residential areas outside the historic center, such as the Yanahuara or Cayma districts.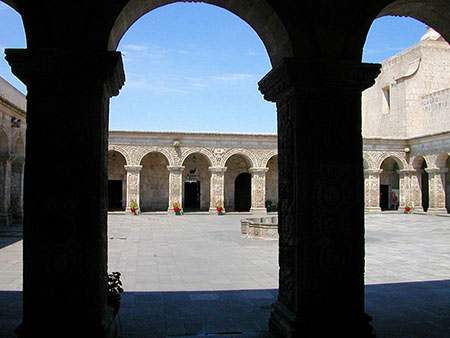 Made from blocks of sillar, this construction holds up well to the occasional earthquake
A Look At The Property Market
If you're renting, you'll find some good deals. I saw a number of nice places between US$300 and US$450 per month.
For the hardcore cheapskate, the market for sales starts at about US$42,000. This will get you a small (but modern) one-bedroom unit with a small balcony near the university. It's in Tahuaycani, about a 20-minute walk or so from the historic center.
Within the historic center you won't find much for sale. I saw two apartments, only a couple of blocks from the town square, both built in 1997, and both with two bedrooms and one bath. One is larger and in a quieter location for US$73,500… the other (on a traffic circle) had an asking price of US$53,200.
The best value I saw was a three-bedroom, two-bath unit of 146 square meters (1,570 square feet). Located in the popular Yanahuara district, the asking price is US$125,000.
If you'd rather have a house, I saw a modern, three-story home with four bedrooms and 215 meters of living space (2,300 square feet). Overlooking a large park, they're asking US$232,000.
My preferred realtor in Arequipa is Willy Rodríguez of Metrópolis Inmobiliaria. You can write to him at WillyMetropolis@hotmail.com, call +51 (54) 20 25 34, or stop by their office at Calle Moral 115, oficina #107.
Peru Offers An Awesome Residency And Citizenship Program
You can obtain residency fairly easily in Peru. The investor visa requires a minimum investment of US$30,000, and it's intended for those who are going to start a business. The rentista visa (also used by pensioners) requires a minimum income from outside Peru of US$1,000 per month.
Peru also has one of the shortest paths to citizenship that I've seen anywhere in the world. You can apply for citizenship after only two years of legal residency.
I'll have a complete rundown of residency and citizenship in Peru in the July edition of Simon Letter.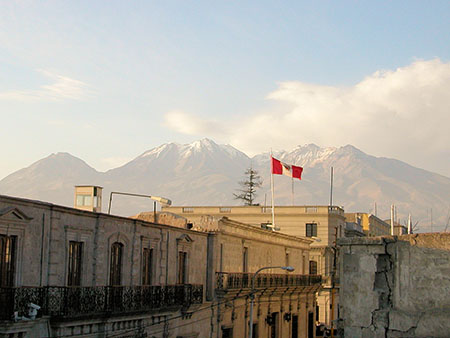 Towering mountains surround the city
Is Arequipa For You?
Arequipa is a full-service city including a huge mall and a prestigious 18-hole, 60-hectare golf course (that's 150 acres). I don't play, so I can't tell you if the course is a good one. But if one of you golfers down there would like to send your thoughts, I'd be happy to publish your comments.
The downsides I see here are the altitude (for those with pulmonary issues) and its fairly remote location. Flights connect through Lima, and there are no other significant nearby cities.
But if you're into a picturesque Spanish colonial city with a beautiful year-round climate and reasonable prices, you'll find Arequipa to be one of the nicest in South America. It's close to Cusco and Machu Picchu, yet far enough off the beaten trail so that it will likely never be overrun by North Americans.
If you don't mind the somewhat remote location, then Arequipa could well be for you.
Lee Harrison
Editor, Overseas Property Alert
***
Letters To The Editor
Hi Lee,
My mom passed away recently and she left a condo in Colombia. However, when she bought the condo she claimed to be single and didn't mention she had a child (not sure why).
My aunt (her sister) has been helping me because I can't go overseas due to my work schedule. She is now asking that I sign a power of attorney and relinquish my inheritance, so she can get the mortgage lifted… after which she will sign it back to me again.
I'm confused. Can you help me please?
Tony
Full stop! I'm fairly sure that your aunt is going to steal the condo and keep the money. Her request sounds like she's preparing to put it in her own name. Do not grant a power of attorney to her, and do not relinquish your inheritance (unless you want your aunt to have the condo).
I've known a number of people who hide the fact that they have children (or wives) in order to simplify the sales and inheritance process. So this, in itself, is not insurmountable.
***
Lee,
We were hot on your heels in visiting Mazatlán in 2015. And though our demanding itinerary prevented a longer stay, we were very engaged by what we experienced and observed… particularly the potential of the historic center, where we stayed.
Like you, we maintain properties in other countries, but the lure of long-distance travel is waning. Whilst far-flung flights and airport hassles have lost their charm, the magic of foreign soil has not.
Mexico, a country we love and frequently visit, is right on our doorstep. It makes sense to take advantage of that proximity and enjoy it—and its amazing food and culture—more often.
We would very much appreciate any advice you can offer with regard to property acquisition, e.g. location, prices, reputable agents, etc. Our preference is for properties located in the historic center within walking distance of the beach… or better yet, with sea views.
We are truly appreciative of any assistance or advice you can provide.
Janat and Manfred
If you're interested in a property by the sea, here's an essay that outlined some of my thinking with respect to buying my own property in Mazatlán.
The condo I ended up buying is like Janat describes above… one of a handful that are in the actual historic center, yet also on the ocean.
As for an agent to help you, I'd recommend my friend Gregory Derksen, a long-time expat in Mazatlán. You can contact Gregory here.
***
Hi Lee,
You answered a question a while back from someone who was starting over after the 2008 crash with around US$100,000 to invest. You gave him some thoughts on how you would split up the funds and ideas for what to invest in.
I'm a little better off than he was with US$150,000 right now to invest. I'm really interested in splitting it up in different areas. I'll need some of the income they would throw off right away, but most of it could build up for the future. If you have the time to give me your thoughts, I'd appreciate it.
Thanks for all you do, and I enjoy reading your articles.
John
Last time, I focused my answer on non-property, smaller investments, since an investor can still diversify into several different areas with smaller investments. Specifically, I mentioned short-term rental projects in Colombia and agricultural investments.
As an example, see the latest agro offer here. And follow this link for the most recent short-term rental project. Both of these concepts are popular and sell out fast.
For a portfolio of US$150k, I'd probably recommend the same thing… but there's something else you can do.
With US$150,000, you could buy a good rental property in an excellent location such as Medellín, Colombia. The disadvantage here is that your eggs are all in the same basket, and it would earn a bit less than the two options above. The advantage is that it would earn right away (agro investments earn when the trees mature, and the rental projects earn when construction is complete). But more importantly, you could use the property yourself.
The latter may be well worth the trade-off in diversity… especially if it's in an enjoyable place like Medellín.
Have a question? You can write to Lee here.