What's standing between you and your second home, retirement home, or investment property overseas?
Is it time? If you're still tied to a 9-to-5 career, five days a week, it's hard to fit in a trip to the grocery store let alone a scouting trip overseas…
Money? If you're torn between a number of destinations overseas, booking multiple flights and accommodation means your finances will take a hit—maybe that precious stash you want to keep for your new life overseas.
Overwhelmed? Even when you have an idea of the country or region you'd like to make a move in, it can be hard to know where to start… or, more importantly, who you can trust.
If any of these issues are eating at you right now, I may have a
solution for you today…
Especially if you're a fan of sun, sea, sand, and all things Caribbean…
Where am I talking about? And, what is this opportunity?
Let's answer the second question first…
One of our trusted property contacts—based in our favorite part of the Caribbean—has been in touch to offer readers a complimentary all-inclusive property tour that includes three nights' accommodation, meals, and some great extras (giving you a chance to experience the area beyond its real estate)… plus, a consultation with a local attorney… and plenty of access to the property team, so you can have all your questions answered.
Plus, you're not just staying in an average condo. For three nights, you'll get to relax in a spacious penthouse, just steps from the sand. Here's the view from the rooftop Jacuzzi…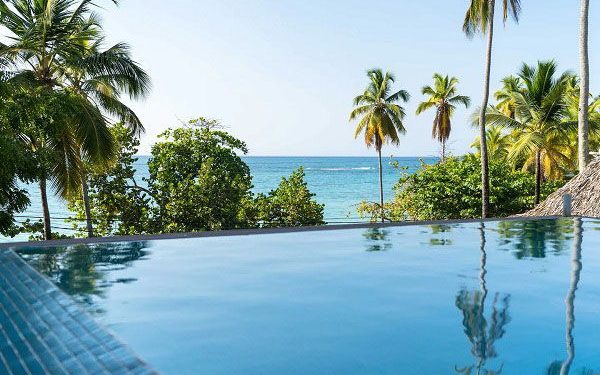 We'll talk more about the specifics of this free weekend in the Caribbean later. But, back to the first question…
What Caribbean Corner Are We Talking About?
Welcome to the Dominican Republic's Samaná Peninsula… specifically the beach town of Las Terrenas. It's a while since we talked about this part of the world, so let's have a recap on this little Caribbean outpost…
Discovered by the French in the 1970s, Las Terrenas has been attracting foreigners ever since—among them Germans, Italians, Swiss, Brits, Poles, and Russians… which explains the diverse shopping around town that includes everything from a German meat shop to an authentic French boulangerie to an Omaha beef store and an Italian clothing boutique.
While this goes beyond your typical Caribbean destination, none of the natural tropical feeling has been lost. Las Terrenas remains a pastel-washed Caribbean beach town, with coconuts falling in the streets and white sand around every corner.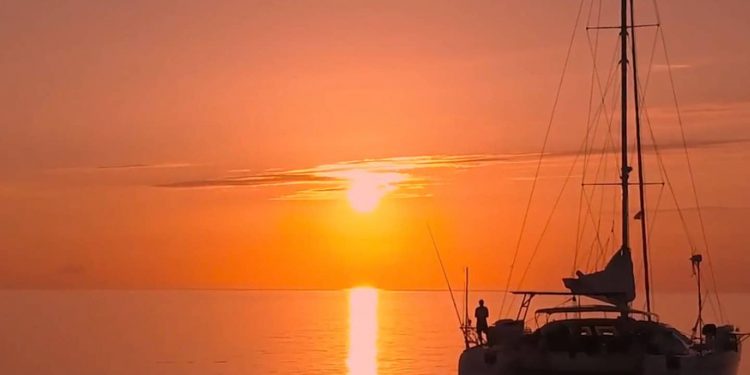 In recent years, mostly thanks to its infrastructure developments, more Americans have been showing up in town—and staying put.
They're attracted by:
1. The sand
Las Terrenas has some of the most beautiful beaches in the DR. Each of its five beaches has its own character. The area is surrounded by mountains and has plenty of palm trees for shade.
2. Affordable restaurants and cafés within walking distance
Not only are dining options affordable here, almost every cuisine is covered from French to Italian to Asian Fusion. You can get a tasty barbecue dish at the beach for less than US$5… a three-course dinner at a French restaurant for US$10… and, when you want to splurge, you'll be hard-pressed to spend more than US$50 at the highest end (including drinks).
3. A welcoming, cosmopolitan community
For decades, European expats have been living in Las Terrenas and are welcoming of new neighbors. Each nationality brings its own flavor to town and provides a multicultural mix that's not typical of a Caribbean island.
4. Relatively undiscovered
Part- and full-time expats here far outnumber tourists. There are no cruise ships. Many Caribbean islands offer little more than t-shirt and trinket shops and bars. In Las Terrenas, you can find all sorts of food specialty shops and also buy high-quality clothes.
5. Ease of access for local and international journeys
Las Terrenas is connected by a highway to capital Santo Domingo. It's a two-hour drive to the airport, more shopping, and a sophisticated entertainment scene. From Santo Domingo, you can fly to Miami in two hours and New York City in three and a half hours.
6. An up-and-coming location with a visible path of progress
Las Terrenas has evolved much since the installation of electricity in 1994. El Catey airport, 30 minutes away, was opened in 2006. The highway to Santo Domingo was completed in 2008. And, a promenade was constructed along Playa Bonita in 2014.
7. Quality construction
Concrete homes are built to be quake- and hurricane-proof. High-quality finishings are available locally—as are highly-skilled general contractors. Property prices here are lower than elsewhere in the Caribbean, averaging US$2,000 per square meter.
8. Political stability
The DR government is stable and conservative in its management of the country. Foreigners are welcome here—new residency and citizenship options make the DR an easy place to live and invest.
9. An active lifestyle
Here in Las Terrenas, you have options for many free activities… and others at a low cost. Popular pursuits include kite-boarding, surfing, kayaking, horseback riding, fishing, sailing, hiking, and swimming.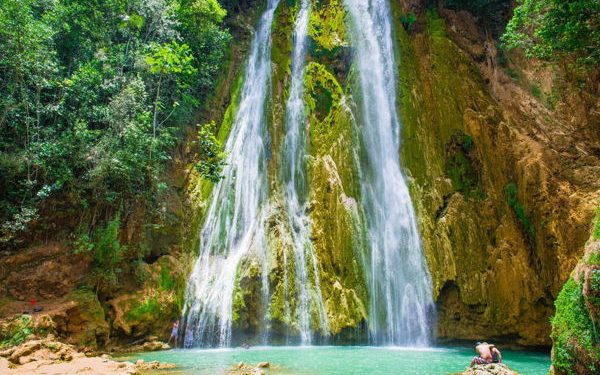 10. A completely walkable community
You can reach everywhere around Las Terrenas, from beaches to town, by foot or bike.
11. Quality health care
An international clinic—with English-speaking staff—opened in Las Terrenas in 2014. There is also emergency helicopter service to Santo Domingo where you'll find a world-class hospital with specialist doctors.
All of these factors contribute to making Las Terrenas one of the top choices for expats seeking an affordable Caribbean lifestyle.
But, if you're seeking an investment in the sun, it's a top option too…
Luxury villas in Las Terrenas fetched between US$130 and US$197 a night between October and December 2018. In the same months, the DR saw a 7.7% rise in tourism. In other words, real estate—and specifically the short-term, tourism rental market—is booming…
Plus, financing of up to 70% is available to foreign buyers.
Whether you're looking for a second home in the sun… a full-time option for your retirement that offers an attractive lifestyle… or a chance to earn rental income in a growing tourist market, Las Terrenas is worth checking out.
And, Marvin—our contact on the ground in Las Terrenas—has put together a package to make your visit as smooth, productive, and easy on the pocket as possible…
The European-owned company Marvin works with has almost 20 years' experience in the local real estate market. These guys have a wide selection of properties in their books—from condos close to one of Las Terrenas' most beautiful beaches (from US$86,100)… to individual villas (starting below US$200,000)… and beachfront or ocean-view lots on which you can build your own dream home (ocean-view lot prices can be as low as US$30 to US$40 a square meter, and building packages for a two-bedroom villa start from US$160,000). The company builds to European and U.S. standards.
Explore Las Terrenas This November—Only 7 Spots Available
To help you decide which is the best option for you, Marvin and his team invite Overseas Property Alert readers to come down and check out Las Terrenas… put all your questions to their experienced property team (including a local attorney)… get out and explore the best available properties together… have help at hand on figuring the numbers… plus, have some fun in your small group of travelers (some of whom may turn out to be your future neighbors)…
The tour will run this Nov. 8–10 (just ahead of Veterans Day in the United States) and includes:
3-night stay in private en-suite room with air conditioning, cable TV, and Wi-Fi
3 meals per day
Transport while in Las Terrenas
Tour of selected properties
Courtesy meeting with lawyer
Tour of the town (shops, restaurants, and main services)
Bonus fun activity (zip lining, horseback riding, diving, or kitesurfing)
What's the catch?
Really, there's none. During or after the tour, you are under no obligation to buy. This three-day trip to the sunny Caribbean is your chance to soak up all that Las Terrenas has to offer… put your questions to an experienced property team… and make an informed decision as to whether it's the right investment for you.
All you need to do is make your way to Las Terrenas and Marvin and his team will take care of you from there.
To ensure that each guest gets the time they deserve—and the experience is beneficial to everyone—you'll understand that numbers are limited…
Marvin and his team can only host up to seven guests (plus spouse/partner) on this trip.
If you're interested, don't sit on the fence too long.
For more details and to book your spot, get in touch with Marvin and the team down in Las Terrenas here.
Lynn Mulvihill