Plus: Awaiting The Collapse Of The Dollar
Since my first visit to Mexico's Xalapa in 1998, it's been one of my top choices in Latin America and my favorite in Mexico.
The city is an extremely rare blend in Mexico of modern conveniences: a rich, traditional, and educated Mexican culture and the energy and spark of a university town, without the cultural influence of American expats.
And you can own a property here in Xalapa starting at less than US$38,000.
Xalapa (pronounced hah-LAH-pah) is a fairly big city, with about a half-million residents in the town proper and more than 800,000 in its metro area. Also spelled Jalapa, it's a town of rolling hills, with an elevation that runs between 4,300 and 4,800 feet (about 1,300 to 1,450 meters), depending on where you are in town.
The hills around town provide for some great views from the properties here. And the elevation provides for pleasant temperatures that average about 15 degrees cooler than the nearby Gulf Coast, some 35 miles away as the crow flies.
The average daytime high varies between 72 and 82 degrees, with January being the "coldest" month and May the warmest. Most rainfall occurs between May and October. June and September are the wettest months, while December through March are the driest. There is sufficient rainfall to keep the town and surrounding area green and lush. Morning fog is common in the winter.
Capital of the state of Veracruz, Xalapa is home to about two dozen universities, the most prominent of which is the Universidad de Veracruz. As anywhere, the large presence of intelligent young people gives the city a youthful, vibrant energy. You may well decide to buy a full- or part-time retirement home here, but don't expect the feel of a retirement community. If you'd like to get a feel for what it looks like, have a look at this two-minute video of Xalapa put out by the city.
The expat community in Xalapa is fairly small and well integrated. There are an estimated 400 to 600 English-speaking expats in Xalapa and the surrounding areas who seem to be well integrated into the community. I only ran into three expats in a week. So if you're looking for a welcome committee, expat hangouts, or English-speaking discussion groups, Xalapa won't be the place to find them.
But you will see a few familiar U.S. icons here, such as Walmart, Sam's Club, Costco, and Home Depot. You can actually find anything you'll need in the shops downtown, but the U.S. stores will bring that familiar level of convenience that's hard to find outside the United States.
Xalapa has a number of lush parks and squares (normally called a zócalo in Mexico), each of which has a distinct personality. I stayed just down the street from Parque Juárez, which pretty much exemplifies what I like about zócalos. It was a busy social hub on Saturday night, with an almost carnival-like atmosphere, while Sunday brings a pleasant crowd of people strolling and relaxing in the traditional Mexican Sunday-style, people-watching and buying snacks from the street vendors' carts. This hillside zócalo has a unique lookout, affording a breathtaking view of the surrounding hills and city.
I was looking at my old field notes from 1998 and 2000 and saw where I'd written that "traffic downtown is not bad for a city of this size." This is no longer the case; traffic is heavy downtown and moves at a crawl. If I had a home in Xalapa, I'd either walk or use the inexpensive taxis and public transit, at least in the downtown areas.
The property market in Xalapa starts at less than US$50,000—so deep into bargain territory that you'd be hard-pressed to find such low prices in a Third World backwater, let alone a classy city like Xalapa.
The average cost per square meter in Xalapa is just US$791. To put that into perspective, I'd consider anything less than US$1,300 per m2 to be a serious bargain. However I don't see any market force here that would cause prices to appreciate quickly, so this is not a place to buy and flip for a quick profit.
You won't find a better value
Here are a few examples of what's on the market today. Properties are priced in Mexican pesos, so the U.S. dollar values I give below will change with current exchange rates.
| | |
| --- | --- |
| | A three-bedroom, single-bath apartment in Jardines de Xalapa has just come on the market. It has 72 m2 (775 square feet) of living area and a garage space. The asking price is US$37,800 (500,000 pesos). |
| | |
| --- | --- |
| | I like this one in Zona Centro because it's convenient and walkable. It's a ground-floor apartment with lots of light and ventilation and a large, nicely planted, 60 m2 courtyard. In the 111 m2 (1,195 square feet) of floor space there are two bedrooms, two-and-a-half baths, a family room, and laundry area. The asking price is US$109,500 (1.45 million pesos). |
| | |
| --- | --- |
| | Also in Zona Centro, four blocks from Parque Juárez, there's a small two-story house on the market, with 90 m2 (970 square feet) of living space including, two bedrooms, and one-and-a-half baths. It's in a great location close to banks, restaurants, shopping, and one of the city's best zócalos. The asking price is US$113,300 (1.5 million pesos). |
| | |
| --- | --- |
| | We also found a two-story, restored colonial for sale with 272 m2 (2,930 square feet) of living area including four bedrooms, three-and-a-half baths, a study, laundry area, and parking for one vehicle. The kitchen and baths are new, as are the Spanish tile. The asking price is US$173,700 (2.3 million pesos). |
| | |
| --- | --- |
| | This one's a grand old classic colonial, just two blocks from Parque Juárez in Centro in about as good a location as you can find in the city. It's a 404 m2 (4,350 square feet) house that would make a great boutique hotel, B&B, or just a large, traditional Mexican courtyard home. It currently has six bedrooms, with room for more, and it's in excellent condition. There is a spacious reception and great room area and an adjacent room that has space for a bar and restaurant, if you were opening a business. Tropical gardens fill the interior courtyard and servants' quarters are located in the rear of the property. The asking price is US$415,400 (5.5 million pesos). |
In the Las Animas neighborhood, this contemporary one is probably the best value we saw. It's a large home with three bedrooms (one with dressing room and Jacuzzi), two-and-a-half baths, a terrace, and a two-car garage. It's got 240 m2 (2,580 square feet) of living space on two stories and also includes a maid's suite. Located in an exclusive, upscale community, the asking price is US$151,000 (2 million pesos).To save you the math, that comes out to just

US$629 per square meter

at today's exchange rates. In most markets I'm familiar with, that would be a super bargain at twice the price.
| | |
| --- | --- |
| | Finally, just out of town to the south, I have to mention the most unique home I've probably ever seen. It's called Las Hojas (The Leaves), and all of the windows are formed into the shape of various leaves. The leaf theme continues inside, where these openings are carved into interior partitions, the fireplace, etc. Thirty-inch-diameter tree trunks hold up twin lofts which serve as the bedrooms. The living areas, bedroom lofts, dining room, and kitchen all open up to the large, environmentally enclosed center courtyard. It's a multilevel home of 170 m2 (1,830 square feet), bordering an ecological preserve. The asking price is US$147,200 (1.95 million pesos). Here's a photo of the outside: |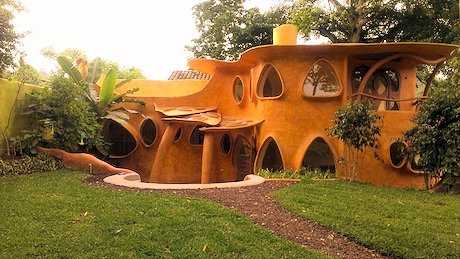 This Xalapa house, for US$147,000, is a contemporary artist's dream
To get to Xalapa, you can fly into the El Lencero Airport (JAL). It's about 15 minutes from town, although the only airline there is Aeromar, which you'd pick up in Mexico City. Alternatively, you could go to the Veracruz airport (VER) for better connections, if you're willing to drive around one-and-a-half hours to get into Xalapa from Veracruz.
In general, the Xalapa area is a great place to live and be a part of a thriving, energetic community with all the cultural and artistic amenities you could want. You'll find a great symphony, theater, and plenty of excellent restaurants…along with good and convenient shopping.
Prices will not rise quickly, but for a super lifestyle at an amazing price in old, non-gringo Mexico, Xalapa will be hard to beat.
Lee Harrison
Editor, Overseas Property Alert
***
Letters To The Editor
Lee,
We are hearing information every day saying that the U.S. dollar is in decline, and will eventually lose its value to the point of collapse. What do you think will happen to countries that use the dollar, such as where you reside in Panama? Will they resort to their own currency or to a new order currency? Will the effect be good or bad for those who want to live there?
Is it not wise for any potential investor to wait and see how things pan out, with the end of the dollar nigh? 
Regards,
Peter
Although this question was addressed to Kathleen Peddicord, I thought I'd weigh in on the issue here as well.
The dollar's performance defies all logic. Based on underlying value and U.S. policy, it should already be worthless…but it's not. There's no end to what governments can do to keep a fiat currency afloat, so you may grow old waiting for a collapse prior to investing.
So I'd say no, it's not a good idea to wait for the dollar's collapse before investing abroad, whether the country you're considering is using the dollar or not. In fact, I believe that you'll be better prepared for a dollar collapse if you are invested in hard assets outside your home country as well as diversified among different currencies.
I happen to agree that the actions of the U.S. government will cause the dollar to lose its stature as the world reserve currency. It's happening right now (the dollar represented 70% of the world's trade in 2000, and it represents 61% today). And indeed, that will ultimately devastate the U.S. economy and the dollar's value.
But it won't happen overnight.
In 1860, 60% of the world's trade was invoiced in British pounds sterling, which continued to remain the primary world reserve currency. In 1931, the pound sterling came off the gold standard and quickly fell from grace. After WWII, the dollar was the undisputed king. Today, only 4% of the world's trade is invoiced in pounds…a dramatic drop.
Yet the pound is not dead today… London remains the world's financial hub and English properties are hardly a world bargain. In fact, the exchange rate to the dollar only changed 10 cents between it's heyday in 1860 and its "demise" in 1948. Granted, in dollar terms, the pound is now worth 67% less than it was at the peak of 1930.
But it happened slowly over the course of 84 years…far too long to ponder an investment decision.
Have a question? You can write to Lee here.