Expats Keep Disappearing In The Panama Highlands
For over 170 years, travelers have gone missing in Panama's highlands. Long before the Canal connected the Atlantic to the Pacific, gold prospectors began landing on Panama's Atlantic coast. They were racing to the great California Gold Rush, and the quickest route was to walk across Panama and catch a ship north to California. These fortune seekers aimed for a gap between two mountain peaks to get to the Pacific… The area became known as "Boquete," which simply means "the gap."
But not all the adventurers made it to the ships on the Pacific side…
Some worried what might have happened to these travelers in the highlands of Panama, and why they never made it to California. Today, people across America are still baffled when friends seem to disappear in Boquete.
The reason for their disappearance hasn't changed in 170 years. Travelers in Boquete aren't being waylaid by bandits or held for ransom by kidnappers.
They are captivated by beautiful scenery and a friendly community. People that stumble upon Boquete don't seem to ever want to leave.

Today, Boquete (pronounced boh-KEH-theh) is still a remote area in Chiriquí Province in the highlands of Panama. Situated on the Caldera River, it's just 60 kms from the Costa Rican border. Chiriquí Province has six townships, but when I say Boquete, I mean Bajo Boquete, the main district town.
Bajo Boquete was officially founded in 1911, and it currently has about 20,000 residents—of which a staggering 25% are expats.
The streets are draped with flowers of every species and color, and artisanal markets line the sidewalks.
Today, agriculture and tourism dominate the economy. The coffee grown in this region is some of the best in the world, while greenhouses produce fresh produce year-round. Fresh flowers are grown here for the local and international market, and citrus is a common cash crop.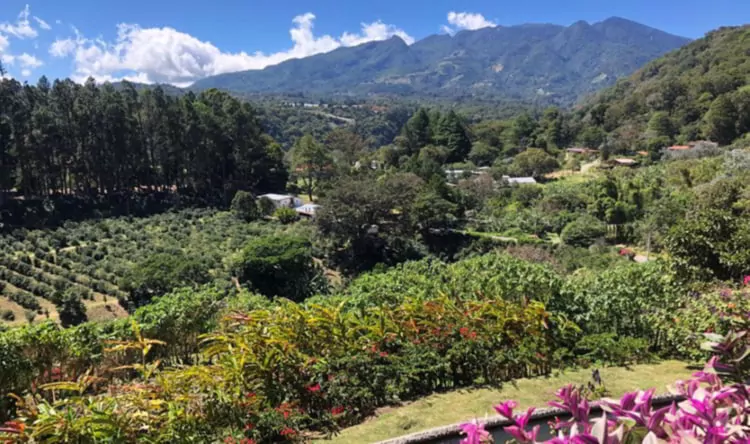 Boquete is about a seven-hour drive away from Panama City or a one-hour flight from Panama City to the Enrique Malek International Airport in the city of David, which is about 40 minutes away from Boquete by car.
Boquete's climate is one of the reasons expats choose it as their forever home.

At 3,940 feet above sea level, the climate is cooler and less humid than everywhere else in Panama, with a year-round average temperature of 64°F. Ample rainfall makes for the perfect conditions to grow produce.
During Boquete's rainy season, each day follows the same pattern… mornings start bright and sunny, clouds roll in around midday, and afternoons bring rain and thunderstorms.
The abundance of natural treasures is another reason expats become entranced with Boquete. Cloud forests can be marveled at by taking a hike or canopy tour.
The area is home to 250 species of birds, including the quetzal and toucan, 5 species of big cats, and a myriad of other unique animals.
The Lost Waterfalls trail leads you through thick jungle to a series of three spectacular waterfalls.
Boquete sits at the entrance to Volcán Barú National Park, which encompasses 14,325 hectares. The El Explorador gardens are only 3 kms northeast of Boquete and boast a 2-hectare private garden.
Boquete's Large Expat Community
Boquete is home to a huge expat community. You'll find plenty of like-minded people to socialize with and lots of cultural connections in town.
You can find high-quality familiar foods and international restaurants, although prices tend be higher than in other cities in Panama.
Expats gather once or twice weekly at the expat-owned restaurants like Sugar & Spice and Big Daddy's. These meetups are posted in the Boquete Community Facebook group.
Boquete is a hot spot for digital nomads thanks to its generally excellent infrastructure. You can enjoy lively nightlife, massage studios, beauty salons, grocery stores, the flower market and festivals, and access to medical clinics.
If you're interested in volunteering, there are plenty of opportunities to get involved, from Amigos De Animales, who provide spay and neuter services, to Casa Esperanza, a nonprofit humanitarian organization fighting child labor in Panama and more.
Boquete's Lifestyle Appeal
While more expensive than other inland towns, the cost of living in Boquete is still lower than in the United States. A couple could live here comfortably for US$1,300 per month.
High-quality private medical clinics including specialists and dentists can handle any day-to-day health concerns. For any severe or underlying health conditions or for an operation, David's first-rate health care is less than an hour away.
This town is peaceful and safe. Friendly locals and expats generally live unhurried lives free of crime and interreference. There's no need to learn Spanish, as almost everyone speaks English.
Even though Boquete is a mountain town, it's still close to beaches. Miles of pristine deserted beaches line the Pacific coast of Chiriquí, and day trips are easy. The stunning beaches of Bocas del Toro are also a couple of hours away.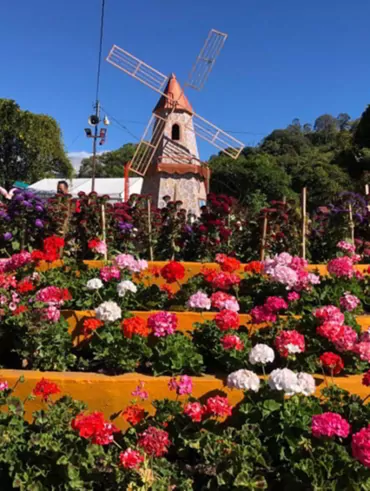 Popular activities in Boquete include: golf, hiking, birdwatching, coffee tours, ziplining and canopy tours, chocolate making, white-water rafting, and rock climbing.
You can even enjoy local performances by the community theater group, the Boquete Community Players.
A New Property Opportunity In Boquete
The word is out and the real estate market in Boquete is hot. Prices can be higher than average because of high demand and low supply of quality product… but I have the inside scoop on a new high-end development that is going to change that.
For more information on property in Boquete or anywhere in Panama, and to hear about the best deals, sign up for Panama's Hottest Property Deals Spotlight Event.
Oct. 5, Lief Simon and his local expert will show you how to pick up a million-dollar ocean view home in an upcoming "playground of the rich"… for a fraction the cost of Miami or Malibu.
The webinar is free for Overseas Property Alert readers.
If you can't make it to the webinar on time, you can access the recording afterwards, but you must register in advance… which you can do here, now.
You'll get first dibs on a brand-new project in Boquete.
Let us show you how to supercharge your retirement while creating income and locking in turn-key profits at a massive insider discount. We've arranged for exclusive financing along with discounts available nowhere else.
This private community beside the Boquete Country Club will consist of 98 units in two main buildings. It'll have the feel of an Alpine resort.
All the condos will have high-end kitchens, terraced entrances, and open foyers to bring in the fresh air and to showcase the beauty of the stunning valley. On your doorstep you'll have a social area, restaurants, a reading and coffee room, terraces, a firepit area, pools, and lookout decks. Plans also promise an on-site medical center.
This cozy mountain resort is across from the equestrian center and health spa… and just 10 minutes from Boquete town.
This new project will serve the demand for the booming eco-tourism market in Panama and, of course, all of the retirees flocking to Boquete.
As an investment you're looking at an easy rental income of about US$18,000 a year.
However, if you are more interested in beach living… you can snap up ready-to-move property on a stunning, powder-soft sand beach…
We're going to take a virtual trip to a private beach resort, just 15 minutes out from downtown Panama City. It's here where you'll have the chance to lock in savings of up to US$175,000 on ready-to-move homes.
The resort offers a host of five-star amenities that includes swimming pools, a gym, restaurants, and a rooftop social area…
The location of this community is unique—just 15 minutes out from downtown Panama City. Here you can kick back in a luxury beach resort, right on the Pacific and surrounded by lush jungle. Yet you're only a short drive from modern restaurants, bars, and shops in the capital city… as well as first-class health care and an international airport.
It's the closest stretch of sand you'll find to Panama City… and you have private access.
Again, this virtual event will happen on Wednesday, Oct. 5, 2022 at 11 a.m. EDT from the comfort of your own home.
Con Murphy
Editor, Overseas Property Alert