Here's What You Need To Know To Cash In On The New Short-Term Rental Market
To make money in real estate, you need to understand the market. To break into the lucrative short-term rental market, you need to know your customers. Catering to fickle vacation travelers is tricky, but the rewards are huge if you get it right. Airbnb, the biggest short-term rental site in the world, has unique insights into the market. Last year, it released a report that's crucial for anyone looking to get into this business. The pandemic has affected the short-term rental landscape in unique and unexpected ways. According to Airbnb, these are the major changes…
1. Rural Travel
Until 2019, customers used Airbnb almost exclusively to book rooms or apartments in cities. Airbnb's top 10 cities from summer 2019 accounted for about 10% of total nights booked.
In 2021, the same 10 cities accounted for less than half that percentage of nights booked. The pandemic shifted vacation trends away from big cities and towards rural and out-of-the-way places. Post-pandemic demand for rural vacation rentals has jumped by 120% (from 10% to 22% of all rentals). In some countries, this percentage is far higher.
2. Rentals Near National Parks
Bookings for vacation rentals within 30 miles of a national park have jumped significantly. People want more access to nature and wide-open spaces and fewer crowds on their vacations.
Post-pandemic, 26% more Americans booked vacation rentals in places close to a national park. This figure jumps to 42% more Canadians, 58% more Brits, and 60% more Germans who use access to a national park as a main destination selection factor.
3. Tiny Homes Are Hot
Searches for tiny homes were up 791% by May 2021 from 2019 levels.
Vacation renters want unusual accommodation like tiny homes. They're losing interest in condos and other traditional rental choices.
4. Longer Vacation Stays
Long-term stays (28-plus days) have almost doubled to 24%, up from 14% just two years before.
People are now taking longer holidays, but the remote working and digital nomad phenomenon has supercharged this trend. Most digital nomads aren't looking for huge luxury accommodations. They want high-quality, small places to rent for a few months at a time. They also want access to a community while at your property.
5. The Rental Property Is The Destination
One of the biggest changes identified in Airbnb's report is that more vacation renters are coming with their entire family. The home itself becomes the destination in that case.
Accommodation that is unusual, quirky, and interesting has become far more appealing to short-term renters. Renting in or close to a community of like-minded people is preferred over condo-hotels with transient renters.
6. Renting The Entire Property
Renting a room in someone's house while the owner is in residence is losing its appeal.
People don't want to share homes with hosts. They want the entire property to themselves. They want to be able to cook when they feel like it and not run into the owner of the property in the kitchen, or worse, coming out of the bathroom. Today's travelers don't want to live like foreign students on a homestay with a local family. They are professional grown-ups, not couch surfers.
How To Cater To This Niche Rental Market
Not everyone wants this vacation rental profile. Plenty of short-term renters want to spend their vacation in a busy city center drinking in bars and partying in clubs.
This type of renter has been catered to by the rental industry for decades. There are plenty of overpriced condos in Cancún or other plastic tourist traps. There's no new rental niche there. The way to give yourself an edge in the new rental game is to get ahead of the crowd and position yourself to appeal to this newly minted short-term rental market. I've found tiny home opportunities in Belize and Nicaragua that allow you to do just that, but first let's define what a tiny home is. Tiny homes are less than 46 square meters in size. They have efficient designs that offer the functionality of much larger spaces. Not a square inch goes to waste, making functionality per square meter higher in a tiny home than in an American-style McMansion. Tiny homes cost a fraction of conventional homes while also being energy efficient, as heating and cooling a small space is cheap. They can feel very cozy, too. These investment properties tick all the boxes for the post-pandemic vacation rental market…
Tiny Homes (Plus A Teak Parcel) In Nicaragua
Hang on a second… "Nicaragua?" I hear you say…Nicaragua. It's the secret investment and retirement destination of the Americas, for many good reasons. It's safest country in the Central America, Panama, and the Dominican Republic region according to INCAE, a Harvard Business School affiliate, and it has one of the lowest costs of living in the Americas. The U.S. dollar has three times the purchasing power in Nicaragua. The development I want to alert you to today offers sustainable living options, a Pacific coast climate, proximity to cities and the airport, year-round golf, and an established community. This tiny home oceanfront development is part of a larger 2,500-acre master development. Situated only 200 yards from the Pacific Ocean, it's part of an already thriving community.
Yes,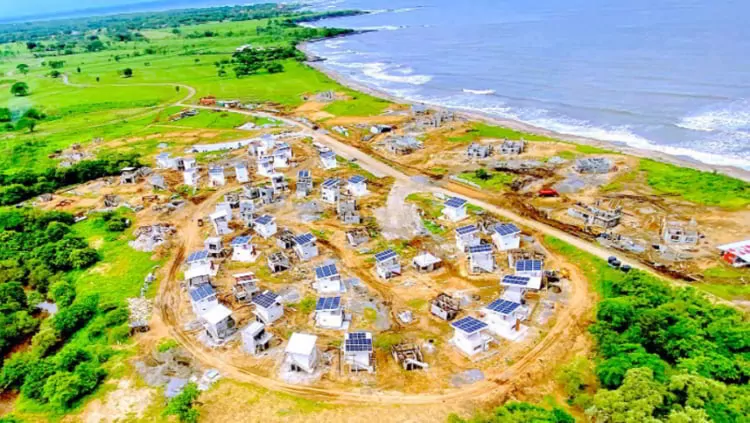 The developer is offering a US$30,000 discount on each of their tiny home models and is even throwing in a quarter-acre teak plantation with every purchase. You'll be gifted your own hardwood investment when you buy.
  The teak plantation is valued at US$6,880 today but should be worth over US$94,000 when it matures in 25 years' time. All you need to do is pay US$210 to have the title for the plantation transferred to your name. It'll make a nice little inheritance for your heirs. All you have to do is pay the small title transfer costs. Four tiny home models are available: the Perico, the Lora, the Halcon, and the Macaw.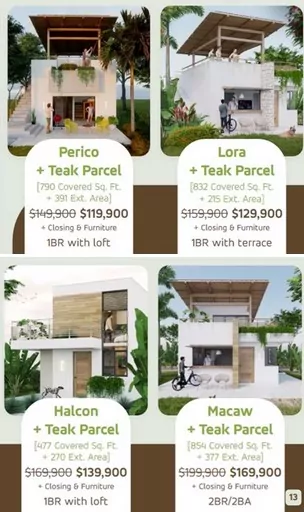 These luxury eco-homes come with solar panels and desalination water systems. Each has an active septic treatment, and natural materials are used in construction.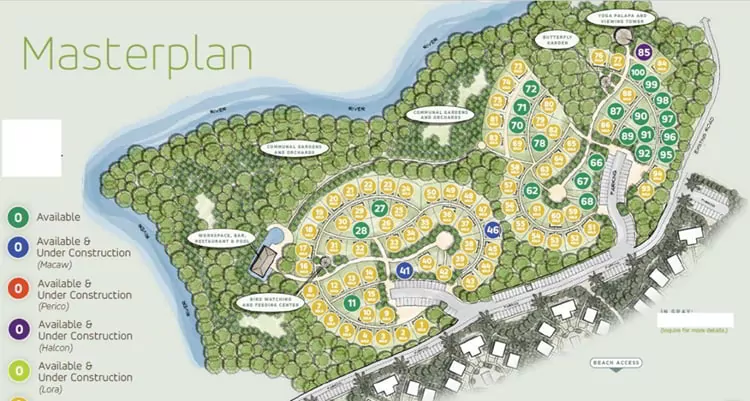 From surfing on a beach right in your backyard to horseback riding, fishing to relaxing in the on-site spa and enjoying fine dining, there's plenty to do., 20% due when walls are up, and 10% plus closing costs when home is complete. The terms for financing are 7.9% interest, 30-year amortization, 3-year balloon, and up to 80% LTV.
For a cash purchase, you'll pay a US$2,500 refundable deposit to claim your residence. You'll have seven business days after receiving the final paperwork to decide if you want to move forward. If you follow through, a 50% deposit is due with the paperwork, 20% due when foundation is complete
Investor Residency Program
These tiny homes come with a route to a second residency. If you invest US$30,000, you receive a five-year renewable residency that allows you to live or run your own business in Nicaragua. here.
This development ticks all the boxes for the new phase of vacation rentals reported by Airbnb: Tiny homes surrounded by exceptional natural beauty that are secluded and family friendly and located in an area with lots of activities. The master development has resort amenities on-site, too… this ensures there's plenty to keep your renters happy and occupied into the future. When you add the value of the free teak parcel to the US$30,000 discount, you see that this deal gives you a discount of up to 24.6%. Find out more about these discounted tiny home rentals and teak plantation bundle,
Tiny Homes In Cayo, Belize
My friend Phil Hahn has been developing a community in the Cayo District of Belize for over a decade. It's a wonderful example of a self-sufficient community where everyone generates their own power, collects their own water, and shares a communal garden. The development ticks all the boxes and more of the new Airbnb trends:
It's in an idyllic rural setting on the beautiful Belize river, close to several national parks (including El Pilar Maya park and nature reserve),
It's family friendly with swimming, canoeing, and horseback riding on-site.
The community is welcoming, and residents form strong friendships quickly.

It's also just 7 miles from downtown San Ignacio, the main town in the district, with its nightlife, restaurants, resorts, and spas. The developer has turn-key house and lot packages starting at US$159,900 for solar powered tiny homes on one-eighth-acre lots. If you want more space, you can also choose off-grid bungalows starting at US$224,000 and off-grid luxury villas starting at US$269,000. I love this area of Belize; it's why I made it my home for over 10 years. To take part in the new vacation rental trend with these tiny homes in Cayo, find more details here. Con Murphy Editor, Overseas Property Alert