4 Top Options For Tiny Home Living In Paradise
I stumbled on a story last week about an Irish musician whose tiny home cost less than US$15,000…
There must be a catch, I thought.
Turns out there were several…
First, the wood for the home came from a fallen tree in her parents' garden.
The lady also took care of much of the construction work herself during lockdown—with guidance from one of her friends who happens to be a tiny house builder by trade.
The final catch reminded me of how all tiny homes are not created equal…
This budget-friendly build comes sans indoor toilet. Instead, the owner installed a compostable toilet in her family's garden—something she may regret on the next dark, cold winter's night.
For the rest of us interested in a tiny home lifestyle, it's much easier to hire in the professionals.
Even if you're not up for living full time in a tiny home, it's an affordable way to break into the overseas property market… and add a rental property to your portfolio.
Going small means saving on the overall building costs while still being able to include high quality furnishings and appliances. Travelers and digital nomads are looking for unique experiences these days, away from standard hotels and close to beaches and/or nature. But they are still drawn to comfort (an indoor toilet is a good start), luxury, and reliable internet—all of which come hand in hand with the selection of tiny home projects I'll introduce you to in a moment.
As You Size Up Tiny Home Offerings, Here Are Some Of The Top Things To Look out For…
1. Optimal Use Of Space
Most tiny homes range between 100 and 300 square feet (9 to 28 square meters). For North Americans used to 3,000+ square feet of space, this may sound impossible. But the best designs focus on efficient use of space.
2. Embracing The Outdoors
Part of the efficiency of tiny home designs incorporates the outdoors. A rooftop deck or ground-level terrace is often included. Also pay attention to what amenities are offered on the development for you (or your renters) to enjoy—swimming pool, spa, restaurants, etc.
3. A Unique Design
Apart from offering a comfortable place for owners to spend time in, an unusual design will appeal to the traveler seeking a unique experience. In one development we know in the Caribbean, for example, the developer incorporated an area of glass floor in the living space so guests can watch the underwater activity below.
4. Eco-Friendly Build
A big part of the tiny home movement is sustainability. You'll find many tiny homes come with a green roof, gray-water recycling, and solar panels. Materials are sourced locally to help lower the carbon footprint. This sustainable design also increases the appeal to the planet-conscious traveler.
With the projects below, there's an added factor that you don't always find with your average tiny home… community.
This is especially important for those who want to spend at least some time in their property. Rather than feeling you're at a typical vacation resort, you'll have the opportunity to join a community where people enjoy spending time outdoors, gardening, crafting, and socializing together.
Here Are The Top Four Tiny Home Projects That Should Be On Your Radar Right Now…
1. Freedom Village, Panama
For those seeking a cooler climate, this development in Panama's highlands could be the perfect solution. Freedom Village is conveniently located between the towns of Boquete (just 30 minutes away) and David. This is a natural paradise with many hiking trails and the opportunity to kayak on the river that borders the property. Organic food is grown on-site.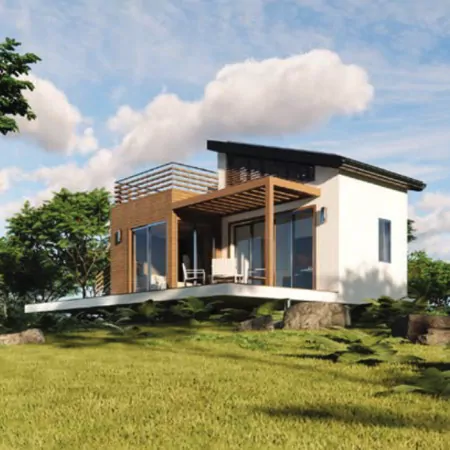 Built from local high-quality teak, these homes are also the biggest of today's offerings—with designs ranging from 350 to 620 square feet (32 to 56 square meters) of internal space, plus generous patios and rooftop decks. Community is at the center of the design with social areas, yoga palapa, orchard and community garden, and an artisan market with food and craft stalls.
Prices start from US$119,900 for a one-bed, one-bath model of 357 square feet (33 square meters)… plus an extra 622 square feet (58 square meters) of outdoor living space.
Get in touch here for more information on these tiny homes in the Panama highlands.
2. Eco Village Asuchillo, Nicaragua
Nicaragua is one of the most affordable countries in Central America—both in terms of cost of living and property acquisition. Eco Village Asuchillo (or EVA for short) is a new project that's part of Gran Pacifica—a long-established beach development on Nicaragua's stunning Pacific coast. The development is located near some of this coast's top surfing spots. To meet the increasing demand for short-term rentals among the surfing crowd, the developer has responded with this latest tiny home village.
These EVA tiny homes are located just minutes from one of the area's calmer beaches—great for beginner surfers and bodyboarding. There's also kayaking on the river that runs around the property. All models incorporate a luxury design with smart technology (you can control your lighting and thermostat from afar—and even keep an eye on the property via cloud-based security video).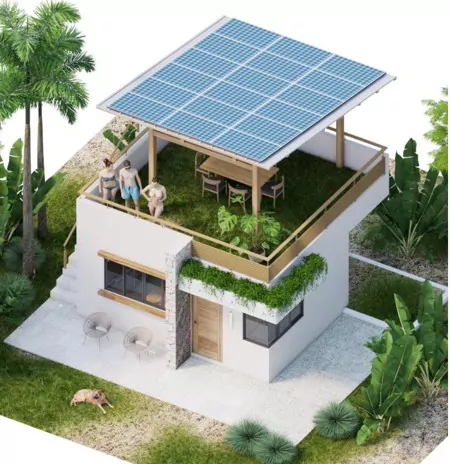 In the immediate community, you'll have a swimming pool, yoga palapa, orchard and community gardens, bar, restaurant, workspace… plus access to the amenities of Gran Pacifica (including a spa, golf course, and horseback riding).
Home models start from US$94,900. That gives you 258 square feet (24 square meters) inside (with loft bedroom) and 663 square feet (62 square meters) outside.
Reach out to the team here for more information on these tiny homes on Nicaragua's Pacific coast.
3. The Reef Eco-Village, Honduras
If you're looking for great value on a Caribbean beach property—close to world-class diving—Honduras is hard to beat. This development is set along almost 2 miles of long white-sand beach… and with easy access to the world-class diving offered by the Bay Islands. The property is just outside the city of La Ceiba in the department of Atlántida—renowned as the "Eco-Tourism Capital" and "Entertainment Capital" of Honduras. The area is rich in culture and surrounded by a national park, rivers, and mountain ranges—offering a true Caribbean experience that goes beyond the beach.
The Reef Eco-Village is part of a greater beach community where you'll be just a two-minute walk from powder sand, looking out over the Bay Islands of Roatán and Utila. These tiny homes are luxurious, smart, and practical. Each home has solar panels, grey water recycling, and a green roof. From the rooftop patio, you have 360-degree views of the ocean, jungle, and mountains. Community amenities include oceanfront pools, an artisan market, and a live music stage and music studio.
Price for a one-bed, one-bath model with an internal floor space of 344 square feet (32 square meters) is US$92,900.
Get all the details on these luxurious tiny homes in the Caribbean here.
4. Carmelita Gardens, Belize
An easy hop from North America, and with English as its official language, Belize is a popular choice for those who welcome an easier transition to expat life. Carmelita Gardens is an off-grid community in Belize's Cayo District. Spread over 98 acres, gardens and orchards are interwoven with the housing lots so that owners can grow their own food. Cayo is known as the breadbasket of Belize and is the ideal place to embrace the self-sufficient life among a like-minded community. Built on the banks of the Belize River, residents of Carmelita enjoy fishing and kayaking. Despite being off the grid, you're just seven minutes from the markets, shopping, and restaurants of San Ignacio.
Houses at Carmelita Gardens have solar panels for electricity, rainwater harvesting and filtration, and eco-friendly wastewater systems. All are built by local tradesmen using native Belizean hardwood. You can choose your own building site and home model. The tiny home package is the most affordable offering. It would also work as a rental—not only for tourists but also for those coming to check out the area for their future overseas home.
The expat community is thriving here. Just a few days ago, developer of Carmelita Gardens, Phil Hahn, gave me this update:
"We'll have over 50 residents by early next year. One exciting aspect of our booming community is the addition of families. We have five new families joining the community—including one with eight children.
"In addition to North Americans, we now have owners from Jamaica, Scotland, England, Germany, Thailand, the Philippines, Belize, and Chile. My goal was always to have a multi-generational and diverse community where civility and affability is the norm. It's a dream come true to see our peaceful little village growing with folks from different places and different generations."
A tiny home (with lot) at Carmelita Gardens costs US$132,500. This includes 360 square feet (33 square meters) inside, plus 252 square feet (23 square meters) of outdoor living space. A loft upgrade is also available—giving you an extra 80 square feet (7 square meters).
If you'd like to find out more about your options, you can get in touch with Phil and the team down in Carmelita Gardens.
Tiny as these homes are, they offer you flexibility. You could live in any of the above places part or full time. You could take a completely hands-off approach and put your tiny home on the rental market (on-site property management is available with all projects). Or you can mix it up—keep some time for yourself… and, when it suits, rent out your property for extra income. Once you reach out to the contacts above, they'll be happy to walk you through your options.
Lynn Mulvihill
Editor, Overseas Property Alert