Take Two Steps Back In Time From Medellín
Plus: Residency Via Holdings In An IRA
A few weeks ago, we took a look at Envigado, a comfortable, neighborly municipality just south of Medellín. Today, I want to take one step further back in time… and one step further removed from the modern, upscale setting of Medellín's El Poblado.
Sabaneta lies at the southern end of the Aburrá Valley and is one of 10 municipalities in the Medellín metropolitan area. It's also the smallest municipality in all of Colombia, with an area of just 5.8 square miles (15 square kilometers).
Sabaneta is a medium-sized town… but its friendliness and closeness convey the feeling of a village.
And like all of the Medellín area, Sabaneta enjoys what most of us believe to be the world's best weather. Average high temps are in the upper-70s to low-80s, with lows in the 60s, all year (that's 27˚C and 17˚C). No heat, no air conditioning, and no screens on the windows, thanks to the 5,200 foot altitude.
Sabaneta is about as unlike Medellín as you can get in the realm of Colombian cities. The pace is slow here and laid-back. As opposed to Medellín's modern, energetic feel, Sabaneta feels like small-town Latin America… and like a community. Granted, there are a number of high-rises sprouting up around town—and even within town—but mostly you'll find clean streets, friendly people and life with an old-fashioned, Spanish-colonial feel.
The Sabaneta town square is a picturesque, bustling social center, where you'll see young people enjoying the shady sidewalk cafés as well as sun-worn old-timers in cowboy hats sitting on a bench and solving the world's problems.
On Saturdays and Sundays, local people converge on the square to catch up with friends, enjoy a pleasant day out, or attend mass in the stately white church overlooking the square. Also, folks come from nearby El Poblado to enjoy lunch or dinner and be a part of this homey and enjoyable setting. With wall-to-wall cafés along one side of the square, you'll have plenty of places to sit and relax.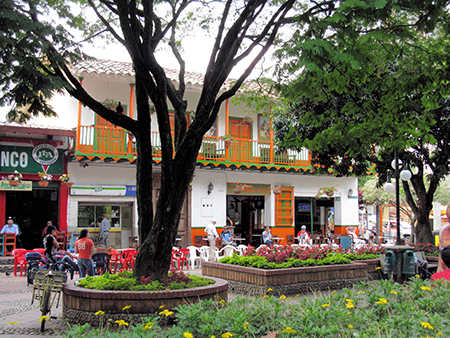 Cafés on the town square preparing for the mid-day rush of visitors
Just off the square, you'll find a row of attractive outdoor cafés and eateries along a pedestrian walkway (Carrera 44, starting at the church). Here you can choose from a variety of local cuisines, all within the same block, while relaxing and watching the world stroll by. We had a small feast of local Colombian specialties here last Sunday and spent just US$20… for four of us.
On the other side of the square, you'll see a row of market vendors hawking along the street, with a large indoor market stretching out behind them.
Sabaneta's 38,000 inhabitants enjoy the same excellent infrastructure that you'll find in the rest of the Medellín metro area, yet it has the character of a small city in Ecuador or Bolivia. This makes for an interesting mix of Latin American colonial charm blended with things like pure tap water, high-speed internet, and a first rate public transit system.
And because of this special mix of old and new, Sabaneta draws people from the rest of the valley who get here via a quick ride in a car, bus, or the metro and feel like they've entered another culture. Sabaneta also supports a modest national and international tourist trade for the same reason.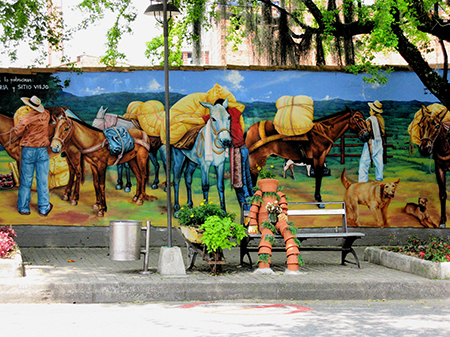 Sabaneta downtown is attractive to visitors, but maintains a homey feel
Property prices in Sabaneta are somewhat less than in the rest of the Medellín metro area. Many of the properties are older, and you can find some good bargains. Also, there are plenty of brand new apartments going up on the edge of town, perfect for those who want proximity to Sabaneta's ambiance but also the latest in modern living.

For an example of the starting point in Sabaneta, there's a small two-bedroom, two-bath condo for sale in a local neighborhood just a short walk to the town square, with low taxes and low HOA fees. It's on the 22nd floor of a 32-story building that offers a pool, steam room, sauna, and sports court. The asking price is just US$57,000 at today's exchange rates (175 million pesos).

In more of a luxury setting, I found a brand-new unit just a few minutes from the central park, the Mayorca Mall, and the nightlife district. It's got three bedrooms, two baths, and great views from the 12th floor. The complex offers two heated pools, a basketball court, a steam room, and a sauna. The asking price is US$97,800 (300 million pesos), and financing is available.

This one also has financing and is one of the nicest listings I've seen in Sabaneta. It's a large, luxury penthouse (almost 2,600 square feet) with three bedrooms and five bathrooms in a two story unit with long mountain and city views. It's just a two-minute walk to the town square and to a large supermarket complex. The asking price is US$185,000 (566.5 million pesos).
For more info on these (or other) listings in Sabaneta, contact Rich Holman of First American Realty Medellín. You can get in touch with Rich here.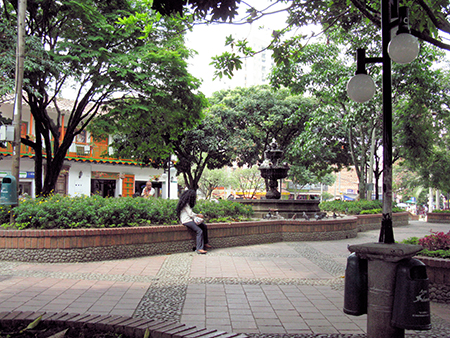 Just a couple of metro stops from El Poblado, Sabaneta is in a different world
Is Sabaneta for you?
If you'd like more of a small town ambiance than you'll find in Medellín, with lower property prices and costs of living, then you should really check this town out. You won't have the hundreds of fine dining and nightlife options that you'll find in nearby El Poblado, but in Sabaneta you'll enjoy a quiet, more neighborly setting. In any case, El Poblado is close at hand via convenient public transit.
When I first visited Sabaneta a few years ago, I took a quick video around the town square. You can have a look at that Sabaneta video here.
Lee Harrison
Editor, Overseas Property Alert
Editor's note: Lee will be at our biggest-ever Live and Invest in Colombia event on April 20, 2016, and our deep Early-Bird discount for this event expired last week.
But since Overseas Property Alert is only published on Tuesdays, we're extending the discount to you for one more day. Simply use the special Coupon Code OPACOLOMBIA or OPACOLOMBIA2 (for a couple) when signing up. You must sign up by Wednesday, March 30 to obtain this discount. Follow this link to join us in Colombia.
***
Letters To The Editor
Hello Lee,
I own two hectares of the Simply Natural Plantation in my IRA. Will this be helpful if I decide to apply for Panama residency?
If so, does that change if I place it inside a Nevis LLC in my IRA?
Thank you,
Richard
Unfortunately, an investment owned by an IRA is not going to help with a visa in Panama. One reason is that to help you qualify for residency, an investment (in almost any country) must be in your own personal name.
And another, lesser-known issue—according to our resident tax expert Lief Simon—is that receiving residency by means of your IRA would be a benefit received from the IRA, without taking a distribution. This would qualify as a "prohibited transaction" per IRS regulations.
***
Lee,
It was a pleasure to meet you at the Global Property Summit. Recently you had an article that indicated a substantial decline in property prices in Santa Marta, Colombia. Aside from the currency discount, do you know what accounts for that price drop?
Is it a good place to live or invest?
Thank you.
Brett
Properties in Santa Marta actually rose about 10% in peso terms during the 2015 survey period. But over the same time frame, the dollar gained a 61.3% advantage on the peso. This resulted in a net reduction of about 50% in the prices of Santa Marta properties, in dollar terms.
And personally, I think Santa Marta is a great place to live and invest. The old town is good for historic properties, while the best pre-construction opportunities are south of town, between El Rodadero and the airport.
I'll take an updated look at Santa Marta in the next few weeks.
Have a question? You can write to Lee here.