When it comes to sun, sea, and sand, southern Europe offers two attractive options on its warm, southern coastline—Portugal's Algarve and Spain's Costa del Sol. Each share a similar history of Roman and Moorish patrimony, excellent fresh seafood, and sunny idyllic climates. Owning property and living in either of these locations is a dream for almost anyone.
The property markets of the two regions differ in both value and affordability, with the Algarve being a better choice for those who want to live in the sunshine.
Let's take a look.
Costa Del Sol

Costa del Sol is located on the southern coastal area of Spain's Andalucía region. It's bordered by the busy towns of Nerja and Marbella, with Málaga as its centerpiece. As an American expat living in Portugal's Algarve for three years now, I have an easy two-hour drive to Spain's Costa del Sol. The scenery is stunning, with mountains rising dramatically out of the sea.
Costa del Sol became a tourist haven early on and, unfortunately, tourists, expats, and property developers flooded the region. Builders erected hundreds of thousands of poorly planned and sometimes illegal properties.
The rapid commercialization of this area has also led to an undesirable change to its charm and the local culture.
The Algarve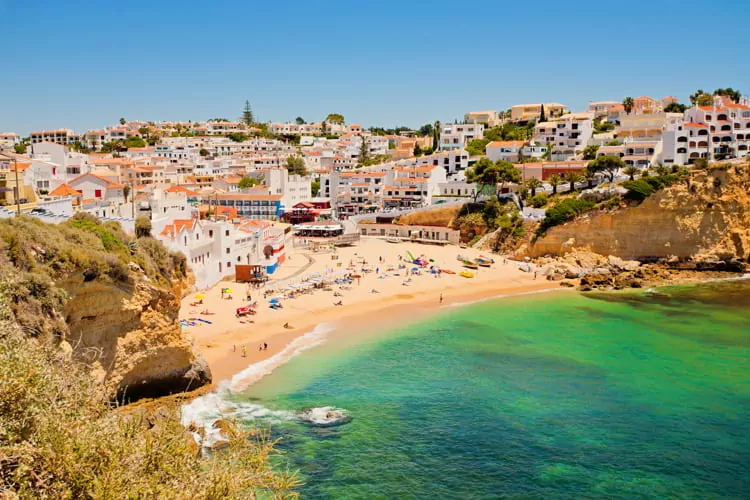 Compared to Costa del Sol, Portugal's southern coastal region—the Algarve—has changed little over the last two centuries. The Portuguese are polite, laid back, and in no hurry to fill the Algarve with apartment towers.
The culture in these rugged hills and coastal plains is still centered around village life—each village with a mother church and communal well or fonte. Outside the towns, there are over 100 kilometers of sandy beaches and 39 golf courses to
distract the resident or visitor. Modern conveniences are available in the larger towns such as Albufeira and Portimão.
Unlike Costa del Sol, property construction in the Algarve is carefully controlled by a system of planning and permissions.
Algarve Versus Costa Del Sol Property Markets
Both Costa del Sol and the Algarve have plenty of new and already existing properties available… but which of the two areas is the better value?
The Eurostat House Price Index (EHPI) has a baseline value of 100, which represents housing prices in 2010. Values over 100 mean properties are selling for more than they were in 2010… less than 100 means they're selling at a discount compared to 2010 prices.
According to the latest EHPI data, Spain's value is 72.09. It's the lowest value in Europe at 28% off its 2010 prices. Portugal's rating is 90.64.
It would seem that Costa del Sol has the price advantage. But many believe that Costa del Sol properties were overpriced to begin with… something the index doesn't take into account. If that's true, these prices aren't the bargain they appear to be.
Actual costs in the Algarve are lower.
The Algarve Is The Place To Buy For More Than Just Value And Price
Aside from the value-for-money aspect, the Algarve has much to offer those in pursuit of a better lifestyle or a retirement haven than Cosa del Sol.
I've found that the local lifestyle is the biggest attraction for nearly every property owner in the Algarve.
Other expats living in the region confirm that independent of a buyer's budget, the natural beauty, year-round climate, and relaxed way of life are all top reasons for moving to the region.
The Portuguese government offers generous fiscal incentives, including a 10-year tax holiday for retired EU expats. The Golden Visa program offers buyers from outside the EU a residency permit in return for their investment.