The Investment Visa Quadfecta—One Investment, Four Benefits
A "quadfecta" is a betting term for picking the four fastest horses in a race. The odds of this happening are small… so the rewards for picking a quadfecta are great.
Sometimes an investment comes along that wins on four different fronts in one go.
When I find an investment like this, I tell my clients to act fast because it will sell out before the retail property market even hears about it.
If a second residency is on your radar, you can still get permanent residency, risk diversification, and other great benefits in Portugal.
Rumors of the shuttering of the Portuguese Golden Visa Program aren't true, but the program has changed dramatically for most investors.
Most popular coastal areas and large cities no longer qualify.
The Portuguese government introduced these changes because the influx of Golden Visa investment had driven up the average property prices across the entire country by 57% in just eight years.
This is a phenomenon called Investment Visa Price Creep.
Investment Visa Price Creep is when property markets are inflated by visa buyers making investments just for the visa with little concern for the value of the property they are buying.
Investments in tourism and commercial properties of over 500,000 euros in high-density areas are still eligible for Golden Visas but because of the price boom over the last decade, these investments don't offer much in the way of yield anymore.
Portugal's maturing market and buoyant prices mean the net yields available from all Golden Visa-eligible properties are falling, however, value is still available… if you know where to look.
Because of the lack of strong yields available in Golden Visa property today, it makes sense to buy the cheapest qualifying property in Portugal that still offers real value.
The good news: We have the inside track on an investment in the 280,000-euro bracket that is Golden Visa eligible and still offers value to investors. These opportunities aren't overinflated by Investment Visa Price Creep either.
The Quadfecta: One Residency Investment, Four Diverse Benefits
While the minimum price of Golden Visa properties in densely populated areas is 500,000 euros, this investment starts at 280,000 euros, giving you savings of 44%.
With a 20% return guaranteed by the developer over five years, you can be confident that you will see reasonable income from your investment in the medium term.
The lowest cost of living in Western Europe is available in culturally rich Portugal. Wine and amazing seafood costs a pittance compared to Ireland, as do many other luxury and everyday items.
You get 15 days of use of your property per year during leaseback or a 1,500-euro credit to use in any of the developer's other resorts.
Portugal is attracting American Golden Visa investors at an ever-increasing rate. Last year, 10 times more U.S. citizens applied for the Golden Visa than at the beginning of the program.
Because this is one of the few value investments in the 280,000-euro range that will get you a Golden Visa, this project is selling out fast. The investment is in a unit in a boutique spa hotel in the Algarve, in Serra de Monchique Natural Park.
Phase I of this luxury development consisted of 33 units and sold out in just three months.
Phase II is currently in play and has sold around 40% of the units in less than eight weeks.
When this project is gone, it's gone forever. I don't know when another minimum-price Golden Visa investment like this will be available again.
I'm telling you about this now because the developer is confident it will have sold out by the Live And Invest In Portugal Conference in April.
To register your interest or to reserve a unit, go here.
Why Would Anyone Want A Portuguese Golden Visa?
These are a few reasons why Americans are flocking to Portugal in droves:
It offers asset and country diversification.
It puts you on the path to a powerful second passport.
There's more sunny days in southern Portugal than Southern California.
This is one of the safest countries in the world. Portugal decriminalized all drug use over a decade ago, and as a result, drug abuse and violent crime fell through the floor.
With friendly, welcoming people and a rich and diverse culture, Portugal offers exotic living in a first-world setting.
Health care is first class and costs up to 90% less than in the States.
Portugal has been given many international awards for being a tourism and retiree mecca.
The Project
The company behind the development was founded in 2014 and is headquartered in the U.K. It focuses on international retirement migration with a multilingual team located in the Algarve, greater Lisbon and Cascais areas, and Porto.
Only a 20-minute drive from the beach, this development combines luxury and old-world living.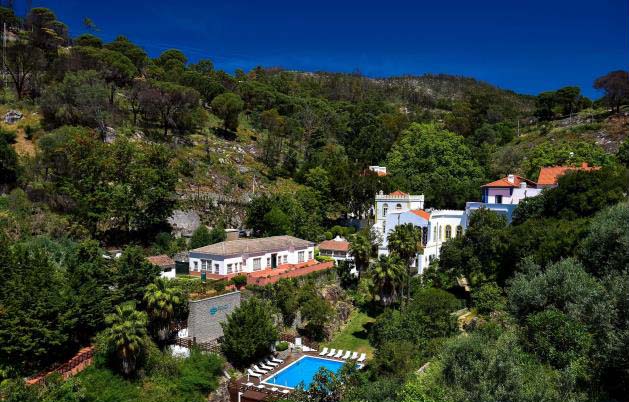 This resort and spa is comprised of four separate boutique hotels on grounds covering 37 beautiful hectares, so it's close to nature with hiking and biking trails.
As of this writing, the property has 25 rooms, 10 suites, a spa, reception, restaurants and bars, shops, and an events room.
The smallest units are 42 square meters. Prices range between 280,000 euros and 350,000 euros.
Your Returns
A decade of Golden Visa property boomtimes has matured the real estate market in Portugal.
The projected net yields from this project are a bit low compared to my usual international property recommendations. But your investment will be located within existing hotel project with track record and proven revenue.
You need to remember you would be buying this not for wild projected rental yields, but because it's the minimum-required price for a Golden Visa investment… and one that earns you five years of returns guaranteed by the developer.
You also get 15 days in residence per year, including the use of the spa facilities during this time.
Averaging rental returns of 4% for five years and projecting 5% thereafter, the yields are right in the expected range for a mature European market and actually surpass net yields available in many European countries with mature property markets, including Ireland.
This investment is for someone seeking a minimum-priced second permanent residency visa and eventual EU passport in a great country, so the long-term projected yields of 5% are quite reasonable.
An Additional Point
Property prices appreciated by 57% in the last eight years, but much of this appreciation was in the high-density and beach areas—inland areas experienced weaker increases.
Now that the Golden Visa no longer encourages investment in beachfront and high-density areas, buyers will be focusing on areas like this for their next investments.
It's reasonable to expect slightly less capital appreciation per year going forward as even the less densely populated parts of Portugal have already seen some price increases.
When the rental guarantee runs out in five years and you have pocketed the developer-guaranteed 56,000 euros in pre-tax income, this property could possibly have appreciated an additional 70,000 euros with only a 5% increase per year.
Remember possible capital appreciation is something we can select for but can never guarantee.
With this income and possible capital gains combined you could see 126,000 euros (US$143,000) before tax if you sell after five years.
Two of our readers bought into phase I of this development. After they inspected the property, this is what they had to say:
"What a delightful experience. It far surpassed our expectations and Dario the manager could not have been more informative and accommodating. We were pleasantly surprised with the variety and extent of the facilities offered and were particularly impressed with the 'vision' of the completed project in its entirety. When completed, this will be a special place for anyone seeking peace and comfort in a setting far removed from the comparative hectic pace of city life. We look forward to being frequent visitors."

–Larry and Carol B.
If permanent residency through a boutique spa hotel Golden Visa investment sounds interesting, you need to move fast.
Con Murphy
Editor, Overseas Property Alert