Plus: "Are They Really Turning People Away From Ecuador?"
Montevideo, Uruguay
Uruguayan properties trade in U.S. dollars
Dear Overseas Property Alert Reader,
Montevideo's Centro district is one of the city's least expensive areas for living and buying property, but it offers what I believe to be the city's best urban lifestyle.
Centro has the character of old Montevideo. It feels much more like old Europe than Latin America, and both the buildings and the people maintain an Old World charm that I haven't seen anywhere else.
As you watch the neighbors dancing tango in the square or listen to old men with heavy Italian accents debating the world's problems over cappuccinos and whiskey, you'll realize that you're a long way from Ecuador, Colombia, or Panama.
Centro is overlooked by most property buyers, as people focus on the adjacent historic center or the more upscale areas of the city, to the east. In fact, my own most recent apartment in Montevideo was in the more exclusive Punta Carretas… but time and again, I found myself heading back to Centro to enjoy the restaurants, theater, or music scene. Centro offers a rich lifestyle that's unique in the city.
Centro is convenient. It's right next to Ciudad Vieja (Montevideo's historic center), so its residents are within easy walking distance to the national theater, Ciudad Vieja's tango and nightclubs, and some of the city's best restaurants. It also enjoys shaded, tree-lined streets and a number of green and cheerful city parks.
Centro is also bordered by the sea on its south side, with a few small beaches. The beaches aren't as nice as those in other parts of the city, but they were great for letting my dog play fetch or go for a swim—something that would be frowned upon in the wealthier areas of town.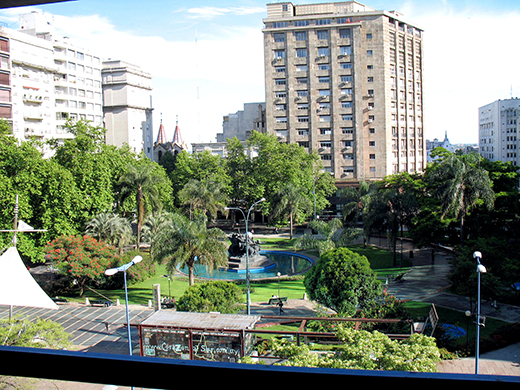 Some of the city's most beautiful parks are found in Centro
Here's where you'll find Montevideo's best downtown shopping and enough of its own restaurants and cafes that you'd need years to discover them all.
There are 16 small theaters and concert halls hidden among its streets, where you can go to see anything from chamber music and theater to jazz and tango.
The City's Best Architecture
The architecture is one of my favorite aspects of Centro. You'll find countless examples of fine buildings from the glory days of Montevideo. Much of the classic buildings are of the Italian Neoclassical or Spanish Neoclassical style, but you also find quite a few with a heavy Art Deco influence from the early 20th century.
The district boasts hundreds of grand old homes that were once occupied by the elite that lived in Centro 60 years ago.
Montevideo's elite, however, were moving on by the late 1970s, and Centro fell into disrepair. The middle-class Uruguayans who began to move in could not keep the sector up to the same high standard that the wealthy did.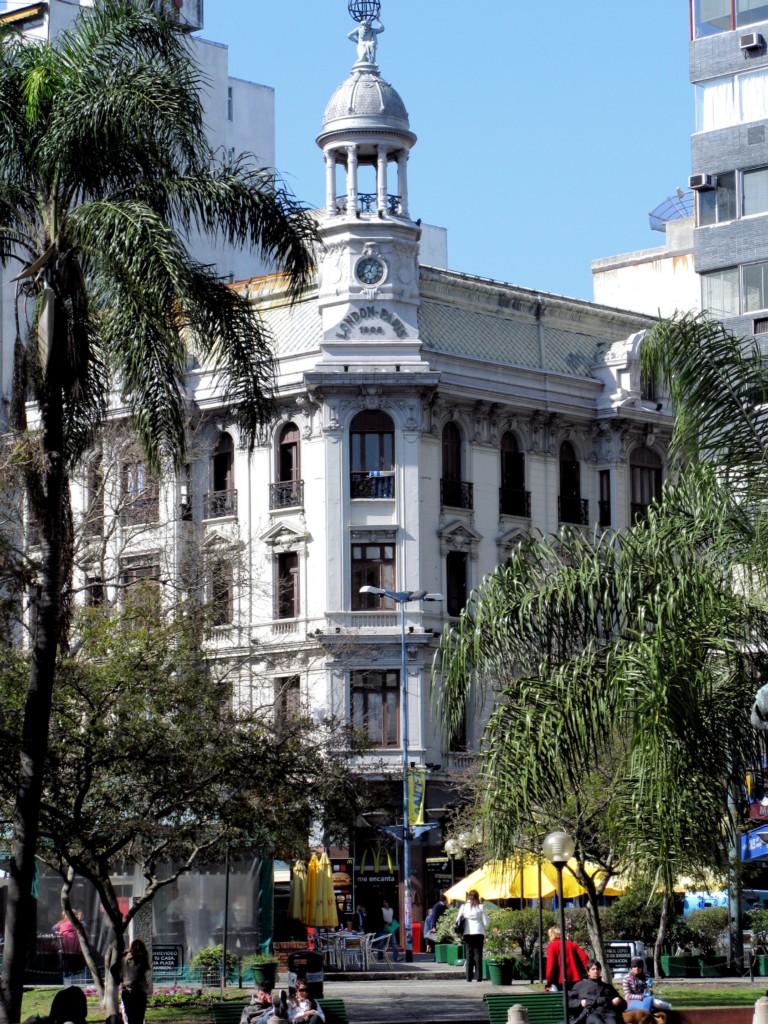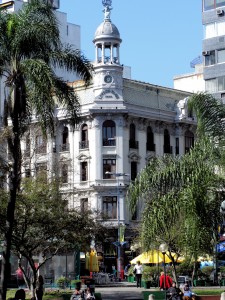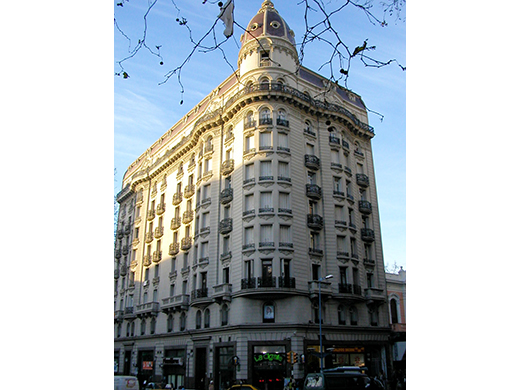 Two examples of the fine architecture along the main avenue in Centro
Today you'll find a mix in Centro. Many of the classic buildings are in fine shape and well maintained. And there are also areas that have become popular with expats and investors who have restored and maintained scores of properties.
But there are also sections that still look fairly run down. I feel safe throughout the sector, but some areas are definitely better than others.
Few Tourists And Few Tourist Annoyances
Centro has a lot to offer, but you won't find tourists—at least not many. So that means it also does not have tourist prices. A good meal at one of the local parrillas—a large wood-fired grill used to prepare Uruguay's signature selection of meats—will cost about half the price in Centro that it would in Ciudad Vieja's famous market at the port.
Centro is also missing the petty criminals that tend to hang out in tourist areas. In fact, we used to watch as the beggars and homeless guys passed right through Centro on their way to Ciudad Vieja where they too make their living among the tourists and cruise ship passengers.
In Centro, you'll find classic parrillas throughout the neighborhood
Convenience And Walkability
One thing I always appreciate about Centro is the convenience. When we lived here, I could find virtually everything I needed within a couple of blocks of my apartment.
From fine wines and gourmet items to mattresses, computers to hardware and kitchenware, fresh-roasted coffee at the local roaster to the city's best meat-filled empanadas—you can walk to it all in Centro.
One of my favorite places to buy food was at our local feria—an open-air market that comes to Centro on Tuesdays and Fridays, where you can buy fruits, vegetables, and meats along with things like olives, parmesan cheese, and deli items.
Montevideo's Centro is the most easily walkable place I've ever lived.
The City's Best Property Values
Property prices in Centro are still among the lowest in the city. For example, at US$1,500 per square meter, the properties are below average cost for the city. The same properties in Punta Carretas would cost about 79% more, at around US$2,700 per square meter.
Here are a few examples of what's on the market today. All were available as of June 6, 2015.

At the corner of Soriano and Rio Negro, there's a fourth-floor apartment with a living area of 90 square meters (968 square feet). It has three bedrooms and two bathrooms and requires cosmetic updates only. Built in 1960, it comes with beautiful parquet floors and leafy views from the glassed-in balcony. The asking price is US$150,000.

Just down the street, we found a second-floor unit of 88 square meters (947 square feet). The apartment has two bedrooms and two bathrooms and is in move-in condition. Built in 1977, the living space is very bright, with air conditioning and cable TV. The asking price is US$135,000.

Conveniently located at the corner of Convención and Paysandú, we saw a two-bedroom, two-bath unit of 83 square meters (893 square feet). Built in 1951, the original bathrooms and kitchen have been maintained in good condition. The asking price is US$104,900.

For something larger, we saw a sixth-floor unit with 137 square meters (1,474 square feet). It had three bedrooms and two bathrooms and needed only cosmetic updates. Built in 1954, it has a front balcony that overlooks a small park. The asking price is US$180,000.

The apartment with my favorite location was at the intersection of 18 de Julio and Yi. Located on the 10th floor, it has 79 square meters (840 square feet) of living space, with two bedrooms and two bathrooms. It's in good condition, built in 1973. This may be the best corner of Centro due to its proximity to shops, restaurants, and cafes, with city views from both the front and rear of the apartment. They're asking US$150,000 for this one.
For a good English-speaking realtor in the area, contact Bettina Stratta of Reynolds Properties. You can reach her at Bettina@reynoldspropiedades.com. Bettina can help you with sales, rentals, and rental management.
Is Montevideo's Centro For You?
Centro is a great place to feel at home. It's a place where the early-morning joggers wave cheerfully to the revelers who are still in the clubs going strong from the night before in a round-the-clock culture that's as alive as any.
But remember, Uruguay is not cheap. The dollar is strong against the Uruguayan peso right now, which has pushed prices down for dollar-holders. (This doesn't apply to real estate, which trades in dollars.) But inflation is high, between 8% and 9%. So exchange rates aside, the cost of living is on the rise.
Montevideo's Centro won't be for everyone. It has a down-home grittiness that doesn't appeal to those looking for something more new and pristine.
But for me—and for many expats—Centro is perfect. It offers a treasure trove of fine old homes from a bygone era and a convenient lifestyle, which I really appreciate. Also, Uruguay offers a solid financial system, and it's a great place to establish residency overseas.
If you'd enjoy the bustle of city life, the smell of wood smoke grilling meats and sausages at the local parrilla, and the sound of tango music drifting through the neighborhood, then Montevideo's Centro may well be for you.
Lee Harrison
Editor, Overseas Property Alert
***
Letters To The Editor
Lee,
My wife and I purchased two properties in Santa Elena Province, Ecuador, this year (a condo in Ballenita and a property in San Pablo, which we plan to develop with condos). We have no children. My parents are deceased, as is my wife's mother; however, her father (with whom she's never had a close relationship) is still alive at 81. We both have surviving siblings.
If one of us passes, would her father or any of our siblings be entitled to any ownership in our Ecuadorian properties? Is there anything we need to do to assure that if one of us dies, the surviving spouse inherits the properties in full?
Ron
This is a good example of some of the situations that arise, as we discussed in last week's article on inheritance issues. In Ecuador (to simplify), the children inherit first, then the parents, then the spouse.
So if Ron were to pass away, his wife would inherit his half of a jointly owned property because he has no children or living parents, even if he died with no will. If his wife were to die, her half of the property would go to her living father because she has no children.
In Ron's case, I'd definitely prepare a will with an attorney, leaving the property to one another. (In my experience, if a foreigner over 50 claims they have no living parents, the lawyers and notaries will take their word for it.) That way if the unexpected happens, there will be no question about where the property goes.
***
Hi Lee,
We wanted to start looking at property in Mazatlán and would like to find a realtor who focuses on expats. Do you have any recommendations?
We looked at Puerto Vallarta too. PV seems to have more experience with expats.
Thanks,
Diane
My preferred real estate contact in Mazatlán is Shaun Klynstra, an expat in Mazatlán since 2002 and founder of Solutions Mazatlán, a real estate and property management firm. Shaun lives on the beach near the Centro Histórico. You can reach him at shaun@solutionsmazatlan.com or take a look at his entire inventory here (https://www.solutionsmazatlan.com/).
And yes, I agree that Puerto Vallarta has more expats, more residential options, and more vacation trade. But I find Mazatlán to be somewhat homier and more like a real city.
You can take a look at the previous essays on Mazatlán's beach areas and historic center.
***
Lee,
In regards to your statements about Ecuador being "full," my wife and I have spent three months in Ecuador and during this time have met with several attorneys, real estate agents, and many, many expats. We've never heard any mention about Ecuador being full or having a population limit.
This year we purchased two properties in Ecuador. Our plan is to retire there in 2016 and apply for investment visas and cedulas. Will we still be able to do so?
Geez! That was a joke, guys. In case anyone else is wondering, Ecuador has no population limit and no provision in its constitution to become "full."
And yes, one can obtain an investor's visa by means of buying a property in Ecuador. The requirement is to invest US$25,000 plus an additional US$500 for each dependent. If a couple would like independent visas, then they'd need to invest US$25,000 each.
The municipal value shown on the property deed(s) must meet or exceed these investment levels.
Have a question? You can write to Lee here.