Plus: Medellín Versus Puerto Vallarta… And What To Do In Brazil?
Costa del Sol, Spain
1 euro equals US$1.11
Spain is currently the third most-visited country in the world, behind only France and the United States, and is expected to break through the 66 million visitor barrier by the end of this year. It's this sustained tourism performance that's made Spain an excellent market for the income investor.
These impressive tourism figures are the result of several factors.
The 2008 downturn forced the tourism sector to become more competitive in pricing and also forced it to broaden the marketing message. It's promoted as more than just a "sun 'n sand" destination for vitamin D-starved northern Europeans, but also as the location of some of Europe's oldest cities, dating from the Phoenician and Roman eras (e.g., Cadiz, Seville, Barcelona, Málaga, Valencia, Córdoba).
Spain is also the location of 44 UNESCO World Heritage sites (only Italy and China have more) and the location of some of the best food in the world, with 3 Spanish restaurants currently in the world's top 10
Living well is very affordable; 2014 figures from Eurostat—the statistical bureau for the E.U.—showed Spain's food and drink to be below the E.U. average. And the strength of U.S. dollar against the euro is undoubtedly a contributing factor in the 25% plus increase in visitors from the States in July and August, 2015.
And if beaches are your thing, Spain's beaches and marinas have more Blue Flag ratings than any other country in the northern hemisphere—a total of 681.
The outdoor Spanish lifestyle is relaxed and easygoing, and it's one of the most child-friendly cultures in the world. Long, leisurely lunches are still the norm and dinner rarely starts before 9 p.m…. even later in summer.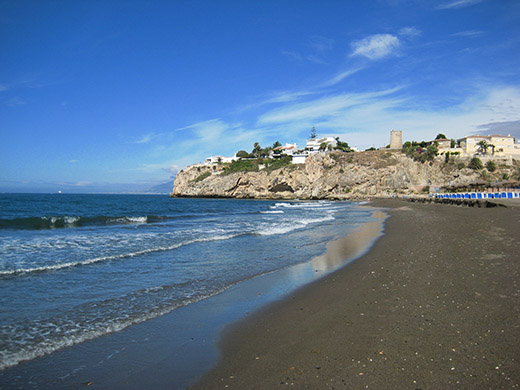 Costa del Sol is world famous for its beaches… but it offers a whole lot more
Photo by Cayetano
Here's What These Tourism Numbers Mean For Rental Yields In Spain…
Statistics compiled for Spain's Ministry of Tourism in 2015 show that 36.5% of visitors (24 million people) do not stay in hotels. Some will stay with friends and family or in their own homes, but a large number will book private rentals.
Across the board, owners of property in prime locations all along Spain's Mediterranean coastline were able to put up their "no vacancy" signs this summer. And with all high season weeks taken, they can expect a gross yield of something in the region of 4%.
But there are strategies that will elevate the yield even higher: up to 8% gross for apartments and over 12% for detached houses.
The most important strategy for a higher yield is to focus on the few areas on the Spanish coast with a genuine 12-month season. People unfamiliar with Mediterranean Spain may not realize how quiet and shut-up most resorts are outside of the 8 to 10 high season weeks of summer. It's what you do outside the high season what will turn your property into a high-yielding investment.
These Factors Go Into Finding That Genuine, 12-Month Rental Season
The two main criteria that draw visitors throughout the year are having the mildest winter climate on the European mainland… and golf. And there is only one area in Spain that provides both: the southern coast of Andalucía, and specifically, the Costa del Sol… an area that also markets itself as the Costa del Golf, with about 70 courses between Málaga and Sotogrande.
For the very best rental yields, the location between the west of Marbella and Guadalmina is where to go, thanks to the same two factors. Eight of the best golf courses are within 15 minutes of each other. And the south-facing coast—set in a sheltered bay with mountains behind for wind protection—produces the best micro-climate for winter in Europe.
In fact, Americans who know this area say the climate is reminiscent of Southern California.
Stray outside this zone, even by a few miles, and rental yields fall. Although summer occupancy will be good, the take-up in mid and low seasons will be patchy.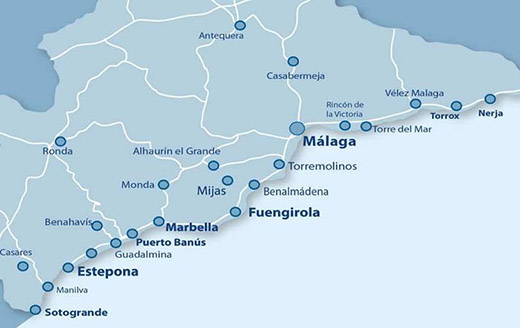 Costa del Sol hosts 70 golf courses between Málaga and Sotogrande
Map courtesy of CostaNatura.com.
As you go further east or west from this micro-climate's area there are fewer golf courses, and temperatures start to fall away to the extent that there can be as much as 10 degrees Fahrenheit difference on the same day in winter. Highs of 72 degrees and warmer are nothing unusual for a sunny January day in Marbella, while it struggles to make 60 at Sotogrande and Málaga.
Make a mistake about the location, even by a few miles, and your income may be halved.
For The Highest Returns, Make Sure To Broaden Your Property's Appeal
It's also important to focus on locations and properties that will appeal to all sectors of the rental market, such as seniors, golfers, families with small children, and young singles in groups.
As anywhere, walking distance to shops, bars, beaches and restaurants is preferable. Although most people renting privately do rent a car as well, properties that advertise "no car needed" always get better occupancy than those for which a car is essential… people just like to have the choice.
Beachside locations are a prime choice for renters, as well as being on (or very close to) one of the best golf courses. But a good alternative is a character townhouse in Marbella's Old Town, or a similar property.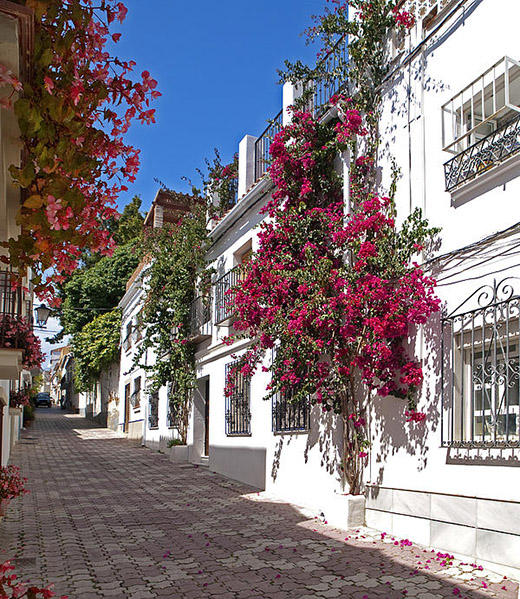 A townhouse with character in Marbella will produce solid returns
Another strategy is to target longer term rentals in mid and low season months, as many northern Europeans and Americans rent a property for three to six months in winter. So you should focus on properties that work both as short term holiday rentals and longer term bookings, to preserve that alternative.
Another popular option—particularly with Scandinavians tenants who prefer to spend summer in the north—is to agree to a long-term tenancy which excludes high season. In this way the tenant doesn't have to pay for the months they don't use, and the owner gets the benefit of high season income combined with low season occupancy.
Demand For Rental Properties On Costa Del Sol Is Now Overtaking Supply
With demand outstripping the supply of quality rental properties in prime locations, yields should hold up even though property prices are rising, as rental prices are also on the increase. A good property will see regular repeat business and the best are already taking bookings through August 2016.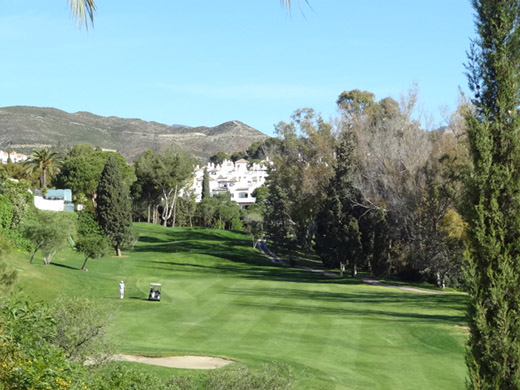 Play a different course every day of the week, starting right outside your door
Some owners control bookings for their properties themselves, while others want a full management service to include bookings, maintenance, accounts and banking. Property management companies in this area are willing to offer flexible services tailored to match the owner's requirements.
This makes it difficult to give an accurate cost estimate for property management, but budget between 10% and 20% depending on the level of service required. Income tax of 25% is due on the net profit after allowable deductions.
In the Marbella area prices fell an average 40% from the market peak in 2006 to the trough in 2014, but started recovering in early 2014. Very strong international demand, combined with lack of new inventory, has pushed prices up by around 10% to 15% since then.
So a US$300,000 minimum is needed now for a good two-bedroom apartment in the prime golfing area, and US$400,000 for something similar beachside. In both these cases a gross yield of 8% can be achieved. A three/four bedroom townhouse in the same areas would cost US$450,000 and upwards, with a potential gross yield of 10%.
Detached houses with pools in prime locations are in such short supply that prices have returned to over US$1.25 million, but they can achieve gross yields of 12% and higher.
Now is a good time to get into the market here. The market hit bottom in this area, and the recovery is far-enough along so that it's no longer in doubt… prices are still well short of their peak of 2006… and yields are now at respectable levels.
If you'd like to know more about the market in Costa del Sol—or would like to see some sample properties and listings—feel free to write to me here.
Barbara Wood
For Overseas Property Alert
Barbara Wood has 25 years' experience in the Spanish property market and is a recognized expert in property research and acquisition. She is often quoted in the media and is a regular contributor to the industry press. After more than a decade working as a real estate agent she thought it was time to redress the balance in favor of the buyer and founded The Property Finders in 2003, to work exclusively on behalf of buyers, to protect their interests and offer independent and impartial advice on all aspects of property purchase in Spain.
You can write to Barbara here.
***
Letters To The Editor
Lee,
The New York Times recently reported that Brazil is on the brink of a huge public pension crisis, due to over-spending and an aging population.
What's your current position on Brazil?
Lynn
Ireland
Brazil is indeed experiencing an emerging crisis in its public pension system. Many people are retiring in their 40s and 50s (the average retirement age is 54), while fewer new workers are joining the workforce to pay for those retirees.
Nonetheless, Brazil has a lot going for the second homeowner; warm weather, low cost of living, amazing food, an unparalleled friendly culture, and thousands of miles of beautiful beaches.
And as a U.S. dollar-holder, you can buy now at a huge currency discount. Brazil is the only place I know of that's discounted more than Colombia. The dollar's buying power has gained over 250% since I sold my house there in 2010.
But I won't make any predictions about near-term capital gains. The Brazilian real could get still-weaker than its current level… and economic hard times could mean that prices in the local currency go down in the second or vacation home market.
For income properties, the only thing that could tempt me would be a property that sold in reals, but rents in dollars, since your dollar-based income would buy lots of local currency.
The bottom line is that I think it's a good time to buy for the lifestyle, or to get a second home or vacation home… but don't expect a near-term recovery to provide you with a capital gain.
***
Lee,
I am considering second retirement home and rental investment in Medellín, Colombia, or Puerto Vallarta, Mexico.
What is your recommended price band for the best trad-eoff on return and risk? Can you recommend a reliable agent and attorney in both locations?
Does one stick out as a better opportunity at the moment?
Jeff
Egypt
Both markets are excellent rental markets, and good choices for an income property. In Medellín, you've got a huge currency advantage right now, with the dollar having gained 57% on the Colombian peso over the past two years.
In Medellín, I'd recommend that you work with First American for real estate. They've got hundreds of listings, and 100% bilingual agents.
In Puerto Vallarta, much of the real estate trades in U.S. dollars, so there's no added currency advantage for dollar-holders, unless you deal in properties prices in Mexican pesos, on which the dollar has gained about 27% over the past two years.
For a retirement home, I personally prefer Medellín, because I'm surrounded by full-time residents rather than tourists and snowbirds. (In the case of Medellín, the prime rental area is also one of the prime residential areas.)
In Puerto Vallarta, I'd seek out the less-touristy areas if I were going to retire there… but those won't be the best areas for managing a rental.
Have a question? You can write to Lee here.