Murcia: An Authentic Spanish Lifestyle (With Apartments From US$93,700)
Year-round sunshine… check!
World-class, golden beaches… check!
A rich culture, tasty local food and wine, a wide range of outdoor activities (on land and water), and an affordable cost of living… one big, fat check!
Spain ticks a lot of boxes for the would-be expat or investor. And, when you focus on the right market, you can also add affordable real estate to the list.
In past Overseas Property Alert issues, we've covered markets in Valencia and Catalonia. Today, for the first time, we're going to explore the lesser-known Murcia region—along with a current opportunity to grab a foothold here.
Let's dive right in…
Murcia—Where It Is And Why It Deserves More Attention
Murcia is one of Spain's 17 autonomous regions, located in the southeast of the country. Its capital Murcia—a university city—is the seventh largest city in Spain. The region boasts the 250-kilometer-long stretch of Mediterranean coast known as the Costa Cálida ("Warm Coast"), along with Europe's largest saltwater lagoon, the Mar Menor.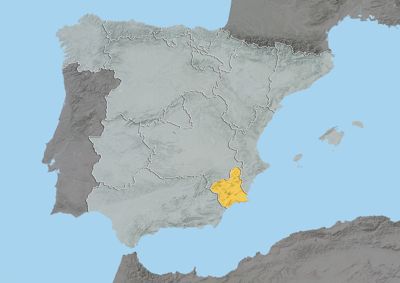 Murcia and the Costa Cálida offer a quieter alternative to the busy Costa del Sol in neighboring Andalucia. It's a place where expats and tourists can come to enjoy an authentic Spanish experience in a safe setting. Highlights of the region include:
A rich history
In Cartagena (the region's second largest city), you'll find a Roman theater dating to 1 AD. Founded in 825, the city of Murcia has many highlights, including its imposing cathedral that took 300 years to complete and marries Baroque and Gothic styles.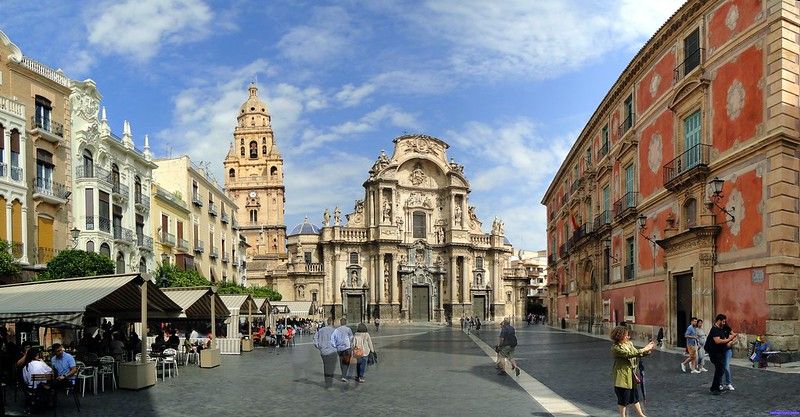 Warm climate
Murcia enjoys year-round sunny days. The Costa Cálida has its own microclimate, allowing for an extended tourist season. Temperatures are hottest June to September (reaching highs of 80°F to 85°F) but remain in the 70°F to 75°F range into October and November.
Great food and wine
All the trappings of a Mediterranean diet are here, with the added benefit of Spanish tapas. Murcia is known as "Europe's orchard" for its fertile land that produces fruit, vegetables, and flowers for export. The region is home to three wine appellations: Bulla, Jumilla, and Yecla. Calasparra—one of the premium rices used for paella—is native to the region.
Natural parkland
Six kilometers south of Murcia City is the Carrascoy and El Valle Regional Park with walking trails through tall pine forest—an ideal place to escape the hottest summer days. Between the Mar Menor and the Mediterranean is a natural wetland with salt flats, sand dunes, mud baths, and beaches. Toward the end of the summer, you can admire the flamingos and other migratory birds that flock here.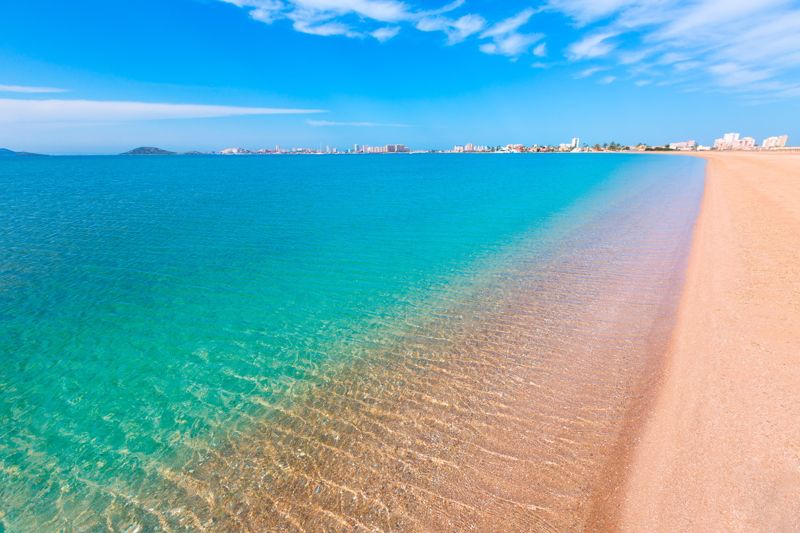 Culture
For those who want more than just the beach, prepare for a full event calendar. One of Murcia's biggest events is its "Burial of the Sardine" celebration in spring. Most towns—however small—will also have their own Semana Santa celebrations at Easter. If you're a fan of reenactments, you won't want to miss Cartagena's annual Festival of Carthaginians and Romans. The town also hosts jazz and film festivals.
I could go on. Naturally, the year-round sunny weather lends itself to all sorts of outdoor activities, including sailing, diving, hiking, biking, and golf. Spending time here in winter, you'd have access to skiing, too. It's a 3.5-hour drive to the Sierra Nevada resort in Granada. Or an 8-hour drive north will take you to Baqueira-Beret in the Pyrenees.
All these attractions explain why, in 2018, the Murcia region outperformed the rest of Spain in terms of tourist growth. Brits lead the pack (accounting for 41% of all foreign visitors), followed by the French, Italians, Belgians, and Germans.
What's Happening With The Real Estate Market?
The Spanish property market was one of the hardest hit in the years following the 2008 financial crisis. By 2012, with an estimated 1 billion euro of repossessed property to offload for the banks, fire sale season was in full swing. Between 2014 and 2017, the number of repossessed properties dropped significantly. It's expected that the number may rise again in the post-pandemic market, but nothing as dramatic as those financial crisis days. So far, things look positive for Murcia. Though property values dropped last year in Spain's major cities, the rest of the country experienced average growth of 0.7%.
Average price per square meter today in the Murcia region is 1,046 euros (US$1,245). According to figures recently reported by Virto Property, 17% of all foreign buyers to Spain bought into the Murcia region last year. By contrast, some 30% bought in Andalucia region (home to Malaga and the Costa del Sol) where average price is 2,269 euros (US$2,700) per square meter—more than double the average price in Murcia. For the record, Spain's most expensive region is the Balearic Islands at 3,105 euros (US$3,700) per square meter.
Let's Talk About Golf (Again)
I mentioned in last week's essay on top golf destinations that I had details coming of a golf-related opportunity in Spain…
Murcia, with 18 golf courses inside a 50-kilometer radius, is emerging as a serious golf destination in Europe.
U.K. magazine bunkered says:
"Four legendary golfers, Seve Ballesteros, José María Olazábal, Arnold Palmer and, arguably the greatest ever, Jack Nicklaus, have designed or redesigned courses in the region of Murcia—and you'd be really 'teed off' if you went anywhere else."
How you can enjoy what Murcia has to offer
With the help of our contact on the ground, we've discovered an opportunity where you can enjoy all the best that Murcia has to offer from the comfortable surroundings of a well-established resort…
This resort, with a Sheraton hotel on-site, was completed more than a decade ago on the grounds of Spain's longest golf course. The course is built on undulating terrain that weaves through olive and almond orchards.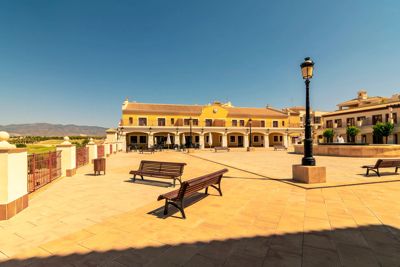 You—or your paying guests—would enjoy true privacy here. It's just a 10-minute drive to Murcia, 15 minutes to Cartagena, and 20 minutes to the beaches of the Mediterranean and the Mar Menor. There's also a village five minutes away where you'll find a number of supermarkets and restaurants. Just 15 minutes from Murcia's airport, this is an ideal investment opportunity for short-term rental. When the summer crowds have left the beaches of the Costa Cálida, you're in a perfect position to tap into the year-round golfing set.
Because the properties on offer here are bank repossessions, you'd also be getting in at a reduced price—starting from 78,900 euros (around US$93,700 at the current exchange). That would get you a 62-square-meter, two-bed apartment. To give you some context here, the minimum starting price for a cookie-cutter two-bed apartment in Estepona on the Costa del Sol is around 200,000 euros (US$237,600)—and that would be a pre-construction unit.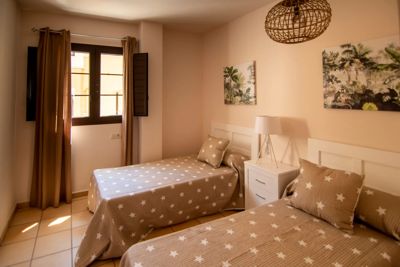 If you wanted to spend extended time here yourself, the 80-square-meter apartments (with an extra bathroom and higher-spec finishings) may work better. Asking price for this model is 99,900 euros (US$118,650).
Often repossessed properties involve some work—fittings have been ripped out and power cut off. But the ones here in Murcia are in brand-new, move-in condition. They're also finished to a high standard and have a communal swimming pool on-site. As part of a fully operational resort, there's none of the risk associated with pre-construction and "planned amenities."
As a resident or guest of the apartments, you can drop your bags and walk out your door to enjoy all the attractions of the resort, including the hotel's spa, fitness center, restaurant, tennis courts, sports fields, and—of course—the golf course itself.
Should you wish to rent out your property, full property management is available on-site. Based on a conservative annual occupancy of 60%—with management fees of 20%—your net rental yield is a projected 6%.
For more details on the properties on offer—including virtual tours—our contact on the ground, Rachel, is standing by. You can get in touch with her here now.
Lynn Mulvihill
Editor, Overseas Property Alert