Investing In The Hawaii Of Europe
It's Europe… but tropical.
That was my first impression when I touched down in Madeira, Portugal, in April for one of my first scouting trips as Overseas Property Alert Editor.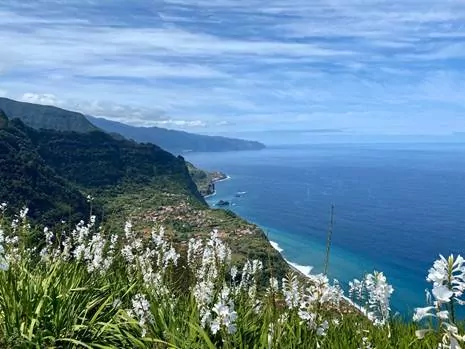 I was struck by the scenery right away.
Madeira is an archipelago that floats 1,000 kms southwest of mainland Europe in the North Atlantic Ocean. It's geographically closer to Africa (the coast of Morocco is only 520 kms away) and on the same parallel as Bermuda.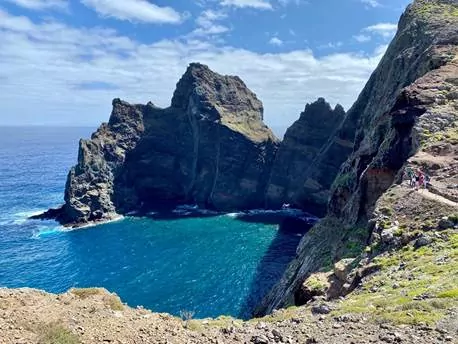 A giant chunk of seafloor wrenched above the surface, Madeira's landscape is dramatic, featuring sharp peaks and wind-sculpted cliffs. Sweeping sea views are available from most vantage points.
Lush vegetation grows across this landscape, including wild pineapple, banana, and passionfruit. Again, not what you expect from Europe… In fact, Hawaii was the first place that came to mind upon first glance.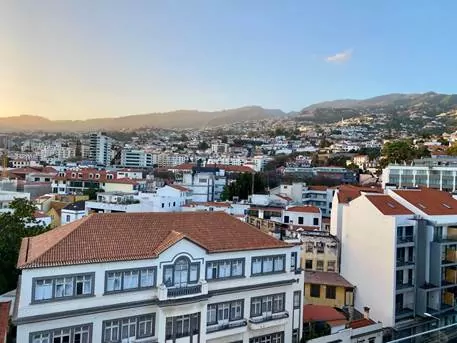 It's only when you get to Old Town of capital Funchal and see the narrow cobblestone streets, historical buildings, and thriving café culture that you're reminded that you are indeed in Europe.
Culturally and politically, Madeira is very much part of Portugal, but to me, it stands out from the mainland (in more ways than just its geography). I toured the island less than three months ago, interviewing local real estate specialists and viewing property developments.
Here's why I think Madeira should be on your radar…
Why Madeira?
Madeira makes sense for a handful of reasons—some straight-up investment-focused; others more to do with its lifestyle appeal…
Strong tourism year-round. Madeira was the fourth-most visited region of Portugal in 2022, when it received about two million visitors. About a quarter of that number is domestic tourism from the mainland.
It's "Europe-plus." Madeira is in a unique climate zone. It's called the island of eternal spring because of its pleasant year-round weather, which includes warm ocean waters. Its tourism industry is year-round, unaffected by the seasons.
Less bureaucracy. Officially the Autonomous Region of Madeira, it has its own government and administrative power. My contacts say that you can get things done (applications, filing paperwork, etc.) faster in Madeira than on the mainland.
Independence. Again, Madeira has more discretionary power than the mainland, and it's not afraid to stand apart. During the pandemic, Madeira reopened to tourists well before the mainland. It was among the first places in the world to do away with quarantines, testing, and vaccination requirements. The president of its regional government recently took a strong stance against the closure of Portugal's Golden Visa program, saying Madeira would "refuse to comply" with the measures of the closure.
Innovative and forward-thinking. Recognizing that it's a tiny, relatively faraway island with a small economy, Madeira worked quickly to create another pull factor to attract visitors during the pandemic. Portugal launched its digital nomad visa in October 2022. Madeira took this a step further by creating a digital nomad village, a community set up with the infrastructure to support remote workers. Since its inception, over 16,000 digital nomads from around the world have registered to become part of it.
Investor-friendly. It's home to the Madeira International Business Centre (MIBC), a free-trade zone with investor incentives that include a reduced corporate income tax rate of 5%, certain exemptions on withholding tax and capital gains for MIBC entities, and more.
Diverse property market. A variety of home types are available on this small island, including houses, land parcels, apartments, and condos; there's everything from fixer-uppers with historical value to bespoke, luxury villas… A variety of price points reflects the diversity of options in the property market.
Natural beauty. Madeira's motto is "Of all islands, the most beautiful and free." It's also known as "Garden Island" for its abundance of verdant vegetation and exotic plants that contrast against the blue Atlantic it's surrounded by.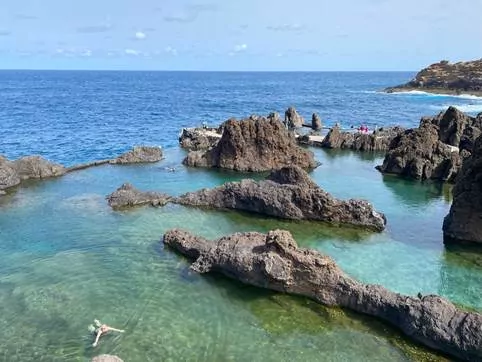 Unique attractions. Madeira has been voted the best island in the world several times. Its beaches are award-winning, too. All around Madeira are natural pools that fill and empty with the changing tides. The island is laced by ancient irrigation lines called levadas, which are today popular hiking routes. It has unique geographic features like capes, canyons, and caves. Golf, surfing, big game fishing, birdwatching, kayaking, sailing, scuba diving, and whale-watching are a few of the things you can do here. There's also an active culture and gastronomy scene that includes seafood and its eponymous libation, Madeira wine.
Safe as can be. Portugal is the sixth-safest country in the world, according to the Global Peace Index, and Madeira has lower crime rates than the mainland. My personal experience is that I've never felt safer traveling somewhere on my own.
Solid expat community. For all the reasons already listed, plus good health care and education, Madeira is popular with expats from Germany, France, Austria, and the U.K., plus a growing number of North Americans.
All of this adds up to a strong quality of life, which is always a good basis for a successful property investment. One of the golden rules of overseas property investment is to buy property in places where you also enjoy spending time.
Madeira Market Overview
Madeira is only 800 square kms, but despite being so small, there are big discrepancies between the north and south of the island, which influence property prices.
The south is the main population zone. It's home to Funchal, the political and economic center of the archipelago.
Funchal and the surrounding areas along the south coast are well-developed in terms of infrastructure. This is where you find the airport as well as shopping centers, hospitals, administrative buildings, restaurants and bars, and other amenities.
In the south of Madeira, it's always summer, with warm to hot temperatures and perpetually sunny days.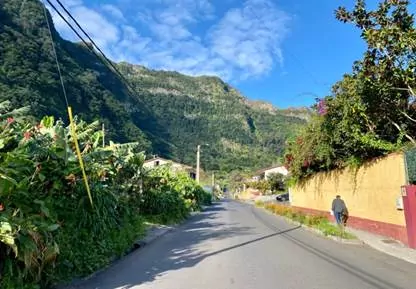 The northern part of the island is at a higher elevation and has its own bioclimate. It's prone to cooler temperatures and rainier weather than the south. It's less accessible to tourists and not as attractive to sun-seekers, so it's much quieter and less developed than the south.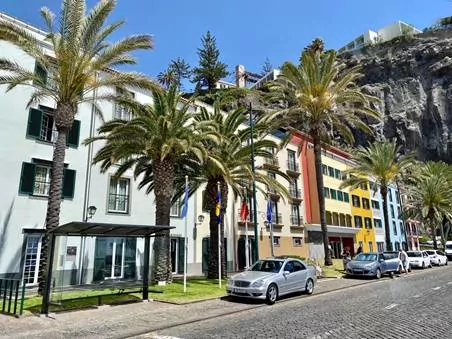 For a yield-focused investment, a property purchase in Funchal or another town along the south coast (Calheta, Ponta do Sol, Camara de Lobos, Garajau) is the best option because these areas have the highest occupancy rates. There's also good potential for capital appreciation in these areas.
A property purchase in northern Madeira can also be a great choice, depending on your objectives, but it's less likely to generate as consistent yields as the south.
Property Prices
Madeira has the fourth most expensive property in Portugal after Lisbon (where property costs 3,460 euros per square meter), the Algarve (3,100 euros per square meter), and Porto (2,970 euros per square meter).
That said, there's enough price diversity to suit a variety of budgets in Madeira.
The average price per square meter for property across the island is 2,560 euros. If you're looking at Funchal, it's slightly higher at 2,700 euros per square meter.
The next most expensive areas after Funchal are Calheta, where it costs 2,500 euros per square meter, and Camara de Lobos, where it costs 1,950 euros per square meter.
The three least expensive municipalities are Sao Vicente (1,270 euros per square meter), Santana (1,330 euros per square meter), and Machico (1,430 euros per square meter), all on the northern side of the island.
Prices in the rental market mirror the south-to-north discrepancy as well. In Funchal, a one-bedroom rental in a desirable area costs between 700 and 1,300 euros per month. In northern Machico, a rental of about the same size costs 450 euros per month.
Like the rest of the country, prices in Madeira have jumped over the past few years, increasing by more than 25% from January 2022 to January 2023 alone.
This is a market where you'll want to have between 300,000 and 500,000 euros available to buy something nice, particularly in Funchal and along the southern coast.
These may be steep prices for many property investors, however, they're a bargain compared to Hawaii, where the average cost of property is about US$834,500.
Madeira offers much of the same appeal as Hawaii: life close to the sea with stunning ocean vistas… dramatic green landscapes sheathed in flowers, where tropical fruits grow naturally… perpetual spring-like weather… and strong tourism, with the potential for year-round rental income and steady appreciation in property values.
Sincerely,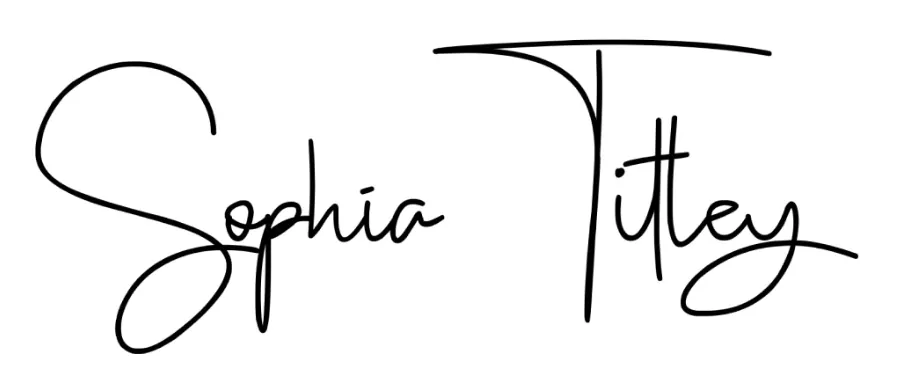 Sophia Titley
Editor, Overseas Property Alert