Almost everyone has a mental image of what their dream retirement home or vacation home should look like.
This image often includes swaying palms, crystal-clear warm waters, and white sandy beaches. Throw in fishing, great food, and a funky Caribbean town, and you've got a picture-perfect retirement or second-home destination.
This is exactly why Belize is so popular. It's one of the few affordable destinations that fit that image perfectly. And despite being a Caribbean destination, it doesn't come with mainstream Caribbean prices.
Beyond its obvious tourism potential, the country also draws a large number of expats. Somewhere between 35,000 and 40,000 expats from the United States, Canada, and Europe call this little country home.
For North Americans, it offers the following attractions:
English is the official language of Belize, so there's no need to learn a new language or to have legal documents translated.
It's close to the States—less than two hours from Miami.
The currency is pegged to the U.S. dollar, so investors don't have the currency risk that's inherent to many overseas investments or relocations.
Property taxes are low, so the total overhead of owning in Belize is attractive.
It's naturally beautiful, with year-round warm weather, warm waters, white sand, and friendly people.
In 2018, 67% of visitors to Belize came from the United States. So, it's no surprise that many U.S. citizens are choosing to return, year after year, spending extended vacation time in this relaxed setting… or putting down full-time roots.
Ambergris Caye Is Belize's Biggest Draw
Ambergris Caye is a narrow, 26-mile-long island just off the coast of the Belize mainland. It accounts for almost two-thirds of Belize's significant tourism income. In addition to overnight guests, it now welcomes over one million day-trippers coming off cruise ships.
The main population center on Ambergris Caye is San Pedro (locally called San Pedro Town), a typical, quirky Caribbean town that's loaded with character… as well as a wide array of dining options, conveniences, and even an airport.
The climate on Ambergris Caye is warm and tropical all year. Average temperatures range from 75°F in January to 81°F in July. Most rainfall occurs between June and December.
So for an investment in the tourism industry, Ambergris offers a lot. It boasts a mature tourism market, in a place that's best-in-class, in a country that's world-renowned for its diverse tourism potential… from exploring Mayan ruins to watching a giant manta work the barrier reef.
Affordable Condos, Rental Income, And A Special Discount
Condos on the beach in Ambergris Caye start from around US$200,000. These are usually in small developments with little to no amenities for guests—beyond a direct path to the sea.
Today, we're going to look at an opportunity a few blocks back from the beach (but no more than a five-minute walk at an easy, island pace)… where amenities are all in place… and you can own a studio for less than US$100,000.
Welcome to Grand Baymen Gardens…
You may have heard of this development before. Maybe you even thought about buying a condo in one of Grand Baymen's previous phases… but weren't able to act at that time.
The great news is, the developer here has recently launched its next phase—with pre-construction prices starting at US$83,900… a special price we've been able to negotiate for Live and Invest Overseas readers.
But, as an Overseas Property Alert reader, you do even better. The developer is shaving an extra US$1,000 off… so your studio costs just US$82,900.
Adding in closing costs… and a furniture package to make your unit fully turn-key… brings the full cost to US$95,000.
Still an extraordinary deal when you consider the location… and the fact that Grand Baymen Gardens has been up and running for a few years now, with plenty of amenities in place.
Reading through reviews on TripAdvisor, I found that many guests at Grand Baymen are repeat visitors. Here are two I swiped…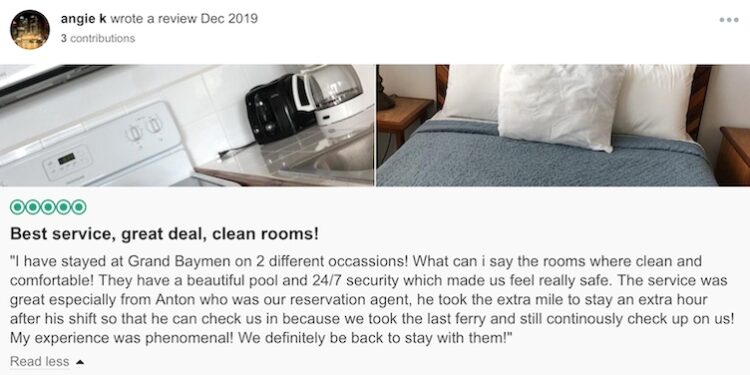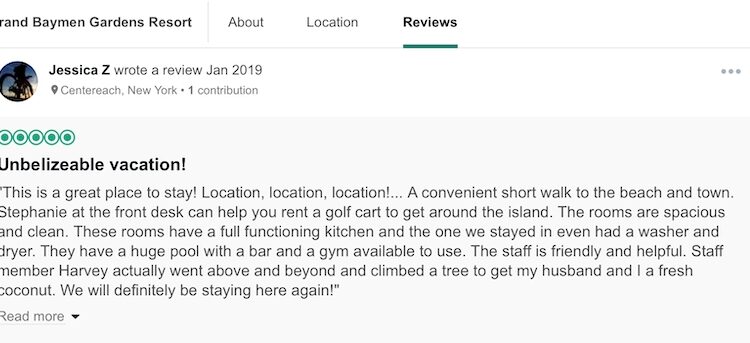 Happy guests are important if you're renting out. But this is a place you may want to spend some time in, too. On-site property management is available to owners… and you may use your unit as often as you wish.
In fact, the developer has built these studios with the part-time owner-occupier in mind… each unit has a lock-up closet where you can safely store your summer clothes and beach umbrella while you're away.
Grand Baymen Gardens is a low-rise planned community, just a short walk south of San Pedro Town… it takes about 10 minutes to reach the town center and just a minute or two to reach the nearest restaurant. The beach is a couple of blocks away, and you can even walk to the airport.
When you become an owner at The Fleet, you have access to all of the current on-site amenities—including pool with a swim-up bar, tennis courts, and fitness center.
Less Than 10 Studios Available—Reserve Yours Risk-Free For US$1,000
The Fleet is the fifth phase in the overall development at Grand Baymen. The developer started with the amenities and then built the first condo building. Each building is unique and targets a different market which means each new building doesn't have a significant effect on occupancy rates.
A couple buildings target the long-term rental market on the island which is underserved. Others have larger one-bedroom and two-bedroom condos. This building, however, is the first to have studios. Of the 12 apartments in the building, 10 are studios, with two of those studios and one of the two one-bedrooms already reserved.
Because of the smaller size of these units, they're not suited to full-time living. This is really an opportunity to buy into a tourist hot spot… at a below-market-value price… generate some rental income… and, whenever it suits, have a comfortable place to stay on a sunny Caribbean island.
You can reserve your studio with a US$1,000 refundable deposit. Once you receive all the paperwork, you have a week to review and make a final decision.
Again, at time of writing, only 9 units remain. If you're interested to hear more about these Caribbean island studios, get in touch here.
Lynn Mulvihill