Just after last week's issue on eco-friendly homes hit your inbox, one of our developer contacts shot me over a special "green home" opportunity that was just too good not to share…
If Belize is on your radar, or you're looking for a more traditional way of life, surrounded by the best of nature (although, I won't lie—this home has all the trappings of luxury living), then this may be a match for you…
The home is in move-in condition—you'll have no wait time for building.
And, the owner is after a quick sale—hence the opportunity to get in at such a discount.
Here's a view from outside…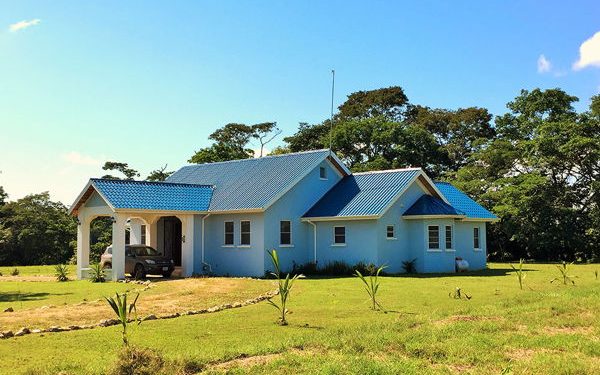 Before I give you the figures, let's back up and take a look at exactly where the home is…
The Setting
If you're a reader for any length, you've heard tell of Carmelita Gardens—an off-grid community in Belize's Cayo District.
Spread over 98 acres, gardens and orchards are interwoven with the housing lots so that owners can grow their own food. No pressure here… you can get your hands dirty by planting and harvesting, or you can simply take advantage of the fruits and vegetables grown on-site and available for residents of this planned community.
Houses at Carmelita Gardens have solar panels for electricity, rainwater harvesting and filtration for potable water, and eco-friendly wastewater systems. The aim is for each house to have a very low impact on its surrounding environment.
Living in Belize means you'll have no heating bill. And the house designs allow you to live comfortably without turning on the air conditioning. Your bills will be reduced to near nothing…
And this is far from old-school, off-grid living. Self-sufficiency technology has come so far that out here, surrounded by tropical rainforests, you can still enjoy all the amenities of back home—big screen TV, washer and dryer, internet, etc.
The Property
Up for resale is this luxury off-grid estate.
Here's a bird's-eye view…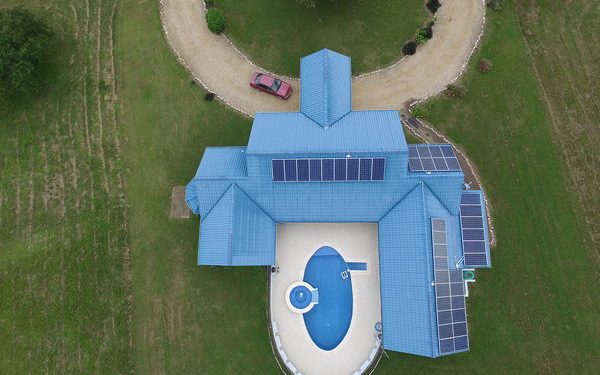 Built in 2014 on two riverfront lots, the main home covers 213 square meters with additional guest quarters of 31 square meters. Inside you have three bedrooms, three bathrooms, and kitchen (extra features include a bar and widescreen TV with internet).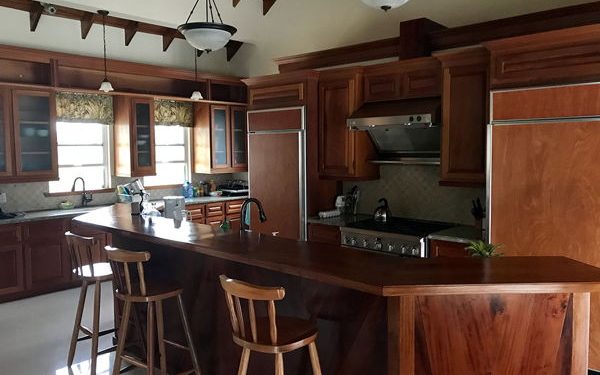 Outside is an outdoor kitchen (covered), swimming pool with a hot tub, and a deck overlooking the river (you don't even need to leave home to go fishing)…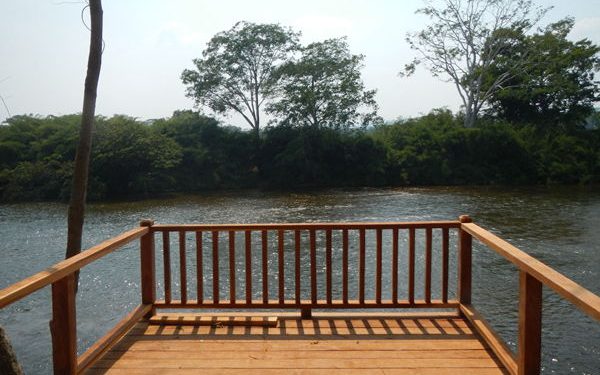 Again, the home is move-in ready and comes fully furnished. And the owner recently invested US$20,000 in the solar power system for a new state-of-the-art lithium battery, so you won't have to worry about an upgrade for a long time…
Which brings us to…
The Price
Originally listed at US$738,000, the estate is now on offer for US$349,000 (when you apply the quick-close discount of US$20,000).
As mentioned earlier, the property includes two riverfront lots—valued at a combined US$130,000. Taking the land out of the equation for moment, this means you're getting a luxury, three-bedroom home for just US$219,000.
Beyond the property itself, you'd be buying into a creative and forward-thinking community in this special part of the world. The town of San Ignacio is just seven miles away and has its own growing expat community. While you embrace quiet country living, you're never far from company…
To find out more about the property, please get in touch with Phil and the team down in Carmelita Gardens.
Lynn Mulvihill