Where I grew up in the southeast of Ireland, we were a 20-minute drive from the beach. Still, that car journey on a hot summer day (pre the arrival of air-conditioned vehicles to Irish shores) seemed to take forever.
My husband, raised in the Irish midlands, had it even tougher…
During spells when the sun was splitting the rocks, he and his siblings were lifted from their beds before 5 a.m. and carried to their car—engine already running—for a four-hour drive to the golden sands of County Galway.
A motorway has cut that journey time in half today. But back then, you needed to be on the road before dawn to get a parking space anywhere near the beach.
He recalls it all with nostalgia. To me, it sounds like torture.
Now, when it comes to taking our own family on vacation to the beach, the one rule we have is no driving.
Sure, we'll drive to the airport. And, on the other side, we'll rent a car or take a transfer to our holiday home. But what we don't ever want to do on vacation is to have to load everyone into the car to reach the beach. (Not to mention figuring the local parking system… or battling for a free space in high season.)
I know we're not alone in this.
We, like most beach lovers, want to be able to step out from our vacation home… and, within a couple of minutes, be on the sand, laying out our towels before running to the warm ocean…
Or, better still—like the place I'm going to tell you about in a moment—to be able to walk out our front door and be straight onto the sand, just steps from the breaking waves…
Yes, You Can Still Buy A Beach Home For Less Than US$150,000
True beachfront, as you know, is harder to come by today. Accommodation with beach access tends to sell out fastest (often a year or more in advance to returning vacationers).
Often, too, beachfront is given over to apart-hotels or condos. So you're paying a premium only to go to sleep and wake up in a compact space… and to share the sand with hundreds of other tourists.
Meanwhile, to own something on the sand—right on the sand—at a reasonable price seems impossible.
Fortunately, there are parts of the world today where you can own your own private place on the sand… I mean a standalone villa (not a cramped condo) with its own pool… and have plenty of space on the beach before you… for less than US$150,000.
Not many places, mind. But a few…
The place I want to tell you about today offers all this and more.
It's on a stretch of Brazil's northeast coast—in the province of Céara—an area that boasts that perfect combination of year-round sunshine and world-class beaches.
For years, Céara's coastline—from Fortaleza down to Canoa Quebrada (the resort known as "the pearl of Brazil's northeast")—has been a popular escape for Brazil's inlanders, as well as their South American neighbors. Now it's also beginning to attract a wider international crowd…
Right now the path of progress is heading right down Ceará on the Northeast coast of Brazil
But thanks to a favorable currency exchange, there's opportunity for dollar holders to get in here today at a bargain-basement price…
This opportunity means that you can own your own beachfront villa right now for just US$147,000…
Not only that, but from an investment perspective, your Brazilian villa offers you two things…
Capital appreciation. Your dollar is worth about 4 Brazilian reals today… more than double what it was just a few years ago. As this market starts down its road to recovery, it's expected that the gap will narrow… and you'll be in line to cash in on the resale market.
Double-digit returns. The path of progress continues to push from Fortaleza all the way down toward this development and beyond. As occupancy increases after the first few years (thanks to returning customers), you can expect a 16% return on investment…
I've told you about this project before. Jan and Bruno, the developers behind it, sold out two phases of beachfront and ocean-view lots here already. Many of these went to your fellow readers—some of whom have completed or are currently building their own dream homes.
Now Jan and Bruno are making it easier than ever with this special launch of turn-key villas.
Here's what one of their US$147,000 beachfront villas looks like…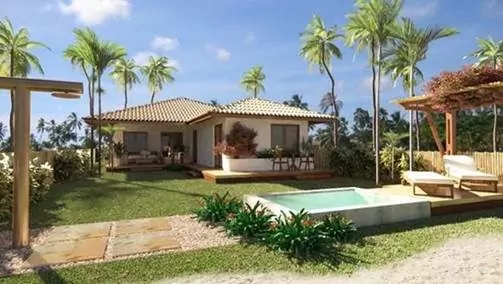 It's 100 square meters in size with two bedrooms. Outside, you have yard space… with plenty of room for al fresco dining… and a small private pool… not forgetting your direct access to the uncrowded, white-sand beach…
Even if you put your villa into the hands of the rental management company, it would be hard to resist reserving a week or two here for yourself. Especially with this beach on your doorstep…
A Second Option—A Stone's Throw From The Beach For US$97,000
If you're interested in investing in this market but were hoping for a lower entry price, then good news, too…
The developers are also offering a limited selection of beachside villas.
To borrow an overused line from Ozark…
What does that even mean, Wendy?
"Beachside" means you (or your guests) are 250 feet from the sand. You get the same size villa (that's 100 square meters)… but a smaller lot. From an investment perspective, projected returns would be lower… by about 1% (so, once business is in full swing, a return of 15% rather than the 16% you'd expect on the sand).
Whichever option appeals to you—true beachfront or beachside—there's one important thing to note about this opportunity…
Limited supply.
The developers have released just 20 units (10 beachfront, 10 beachside).
And since this was announced to Global Property Advisor readers last week, some of these units have already been snapped up (not surprisingly, the beachfront villas are moving fast)…
Later this week (depending on remaining inventory), the general readership will be presented with this opportunity, too.
So, the sooner you act, the more choices you have on your villa's location…
If you'd like to get more information—including more photos, villa plans, and rental projections—on this exciting (and rare) opportunity to own on a section of untapped Brazilian beachfront, please go here now.
Lynn Mulvihill
Editor, Overseas Property Alert