The Aztecs called it xitomatl—or "plump thing with a navel"…
A humble beginning for the tomato in its homeland of Peru.
Little did the Aztecs know that this juicy red fruit (or vegetable) would one day—no thanks to their marketing skills—become the most popular fruit in the world.
Or that the production of the tomato could work around the mood swings of Mother Nature.
But, in 2019, that's exactly where we are…
The tomato is the most consumed fruit in the world (its global revenue in 2018 amounted to US$190.4 billion—a 6.5% increase on 2017).
And thanks to advances in farming technology tomatoes are not fully dependent on weather conditions…
With a hydroponic farming system, you can grow tomatoes in places they don't typically grow (or grow well) and tap into a market where demand heavily outstrips supply…
Where traditional farmers depend on one good harvest, your hydroponic system can deliver three harvests a year… meaning a healthy income stream (that translates into an annual return on investment of around 19%)…
One British developer we know is doing this right now in Thailand and has opportunities for individual investors like you to:
Cash in on the rising global appetite for tomatoes with a hydroponic greenhouse, growing high-quality, in-demand varieties…
Have all the farming done on your behalf—your investment is 100% turn-key from seed planting to delivery of your tomatoes to buyers…
Enjoy an annual payout—starting at US$9,313 (that's an 18.8% ROI) after the second year…
I'll come back to the numbers again. But first…
Why Thailand?
Though Americans and Europeans have been eating them for centuries, tomatoes are relatively new to the menu in Thailand… and Asia in general. Asia, in fact, is the biggest consumer of fruit and vegetables in the world—its vegetable intake is 75% of global vegetable consumption while fruit sits at 66%.
But back to Thailand…
The tomato isn't easily grown here. And, using traditional farming methods, the final product is small—in other words, not the kind of produce that's going to cut it with Thailand's growing middle class or with the 35 million tourists that visit the country each year.
That's where our developer comes in…
On the back of the success of his aquaponic lettuces (LIOS readers are already receiving payouts from these), Andrew's buyers are hungry now for tomatoes—specifically high-quality tomatoes that are free of chemicals.
Superior quality starts with the seed. Andrew buys his seeds from two of the most reputable seed companies in Holland—something that's not accessible to most local farmers. Then, his team of scientists manages the hydroponic systems, controlling the growing conditions, so that you come out with a premium, full-sized tomato.
Right now, as Andrew and his team are working to keep up with demand from buyers, all sales are within the local market. Considering Bangkok has a population of some 8 million… and, for the fourth year running, it's been named the world's most visited city (hosting over 22 million visitors in 2018)… that's a lot of mouths to feed.
But tomatoes travel well. And, should the farm wish to capitalize on demand in other Asian markets like Hong Kong and Singapore, it is well positioned to do so.
One Greenhouse Can Earn You US$193,000
To grow to optimum size and quality in this environment, the tomatoes need to be planted in greenhouses. And, that's your opportunity today…
This isn't a traditional real estate opportunity. Foreigners can't own land in Thailand. But the developer has put in place long-term leases on his plantations and all the infrastructure necessary to support his aquaponic and hydroponic systems.
You, as the investor, become the proud owner of a greenhouse. One greenhouse, with 450 buckets, can produce over 7,000 kilos of tomatoes a year… translating to a return on investment of 18.8% to you… or an annualized yield of 16.5% over 20 years.
To give you actual numbers, you can expect a payout of US$9,313 after year 2… rising every year… to give you a projected total of US$193,000 over 20 years.
Again, once you secure your own greenhouse, you won't have to lift a finger to see these profits… everything will be taken care of.
Early-In Buyers Get The Best Price
This tomato offer was first released at last month's Offshore Wealth Summit.
That's when the developer announced his reduced greenhouse price. (You can find out the reduced price, along with more details, here.)
Buying now, in this special discount period, you also qualify for a 50% discount on management fees. (The returns I gave you above include both discounts.)
After the announcement to conference attendees, Global Property Advisor readers got wind of this opportunity a couple of weeks back. Now half the available greenhouses have already been sold…
One of these greenhouses has gone to your fellow readers Laura and Robert Welliver who visited the farm last week…
Here's a picture of them on a private tour with Andrew…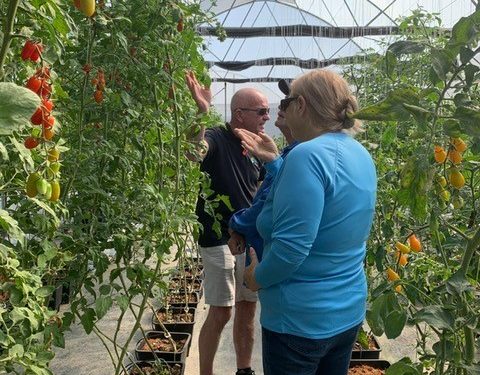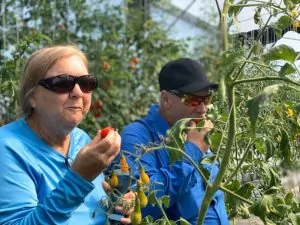 This could be you, too. Andrew is passionate about what his farm is doing and happy to show you around.
To find out more about this hydroponic tomato opportunity and figure if it's right for you, go here for more information.
Lynn Mulvihill