How I Ended Up In A Self-Sufficient Community In Belize: Plus, Updates From Carmelita Gardens' Owner
I first met Carmelita Gardens' founder, Phil Hahn, in 2010.
The gregarious Michigan native had moved to Florida for college a year before and established his own design and development firm in Tallahassee.
Phil had already founded one successful oceanfront development in Belize but had moved on to a new, 98-acre inland project in the Cayo District. Situated on the Belize River, he called the project Carmelita Gardens…
Those were the early days of the development, when all the hard work had to be done before there was a community to attract prospective owners.
Phil asked me if I wanted to help get Carmelita Gardens off the ground.
At the time, there was nothing in Carmelita Gardens except some roads and a hole in the ground that would become the foundations of the community's first cottage.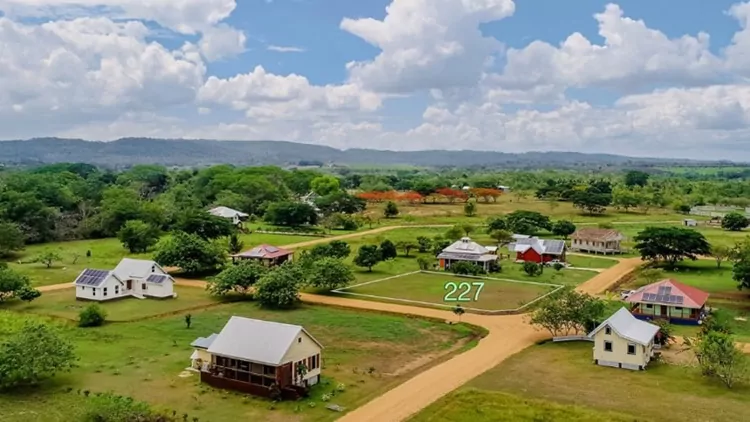 I liked the area and Phil, so I stayed, and for the next few years we worked together, wearing all the hats of a much larger development operation.
There were, to put it mildly, some ups and downs.
We found out that American builders could be more unreliable than local ones, and we learned that, despite words being spoken, communication can still fail.
But most importantly, we made some great friends among the local population—relationships that would lead to the future success of Carmelita Gardens.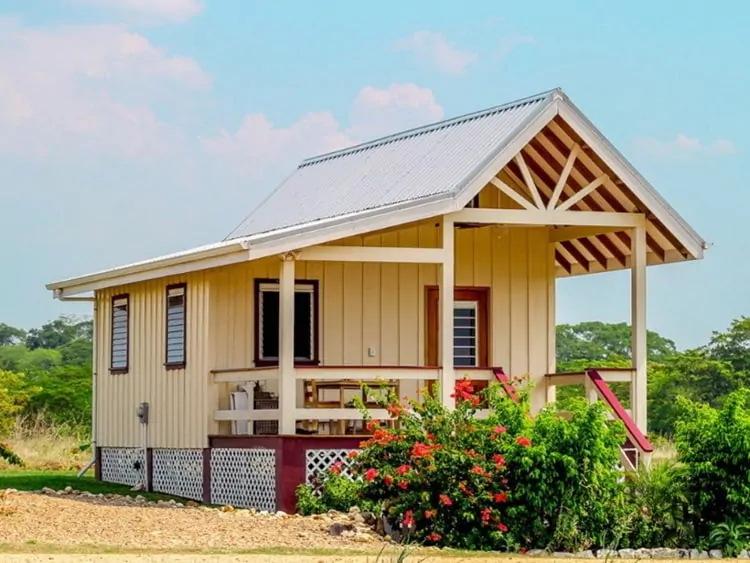 When I left Carmelita a few years later, the teething problems were over, there were 12 houses built and more under construction, and a handful of full-time residents were building the community that is now thriving today.
Where Is Carmelita Gardens?
Carmelita Gardens is located beside the village of Santa Familia. It's 7 miles past the bustling town of San Ignacio and 7 miles before the modern Mennonite town of Spanish Lookout.
It's in the sweet spot, halfway between San Ignacio and its social outlets and Spanish Lookout, a commercial and industrial center.
Spanish Lookout is like an American town, with car dealerships, auto part and hardware stores, churches, supermarkets, and everything else you might want, except for bars.
What Is There To Do In The Area?
If you like the outdoors, you won't get bored here.
Carmelita Gardens has horseback riding and river tubing. Basketball, frisbee golf, and pickleball are popular on-site, too. One of my favorite activities was swimming along Carmelita Gardens' riverfront.
I also liked the community potlucks and socials that we held onsite. I hear that these are more common now that the community has grown.
If you like history and archaeology, El Pilar, an ancient Maya city founded 800 years before Carmelita Gardens, is a few miles down the road.
El Pilar was known as a garden city because of the way the Maya adapted the surrounding rain forest to naturally cultivate food and supplies. Even in Carmelita Gardens, you can find a small, unexcavated Maya mound.
The world-famous Actun Tunichil Muknal cave system is about 30 miles from Carmelita Gardens. Here you can hike through the jungle, swim into sacred caves, and trek underground until you find a sacrificial chamber with offerings to the gods, including human sacrifices.
Some Carmelita residents spend their days in their gardens, either tending their plants themselves or hiring locals to help them.
Next-door Santa Familia village has some small local bars, but a wider selection is available about 7 miles away in San Ignacio.
Reasons To Invest In Carmelita Gardens
The price of the lots in Carmelita has risen steadily since the community was founded.
Early investors bought several lots and are now reselling them to finance the costs of their tropical dream homes.
Investments in Belize of over US$250,000 make you eligible for a Temporary Residency Visa. This is a quick way of being able to live and work in Belize, as work permits can be time-consuming to get through other methods.
Tax on rental income is low, at 3% of gross income. It rises to 9% if you rent to the more lucrative tourism market (still far less than what you would pay in tax on rentals in most other countries).
Carmelita Gardens is a resilient community, a perfect bolt hole in times of social, political, or economic turmoil elsewhere.
Being off-grid, you can easily become self-sufficient. During the pandemic lockdowns, residents had the full 98 acres and river to play in, and they loved the lack of restrictions on their personal freedom.
Belize continues to modernize and attract foreign investment. Prices will slowly increase, making it a solid long-term investment.
Carmelita Gardens' Property Options
Carmelita Gardens offers comfortable cottages with off-grid solar and water systems starting at US$120,000. Bungalows start at US$180,000, and villas start at US$220,000.
Off-Grid Packages
Every house in Carmelita Gardens comes with its own solar power system and backup generator. Power cuts and electricity price spikes won't affect you there.
Rainwater harvesting systems and under-house cisterns to see you through the dry season come with every house, too.
Each lot has enough space for a private garden, but there's also a large community garden if you aren't interested in growing for yourself.
What's Happening Today
Carmelita Gardens has surpassed the critical mass of residents it needs to be a sustainable community.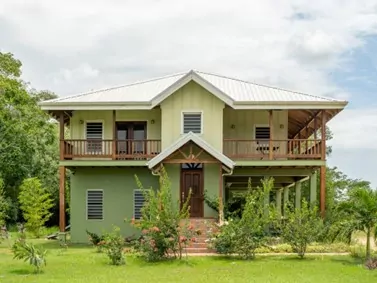 Young families and young-at-heart retirees keep the community vibrant.
Below are some excerpts from a conversation I had with Phil last week. To see an off-grid independent community in action, watch the virtual tour that Phil recorded for OPA readers here.
Updates From Phil
"What's happened in the last three years is incredible. The pandemic changed how people view life, and Carmelita seems to offer the freedom and independence that they didn't know they needed before.
"When you left, we had 12 houses on-site… now we have 34, with 10 more under construction. We expect the total number of houses to double over the next year.
"We have a dozen more in the design phase, with our design team custom-detailing everything to our client's specifications.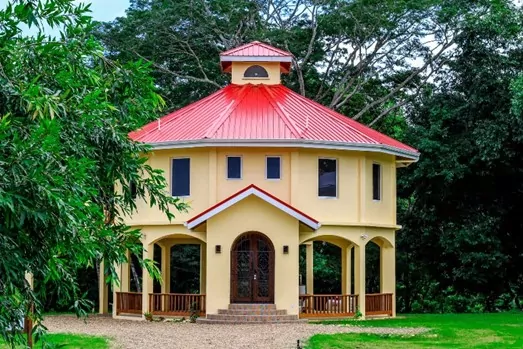 "Things boomed during lockdown, but we couldn't have done it without modern technology. With virtual tours, clients can walk through every site with me and see the interiors of all our home options from the comfort of their own homes.
"Many new owners only see their dream homes in person for the first time when they come to collect the keys and have their community welcome party.
"The Carmelita Gardens' motto is 'Independent Together,' and it has held true all these years. We have an eclectic bunch of owners who are totally different, but they come together to support each other and make Carmelita a real community.
"It's turned out so much better than we ever hoped it could."
To get more information about the development or book a personalized virtual tour, contact Phil here.
Con Murphy
Editor, Overseas Property Alert