I discovered a stunning along the southern Pacific coast of Costa Rica that could conceivably be labeled her final frontier. Virtually untouched until recently, it has suddenly come alive.
In this corner of Costa Rica, you'll marvel at the natural untamed jungle, cerulean blue water lapping against pristine sandy beaches, and exotic wildlife and birds all around. Fondly referred to by the residents as "the place where the mountains meet the sea," this is without a doubt one of the most beautiful places in the world. And suddenly it's showing up on the radar for expats from Canada, the United States, and Europe seeking an overseas home.
Running along the Costa Ballena, I found this picturesque, 65-mile stretch of coastline consisting of three towns, majestic mountains, and 10 unspoiled beaches. The closest airport is Palmar Sur, which offers short flights to the large international airport in capital city San Jose.
Costa Ballena At A Glance
Three towns are situated along this coastal area:
Dominical: A beautiful beach town that has become a hot surfing area. Both expats and locals make their homes in the lush hills above the town. You'll find a variety of restaurants in town offering a wide selection of fresh seafood, Asian fare, typical Central American, Caribbean fusion, and Italian dishes, most with outdoor seating options.
Ulvita: Once a sleepy little village, it has quickly become a commercial center, home to four banks, three large stores, several restaurants, and many expat services, including three international schools.
Ojochal: Located only 45 minutes from the larger city of San Isidro, this community is home to a local school, a private international school, two supermercados, a hardware store, and restaurants with amazing ocean views ranging from French, Mediterranean, and Italian to fresh seafood, pizza, and ribs. A modern hospital, built in 2008, is only 15 minutes away and provides all medical services, including a very good emergency room.
Ojochal has come to be known as the culinary capital of the country, a destination that draws foodies and regular diners alike from all over. From inexpensive but tasty local dishes, to gourmet, white-tablecloth dining experiences, who knew that in this tiny land of rice and beans there would be many excellent gourmet restaurants?
The Property Market In Ojochal
In the mountains above Ojochal, expat homes and rental accommodations are cropping up everywhere, all boasting stunning ocean and mountain views. You'll find a large selection of properties for sale in the area, running the gamut from vacant residential lots and pre-built homes to farms and luxury estates.
In the past, this area drew mostly older expats looking for their forever retirement home.  More recently, though, families coming are escaping the political and economic environments in North America and Europe. They want to raise their children in a cleaner, quieter, less hectic part of the world. Most of them work online, so they can choose where they live.
That said, there is also income potential to be found here.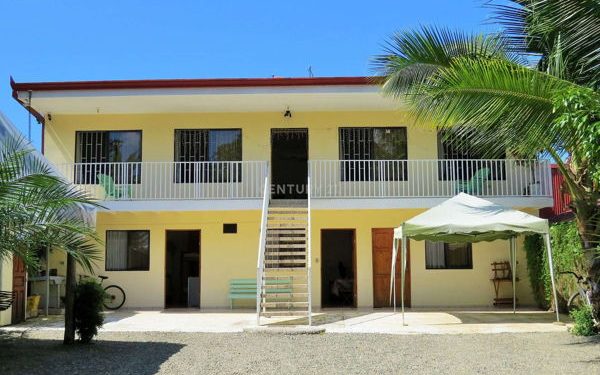 For example, for US$389,000 you could buy this four unit apart-hotel that offers the added benefit of a possible fifth apartment. Located only steps away from Marino Ballena National Park, this unique property is a natural moneymaker in this strong rental market.
A stunning piece of land is a hidden at the base of the 600-foot Diamante Waterfall and surrounded by a private reserve. It offers rolling topography and clear views to the falls, the Barú river valley, and up the coast to Manuel Antonio. With 13,505 square meters (145,000 square feet) of land, this property would be ideal for an eco-retreat, spa, or a private exclusive estate. The asking price is US$175,000.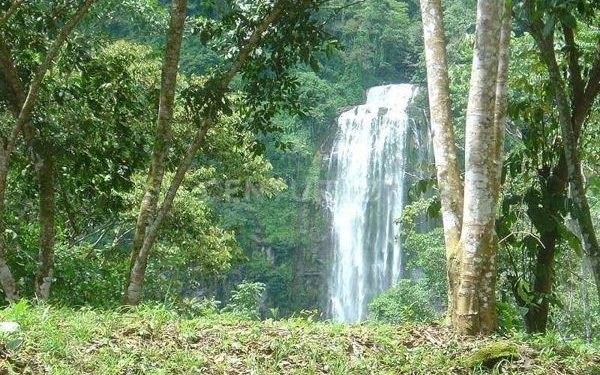 Single family residences are plentiful in this area, and prices run from US$120,000 for a modest 2-bedroom, 1-bath home starting at around 80 square meters. If you have more to spend, you'll also find multimillion-dollar lavish estates and everything in between.
The Costa Ballena Growth Curve
The original developer of this area has created a haven nestled in the mountains, and it's become extremely popular, especially with retirees. Development was done in stages, and phase 12 has just recently been completed. Potential homeowners are discovering the "cottage country" feel of the area, the coolness of living in the mountains, easy access to the multiple beaches, restaurants, and other services… but most of all the breathtaking scenery.
Awarded the title of "Top selling real estate company in Central America," according to Century 21 Global, this real estate company, situated in Ojochal, is selling the best lots and homes in this sought-after area. The real estate agency and its partner home construction company work together to provide the best in real estate and building services from conception to completion.
"We take the new homeowners' ideas, napkin drawings, if you will, and build them their dream home, within their budget," explains one of the owners, Rita Lucas. "We also have a legal team onsite, with one of the best lawyers in the area. She knows Costa Rica and the local laws and works with our clients to figure out legal issues, set up bank accounts, pay taxes, and more."
These two companies offer the expertise of home design specialists, architectural adaptation, non-compromising, code-compliant engineering, and dedicated construction managers all with competitive pricing.
Some of the highlights in the Ojochal area include:
Lot sizes varying from one quarter acre to a few acres.
Two-acre lots with mountain views selling for approximately US$80,000, while those with ocean views are US$110,000.
The average cost of property taxes is only US$800 per year.
Building restrictions require that buildings must be set back from creeks and rivers, while government regulations allow buildings to occupy 60% of the total land space.
House construction costs run from US$100 to US$120 per square foot on average, and will depend on your upgrades and finishing choices.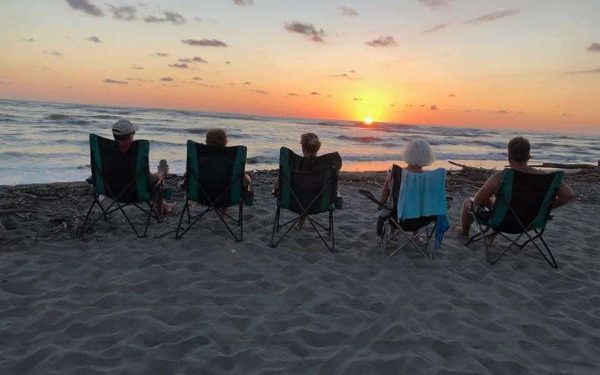 Imagine sharing your morning coffee with gloriously hued macaws and toucans, or watching the antics of frolicking monkeys and somnambulant sloths in the trees bordering your garden. As you breathe in the cool sea breezes and pure, crisp mountain air, you'll realize that Costa Rica has it all, and Costa Ballena in particular is beckoning.
Robin Post