A Dazzling Trip To Spain's Costa De La Luz (Coast Of Light)
I'm back from a week inspecting property in Costa de la Luz, on the southern Atlantic coast of Spain…
This area is a favorite vacation home choice for wealthy Spanish people, which is always a positive sign for a property market. It's not overbuilt, and you won't find mega developments spoiling the natural beauty.
Foreign buyers (mostly Germans, Belgians, French, and to a lesser extent, British expats) make up less than 20% of the property market. Americans are only beginning to discover it. Costa de la Luz attracts a more sophisticated expat than other parts of Spain.
This region is appealing because of the low cost of living, amazing beaches, nearly endless sunshine (the area is called the "Coast of Light" for a reason), cooling Atlantic breezes, and the mix of Spanish and Arab culture.
The property market is on fire at the moment, with realtors struggling to find inventory to supply demand. Several local realtors I visited had fewer than 10 listings left. Almost 40% of the best properties I visited on my trip have been sold or taken off the market in the few weeks since I inspected them.
Despite the strong demand, properties and prices that can suit almost anyone are still available…
Towns In Costa De La Luz
Cádiz Old Town
The ancient city of Cádiz on the southwest coast of Spain is enchanting. Founded over 3,000 years ago by the Phoenicians, today Cádiz boasts narrow cobbled streets that connect plazas crammed with restaurants, bars, delis, cathedrals, and people… and it all oozes history.
Signs of the centuries-long Moorish occupation of the region abound in the architecture and culture.
It has a population of about 120,000.

Who Should Buy Here?
Cádiz is for those who want to live in a vibrant historic city on the beach with a low cost of living and good public transport connections to the rest of Spain.
Real estate prices start at around 2,000 euros per square meter for property not in need of renovation and rising to nearly 4,000 euros per square meter for waterfront property and/or property with high-end finishes and utilities.
Nearly all units available are apartments inside historical buildings, all of which have interesting Spanish and Moorish architectural influence. This includes a central atrium illuminating and ventilating the center of the buildings in the traditional manner.
Should You Buy New or Secondhand?
New construction doesn't happen in the Old Town. Anything sold as new means "newly renovated."
Secondhand means that the property is not renovated, and "in need of full renovation" means that it's nearly in ruins.
Many or most of the Old Town buildings, especially the smaller ones, don't have elevators.
Units in the Old Town tend to be smaller—about 50- to 70 square meters.
Rental Returns
Rent is relatively cheap in Cádiz.
A 60- to 70-square-meter apartment (with two bedrooms, one bath) with no sea or plaza view rents at about 600 euros per month, which offers low returns to an ordinary investor.
The only way to make a strong return in Cádiz is to service the tourist market.
Short-term rentals require a license. You can buy properties with licenses for a premium, but the government won't issue new licenses except for certain new builds. (Remember that "new build" means recently fully renovated.)
I don't expect property prices in Cádiz to appreciate hugely in the coming few years as prices are already strong. If you are looking to enjoy the rich culture and lifestyle and have access to some great beaches, Cádiz could be for you.
I'd happily live in the Old Town. A rental investment with modest returns is possible if a property has a short-term rental license.
Property Picks In Cádiz Old Town
A 44-square-meter apartment in the historical Plaza San Antonio is on the market for 180,000 euros. This is a one-bedroom, one-bath partially renovated unit overlooking a plaza that's often used for public concerts. The apartment is on the third floor of a building without an elevator and has a shared rooftop terrace. HOA fees are 40 euros per month, and the apartment has a short-term rental license, which would make this a suitable investment for profit.
A two-bedroom, two-bathroom apartment in the Old Town is on the market for 380,000 euros. The total living space is 81 square meters. The unit has been stunningly restored to the highest standards with 18th-century materials including authentic doors, marble tiles, and reclaimed archaeological and architectural treasures. It is fully insulated, has central air conditioning, a luxury kitchen, and remote-operated elevator for guests. This is one of the most painstakingly restored buildings I've ever seen.
Cádiz New Town
Outside the walls of the Old Town lies New Cádiz. It boasts great beaches but lacks the charm of the Old Town and its short-term rental potential.
Prices per square meter are between 2,000 euros and 4,000 euros, and units tend to be larger than in the Old Town (100 square meters to 120 square meters), with elevators in most buildings.
Chiclana De La Frontera
Chiclana de la Frontera, with about 85,000 people, is about 24 kms southeast of Cádiz. Chiclana wasn't the most enticing stop on my trip. I didn't understand the expat attraction until I saw the high-quality real estate on the 10-kilometer drive to its stunning beach area.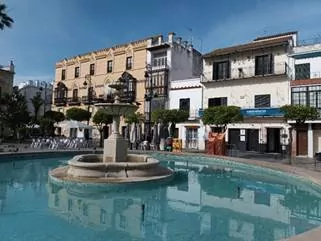 Expats who settle here live between the town and the beach. When looking to buy property, have a lawyer review any title before making a down payment, as much of the land in the area is not registered.
Who Should Buy Here?
Chiclana is for those who love sunshine, beaches, conveniences of a larger town, and activities on the water.
Real Estate Prices
Quality properties in popular expat areas closer to the beach will cost you between 1,600 euros to 3,200 euros per square meter depending on location and finish of the property.
Short-term rentals do well in the high season but are sparse off-season. Renting to locals or expats long-term can bring modest net rental returns of around 3% if you buy the right property.
If you wanted to rent out your property short-term during the high season and live there for the rest of the year, you might also find a mix of rental and lifestyle usage to suit your needs.
There aren't huge short-term profits to be made in Chiclana, but low prices can still be found, which allows room for longer-term capital appreciation.
Property Picks In Chiclana
I found this beachfront apartment close to shopping centers, golf courses, and restaurants for 115,000 euros. The unit has 50 square meters of living space, one bedroom, one bathroom, a terrace and balcony, and central heating and air conditioning. The building has an elevator, a pool, and plenty of green areas.
For more space, there is this three-bedroom, three-bathroom villa with an interior living space of 183 square meters and a total lot area of 500 square meters. On the market for 399,995 euros, the villa has a private pool, and is near restaurants, bars, supermarkets, the airport, the beach, and the popular Real Novo Sancti Petri golf club.
Conil De La Frontera
This sleepy former fishing village with spectacular beaches has a population of about 23,000.
About 47 kms southeast from Cádiz, Conil first seemed to me a warren of streets and cobbled alleys leading down through old plazas to the beach promenade, with eateries and bars along the way. The white-walled village has a quaint historical feel, and its beach seems endless. You can see that the town has invested in its infrastructure.
This might be my favorite small town of the trip.
Who Should Buy Here?
Conil suits those looking for a small-town beach home, investors who want to spend part of the year in Spain, and long-term capital appreciation chasers.
I took a trip through the new town on the way out of Conil and found it to dwarf the old town, with boulevards, modern buildings, and all the facilities of a small town.
The standard of construction was higher compared to other areas I visited, and there is space to expand.
Rental Returns
Prices in Conil range from 1,800 euros to 3,200 euros per square meter. It experiences the same strong high-season (June to August) short-term rental market common in this region, with rentals dropping sharply off-season.
Rental investments can offer between 2% to 4% return per annum.
Conil's Potential
Conil is expanding. Down by the water I saw a new boulevard, designated parking, and public parks in the process of being installed, and a pleasant boardwalk.
This was the first sign of government infrastructural investment I saw in this up-and-coming region.
Conil is a town to watch. Because of its infrastructure developments, I'd rate this town as a "buy" option. I would happily move here…
Conil Property Picks
I found this two-bedroom, one-bath apartment with a living space of 70 square meters on the market for 225,000 euros. The building has a communal pool, and it's located just 500 meters from the beach and 1 kilometer from restaurants.
Another gem I found while scouting: a four-bedroom, two-bath villa on the market for 349,995 euros. It has an indoor living space of 180 square meters, and it's located near incredible sandy beaches.

Vejer De La Frontera
Vejer has a population of about 13,000. This town is inland and known as the prettiest of Andalusia's white villages. It offers breathtaking views of the surrounding hills.
Who Should Buy Here?
I understand why some people dig the old part of the town, with its crazy steep, narrow, winding streets and old stone buildings. While it was quaint, with some nice restaurants, it didn't capture my imagination.
Retirees who enjoy Spanish culture, quiet living, and the monthly town festivals would like Vejer.
Real Estate Prices
In Vejer old town, prices start at about 1,500 euros per square meter for new (renovated) property, and they go up fast. Vejer isn't cheap compared to some other locations I inspected, it has no waterfront, and the old town is a little harder to get around if you have any mobility issues.
The town is experiencing a boom, even though the locals are moving from the old town to the flatter and easier-accessed new town.
Rental Market
There is a short-term rental market during the high season and a few days a month around the festival times. The tourists coming here are Spanish and European short-term travelers.
While I can see the attraction of Vejer, I'm not planning on switching my retirement plans to move there. There is little rental investment potential.
Vejer Property Picks
Pictured below is the view from this three-bedroom, two-bath apartment in the old town of Vejer on the market for 196,000 euros.
Sanlúcar De Barrameda
Sanlúcar is another historical beach town boasting several marinas and ocean clubs. It's famous for horseracing on the beach and has a population of about 68,000.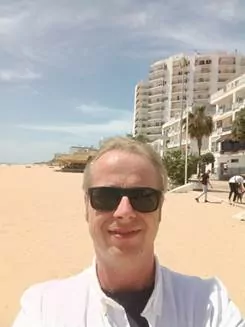 Sanlúcar offers a mix of old-town charm and modern beachfront and marina living options.
Who Should Buy Here?
Retirees who want to live close to or on a great beach but also like the benefits of living in town.
Sanlúcar has nice squares and side streets in town and good quality property closer to the water.
I'd heard this beach was not great… But that's all relative in Costa de la Luz.
The beach just happened to be better than almost any beach I've ever seen before going to Spain, and I could happily live here myself.
Real Estate Prices
The price per square meter doesn't vary hugely between the city center and close to the water.
Prices are lower than in several other locations in Costa de la Luz, starting around 1,200 euros per square meter a little farther from the city center or away from the beach. Beachfront is always premium, rising to over 2,000 euros per square meter on or overlooking the beach.
There isn't a strong short- or long-term rental market in Sanlúcar, although long-term capital appreciation is possible, as the prices rise in the region.
Sanlúcar Property Picks
I found an 80-square-meter, three-bedroom apartment on the outskirts of town in need of a few touch-ups for 75,000 euros.
This four-bedroom, three-bath, 185-square-meter house has great ocean views from the rooftop terrace. It comes with front and rear gardens, a separate studio apartment, and a garage for 350,000 euros.
Chipiona
Chipiona is a beach town with a spectacular church and significant lighthouse on the promenade. Restaurants on the prom were great, but the back town looked less interesting. It has a population of 20,000 and is surrounded by farmland.
Who Should Buy Here?
I could recommend someone buy here… though there isn't a huge amount to do in the town except for the beaches and some good restaurants.
If you like quiet, high-class beachfront living, Chipiona is a good place to start.
Rental Returns
Price per square meter goes from 1,600 euros to 3,200 euros for good quality housing.
A well-bought property could expect to show net returns of between 2% to 3 % per annum, either in the historical town center or close to beach or the marina.
I rate Chipiona as a good long-term capital appreciation play and a good place to vacation and retire to, but it's less attractive as a steady rental market.

Chipiona Property Picks
This first-floor duplex has a private terrace with ocean views. The unit has two bedrooms, one bath, a total living space of 65 square meters, and is on the market for 104,000 euros.
Final Thoughts On Costa De La Luz
Amazing beaches and marvelous history and culture abound in Costa de la Luz.
Attracts a better quality of European and English tourists than some other areas of Spain.
The Cádiz Old Town property market could be close to its zenith, but modest profits can be made if you buy a property with a tourist rental permit.
There is still room for appreciation in the beach towns in the region, though you might have to go a little outside the towns and villages to get better value.
Foreign buyers make up less than 20% of buyers in the region.
Rents remain relatively low even if the property prices are rising.
Short-term rental opportunities can allow moderate rental returns where they are both legal and there is a market.
Cádiz was the only market where I got consistent reports of a near year-round, short-term rental market.
Investment visas can be obtained if you invest over 500,000 euros in Spain.
The quality and professionalism of the local realtors varies hugely, and few realtors speak English.
The realtors here like to double dip, charging 2.5% to 5% commission from both the buyer and the seller.
Costa de la Luz offers spectacular beaches and property options starting at less than US$100,000.
The Spanish property market is hot. Prices are rising and inventory is low in Costa de la Luz, but property here still costs less than in the German, U.K., and Irish markets.
Con Murphy
Editor, Overseas Property Alert