Santa Marta: Colombia's Calmer Caribbean Alternative
Cartagena continues to boost its profile as a prime travel and investment destination, and it's not hard to see why. The city is teeming with culture and liveliness, and boasts a wide range of features—from the outstanding cuisine and tropical climate to a bustling city center and bohemian neighborhoods—that make it both dynamic and livable… a true Caribbean marvel.
But for those seeking more refuge and relaxation, there's another coastal Colombian city less than 200 miles away. It's cheaper, more geographically diverse, and less worse-for-wear by international tourists than the "heroic" Cartagena…
That city is Santa Marta.
Colombia's First Colonial City, On the Rise
If this is the first time you've heard of Santa Marta, you're probably not alone. But for Colombians, it is hardly a secret. Santa Marta, Colombia's oldest colonial city (in fact, one of the oldest cities in all of South America), was founded by the Spanish in 1525. The city was also the death place of the most important South American in history: Simón Bolívar. Bolívar's retirement villa, La Quinta San Pedro Alejandrino, is just a short drive from the city center.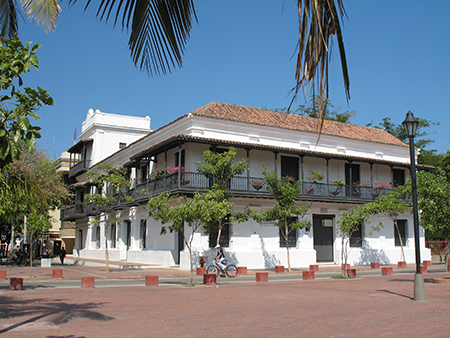 This old home is said to be the oldest building in Santa Marta
Santa Marta has an allure that's altogether different from Cartagena's. The cities share a similar aesthetic, but Santa Marta is less than half the size of Cartagena and has a natural backdrop that few places on earth can match… the Caribbean to the north and west, Tayrona National Park to the east, and Colombia's Sierra Nevada mountain range to the immediate south.
Scattered throughout Santa Marta's astounding geography are some of the most spectacular beaches in Colombia, not to mention upscale shopping and fine dining in and around Santa Marta's vibrant colonial historic center.
Let's take a look around the area, starting in the city proper.
Historical Center Of Santa Marta
For those who have visited colonial cities in Latin America, the city center of Santa Marta will feel quite familiar. Whitewashed colonial architecture abounds, including the cathedral, which is one of the most beautiful I've seen on three continents.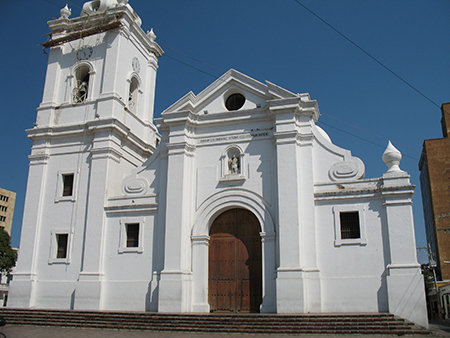 Santa Marta's cathedral
With its proximity to the mountains, Santa Marta's climate is slightly cooler than Cartagena's, and afternoon rainstorms are a regular occurrence between May and November.
Main points of interest in the city center include Parque Simón Bolívar, an expansive tree-covered plaza that opens up directly to the city's main beach area. Some of the best restaurants and shopping can be found in this area and around Parque de los Novios, a peaceful hideout right in the middle of the city. The best nightlife can be found on Calle 19, which is one of the narrow city streets that empties into Parque de los Novios.
Those who have been overwhelmed by street vendors in places like Cartagena will be relieved to know that Santa Marta is calmer by miles in this regard. Walking around, you get the feeling that most of the city's visitors are Colombians—less of a target for street vendors. You also won't see the party buses that roam the streets of Cartagena at every hour of every day. Santa Marta has not fallen victim to these… at least not yet.
El Rodadero, The Most Popular Beach Area
About a 10-minute drive from Santa Marta's center is El Rodadero. It's one of Colombia's most popular vacation spots and is the most visited part of Santa Marta… although, technically, it's considered its own separate town.
The buildings are more modern and the shopping offerings are a bit more extensive than in Santa Marta's center. El Rodadero famously has a trail where iguanas like to hang out, appropriately named El Sendero de las Iguanas, or "Little Jurassic Park" as it's affectionately known by locals.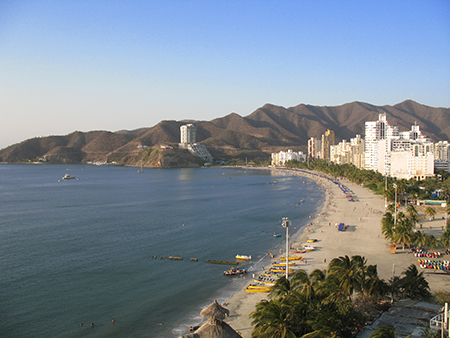 Santa Marta's long beach at El Rodadero
More importantly, there are some great beaches accessible from El Rodadero, aside from those pictured above. My favorite was Cabo Tortuga (turtle in Spanish), which lies just south of El Rodadero. It's a white-sand beach alcove, appropriately named, as the rock and cliff that form its northernmost barrier looks quite like a turtle.
Cabo Tortuga just got even better, as the second building of a luxury condominium complex bearing the same name opened for residents a little over a year ago. The complex spares no amenity, including a Turkish spa, a top-rated restaurant, tennis court, workout room, and more. Each condo unit has an expansive balcony with astounding views of the Caribbean and surrounding landscapes.
As far as rustic luxury getaways go, this one is hard to top.
Sierra Nevada And Tayrona National Park: Santa Marta's Outdoor Playgrounds
For those looking to truly get away and seek refuge in nature, Santa Marta has two top-tier options in close proximity: The Sierra Nevada, the lush and misty mountain range that cascades into Santa Marta, the Caribbean, and Tayrona National Park.
Before I even got to know Santa Marta, I visited Minca, a small mountain village in the Sierra Nevada, about a 30 minutes' drive from Santa Marta.
The town bills itself as Colombia's ecological capital, and local natural products like coffee and chocolate are available for your indulgence. The rushing water of the Río Gaira and the seemingly endless nature trails—including one to the pristine Pozo Azul and the surrounding jungle—make Minca a nature and mountain lover's dream.
For the truly daring and adventurous, there's a four-day excursion that can be made to La Ciudad Pérdida (the Lost City), Colombia's answer to Machu Picchu. I plan on making this trek sometime over the next couple of months.
Finally, there's Tayrona National Park, which includes part of the Sierra Nevada. As far as nature goes, Tayrona is Colombia's pride and joy. As far as outdoor activities go—from hiking, rock climbing, river rafting, virgin beaches, wildlife observation, and everything in between—it's all possible in Tayrona.
A Look At Properties In Santa Marta
If moving to or getting a second home in Santa Marta sounds appealing, there are quite a few attractive options available. Here are just a few I've come across:

A home with everything, including a view of the sea in El Rodadero. It has five floors with three bedrooms and three bathrooms, totaling 73 square meters (785 square feet). The house has a large terrace and a balcony boasting stunning views of the Caribbean. The house is within walking distance to grocery stores and shopping centers. Asking price: US$119,000 at today's exchange rate.

A traditional one-story house centrally located in El Rodadero is just four blocks from the beach, two blocks from a bus stop, and one block from a major commercial center. It's hard to beat the location on this one if you want to be in walking distance of just about everything you need. Two bedrooms and one bathroom, a terrace, and interior patio, with a total of 98 square meters (1,054 square feet). Asking price: US$81,000.

A rustic abode in Taganga, where life is a bit simpler in this fishing village, a 10-minute drive from the center of Santa Marta. It may be worth having to travel a bit for some of your errands to wake up to some of the most beautiful views you'll find anywhere. This property contains two separate houses totaling 200 square meters (2,152 square feet), which includes six bedrooms and four bathrooms and is listed for US$93,000.

A beautiful home with whitewashed exterior in the Galicia neighborhood of Santa Marta is located in a gated community a bit removed from the city center. This house has three bedrooms and three bathrooms, a full kitchen, terrace, living room, patio, and dining room. The house is 109 square meters (1,173 square feet) and listed for US$67,000.

A modern home in a closed community in El Rodadero features beautiful, modern amenities, three bedrooms and five bathrooms, and is within walking distance of the beach and shops in El Rodadero; listed for US$210,000.

A luxury condominium in the brand-new beachfront Cabo de Tortuga development, a modern complex with a chic restaurant, Turkish bath, gymnasium, tennis court, and pools. Condominium units include a full kitchen, up to three bedrooms, three-and-a-half bathrooms, plus living area, and dining room. The smaller units are fairly large (111 square meters; 1,195 square feet) and are listed for US$330,660. The larger ones (165 square meters; 1,774 square feet) are listed for US$457,000.
Santa Marta: A Relaxed Pace Without Sacrificing Quality Of Life
For those looking for a colonial Caribbean city with a bit less bustle than the famous Cartagena, Santa Marta is your place. With a bit of everything within reach, the city could surely rise to Cartagena's level of fame at some point…
But hopefully that doesn't happen.
Patrick Little
For Overseas Property Alert
Editor's note: Patrick Little is a writer and editor from Baltimore with a limitless curiosity for new experiences, adventure, and opportunity. He has worked on a wide range of publications focused on dividend stocks, early startup companies, overseas living and investing, and virtually everything in between.
Currently residing in Medellín, Colombia, Patrick used to live in Spain, and speaks fluent Spanish. A graduate of Washington and Lee University, Patrick is also a freelance Spanish/English translator and is currently writing a book about a medical mystery he survived while living in Spain.
***
Hello Lee,
I've read a number of your articles, and they're quite informative. You frequently mention the opportunity to diversify into a high-interest CD (in pesos) from Banco de la República in Uruguay.
Because the website is not in the English language, could you provide a contact person who speaks English at the bank for additional follow-up?
I would like to take advantage of these rates.
Regards,
Thom
Generally speaking, their employees, like the bank's website, are also Spanish-speaking. I've never used English in one of their branches.
But since July of this year, Banco de la República now has special customer support desks specifically for U.S. citizens and residents (those who fall under FATCA). Here's where you'll likely find your English speakers: You can go in person to the 19 de Junio branch or call them at +598 1896 4950.
***
Lee,
Really appreciate this most honest article on cool-weather destinations.
I must admit, I've been irritated for the last two years, reading about these "eternal spring weather" locations. The articles have steered my travels only to find they're all too hot. I came to believe the whole region of the world from northern South America to Mexico must just be too hot for me.
I believe my most comfortable climate ranges from 50°F to 74°F. I appreciate this honesty in setting the record straight and now have three new areas on which to concentrate my efforts for finding a second (and now international) home.
Linda
***
Lee,
I notice your aversion to cold climates. Residents of Maine and Minnesota, for example, are already used to the cool weather and might appreciate a cool climate abroad. That "anti-cold-weather" bias is also evident in your lists of best places.
At your conferences (or online) do you plan to discuss any four-season locales?
Thank you.
Alice
First, take a look at my article from a few weeks ago on cool-weather destinations. These places don't have four seasons, but rather cool weather all year.
The top "four season" destinations on our radar include Chile, Argentina, Uruguay, and Portugal. The highest-rated among these is Portugal… those with snow are Chile and Argentina.
But yes, most of us at Live and Invest Overseas write frequently about warm weather destinations. The simple fact is that most of the people in cold climates would rather escape the cold weather than live with it abroad.
Have a question? You can write to Lee (or Patrick) here.