How To Swap Your Home For A Mansion
The Federal Reserve Bank of St. Louis just announced that the median house price in the United States is US$440,000.
This isn't because all Americans live in mansions, as US$440,000 just gets you the average American house.
That's not beachfront. Nor is it a huge house in a gated community.
It seems crazy to me to pay all that money for a house and not be living in the lap of luxury. Why are houses in the States so expensive?
The issue isn't a lack of natural resources and cutting-edge construction technology. The U.S. building industry is advanced.
Overpriced housing exists because of a combination of inflation, developers, speculators, and bad city planning practices.
Bear in mind that US$440,000 is the median price in the whole country. The median price in states like California or New York is almost twice that.
Many locals can never afford to own their homes. Some that do, end up threading water by paying a mortgage until the day they die.
Property in much of the rest of the world is significantly more affordable. Often it's better-quality housing too.
You can find fully serviced beachfront condos in Cyprus for less than US$90,000. I can direct you to beautiful beach adjacent bungalows in Brazil for US$77,000 that come with their own pool…
If you question how can these developers afford to offer beachfront property in exotic places like these for so little, you're not alone.
The answer is simple. It's because they produce all their own building materials or form part of a free trade block that does, they have more competition in their building industries, and have lower labor costs and less greedy developers.
Let's take a look at some examples of what you can find around the world for the median price of a U.S. home. I think you'll be surprised at how much more luxury you can find for the same price.
The U.S. Baseline Example: Miami, Florida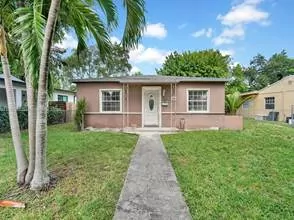 Miami is a popular U.S. destination with strong real estate values that offers tropical weather and beautiful beaches.
Miami is far from the most expensive city to live in the States, but it still doesn't offer much when you want to buy property within the median U.S. house price. With the price of this mediocre quality house selection costing over US$5,200 per square meter, there certainly should be a lot better value around the globe.
This property is centrally located and features a spacious backyard that could accommodate a swimming pool and additional structures. It's on the market for US$435,000, has two bedrooms and two bathrooms, and a total living space of 83 square meters (891 square feet).
Yeni Boğaziçi, Northern Cyprus

The Yeni Boğaziçi district has great lifestyle options. It's close to amenities and the sea with easy access to many markets, schools, universities, polyclinics, hospitals, amazing beaches, and ancient cities.
This villa has a garden, a garden terrace, a private pool, and two parking spaces. It's on the market for US$424,000, has three bedrooms plus another smaller room, two bathrooms, and a total living space of 270 square meters. Price per square meter is US$1,579.
If you would like to discuss Northern Cyprus real estate with our recommended local experts, click here.
Ceará, Brazil

This beautiful vacation home is located on Brazil's northeastern coast in Itarema, Ceará, on the kite surf beach. It includes a swimming pool, garden, patio, and three parking spaces. The villa has a lot size of 735 square meters and construction size is 320 square meters. On the market for US$421,094, the price per square meters is US$1,315. The property has panoramic ocean and beach views, six bedrooms (three en-suite), and four bathrooms.
If you would like to find out more about fantastic property deals in this region of Brazil, click here.
Pernambuco, Brazil

This hotel-inn is five minutes from the commercial center of Tamandaré city on the southern coast of Pernambuco. The area boasts 16 kilometers of beaches, and the hotel is near several restaurants, bars, pizzerias, cafés, and is 120 kilometers from the Recife International Airport.
The property's lot size is 869 square meters, with a construction area of 253 square meters. It's on the market for US$402,000, with a price per square meter of US$1,588.
The hotel has eight rooms with direct ocean views, a bathroom, and air conditioning. The property has two reception rooms, an entrance hall, dining room, solarium with a snack kiosk, plus equipment to service guests and tourists on the beach, a kitchen, staff toilet, service and laundry area, green areas, a children's playground, and parking for up to 10 cars. The property has two artesian wells and has room for expansion.
Hotel is sold as a going concern.

This 126-square-meter villa has been split into two apartments. It's on the market for US$434,000, with a price per square meter of US$3,444.
The villa is just a 3-minute walk from the beach and a 5-minute walk from the center of Praia da Luz, in a resort with swimming pool, garden, tennis courts, a playground, 24/7 security, internet service, and reception.
It can be used as two independent apartments, both with independent entrances, or as a single unit.
Ground floor consists of a living room and an equipped, open plan kitchen, a terrace, one bedroom, and one bathroom.
The upstairs consists of a living room, an equipped, open plan kitchen, a balcony, one bedroom, one bathroom, and a large attic bedroom.

This three-bedroom, three-and-a-half-bathroom villa is located in the Golden Zone just a few steps from the beach. It boasts a modern design with three meter high ceilings, wide spaces, luxury finishes, and an open plan kitchen with a large granite bar.
The property is 220 square meters, has a terrace and pool, a laundry room, all bedrooms have a terrace or patio, and a garage for one car. It's close to the Camino al Mar Shopping Center and trendy shops and restaurants.
The villa has a projected completion date of late 2023 and is going for US$413,000 with a price per square meter of US$1,877.
Terrasson-Lavilledieu, France

This magnificent 16th century residence overlooks the town's historic center, on the market for 446,000 euros.
Currently the interior consists of 223 square meters made up of three apartments, plus an additional 157 square meters that could be converted into more apartments if desired. The entire property has five bedrooms with a lot size of 3,200 square meters.
Located close to schools and shops, with ample parking, the US$2,000 price per meter assessment only accounts for the already renovated apartments. The extra spaces you can renovate are a bonus.
Buenos Aires, Argentina

Argentina's economic woes could be an opportunity for the right type of buyer. This Argentinian property comes with a price per square meter that's a staggering 90%-plus cheaper than my property pick in Miami.
This a beautiful colonial-style house in a private gated community. With a lot size of 1,800 square meters and construction size of 800 square meters, this property is on the market for US$377,000.
It consists of six bedrooms, four of them en-suite. The master bedroom comes with a fireplace, dressing room, reading room, gym, sauna, and whirlpool. It has an expertly landscaped garden with a large swimming pool. The house has a three-car garage, and the patio alone is 200 square meters.
It has a price per square meter of US$471.
I will cover the pros and cons of the opportunities in Argentina in an upcoming issue of Overseas Property Alert.
Corozal Bay, Belize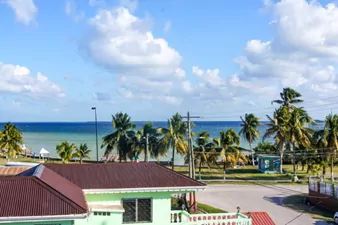 The Corozal district offers some of the best deals on ocean and lagoon front property in Belize.
This six-bedroom, four-bathroom home is situated in one of Corozal town's most desirable neighborhoods. The two-story concrete structure offers a total of 300 square meters of internal space and sits half a block from the beautiful Corozal Bay. It's on the market for US$380,000 with a price per square meter of US$1,267.
The property is arranged in two three-bedroom, two-bathroom homes. You could live in one and rent the other for profit or just enjoy the entire property. Both are fully furnished, including the air conditioner. The homes are tastefully decorated and feature an open concept living, dining area, and kitchen area with mahogany cabinets and drawers.
A covered parking garage and veranda of 90 square meters is on the ground floor, and external stairs lead you to the large tiled rooftop veranda with beautiful views of the Corozal Bay and constant cool tropical breeze.
The property offers peace and quiet and offers quick and easy access to supermarkets, parks, banks, convenience stores, restaurants, and more.
The home is fenced and well maintained.
If you want to talk to our recommended Belize realtor, click here.
Con Murphy
Editor, Overseas Property Alert