Plus: Property Confiscations And Buying Abroad With Your IRA
Uruguay is a country that's known throughout the world for its beautiful beaches. Without a doubt, the country's best value in beach property is Costa de Oro, a 30-mile stretch of shoreline between Montevideo and Punta del Este.
Costa de Oro—which means Gold Coast in Spanish—also contains a couple of Uruguay's best coastal towns for full-time retirement living. Aside from these livable, shady towns, this coast offers something that most the Atlantic seaboard does not: beautiful sunsets, thanks to the general east-west orientation of its shoreline.
When you add in Uruguay's world-class private banking sector, its nonintrusive government, its absence from the world's conflicts, and its warm, Italian-influenced culture, you get a package that's hard to beat.
Best of all, you can still buy a seafront property here for US$85,000.
Thirty Miles Of Beaches…But Not Far From The Capital
Costa de Oro begins about 22 miles (36 km) from the capital of Montevideo and spans the distance between the rivers Arroyo Pando and Arroyo Solís Grande.
This part of the coast hosts some 26 seashore destinations, or balnearios as they're called in Uruguay. They vary in character from small, undeveloped beaches to pleasant towns suitable for year-round living.
Technically speaking, Costa de Oro is not on the ocean but rather on the Río de la Plata where it joins the Atlantic. But since the river is more than 90 miles wide at this point, it certainly looks like the ocean. The only difference you'll see is that the water can become less than ocean-blue in stormy weather.
Uruguay Offers Four Seasons…Without The Snow
Uruguay enjoys four distinct seasons. Average high summertime temperatures run about 82°F (28°C), with lows in the mid-60s. In the winter, highs will usually approach 60°F (16°C), while lows can occasionally go down into the 30s. Frost is rare, and it never snows.
Uruguay has no wet or dry season per se, although rain in the midsummer months of January and February is fairly unusual.
Thanks to pleasant sea breezes, most people don't need air conditioning in the summer, but most everyone will need heat in the winter.
A Forgotten Treasure Left Back In Time
Costa de Oro was popular with Montevideo's elite up until the 1950s, when the prestige and glamor of Punta del Este began to draw wealthy vacationers further along the coast. It remained popular however, with middle-class people who could afford a vacation home.
Its popularity is now on the upswing again, as expats and North American second-home owners come to take advantage of the attractive lifestyle and excellent property values on Costa de Oro. But, while increasingly popular, it still retains the feeling of a place that's been left back in time…with the charm and character of a 1950s seaside resort.
The water is generally calm here, and the beaches are quiet and clean. Costa de Oro—and especially Atlántida and La Floresta—are busy and bustling during the summer months of December through February, and quiet during May through September. It may be too quiet for some during these months, but this area pairs up especially well for someone seeking a second home in the sun to escape the northern winters.
The principal cities in the area are Atlántida and La Floresta, and both have good public transportation to Montevideo (about 40 minutes away) and the international airport (20 minutes), as well as to points eastward along the coast, in the direction of Punta del Este and Brazil.
Atlántida, with a population of about 6,000, is the centerpiece of Costa de Oro and one of the most pleasant towns in Uruguay. The streets are shady and tree-lined, the beach is attractive, and the town offers lots of restaurants and cafes as well as a small country club. It's clean, pretty, and walkable.
| | |
| --- | --- |
| | I also came across an intriguing little apartment that is one of a kind and a great value. The three-bedroom, two-bath home comes in at a huge 127 m2 (1,367 square feet). If you're a fan of the authentic, this is a real beauty to behold. The property is one of 11 apartments in a converted textile factory. This one, though, comes with a gorgeous roof terrace, complete with a beautiful mountain view. |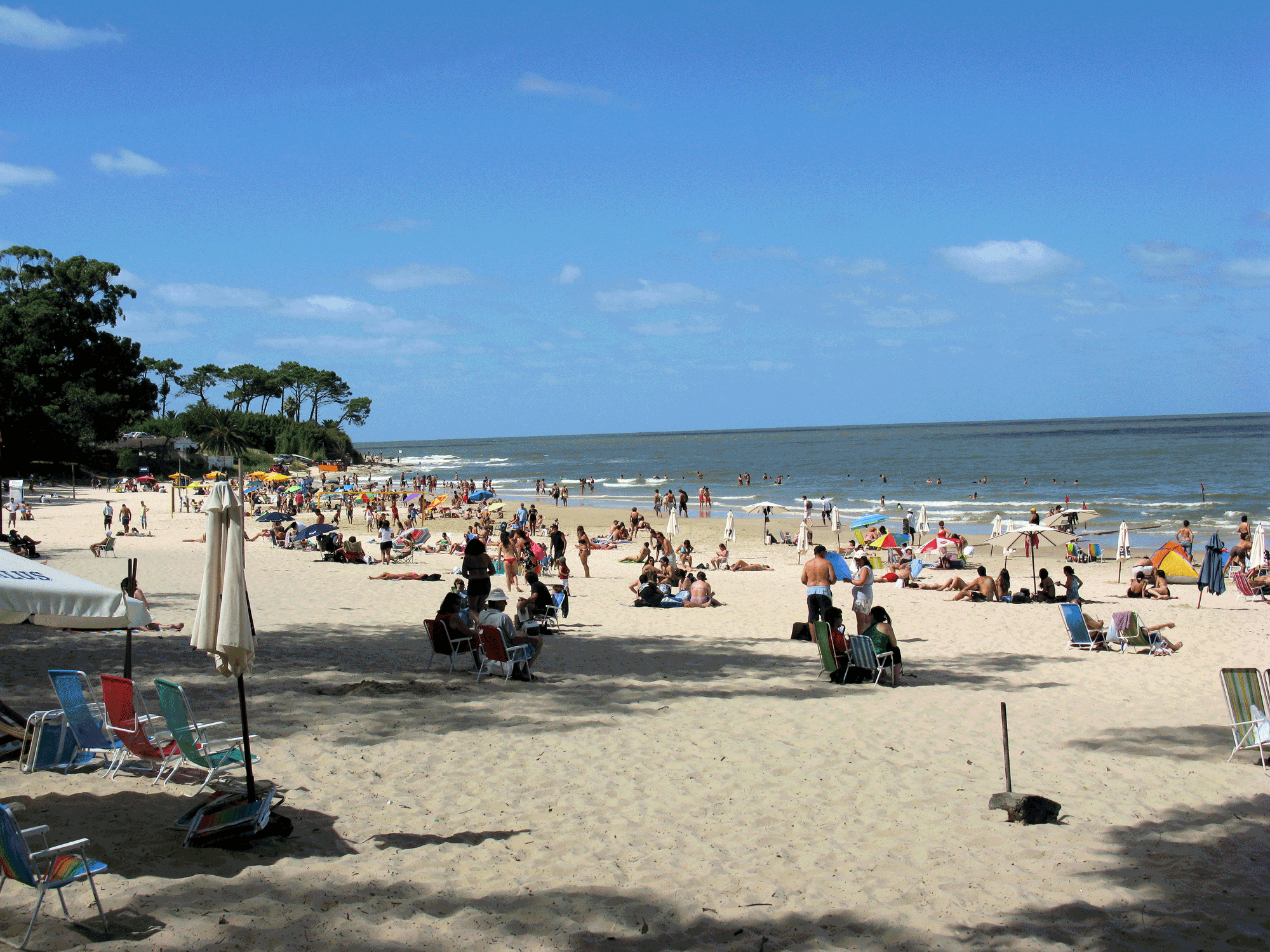 Atlántida's beach is right in town, convenient to everything
La Floresta is another good choice, with about 1,600 people. It's not as big as Atlántida, but it has a nice, long beachfront and a good selection of shops, parks, and restaurants.
The Property Market Has Been Steadily Rising Since 2004
The property market has risen steadily during the past 10 years since I first saw it, and most people who bought here a few years ago can realize a nice return.
When looking at property along Costa de Oro, you'll find some great prices. But remember that you'll sometimes be looking at houses that were built to be vacation homes. They often won't have insulation, and seldom will they have a well-designed central heat system, unless they're fairly new.
The market in this part of Uruguay is not as liquid as the major resort destinations of Punta del Este or Colonia. Even the market in nearby Piriápolis enjoys faster-selling properties than Costa de Oro. So this is not a place to buy a home with the expectation of a quick profit or a fast turnover.
As with any location, a moderately priced house or apartment in a good location will move pretty quickly, but an expensive house can stay on the market for a long time.
Costa de Oro is a great place to buy if you want a reasonably priced home near or on the sea, in one of the world's best expat countries.
Here are a few samples of what's on the market today:
| | |
| --- | --- |
| | Built in 2014, this modern apartment on the beach in San Luis has beautiful beach views, 100 m2 (1,080 square feet) of living area, with two bedrooms, one bath, a wood barbeque, and a single car garage. This place has never been lived in. The asking price is US$85,000. |
| | |
| --- | --- |
| | Also in San Luis, this house has the sea and the seafront dunes right in the front yard. It's a two-story house with a guest cottage or caretaker's house in the back, 190 m2 (2,040 square feet) of living area, with three bedrooms, three baths, open concept living-dining-kitchen area, and a terrace looking to the sea. They're asking US$148,000. |
| | |
| --- | --- |
| | In Atlántida, there's a seafront house for sale, built in 2010. It's a contemporary style beach house on the oceanfront lane, with 105 m2 (1,130 square feet) of well-designed living area, including two bedrooms and two baths. This house is insulated with double-wall construction and double-paned glass for year-round living. The asking price is US$245,000. |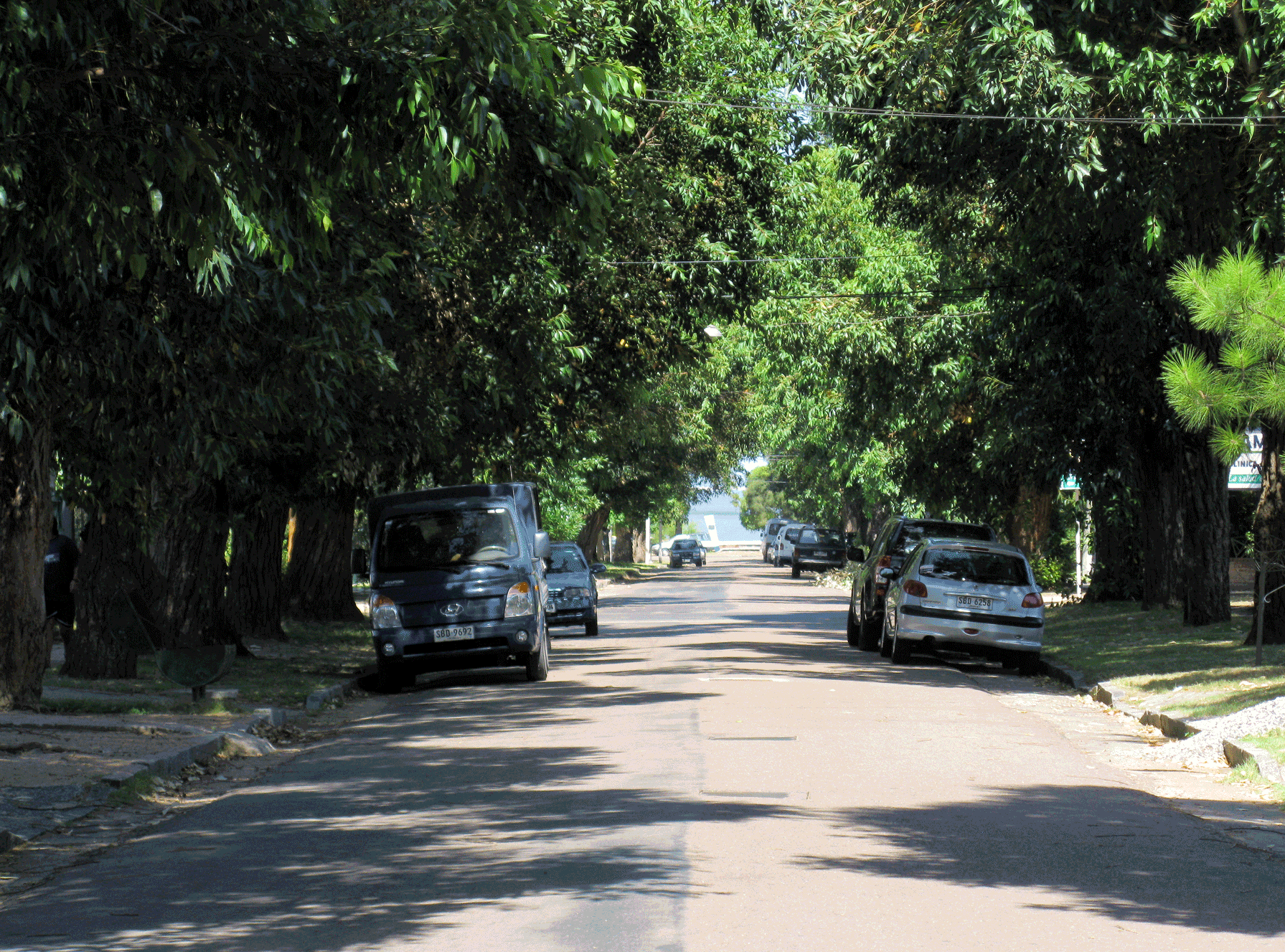 Clean, tree-lined streets lead right to the water's edge
| | |
| --- | --- |
| | This is one of the coolest houses we found. It's a thatched-roof home (called a quincho in Uruguay) less than 100 meters from the beach. It comes with 160 m2 (1,720 square feet) of living area on two floors. It has three bedrooms and two updated, modern baths. The quincho roof is brand new, including the varnished wood inside. In the photos, you can still see the straw cuttings in the yard. They're asking US$155,000 for this one, and you can have a look at it here ( https://www.buscandocasa.com/ ). |
| | |
| --- | --- |
| | Finally, in Parque del Plata, I learned of a large, well-built home that's constructed for year-round living, with insulation, double windows, heating, air conditioning, granite, marble, and ceramic floors. It's on the oceanfront lane (about 20 minutes from the international airport) where the Solís Chico River joins the sea, with river, sea, and beach views from most of the rooms. It's large, at 203 m2 (2,190 square feet), with four bedrooms, three baths, a stone fireplace, and an American-style kitchen. The price for this one is US$274,000. You can contact the owner directly for the remaining details. |
Uruguay's Costa de Oro is one of the last remaining places on the continent where you can get seafront properties—in a desirable, First World country—at these prices. If you'd like a quiet setting in one of the world's best expat havens, then a home on Costa de Oro may be just right for you.
Lee Harrison
Editor, Overseas Property Alert
***
Letters To The Editor
Lee,
We wonder if you have any contacts in the United States who have experience in using IRA funds to purchase property in Mexico.
We understand that few IRA custodians are willing to allow these funds to be used to purchase property outside the United States and since we are interested in purchasing in Mexico using IRA funds it would be helpful if you could provide a list of companies or contacts.
Regards,
Jim and Vicky
You're right, very few IRA custodians will allow you to buy overseas properties with your IRA. I'd recommend you contact Woody Funderburk, of Capkey International. He's the guy who normally helps our readers set up their self-directed IRAs.
I personally used my Solo-401(k) to buy a property in Colombia, and if you qualify, Woody can help with those, too. The advantage of the Solo-401(k) is that 401(k)s do not require a custodian, so you have more freedom to act quickly when you see an opportunity.
Follow this link for more information on setting up IRAs or a Solo-401(k) plan.
Also, I wrote an essay for Overseas Property Alert on the topic…you can see it here.
***
This next inquiry came in to Lief Simon, not to me. But because the topic is near and dear to me, I took the liberty of answering…
Hello Lief,
I am a subscriber to Simon Letter and have a question. Some friends of mine have advised my wife and I to be very cautious about buying property in Ecuador because the country's law system abides by the Napoleonic Code. According to them this means that private land can be confiscated by the government very easily and with no reason.
Please advise.
Thank you and best regards,
Mike
Where do people come up with this stuff? Most countries in the Western world use the civil-law system (what your friend called the Napoleonic Code). England, the United States, and Canada (and a few others) use the common-law system. Worldwide, civil-law legal systems outnumber common-law systems by a 2-to-1 ratio.
To those of us who are laymen, civil law differs from common law in two major ways. For one, civil law doesn't make judgments based on previous cases and precedents, but rather on what's in the law. Also, you don't file suits based on "fairness," that is, you can't generally sue, claiming that you were treated unfairly, unless the law was broken. So the role of a judge in deciding a case is greatly reduced…there's less need for arguing a case, and there's almost no place for personal-injury lawyers and their plaintiffs. Most expats love civil law because they don't have to constantly protect themselves from being sued. The savings on liability insurance alone is significant.
Also, civil law has nothing to do with confiscating property. When a government confiscates property, they're normally stealing a business holding, using the euphemism of nationalization…such as when Argentina took the YPF oil company from the Spanish. I have never personally heard of a government confiscating a legally purchased property in a country that we write about. We on the staff, collectively, have no knowledge of this after more than 30 years in the business.
Have a question? You can write to Lee here.