Plus: Headed To Argentina
There's something unique about Madrid. If you were to read about the Spanish capital, you might think it was its fascinating architecture—a glorious mix of medieval mansions, glistening palaces, and daring contemporary Spanish structures. But that's not it.
Nor is it Madrid's artistic pedigree that lays claim to be its biggest unique selling point, despite the fact that native masters from Goya to Velázquez left an enviable trail of art, complimented by the works of Italian and Flemish artists who also once called Madrid home.
Could it be the food? Madrid has long been one of Europe's culinary capitals…but of late, they've cranked it up yet another notch. Spain's most populous city is right at the heart of the country's gastronomic revolution—a movement that is seeing new levels of creativity and invention fired into its cuisine.
But even the food scene here is just a part of what really makes Madrid special.
What really sets it apart is its unceasing, unrivaled energy.
An Energetic City With A Diverse Market
This is a city with a pulse. Walk through Madrid's streets, sit in its cafes, or even gaze through a window at its eclectic mix of new and old buildings that make up the city's skyline and you can almost feel the life force of this unique place. It's infectious. And the driving concept, the fuel that pushes its inhabitants forward is this: Madrid's people don't want to exist. They want to live…and live well.
I've been closely watching Spain's real estate market for some time now. Follow the links to read my previous articles on the Spanish market overview and also the island of Majorca. In short, the Iberian nation represents an extremely promising place in which to buy property.
After a deep, dark downturn that kicked off in 2008, light is finally emerging at the end of the tunnel. Right now, property prices are down by a third versus peak prices, but the average price of a home in Spain is expected to stop falling and return to growth within the next 12 months. Spain's pariah status is gone and the country is awash with real estate bargains.
So let's drill down. Unlike resort destinations like the Balearics (and other coastal and island locations), Spain's big cities have diverse economies that are not just reliant on tourism. Properties in Madrid can appeal to tourists, expats, and locals, and this helps buttress investors in a market, which at this early stage still carries an element of risk.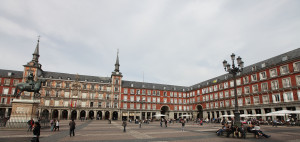 The Numbers Show A Rebound—But It's Not The Whole Picture
Overall, residential property sales in Spain increased by 8.8% in June 2014 compared to the same month a year ago (according to data from the National Statistics Institute). But that's not the whole picture. Much of this growth is down to the gathering pace of the recovery in countries outside Spain. Coastal tourist hotspots are being boosted by big tourist figures and by British, German, and other buyers jumping into this sector of the market to snap up bargains.
In Madrid, however, foreign buyers make up a far smaller proportion of the market. Real estate here is dependent on Spain's locals. It means a full recovery and return to growth will come to Madrid more slowly than to the tourism hotspots. But when that growth does come, it will be less vulnerable to the ebb and flow of interest from fickle international buyers.
So what's on offer right now? I've selected some properties currently listed to help give you an idea of what to expect…
| | |
| --- | --- |
| | First up is a well-located studio apartment in the sought-after Calle Aniceto Marinas area. That puts you extremely close to the center of the city. This location means sacrificing space (it's 40 m2), but it will give you an idea of what's available in this price bracket if you want to be right in the middle of the action. It comes with a small balcony and great river views and is on the market for 156,000 euros (US$202,000). Take a look at the pictures, here. |
| | |
| --- | --- |
| | Head out of the city center in the direction of the airport and you'll find yourself in Bahía de Alicante. Here, there is a two-bedroom apartment for sale in the ground floor of a development that comes complete with a shared pool. It also has nearly double the floor space (at 76 m2) and is on the market for 208,000 euros (US$270,000). You can check out some of the images (and request further info) by going here. |
| | |
| --- | --- |
| | Finally, there is the rural village of Olmeda de la Cuesta, a small town about an hour and a half from the center of Madrid. It's a bit farther from the capital than I would normally like to go, but what's on offer here is so unique that I just had to tell you about it. |
First and foremost, this is a stunningly beautiful place. It sits at the foot of the mountainous Alto Tajo National Park. Its small town center is a warren of quaint stone buildings and cobbled streets. The countryside around the town is given over to cultivating olives, potatoes, and other crops. It's quiet, rugged, calm, and bathed in Spanish sunshine for most of the year.
Sadly, this is a town with a problem. Once home to 500 people, Olmeda de la Cuesta has just 35 inhabitants left and it has the oldest population in the country. It sounds like the plot of a movie, but the mayor and its people have come up with a plan to attract people to live at least part-time in their town: massively discounted real estate. Right now, plots of land are on sale in the village from 160 euros (US$207) for 60 m2, rising to 1,300 euros (US$1,684) for 205 m2. This is the second round of land sales, and this time the sale is made up of eight plots.
"We want to attract more people so that the village does not disappear," said mayor José Luis Regacho. "Buyers can build a house of up to three floors and can put in a garden. Some plots have caves that can be used as wine cellars."
Although sparsely populated, the town has a church, a medical clinic, and a bar. For those in search of the quiet life—even part-time—this corner of the world will be hard to beat. And if you do choose to buy here, expect a welcome worthy of someone who has ridden in to save the town.
Just last week, an online auction was held for the plots of land on the town's website. You can find the details (in Spanish) here: olmedadelacuesta.com. You can get in touch to request English-language versions of the various documents needed by emailing administrador@olmedadelacuesta.com.
Unless you're interested in going beyond the city limits or you've got a big budget, apartment living is very much the order of the day in Madrid. So you may have to adjust your expectations, particularly when it comes to floor space. Homes just are not going to be as big as they are in the United States.
But while apartments come small, the lifestyle you'll get in Spain's enchanting capital is truly immense.
Robert Carry
For Overseas Property Alert
***
Letters To The Editor
Lee,
I am currently in the process of "expiating" from the USA. I left two months ago, and traveled throughout Mexico, Roatan, and Panama City. I've decided that by Buenos Aires is the place I'd like to settle down.
Should I be concerned about the political climate there? What about banking in Argentina and the risks that come with that? I'm tired of paying ATM fees and wondering if it might be better to open a local bank account in Uruguay for access to funds from a Singapore account.
Any thoughts or suggestions?
Thanks in advance,
Hunter
I think Buenos Aires is an excellent choice, and it would have been my pick among the places you mentioned. You may be asking the wrong guy, but I don't care about their crazy politics or unstable banking system, because both can be hedged, and they should be hedged if that's where you want to be.
You've got a sound idea about opening an account in Uruguay, and, in fact, you can open accounts there in dollars, euros, and Uruguayan pesos. I would use the Argentine banking system for convenience (paying bills, etc.), but I'd keep no more money there than necessary to cover local expenses. As to ATM fees, if you can open an account with Charles Schwab, they won't charge ATM fees, and they'll reimburse you if anyone else does. I use their ATM card around the world.
***
Lee,
A year or two ago I bought a report from one of your publications about Almuñécar in Granada, Spain. At the time it was described as one of the best destinations in Spain and maybe Europe.
Is that still the case? Right now Algarve in Portugal and Pau in France are the ones being talked about.
Ricardo
Yes, Almuñécar is still a good choice for retirement in Spain. Founded around 800 B.C., this coastal jewel of just 27,000 people has a lot to offer.
But the recently published 2014 Retire Overseas Index analyzed the world's countries, and it was limited to the top 21. While Almuñécar is an excellent choice, it simply didn't have the breadth and depth of appeal to make the top 21 this year.
Have a question? You can write to Lee (or Rob) here.