Plus: Taxes On Rental Income In Spain
Lately, I've been keeping a close eye on Spain, and although it's been a long time coming, I believe the Iberian nation is now on the precipice of a dramatic recovery. Spain's real estate market—a long-time favorite for retirees, expats, and overseas investors—is set to burst out of the downward slide it has been locked into since 2008.
This isn't an immediately obvious conclusion. In fact, Spain is set to end the year with the price of its average property down from 2013. But if you read my last report you'll know that there's a rising tide of evidence pointing to an imminent bottoming out and a return to rapid growth. (In case you missed it, follow the link to see my recent market overview report on Spain.)
Of course, potential capital gain is not the only factor when choosing an overseas property, especially when you plan to use it yourself. But it's good to be confident that the market that you're buying in is on an upward swing—a little capital appreciation never hurt anyone.
One of the best things about Spain is how varied it is. From the culture-rich Basque country in the north to the vibrant tourist havens on the Mediterranean coast, it's got something to suit all tastes.
Today, I'm going to zero in on a location that for good reason has been massively popular with overseas expats and tourists for many years—Majorca. Majorca (pronounced mah-YOR-ka) is one of the main Balearic Islands, an archipelago in the glittering western Mediterranean Sea. In the fellow islands of Minorca, Ibiza, and Formentera, Majorca boasts some fascinating and distinctive neighbors.
Majorca is the grand dame of the Balearics. It was among the first to develop into a tourism mecca, and, today, from its spectacular mountain ranges and traditional villages to the popular beach resorts, it has a little of everything found on its neighboring islands.
Each year a massive multinational force invades in search of a piece of this multifaceted paradise.
It's Easy To Find Majorca's Hidden Treasures Off The Beaten Trail
Despite being a hotspot for tourism for so many years, when you know where to look, you'll find that the 1,405-square-mile island has managed to cling to much of its charm. Sure, there is a heavy compliment of high-rise hotels and apartment developments, but there are also hidden cathedrals, ancient ruins, and serene mountain towns. There are beaches crowded with sunseekers, but the island's quiet corners are really not that hard to find.
Once outside of the main tourist havens, you will find that much of Majorca's culture is still intact. Move inland away from the main beach destinations and there are still almond and olive groves to get lost in and jaw-dropping mountain vistas to gape in awe at.
The island gets an impressive 8 million visitors a year, mostly during high season. While this renders some beaches extremely busy, it brings some key advantages. For one, the island's infrastructure is superb. The road network is excellent and the airport is large and extremely well connected, especially for an island of this size.
And while prices are inevitably pushed upwards by the number of visitors, they drop down to the range paid by Spaniards elsewhere in the country when you move towards the center of the island.
Another big strike in Majorca's favor is that the other islands of the archipelago are within easy reach. Throbbing Ibiza is synonymous with partying, while Menorca is an island of tranquility, where isolated beaches are the order of the day. Tiny Formentera, meanwhile, is a fantastic, chilled-out destination well worth spending a weekend on.
Property Prices Here Are Lower Than You'd Think
Property prices on Majorca are surprisingly reasonable, although developers tend to sacrifice space in favor of location, leaving their properties somewhat small.
| | |
| --- | --- |
| | The market starts somewhere around 79,000 euros (US$103,490). For example, at this price I saw a studio apartment with a private garden and small terrace, in a seaside community with lots of open space, sea views, and a pool. |
| | |
| --- | --- |
| | For a bit more, you can get a two-bedroom, one-bath apartment with a terrace overlooking the garden. It's a short walk to the beach, and also just a few minutes' walk to Puerto Pollensa's shops and dining. The asking price is 120,000 euros (US$157,200). |
| | |
| --- | --- |
| | I also came across an intriguing little apartment that is one of a kind and a great value. The three-bedroom, two-bath home comes in at a huge 127 m2 (1,367 square feet). If you're a fan of the authentic, this is a real beauty to behold. The property is one of 11 apartments in a converted textile factory. This one, though, comes with a gorgeous roof terrace, complete with a beautiful mountain view. |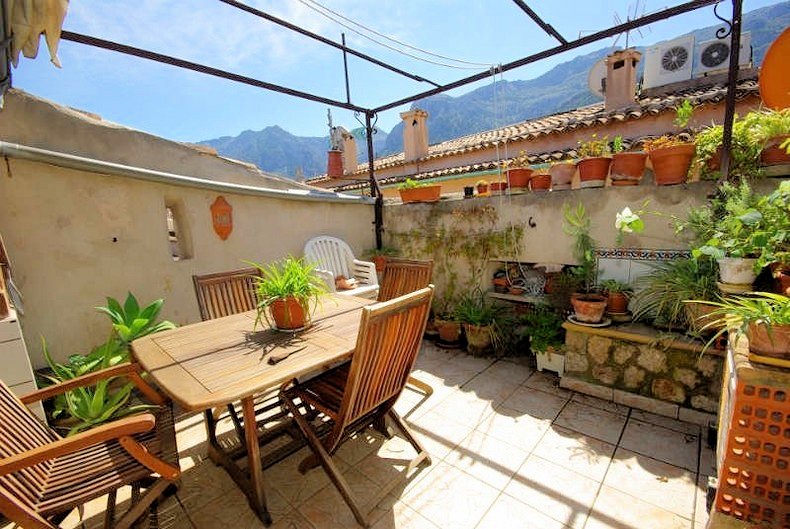 This one-of-a-kind apartment comes with a rooftop terrace
This apartment's in a premium location. The quiet town of Soller is set in a verdant valley ringed by orange groves. Think mountains on one side and the sea on the other. The apartment is set in Soller's historic center, moments from its town square. Prices here on things like authentic Mediterranean food are cheaper than along the more tourist-heavy hotspots. The town is connected to Palma, the capital city both of Majorca and the greater Balearics, by a beautiful vintage train. By car, Palma is about 20 minutes away. Right now, this property is on the market for just 190,000 euros (US$248,900).
Back in 2008, the price of a home like this one would probably have been closer to US$350,000. And in a year's time, when growth returns to real estate here and pent-up demand turns to elevated sales, bargains like this simply won't exist.
A great Majorca-based resource for those interested in buying into the region is Balearic Properties ( https://www.balearic-properties.com/en/property-search ). Browse through their properties—it will give you an idea of how far money goes right now in Majorca's real estate market.
The Balearics seem to just keep getting more and more popular with tourists. In 2013, nearly 20% of all the money spent by tourists visiting Spain was splashed out on these islands—nearly double the Balearic's take in 2012. This ramping up of interest among tourists bodes well for real estate demand (and rental income), but it also means the cut-priced properties won't be around for long.
If you're considering a move to warm weather, culture-rich Spain, then my advice is this: Get in early. The bargains are already starting to be snapped up. Those who wait will find themselves having to pay out far more for the overseas home of your dreams.
Robert Carry
For Overseas Property Alert
***
Letters To The Editor
Rob,
I was going to return to Spain last year to buy a condo on Costa del Sol. However, I heard that the government requires tenants to withhold 25% of the rent as a tax and send it directly to them… Also, I heard that the government is now requiring all residents of Spain to report all worldwide income, causing many Brits to pack up and leave. Is what I heard and read true?
WR
Nonresidents are taxed in Spain on income arising from Spanish sources only. However, if you've been living in the country for 183 days or more in a given tax year (Jan. 1–Dec. 31) then you are considered resident for tax purposes, even if you haven't got a Spanish residency permit. So some long-term residents might find themselves in a position where they'd owe tax on their worldwide income.
This tax on worldwide income is not new. And England, like the United States, has a double-taxation treaty with Spain. In fact, the reason so many Brits packed up and left was more often that they'd gone "underwater" on substandard, inflated properties that they'd bought during the boom.
As for rental income and the tax that applies to it, again, the income received from the rental of an apartment in Spain is subject to Spanish Non-Residents' Income Tax, set at a rate of 25%. So if you're renting out an apartment in Spain, you will indeed be liable to pay this tax. But it's your responsibility, not that of your tenants.
When looking for a rental property in Spain, I'd suggest that you consult a tax professional, just to be clear on what your overall tax burden will be.
Have a question? You can write to Lee (or Rob) here.