If you've been researching the topic of retiring or buying a property abroad, you've probably seen a lot about beaches, sun, sand, and warm-weather locations.
But I routinely hear from readers who don't like hot weather or humidity and have no desire to live near the beach. Just this week, I heard from two people asking for more articles on destinations with cooler climates.
The term "eternal spring-like weather" is frequently abused by those who write about overseas living… and I have been among the offenders.
The problem is that "spring-like" is different for everyone. Springtime in Alabama is quite different from that of Ontario, for example. I've met lots of people who found Cuenca, Ecuador, too cold, while others were too hot in Medellín, Colombia, yet both places are said to have "spring-like" weather.
To me—and in today's essay—"spring-like" weather is that which stays in the lower-to mid-70s℉ year-round. Here are three of my favorite locations that fit that definition.
El Retiro: Colonial Living In The Cool Colombian Mountains
When I first saw El Retiro, I fell in love immediately. The network of narrow streets, its wealth of colonial architecture, and the bustling and energetic town square make for an inviting setting. What's more, the town is surrounded by mountains that provide a beautiful backdrop to its colonial ambiance.
El Retiro is a small colonial city in the Colombian highlands, a short commute southeast of Medellín. It's also a pleasant, 30-minute drive southwest from the José María Córdova International Airport. Founded in 1790, the current population of El Retiro is around 21,000 people.
I first discovered El Retiro on a trip from the airport to my home in Medellín, when the driver suggested a short excursion. He knew El Retiro well because his family often leaves Medellín to visit on weekends and enjoy the small-town ambiance and cool weather.
The colonial center is anchored by a stately white church that overlooks the town plaza. Called Iglesia Nuestra Señora del Rosario, it was named after a painting of the same name. This plaza is the social hub of the town's historic center… always bustling and full of life.
El Retiro is somewhat sleepy during the week, but its cafés and restaurants come to life on the weekends as people from Medellín—many of whom have second homes in the area—come to enjoy its charms. The constant flow of visitors and the number of new projects going up in the area bode well for anyone considering buying here.
Another good sign is that the government is investing in parks, recreation, and infrastructure, in response to the town's popularity. Renovation of the riverside park with picnic tables, a new bus stop on the plaza, investment in street lighting, sidewalks, and a new entertainment plaza are all examples of projects completed in recent years.
El Retiro is perched at an altitude of around 2,175 meters. The average high temperature is 73°F with a seasonal variation of one or two degrees. Overnight lows average 55°F, easily qualifying as comfortable, "spring-like" weather.
Here are a couple of examples of the kind of properties you can find in El Retiro…
– In the center of El Retiro, you will find nicely finished apartments, less than two years old, with up to 100 square meters of living space, three bedrooms, and three bathrooms. These properties offer spacious living and are perfectly located for car-free living in the heart of town, with shops, cafés, and the central plaza all within a short walk. They would also work well as rentals, accommodating weekenders visiting the cool mountains from Medellín. You can pay as little as US$100,000 for these apartments.
For those who prefer country living outside of town…
– You will find numerous country homes in the tranquil hills outside of El Retiro with expansive views of the surrounding lush mountains. The main house usually comprises around 200 square meters of living space with up to three bedrooms, often each with its own bathroom. Sometimes a guest or caretaker's house comes with the property, usually with around 80 square meters of living area, two to three bedrooms, and a single bathroom. These properties sometimes go for less than US$200,000.
Puebla: A Cool Highland City In Colonial Mexico
This is my favorite city in Mexico. It's not well-known on the retire-overseas circuit… and that's probably why it's my favorite.
Puebla is one of the most impressive Spanish-colonial environments you'll find in the Americas because it's a real, living city… not one that caters primarily to tourism or expats. Its population is around 3.25 million, yet in many ways it manages to feel like a small community.
Among international travelers, Puebla is known for its famous Talavera pottery and its mole poblano… a rich, dark sauce made from toasted ground chili peppers, spices, chocolate, and up to 25 other ingredients.
Puebla's zócalo (town square) is one of the best in Mexico, an entire city block lined with sidewalk cafés and shops hidden behind the classic portales (arches) common to the zócalos of many colonial cities.
The sheer size of Puebla's historic center—and its pristine state of preservation—make it a rarity in Spanish America and led to Puebla's designation as a UNESCO World Heritage Site in 1987. There are over 1,000 colonial buildings downtown, the cathedral is magnificent, and you'll find 70-plus beautiful churches in the historic center alone.
There are few American retirees in Puebla. In fact, if it weren't for family connections, I may not have made it here myself. This lack of a large North American or Canadian expat community will be a positive for some and a negative for others… but it does create the feeling that you're in traditional, old Mexico.
As for the climate, Puebla sits at an altitude of about 2,135 meters and enjoys a subtropical highland climate. The average high temperature is 77°F, with a seasonal variation of about ±5°F. Overnight lows average 49°, passing as optimum temperatures for most of us.
The property prices here are surprisingly low, even near the zócalo and cathedral. This is partly because homes are priced in pesos—unlike the better-known tourist and expat haunts—giving dollar holders a tremendous advantage at today's exchange rates.
– Interesting property purchases in Puebla can be found in genuine 16th-century casas antiguas, certified historic monuments located in Puebla's Historic Center. Some of these have been completely restored and divided into condos. These condos have about 200 square meters of living space on two levels, including three bedrooms, two and a half bathrooms, and covered parking for one vehicle. The asking price hovers around US$150,000.
– Pay a little extra and enjoy the perks of having a balcony, laundry area, and parking for two cars. These slightly more expensive properties often have common areas, including elevators, roof gardens with views of the surrounding mountains and historic center, multiple-use salons, storage spaces, and even hot tubs.
Arequipa: A Sparkling Colonial City In The Peruvian Highlands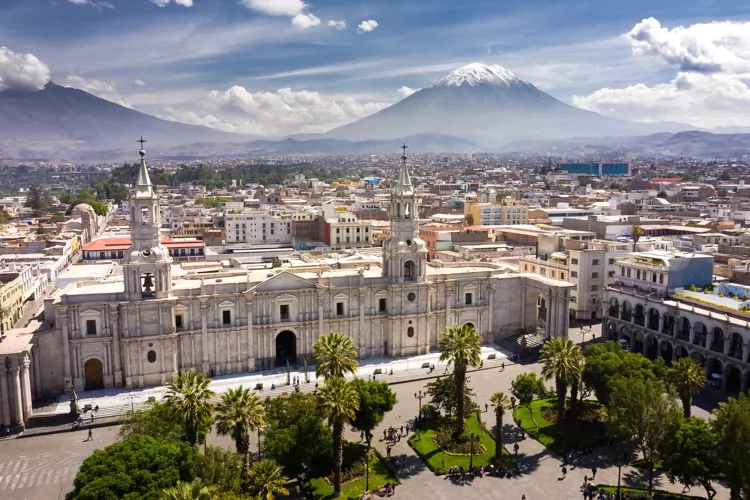 Arequipa is Peru's second-largest city and one of its biggest tourist destinations. Due to its beautifully restored historic center, Arequipa was named a UNESCO World Heritage Site in 2000.
Known as the Ciudad Blanca, or "white city," many of Arequipa's buildings are constructed using sillar, a white stone made from volcanic rock found in the area. The effect of all of this white architecture is a sense of brilliance in the strong Andean sun.
Arequipa has a strong Moorish influence, resulting in a fascinating blend of architectural styles throughout the city. Construction quality is good here compared to what I've seen in other colonial cities due to the use of sillar for older buildings, which better withstands earthquakes.
Arequipa has its own airport but it's pretty small, so for most trips you'll need to connect through Lima to get here.
As for the spring-like rating, Arequipa sits at an altitude of around 2,300 meters. This gives the city a gorgeous climate, with an average daily high temperature of 75°F. The average low is around 50°F, with almost no seasonal variation.
For a real estate buy, I like most areas in the historic center… although I'd avoid the blocks immediately around the main square due to the heavy tourist traffic. There are also several pleasant residential areas outside of the historic center, such as the Cayma district.
– Apartments with three bedrooms, two-and-a-half baths, maybe a study, a family room, a spacious kitchen, and a single garage space are available in the historic center. These buildings are conveniently located close to colleges, universities, and commercial centers. The asking price for one of these city center apartments is around US$150,000.
– You will also find modern houses built in the old Peruvian style, with charming stone arches and counters with tropical-hardwood finishing. A two-level home with three bedrooms, three bathrooms, and an area of around 220 square meters… plus a little bit if there is a carport and maybe even an interior courtyard would have an asking price of less than US$200,000.
A second home by the beach is enticing to many people… but certainly not to everyone. If you'd rather have cool weather—without the need for heating or air conditioning—then these three options are worth your attention.
Lee Harrison
Latin America Correspondent
***
Letters To The Editor
For countries with an investment-for-residency visa, is it a one-time investment?
If a periodic re-investment is required, will a home purchase satisfy the requirements? If you leave after, say, five years, is the investment returned?
John
Good questions. Investor visas take numerous different forms, depending on the country.
Generally speaking, you do have to maintain a qualifying investment to keep the investor's visa. In the case of homeownership, this means that you still own the property or own another one of sufficient value to qualify. If you're holding a certificate of deposit, you'll need to show that you still have one of the proper value.
That said, in some countries, after holding the visa for a specified period, you may be eligible for some form of permanent residency, which does not require periodic re-qualification.
***
I am currently single and would like to live on the coast somewhere in Mexico. I would prefer to buy a beachfront condo rather than rent. I hear from Mexican friends that if the seller knows you are an American, the price will go up.
Should I try to buy through a Mexican friend and then somehow transfer the title?
I appreciate your advice,
David
It's true that you may be a victim of "gringo pricing" as an American or Canadian buyer. But the truth is that it's actually rich-people pricing… that is, a wealthy Mexican would most likely get the same price as you would.
You definitely do not want to have a friend buy the property and then transfer it to you. There would be a significant transaction cost in doing this—including the setup of a trust—it would probably cost you more than it would save… plus, it's risky.
One trick that I've used is to have a friend (or a native speaker) establish the price for you, after which you'd take over and sign the actual documents. That may get you a better price, and there's no risk or extra cost.
In Brazil I once gave a hotel receptionist the equivalent of US$20 to respond to about a dozen real estate ads in the paper. I figured that when they heard my accent, the price might go up. I don't know if I got the best prices… but at least I know it wasn't my accent that did me in.
***
This one was directed to contributor John Clites.
John,
Your article on Domingos Martins mentioned its German roots and heritage but did not mention if German is still spoken there.
Can one get by there speaking German, or is Portuguese an absolute necessity?
J.F.
You would really need basic Portuguese to manage in Domingos Martins. Although there are efforts to expand the number of speakers, only a minority of residents speak German… which in Domingos Martins is an old Pomeranian dialect, not modern German.
Have a question? You can write to us here.