Are These 1-Euro Italian Houses Worth The Investment?
Houses for sale in quaint and historical Italian towns for just 1 euro.
It sounds too good to be true… and it probably is.
But that doesn't mean 1-euro houses aren't an interesting opportunity for the right type of buyer…
Areas Offering 1-Euro Homes
Modigliana, a town in Emilia-Romagna
Casoli, Santo Stefano di Sessanio, and Pratola Peligna, Abruzzo
Pietramelara, close to Pompeii in Campania
Mussomeli, Calatafimi Segesta, Augusta, Sambuca, and Caltagirone, Sicily
Borgomezzavalle and Albugnano, Piedmont
Cantiano, Le Marche region (which is known for its beaches and truffles)
Triora and Pignone, Liguria region
Tarento, Puglia
Romana and Nulvi, Sa-rdinia
How Can A House Cost Just 1 Euro?
For centuries, young people have moved away from the rural Italian towns where they're from in search of better opportunities elsewhere.
Because of this population drain, many beautiful villages and historic towns are dying… The young are gone. Only older generations remain.
Declining populations mean lots of empty houses. Rather than having to pay for their upkeep and taxes, the owners surrender them.
In an effort to revitalize their communities and stop historic buildings from falling down, towns began to offer these dilapidated houses to investors for just 1 euro.
The idea caught on…
Today, around 30 Italian municipalities offer houses for sale from as little as 1 euro.
Buying one of these houses comes with a commitment to renovate them, and some are in awful condition.
In many instances, the houses are in such ruinous states that it costs more to rebuild them than they'll ever be worth.
But sometimes you can find a gem in the rough that offers real value.
There's more to acquiring these houses than simply handing over 1 euro…
Conditions
To acquire one of these houses, you generally have to:
Submit a development plan within 2 to 12 months of buying the property.
Put down a cash bond of between 1,000 and 10,000 euros (depending on the property value). This guarantee is refundable when you complete the agreed renovations on time.
Start renovations within one year of purchasing.
Complete the renovation within three years.
Commit to living in the property to boost the local population and economy. Some towns are happy for you to rent your property to tourists, provided it remains occupied.
These conditions vary from town to town, so be sure to clarify what's required in the town you're considering.
Costs
You're not really buying a home for 1 euro; you're buying a renovation project.  Expect to pay an additional 15,000 to 50,000 euros in renovation costs before you have a habitable home.
Legal Fees
Expect to pay from 1,000 up to 3,000 euros for the notary, legal fees, stamp duty, etc.
Tax Benefits
For renovating one of these dilapidated homes, you're usually eligible for a "super bonus" tax exemption of 50% to 110% of the cost of the property and renovations.
More Expensive Houses
A number of houses in better condition are being offered at higher but still bargain prices—between 5,000 and 20,000 euros.
This might seem like a huge price increase from a paltry 1 euro, but for a house that won't need massive renovation or structural work, it could be worth the extra initial investment.
Visa Issues
Without a visa from an EU country, Americans are only allowed to stay in Italy for 90 out of every 180 days.
There are several visa options available, including visas for remote workers, elective residence visas if you can show 32,000 euros in passive income annually, and startup visas for people who want to open a business.
How To Find Your 1-Euro Home In Italy
One-euro homes tend to be offered in small, remote towns with dwindling populations.
Google "Italian 1-euro houses" or search the listings of Italian municipalities that are offering cheap homes in need of renovation.
Steer clear of the online companies that offer to find you cheap homes for a fee. They often don't offer any value other than pointing you to a town hall website, or they overcharge you for the work they do on your home.
You must physically inspect any house you see online before you buy it. Some are just piles of rubble. Inspect the walls, roof, and foundations for serious issues.
If there is an engineer or surveyor in the area, pay them for an opinion about the cost to get the place habitable again.
If these old houses have been roofless for a long time, the mortar in the walls might have deteriorated to the point where you need a complete tear down and rebuild.
Can You Get Paid To Buy A 1-Euro House?
Some towns are so desperate to revitalize their demographics, they'll even pay younger folks to move there.
For example, if you're under the age of 40, the small town of Santo Stefano di Sessanio will pay you 8,000 euros to move there and up to 20,000 euros to start a business.
There are other underpopulated areas experimenting with similar incentives…
The picturesque town of Presicce is offering 30,000 euros for you to buy a house and take up residence there. The town is close to the powder beaches and turquoise waters of Santa Maria di Leuca.
House prices start at 25,000 euros, but most are in livable condition, so you won't have to gamble on renovations going wrong…
Some 1-Euro Houses Currently On Sale
This three-story, 84-square-meter house is at the end of a quiet street in the municipality of Sant'Elia a Pianisi, in the province of Campobasso. It's in need of full restoration.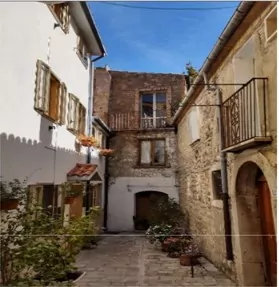 Found in Mussomeli, a city in the heart of Sicily, this 200-square-meter house has frontage on two streets.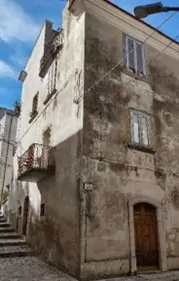 In Sicily's Bivona area, this 37-square-meter apartment on the third floor features two rooms with a terrace. It's in need of modernization.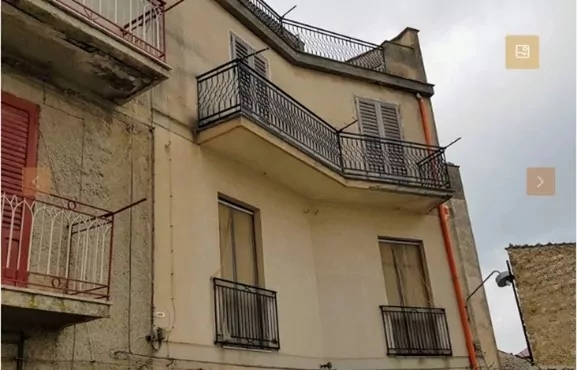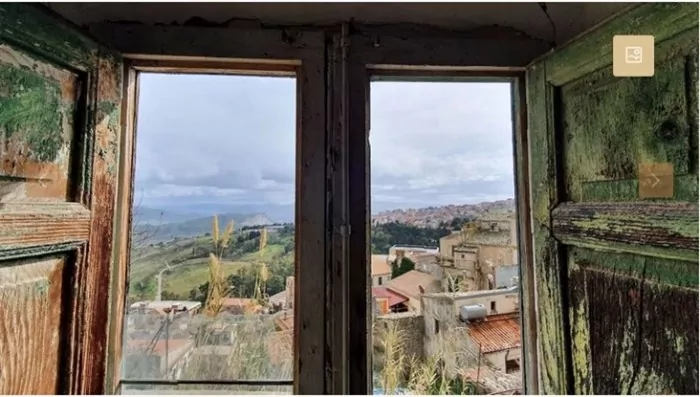 This is a historic, two-and-a-half-story house with an unobstructed view of the Sicilian countryside and the town of San Giovanni Gemini in Sicily. One room, a small storage room, and a small bathroom make up the ground floor; three rooms make up the first floor. There's also a small loft-style room accessible by ladder.
Do These Houses Make Good Investments?
One-euro houses were designed to repopulate rural areas, which means you might have difficulty selling or even renting them. These quiet villages with aging populations don't have universal appeal to investors or travelers.
Also, some towns impose restrictions on how long you have to wait before you can resell your 1-euro house.
If your dream is to live in some of the most beautiful areas of Europe and spend less than 50,000 euros on a home, these 1-euro houses might be ideal.
However, if you're buying as an investment, you would have to be sure there is a potential future resale or rental market, as you might find the properties have few takers.
An Alternative Bargain Home Destination…
Italy isn't the only place offering bargain real estate…
See the property offering below. It's a new investment property in a popular area in Northern Cyprus.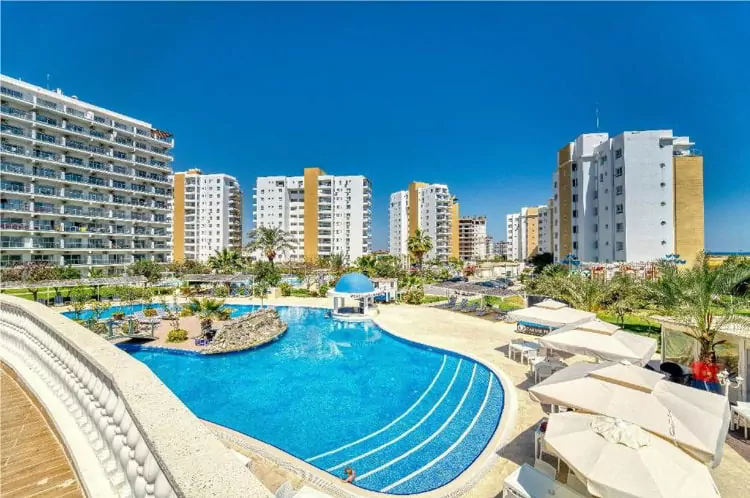 Easily accessible from Europe, with many one-stop flights from the States, this low-cost paradise offers the lifestyle of the Mediterranean for a fraction of the cost.
Any investment in a Northern Cypriot residential or commercial property makes you eligible for a golden visa. Your spouse and kids up to 18 years old can get residency, too.
Located two minutes from one of the best beaches in the world, this development has five-star hotel amenities, including restaurants, bars, a café, 11 pools, a spa and wellness center, and a gym.There is still one unit left at the excellent price of 73,000 British pounds (US$88,000) for a ground-floor studio apartment with a 46-square-meter interior area and an 8-square-meter balcony.
The date of completion is December 2025 (with a four-month grace period), with an 80-month, interest-free monthly payment plan that is developer-financed.The projected ROI is 8% per year, based on past performance plus appreciation.