Many people dream of owning a home on a tropical island. Others fantasize about finding an overseas property to build upon. A few truly adventurous folks accept the dual challenge of building an island home as their ultimate retirement experience.
Deb and Ben Unger took on this challenge when they chose the southern coast of Grenada as the perfect place to build their modular home in the southeastern Caribbean Sea. They graciously share their story, including some valuable lessons they learned along the way.
Why Grenada?
Deb relates, "I feel safe here. We wanted a mountainous island, a bit less developed, with English-speaking locals. Grenada also has lots of adventure activities, including hiking and water sports, with beautiful beaches and waterfalls at every turn."
Other drawing cards included drinkable water, fresh, locally grown produce, a stable government, and the ease of integrating with the locals.
In their former lives, Deb and Ben endured 80-hour work weeks and traveled extensively for their jobs. Ironically, while Deb had visited almost every island in the Caribbean, except Grenada, Ben had only visited Grenada.
In 1995, Ben convinced Deb to spend a week on his favorite island. She immediately fell in love with the culture, gorgeous scenery, and the laid-back island lifestyle. They visited Grenada almost every year until finally taking early retirement in 2013.
Tip:
Visit your chosen destination several times, make sure to experience different seasons, neighborhoods, cities, and potential building locations before buying and building.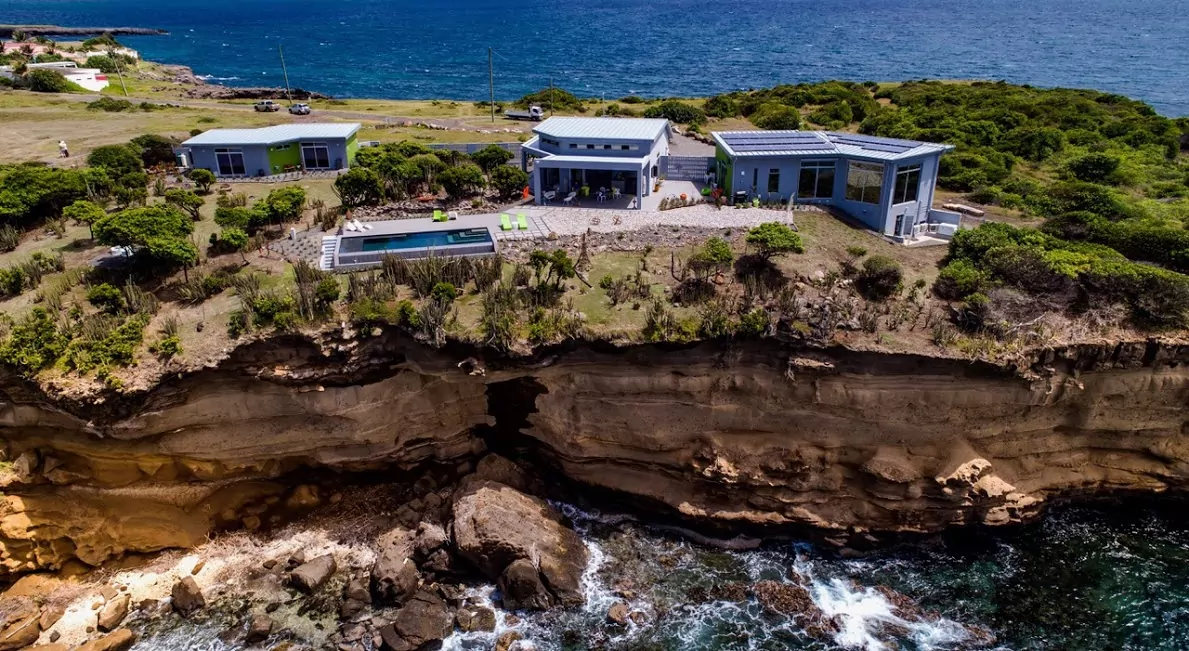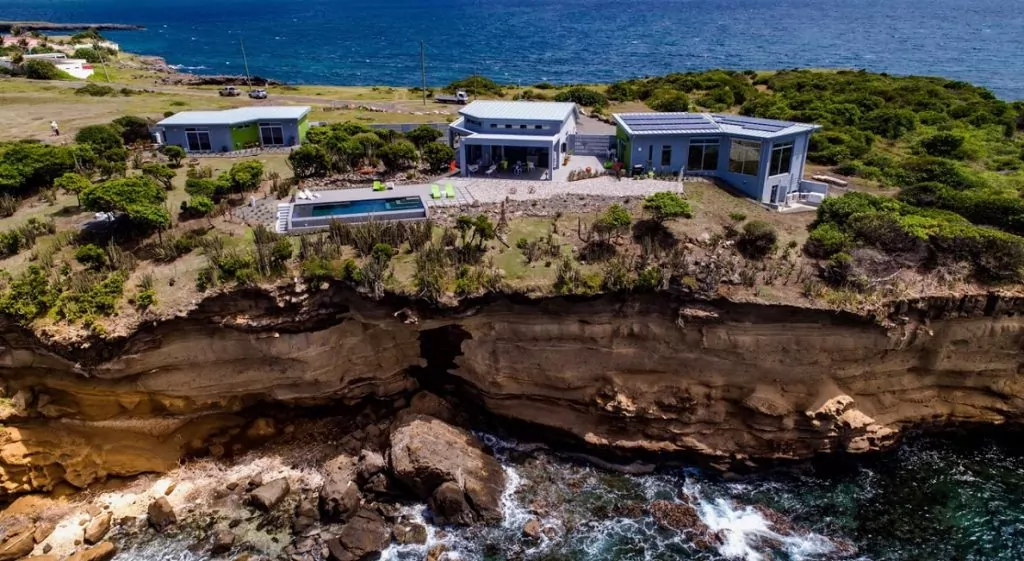 Buying Island Land
In 1998, they purchased a lot near the point at Fort Jeudy. By the end of 1999, they had also bought the adjacent lot and were granted permission to build across both parcels.
The Ungers arranged these purchases while still living in the States, using a power of attorney in Grenada. They worked with a local architect to design a home that emphasized outdoor living at its finest. The building permit was streamlined in 30 days, and they broke ground in December 2000.
Tip:
Use local professionals to minimize regulation headaches and ensure each step is handled efficiently.
Island Challenges
Island structures require unique building standards to account for regional natural elements such as rain, wind, bugs, and humidity. In the Caribbean, hurricanes can be an issue as well.
Fort Jeudy can experience sunny, calm days or winds gusting up to 60 miles per hour. Horizontal rain happens but is usually short-lived. Temperatures hover around 80℉, with high humidity levels year-round. This high moisture often produces mildew that can damage clothes, electronics, and appliances and deteriorates wood and metal structures.
For this reason, Deb and Ben chose to keep their private master suite module sealed, using air conditioning and stationary windows to protect their clothing, artwork, and electronics from the humidity, but also from insects and corrosion.
Tip:
Learn the common weather patterns of the area and build using tried and tested methods to avoid potential damage.
Choosing Building Materials
The Unger's home was built with concrete blocks made from sand mined in Guyana, South America. As the sand was not sourced from an island or along the Caribbean coast, it had no salt. Salt in building materials can lead to structural corrosion and deterioration.
Tip:
If using concrete in a tropical location, ensure the composite sand is salt-free to avoid future damage.
Positioning Is Important
The location of the sun throughout the day and changing breeze patterns in relation to your home will significantly affect your daily life. It is essential to design your home around these factors. Deb carefully planned multiple seating areas to take advantage of the sun, shade, and infinity pool. Their scenic location features both sunrise and sunset ocean views, so maximizing these stunning vistas also topped their priority list.
Tip:
Position your home to optimize any scenic views and natural amenities while also factoring the elements into the equation.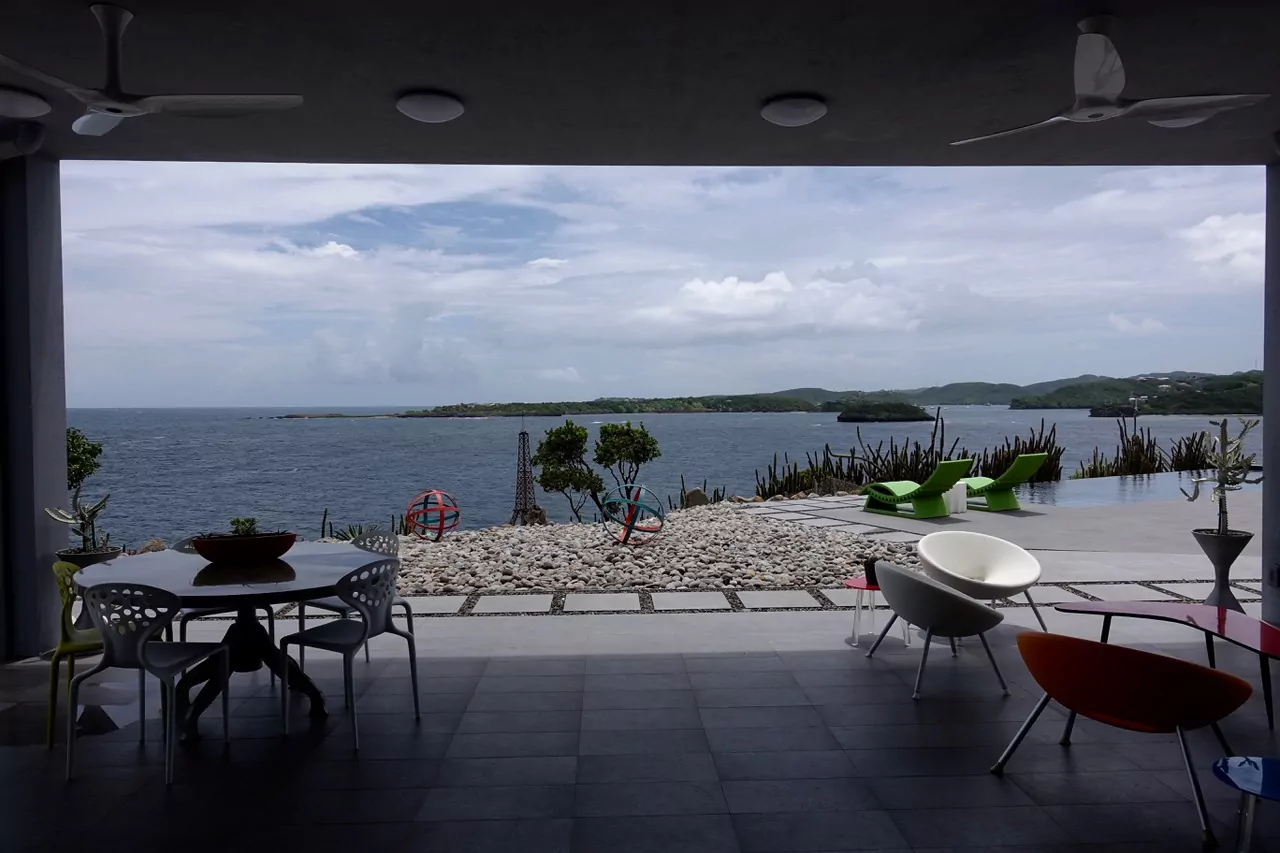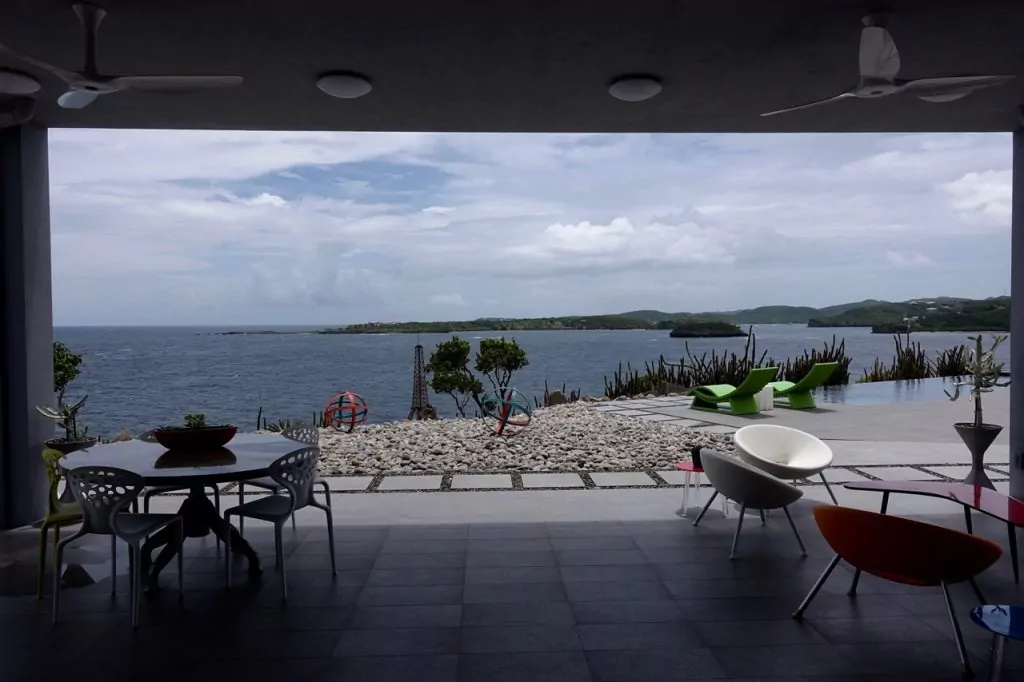 Outsourcing Interiors
Deb and Ben shipped most of the finishing touches for their home from Europe and the States. It was less expensive to ship higher quality materials from abroad than purchase local products in Grenada. The floor tiles were shipped from Italy, while their entire kitchen came from IKEA.
Tip:
Use composite wood cabinets when building a kitchen in a tropical location because termites are repelled by the glue used to make the composite materials.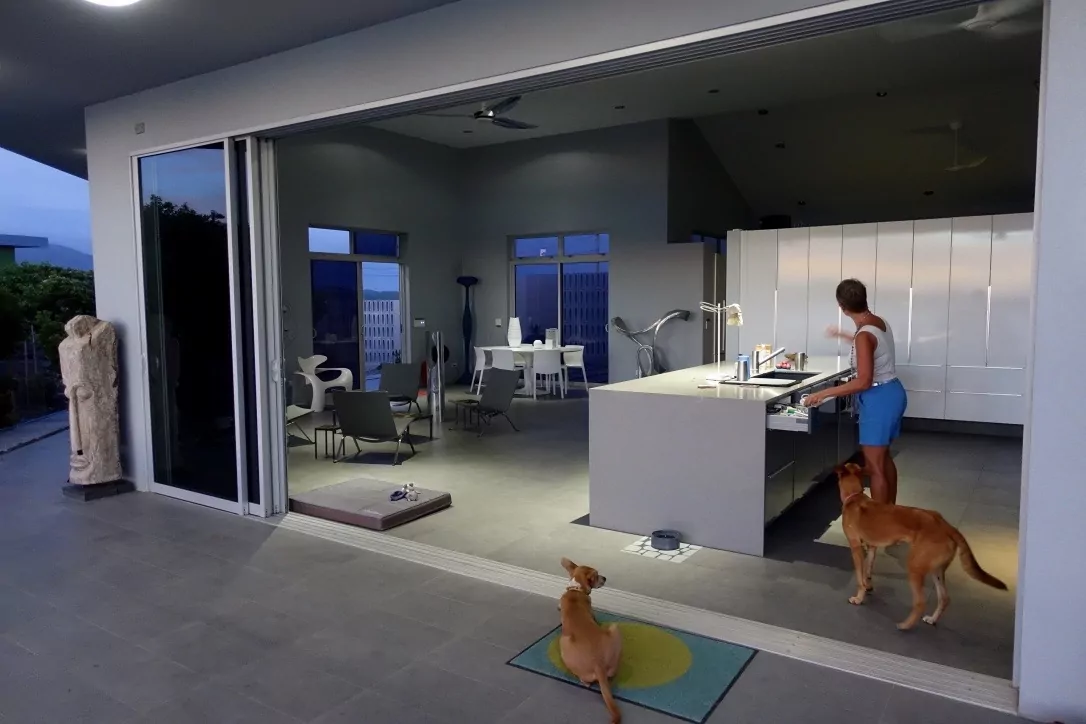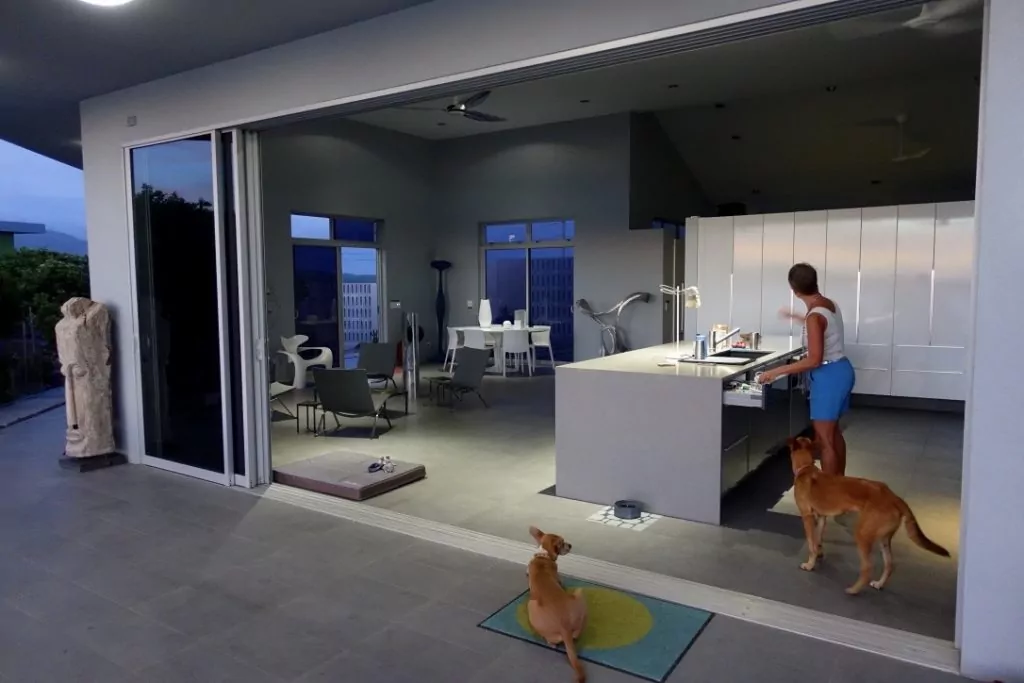 Shipping Considerations
A customs broker advised Ben and Deb to import their personal items to cut costs. So, they shipped two 40-foot containers by sea. Bribery and corruption is nonexistent in Grenada because the local customs rules are regulated by CARICOM, which governs all Eastern Caribbean countries.
Tip:
Talk to locals and expats about how they shipped items and ask for recommendations for customs brokers. A broker can make the process easier and less expensive.
Lessons Learned
Looking back at their experience, Deb and Ben shared a few essential pointers. Some are general tips, while others are helpful to anyone considering building in Grenada in particular.
Working with local labor can be challenging. The professional you hire may not do the actual work. It's important to be on-site regularly to ensure quality craftsmanship.
If you can't be present during construction, find a contractor who will provide regular updates, including photos or videos during the entire process.
Local builders may not build to U.S. standards and may try to cut corners on quality or use substandard practices and materials. Be clear about what you expect.
Laborers are often paid meager wages. This can lead to disgruntled or envious workers, which can result in more serious problems. Labor costs are low in Grenada, but the Ungers experienced no attitude problems, and nothing was stolen from the job site.
Avoid being your own general contractor in a foreign country because, as Ben says, "It could be one hell of a job and might make you hate living there."
Ask the locals about using boxes, pallets, or even barrels if you plan to import goods. Hire a freight consolidator in the States to take care of the delivery of your goods. They will hold them until shipping, repack the items to save space, put them on the pallet, and keep you informed during the entire process.
Transporting your goods by sea is much less expensive than by air. It will take a week or two by sea, while air transport can take a few days.
Buying and building in Grenada is much less expensive than other Caribbean islands, costing as much as fifty times less.
Hiring a skilled carpenter, plumber, and electrician in Grenada was relatively cheap. It's worth seeking them out and have a professional do even the smallest of jobs.
One downside in Grenada is the cost of electricity, which can be expensive compared to the States. To avoid this, Deb and Ben installed 45 solar panels on their roof with collecting batteries. As a result, they generate 70% of their necessary power. Once they build a wind turbine, they will be off-grid with no further electric expenses.
Compared to the U.S., Grenadian real estate taxes, water, and home owner's association dues are much cheaper. Cable TV and Wi-Fi costs are similar, but they have fewer options and a slower speed.
The Downsides Of Living On An Island?
When asked what she doesn't like about living in Grenada, Deb immediately responded, "Centipedes! It's not that they are deadly, but they are prehistoric looking." Apparently, they can grow several inches long.
Ben had to think longer to find anything negative about island life. Finally, he realized that sometimes he misses a change of scenery. "You need to leave the island from time to time, just for a change of backdrop."
Overall, the Ungers had a smooth building process in Grenada, mostly due to their extensive pre-planning. As Ben summarized, "We did two renovations in Pennsylvania, but building a home in Grenada was easier."
Wendy Howarter