A Tale Of Two Cities, Part 2: Guarujá
Last week we visited Santos on the coast of the state of São Paulo in Brazil.
Just across the estuary from Santos lies Guarujá. Though only four minutes from Santos by balsa (ferry), Guarujá is quite different in many respects.
Whereas Santos bustles, Guarujá is more of a laid-back beach town. In fact, a quick search online of the top things to do in Guarujá will present a list of beaches, more beaches, and still more beaches. Oh, and the Acqua Mundo aquarium, with its sharks and penguins.
Guarujá is full of vacationing paulistanos (residents of São Paulo city) during the summer months (December to February), and again during the July holidays. Throughout the rest of the year, it lies largely dormant.
Which makes it very attractive to me.
More and more as the years pass, I value tranquility, which can be difficult to find in Latin America. But for many months of each year, Guarujá is quite calm, especially during the week. As an example, in my building there are 27 apartments, only 4 of which (including mine) are occupied during the week. I'm currently writing this downstairs on a long picnic table between the tall brick barbecue grill and the swimming pool, and haven't seen anyone in the last hour. Most buildings in Guarujá are similarly deserted outside of the high season.
I don't mean to give the impression that Guarujá is a ghost town. Shops aren't boarded up, and there aren't tumbleweeds rolling down dusty streets. The locals are going about their lives. There are always folks at the beach except on the rainiest of days—and even then the die-hard surfers are out, hunting for rogue waves.
But things are kind of sleepy now. Admittedly, Guarujá in the off season might be too quiet for some. Personally, I love it. And each weekend, things pick up a bit, as the paulistanos slip into town.
Most of these weekenders, by the way, are educated, interesting folks. They have good jobs in the capital city which allow them to keep second homes here. Many speak a bit of English, and they like to practice with me.
(Update: My building's caretaker just now ambled over to chat for a couple of minutes.)
From my own explorations, and in speaking to several locals and an American who comes down frequently for business, the consensus is that the most desirable bairros (city districts) here are Pitangueiras, Tombo, and Astúrias. (Although if you just happen to have a couple of million burning a hole in your pocket, you might also check out the enclaves of Sitio de São Pedro and Tijucopava, nestled along the beach.)
Pitangueiras has several neighborhoods. I like the Praia das Pitangueiras area around Rua (Street) Mario Ribeiro, near La Plage Shopping. There are many units available here—and realty agencies, too—with everything within easy walking distance. Others like the nearby neighborhood called Barra Funda, which is also centrally located and is lovely, with many shade trees.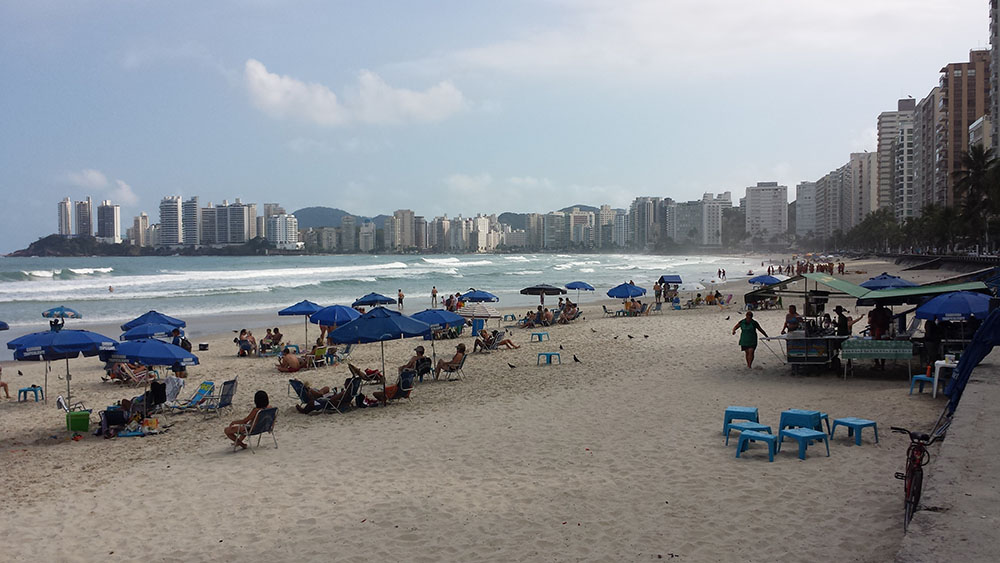 A nice fact about Pitangueiras is that the buses do not run along the beachfront as they do in Santos, but instead two blocks inland on Avenida Leomil. Here you could rent a beachfront unit without contending with the constant traffic noise as on the beach in Santos.
I looked at many acceptable rental units available at surprisingly good prices. Of course, I had the fortune to arrive on the last weekend of July, as vacations were ending—and prices falling.
While you'll definitely want to explore Pitangueiras, don't overlook Tombo and Astúrias, especially if you value tranquility as much I do. They lie only a five-minute taxi ride from Pitangueiras. Tombo and Astúrias are newer bairros; most buildings are less than 20 years old. In general I found the apartments in these areas to be nicer than those in Pitangueiras or over in Santos—while still being cheaper, presumably for being a bit off the beaten path.
I leased an apartment in Tombo, which is perfect for me: one-bedroom, recently remodeled and tastefully decorated. It has ceiling fans in the bedroom and living room, an air conditioner in the bedroom, and a portable air-conditioning unit in the living room. It also has a washing machine, and even came kitted out with pots and pans and flatware. I'm only four blocks walking from the beach, less as the crow flies. Rent, condo fees, and property taxes bundled together (here termed a pacote, or package) are a tad under US$500 per month.
I'm extremely happy here. My living room looks out over a large vacant lot filled with enormous spreading shade trees. The birds who make their homes there serenade me daily. Between two other apartment buildings I can see a bit of the ocean. I found a gym nearby which I like very much. The beach is less than a block from the gym, so I can grab a coconut after my interval training. There are three small markets within a few minutes of my apartment. I have an easy, simple, compact life.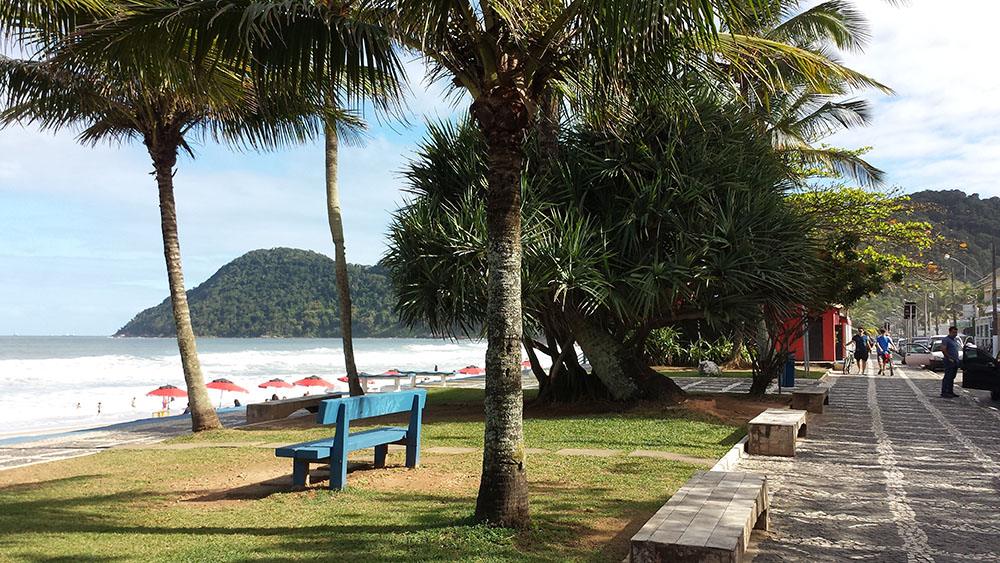 And if you enjoy the beach, Tombo is hard to beat. While not as long as some others in the area, Tombo Beach is very upscale and well maintained. It has in fact been awarded the coveted international Blue Flag award, in recognition of its pristine condition. It is much more laid-back than the beaches of Santos, which suits me fine. And the sand here is softer, scrunching beneath the toes.
Astúrias is situated adjacent Tombo, on the Pitangueiras side. It's a small bairro occupying a little peninsula jutting out into the South Atlantic. To the north lies Astúrias Beach, and to the south, Tombo Beach. Like Tombo, it's a quiet residential area.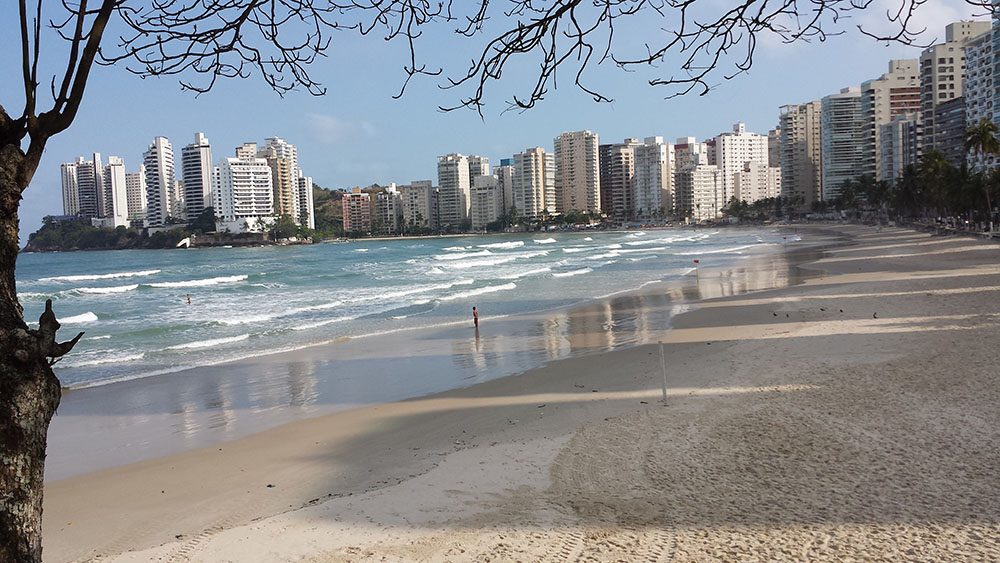 There are drawbacks to Tombo and Astúrias. The markets are small, and their selections limited. Prices for groceries and for most services are high for Brazil – though still cheap by North American standards. (A haircut here costs US$16 instead of US$9, an hour massage, US$30 instead of US$20.) But considering what I pay in rent, and that Tombo Beach is thrown in for free, I'm not complaining.
Guarujá is seen by some as less desirable than Santos. There is less to do, and the public services and hospitals aren't perceived to be of the same caliber. There are favelas, especially to the north near the bairro of Enseada.
So why did I choose Guarujá over Santos? First, the favelas aren't located near Pitangueiras, Tombo, or Astúrias, and so don't concern me. Guarujá offers tranquility and uncrowded beaches (outside of the high season). While Santos certainly offers more in the way of shopping, and has better infrastructure generally, everything in Santos is literally only minutes away from Guarujá. And rents are considerably cheaper on this side of the river.
Here's a sampling of what's on the market in Guarujá today

You can rent a one-bedroom, fully-furnished apartment of 50 square meters located on Avenida Leomil, just two blocks from Pitangueiras Beach. Recently remodeled, the unit has a spacious bedroom and a balcony, and is situated on a high floor. The building has 24-hour security and is in a great location, near the beach, shopping, bus lines, and taxi stand. Rent including condominium fees and taxes is 1,700 reais (US$550).

Nearby in Praia (Beach) de Pitangueiras is another one-bedroom apartment of 50 square meters, this one with two baths, and also located a scant two blocks from the beach. Wood floors, lovely bathrooms, and a large kitchen with service area. This is a prime location, with everything within easy walking distance. The rent of 1,500 reais (US$485) includes condo fees and taxes.

Over in Tombo you can rent a furnished one-bedroom with full bath plus guest bath, 55 square meters, and only 10 meters from the beach. The unit includes a service area off the kitchen and one parking space in a garage. It's in a great location near restaurants and only steps from this Blue Flag beach. The building has a swimming pool, party room, game room, soccer/basketball court, sauna, and well-equipped barbecue area. The rent, including condo fees and taxes, is 1,800 reais (US$582).
There are plenty of apartments for sale, as well

You can pick up a one-bedroom, two-bath apartment in Astúrias for only 190,000 reais (US$61,488). This spacious, 73-square-meter unit has a balcony and is located in a lovely, tranquil neighborhood. The unit is near the beach, as well as a bakery and market. Condo fees are 500 reais (US$162) and taxes 80 reais (US$26) per month.

If you'd like something more spacious, a three-bedroom, two-bath apartment of 92 square meters is on offer in Pitangueiras. The large living room has a separate dining area. A balcony runs the length of the unit. There is a service area off of the kitchen. The apartment comes furnished and is located only 100 meters from the beach. The unit is in a small, intimate building, with bakery, bars, restaurants, supermarket, and gym all nearby. The asking price is 215,000 reais (US$69,579). Condo fees are 900 reais (US$291) and taxes are 75 reais (US$24) per month.
Note that the real estate market in Guarujá is very seasonal, more so than in Santos, which has more permanent residents. To find deals, the best times to come are August, October, or late March and June.
So, which is best, Santos or Guarujá? It depends on what is most important to you. Many, perhaps a majority, of folks prefer Santos. For me, the low-season tranquility of Guarujá is wonderful, just what I've been searching for. Of course, I may change my tune when the temporada (high season) arrives and the holidaymakers roll into town.
But for now, I am enjoying the peace… and my own private swimming pool.
John Clites
For Overseas Property Alert
***
Letters To The Editor
Hi John,
What would be the best jobs in your opinion for an expat in Brazil? I'd like to live there, but would need to work to support myself.
Steve
First, it's important to understand that it's not easy to get a visa that will allow you to work legally in Brazil. You might be able to get a job with a multinational company that does business here; if you can wrangle such a package, it would be ideal, since your salary would likely go far here, and the company would handle the visa paperwork. But with the current recession in Brazil, there aren't many good jobs waiting to be plucked.
Paradoxically, the easiest way for many foreigners to gain permanent residency here—which brings with it the right to work legally—is via a retirement visa. If you (or your spouse) is at least 60 and you can prove a monthly income of at least US$2,000, you'll likely qualify. An investment visa is another route, but entails a lot of red tape and I wouldn't recommend it for most folks. And, as you say, you would need to work, it might not work for you anyway.
As far as the types of jobs in demand here, software is a growing sector. There are jobs for coders, but also project managers, quality assurance folks, etc. English is a big plus in these fields, but you will also need decent Portuguese. Actually, virtually any job here—not to mention day-to-day life—will require Portuguese.
Other large industries in Brazil include aerospace, automobile manufacturing, food processing, and beverage production and distribution. Tourism and real estate development are large components in some geographical areas, although they are currently down now across the board. Large petroleum and natural gas reserves also exist off Brazil's southeastern coast, spurring exploration and extraction (but not yet refining). Finance and telecommunications are growth sectors, and investment is being made in aerospace, nanotechnology, health care, and energy research. Opportunities are also available in ethanol production and deepwater oil exploration.
If you happen to be a certified teacher (that is, education major, board-certified), you could try landing a job at an international school. These generally pay OK by local standards and offer a full benefits package and lots of days off. Contracts are generally for two years.
Note that lots of foreigners here teach English, and the demand is huge, but most are doing so under the table. There is a language school on almost every corner here these days, but they rarely will sponsor foreigners because of bureaucracy, preferring instead to hire Brazilians (often under-qualified) or pay foreigners off book.
***
Hi John,
We heard a lot about the Zika virus before the Olympic Games, but very little now. Is the danger passed? My wife and I would like to visit Brazil, but have concerns. Are there areas that we should avoid?
Zika itself isn't typically serious unless you are a woman who might become pregnant. Contracting Zika during pregnancy can lead to microcephaly, which is a permanent condition. Otherwise, typical symptoms include fever, rash, muscle aches, joint pain, and sometimes red eyes, which rarely last more than a week. It's actually possible to have Zika and not even realize it, and reported cases of Zika in Brazil are way down.
However, the nasty little fellow who transmits Zika, Aedes aegypti, also may carry dengue fever, chikungunya, and yellow fever. Of these diseases, there is only an effective vaccine against yellow fever. For the others, you can only treat symptoms (which are generally similar to those of Zika).
Your best treatment is prevention. If you visit Brazil, bring insect repellent containing DEET. While it's available here, it's expensive, so best to bring some with you, and then you'll have it as soon as you land. Be careful going into forested areas. Cover up to the degree the weather allows. Wherever you are, I always recommend closing windows a bit before dusk, when mosquitoes tend to be very active. Note that the threat from Aedes aegypti is negligible if you stay near the beach, as the mosquitoes breed only in stagnant fresh water, and they avoid strong breezes such as those coming off the ocean.
Have a question? You can write to Lee here.