An Undiscovered Trove Of Authentic Spanish Colonials
I've just found a small treasure trove of authentic, historic properties from the Spanish colonial era. I've been traveling the Americas and looking at colonial homes since 1998, and I've never seen anything remotely like Álamos, Mexico.
I'll put this into perspective. My first choice among the properties I saw here is a mansion that was built by a wealthy silver baron during the presidency of George Washington. It's from a time when the first book was copyrighted in the United States, and just after New York gave up its claim to the Republic of Vermont for US$30,000.
This home is just one of many similar properties in town… and prices have dropped to the lowest levels in years.
Dramatic Silver Wealth Resulted In Magnificent Colonial Architecture
Álamos was founded in the late 1600s, after silver was discovered in the area. The huge wealth generated by the mines allowed the residents of Álamos to build dozens of colonial mansions and hundreds of colonial homes throughout the downtown.
The silver eventually ran out, and the silver barons and their crews moved on. Álamos began to decline after Mexican independence from Spain, and was invaded numerous times during the Mexican Revolution in the 1920s. When the city finally fell during the revolution, its population wasdecimated and most of these old mansions, hotels, and beautiful municipal buildings fell into ruin.
In 1948, Álamos was rediscovered by William Levant Alcorn, a farmer from Pennsylvania. Alcorn saw the potential and began restoring Álamos one building at a time. Paying just US$50 to US$100 for many of the mansions, he made a fortune promoting Álamos and selling real estate. (In fact, his daughter is still selling real estate here today.)
Álamos was declared a national monument in 2000 by President Zedillo, and was named a Pueblo Mágico in 2005. The latter is a designation reserved for towns that offer a "magical" experience, thanks to their beauty, historical significance, and cultural riches.
Today, Álamos has recovered and retained its original 17th century charm, with stately colonial mansions, cobblestone streets, narrow alleys and passageways, a magnificent church, and a beautiful town square.
What's more, this town of less than 25,000 is nestled in a small valley surrounded on all sides by endless mountains and beautiful, wild countryside.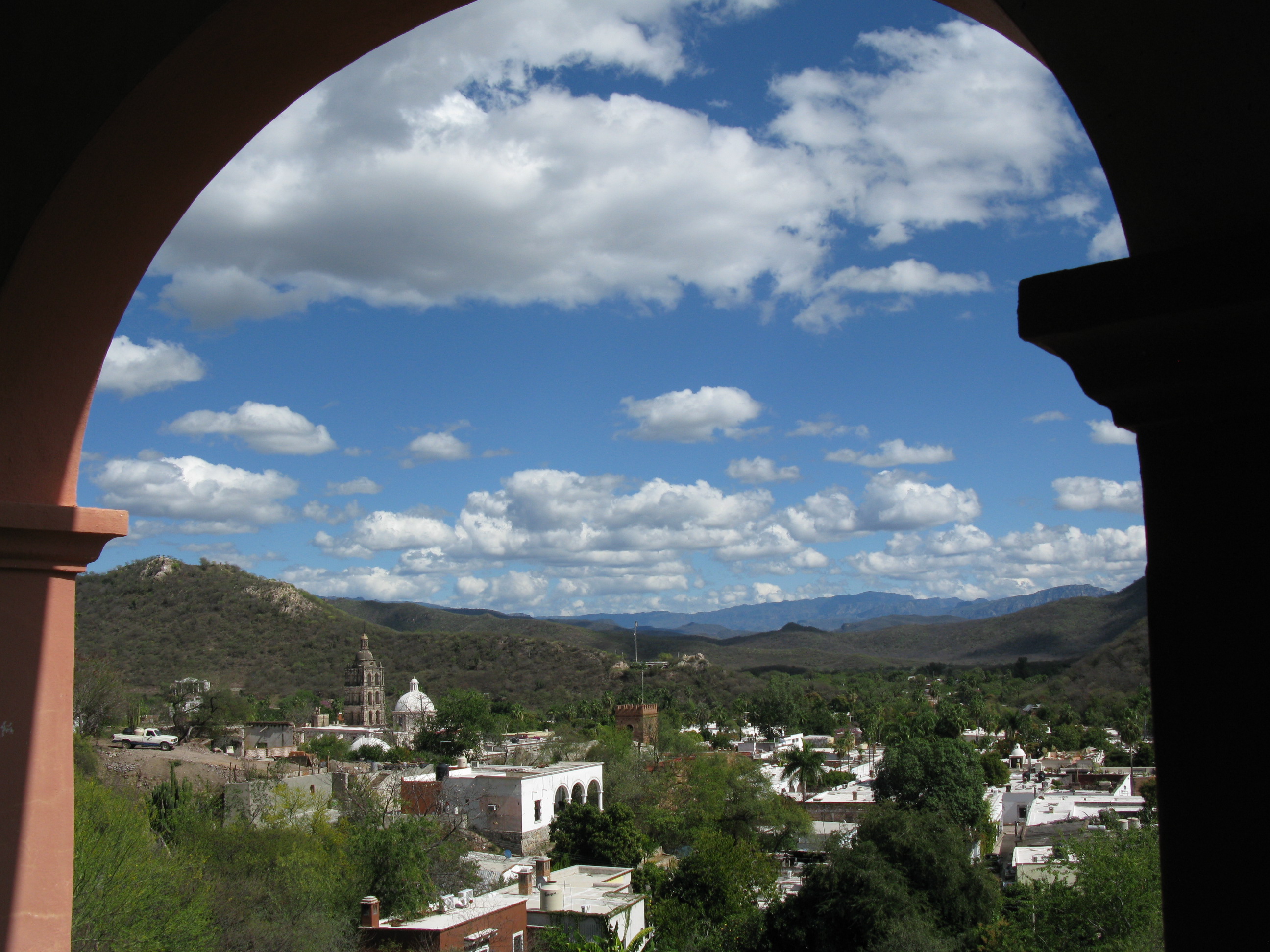 The surrounding mountains and endless views are a prime attraction in Álamos
Álamos Is A Rare Place Where You Can Find "True Colonials"
In case you're not familiar with the style, a typical Spanish colonial can be rather plain when viewed from the outside, with its rooms built around a large center courtyard… which is often adorned with trees, flowers, and sitting areas. The houses will have a main door to the street, through which you can normally see inside to the courtyard. The houses' rooms open onto the courtyard, which is the primary means of getting from one room to another. In addition, some rooms often have interior doors allowing you to pass from one room to the next.
A true Spanish colonial home is one that was built during the colonial period, prior to Spanish America's independence from Spain. Generally speaking, this means homes that were built prior to the second half of the 19th century.
Many of us who write about properties in the Americas, however, have used the term colonial loosely. Most colonials you read about are actually colonial-style homes built in 20th century.
Álamos is one of the very few places where you'll find true colonial homes from the colonial period… in addition to a good selection of colonial-style homes mentioned above.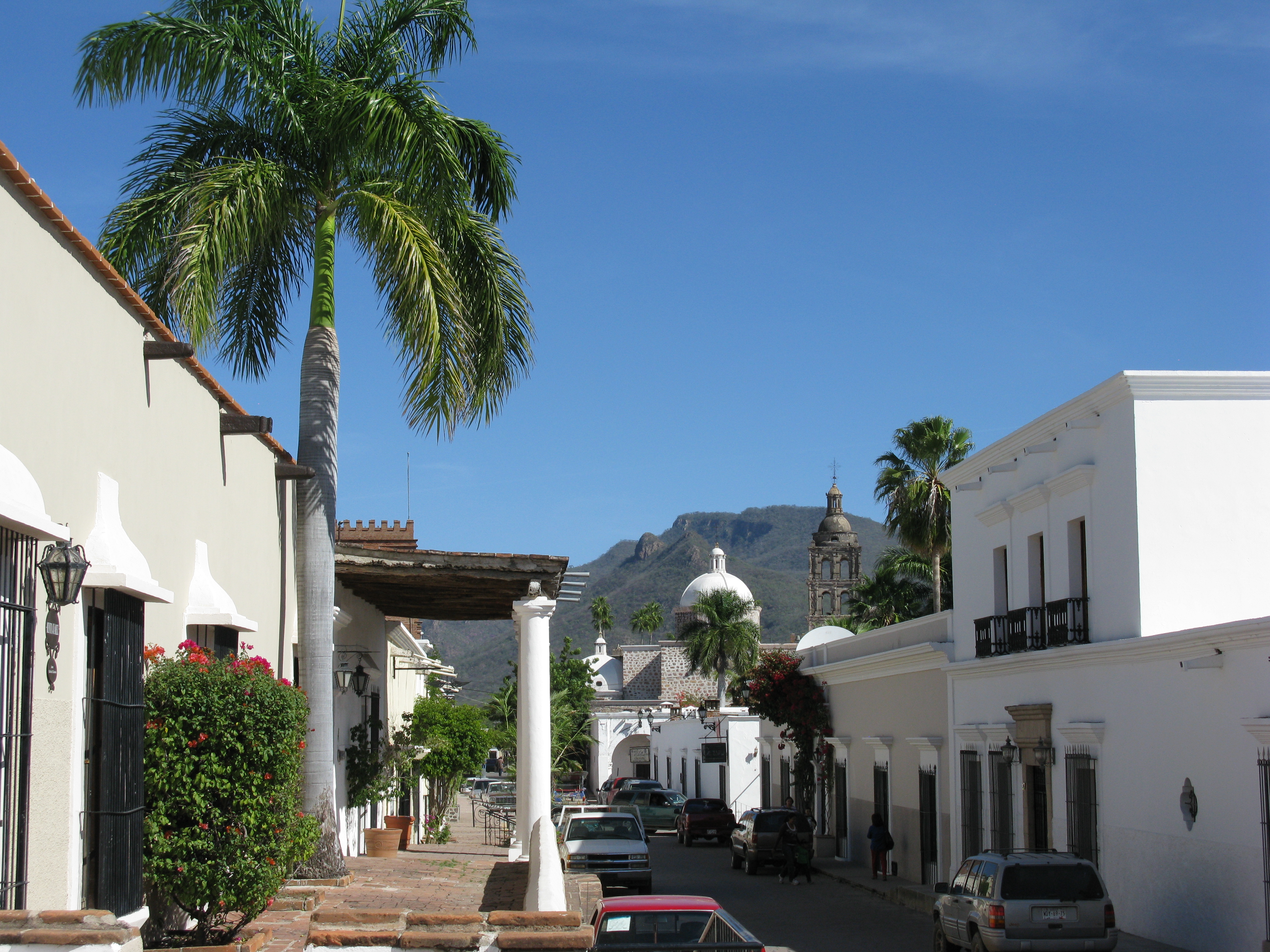 Walking the cobblestone streets to the town square, all is clean and well-maintained
Another point in favor of the Álamos homes is that they're not unmanageably large for a single family. In Cuenca, Ecuador, many of the downtown colonials are two or even three stories tall, with as many as three interior courtyards, while in Álamos, although houses have a large footprint, most are single-story homes.
The Expat Community In Álamos Is A Big Draw
Álamos has a cohesive and active expat community, with a large number of artists, writers and musicians. Active residents also spend time birdwatching, hiking, and bass fishing.
Frankly, I expected to find that expats dominated the town, but that is not the case. While the expats add financial support to many local efforts, and engage in the community, they don't dominate the culture. Álamos is clearly a Mexican town.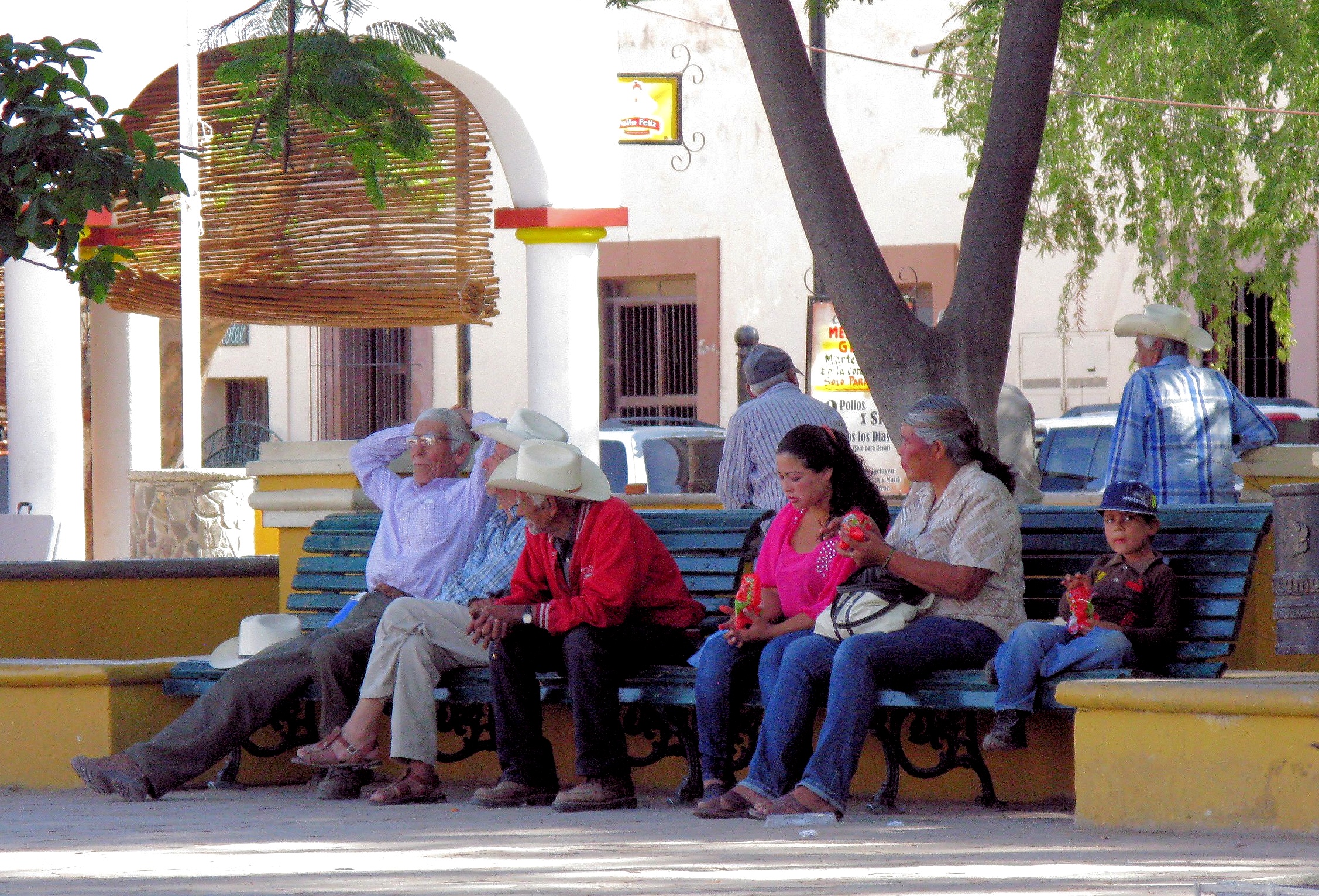 There are plenty of expats… but this is clearly a Mexican town
At This Time, Álamos Is A Genuine Buyers' Market
Property prices in Álamos are lower than they've been for many years. There are a couple of reasons for this.
One is that prices for Álamos properties still have not recovered from the economic slowdown in 2008.
The other is that a generation of Álamos residents is moving on, creating a surplus inventory on the market. Many long-time expat owners are now in their 80s and 90s, and no longer want to manage a home of this size.
I've seen prices that have dropped dramatically… some by 40% or more. And even at that, the average difference between listing price and eventual sale price is a hefty 18%, according to Liliana Carosso, who founded the city's leading real estate company.
Only 16 homes changed hands in 2014, which was up significantly from 2013.
For 2015, the previous year's total number was topped before the end of the first quarter… so it appears that a turnaround is in progress. Prices are not rising yet, but the inventory is moving. In fact, two of my finalists (both under US$200k) have been sold in the past month.
What To Expect For Prices In Álamos
Make no mistake, you can buy inexpensive houses in Álamos and many people who are drawn to its charming lifestyle do exactly that. Two friends of ours bought a home for just US$32,000 last year. It's not a colonial (and not in the town center), but it provides them with a wonderful lifestyle and a rich cultural experience for a super price.
But lifestyle aside, original colonials—in a small, charming Mexican town setting—are what make Álamos unique in the property world. Many of the houses are expat-owned, and everything I looked at had been updated to modern standards with respect to electricity, water, internet, and even satellite TV. Here are a few properties on the market today.
| | |
| --- | --- |
| | My favorite house in town was built prior to 1800, and has 3,000 square feet of living space in addition almost 8,000 square feet in the courtyard. The giant kitchen has all the modern amenities, but still manages to look like an 18th century kitchen. It also has two excellent features for this market: a water well and enclosed, off-street parking. The asking price is US$275,000. |
| | |
| --- | --- |
| | I saw an excellent value located on Calle Galeana, with 5 bedrooms, 3 baths, and 3,600 square feet of living space. The house was built prior to 1800 and has an unusually large lot. The asking price on this one is US$195,000. |
| | |
| --- | --- |
| | One of the best values I found was right next door to the first property above. Built in 1787—the year the U.S. Constitution was written—the house has over 4,000 square feet of living space around a large courtyard of over 8,200 feet (with a swimming pool). Featured in several design publications, it comes with a fireplace in every room. The asking price is US$345,000. Check out the courtyard photos below. |
This lush interior courtyard comes with a pool, found in the highest-end homes
Álamos Realty is easily the best real estate operation in town. It's owned by expat Liliana Carosso, who has lived in the area since 1989. Easy-going and professional, Liliana possesses a wealth of local knowledge as well as market savvy. You can visit her website here (https://www.alamosrealty.com).
Lee Harrison
Editor, Overseas Property Alert
***
Letters To The Editor
Hi Lee,
I enjoy your reports very much.
I was going to return to Spain last year to buy a condo on Costa del Sol. However, I heard that the government requires tenants to withhold 25% of the rent as a tax and send it directly to them.
How would I ever know if a tenant really sent in this high tax?
Also, I heard that the government is now requiring all residents of Spain to report all worldwide income causing many Brits to pack up and leave. Is what I heard and read true?
Thanks,
WR
We've heard this question quite often. The landlord is ultimately responsible to pay the tax on the rental of a Spanish property. It's payable on a quarterly basis, and some costs may be deducted. Not everyone pays the entire 25% though… depending on your residency status, it may be less.
The government would like the renter to withhold this tax from the landlord: 15% for Spanish landlords, and 25% for non-Spanish landlords. But in practice, this almost never happens, since your average vacationer in Spain has no idea how to withhold the tax or where to send the money.
Some landlords however, facilitate this withholding by the tenant—by specifying it in their rental contract—for purposes of simplifying their own tax declarations.
Spain has a requirement to report overseas assets, which applies to those who are tax-resident in Spain. (You become tax-resident when you spend more than 183 days per year in Spain.) At this time, tax-residents only have to report their overseas assets, they don't pay tax on them.
And while the tabloid press in London (such as the Daily Mail) has reported an exodus from Spain, there's no evidence of it on the ground, where numbers continue to climb. After all, U.K. citizens have a tax treaty that would prevent them from being double-taxed on their Spanish income.
Have a question? You can write to Lee here.