How about this view from your bedroom window?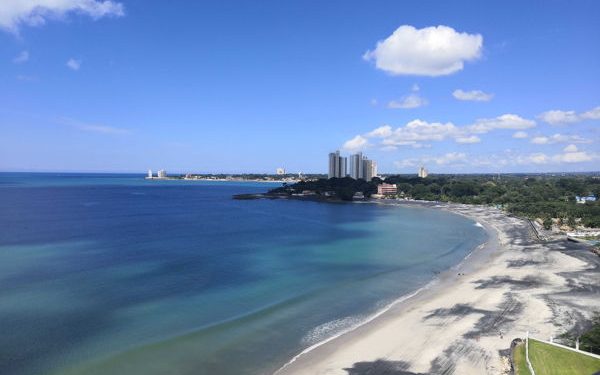 As I promised last week, today we're going to look at a beachfront opportunity in Panama. And not any old beach, mind…
This stretch of Pacific coast runs alongside Panama's top retirement community… giving you (or your tenants) all the trappings of beach life, plus the prospect of an active social life.
A Quick Glimpse
Panama's leading luxury real estate developer completed this project recently. This development:
Is frontline to the beach
Lies less than an hour from all the amenities of Panama City
Has a variety of apartment sizes available (with flexibility in design)
Offers attractive financing terms (with low interest rates)
And, right now, you have the chance to pick up one of just five units being offered at a special discount (representing US$55,000 off the regular asking price).
In fact, by handing just US$1,750 over to the developer, you can get the keys straight into your hands.
Before we get to the finer details, though, let's look at exactly where we're talking about…
Welcome To The Coronado/Gorgona Area
Fifty minutes out from Panama City, the "City Beach" community of Gorgona has been attracting a growing number of foreign retirees, along with its neighbor Coronado (just 10 minutes from Gorgona). Coronado has evolved from a weekend escape for city dwellers to a full-fledged retirement community over the past decade. Here you'll find restaurants and nightlife in great supply… plus gourmet grocery stores, pet supplies, and high-quality health care (with English-speaking doctors)… a golf course, yoga studios, triathlon club… and opportunities for expats to volunteer in the community. In other words, your days would be far from dull…
Gorgona is now pulling up its socks to follow in Coronado's footsteps. A shopping plaza is underway, and more businesses have started popping up. But this little town is far from playing second fiddle.
With less development, Gorgona residents enjoy more natural, unbroken views to the ocean and lush mountains. Best of all, right now, pre-construction prices are also lower than in Coronado where supply is short…
One Development, Lots Of Options—Starting From US$175,000
Royal Palm is a beachfront development of 281 apartments spread between two towers. Shaped like a ship's hull, the building is designed to give its residents wide views over the Pacific. Each unit in the development has ocean views—and a balcony to enjoy them from. At sunset, you can see the fishing boats leave shore to begin the search for tomorrow's catch.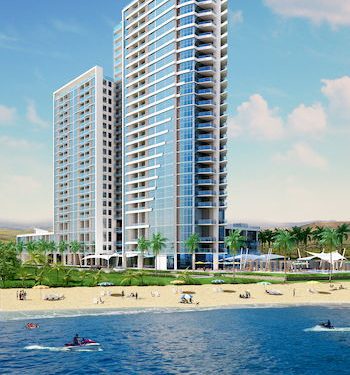 Whether you choose to keep it for yourself or put it on the vacation rental market (more details in a moment), onsite here, you or your guests will have everything you'd expect of a luxury complex—including swimming pools, fitness center, restaurant, convenience store, bar, sun deck, children's play area, playing courts, social areas, and rooftop terrace… all of which are under 24-hour security. And, of course, you have direct access to the beach.
Tower A, closest to the beach, gives you the option to go large while also getting the best ocean views. These beachfront units have floor-to-ceiling windows with glass sliding doors leading to the balcony. Prices for these apartments start at US$429,000 for a 129-square-meter unit.
But the best opportunity today lies in Tower B…
Tower B's one-bed units of 70 square meters usually start from US$230,000. But Liz, our contact on the ground for this Gorgona development, contacted me this week to say she's able to offer a special price of US$175,000 on just five of these Tower B apartments. That's a whole 24% off the usual sales price…
The Royal Palm plans present these as one-bed units, but most buyers opt to sacrifice the formal dining space for a second bedroom.
Here you can see a model of the living room with the default formal dining space included (see that dining table poking out to the left of the entrance door?)…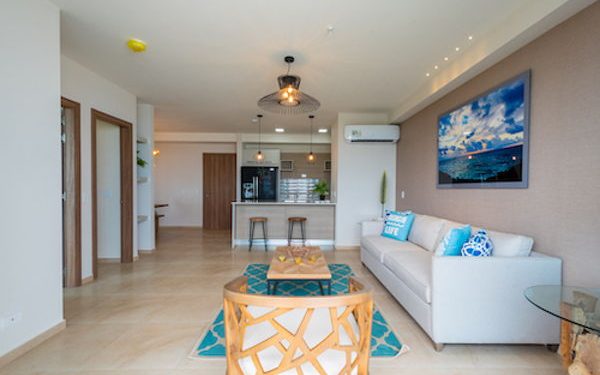 Now here's one showing the living space with the conversion to second bedroom…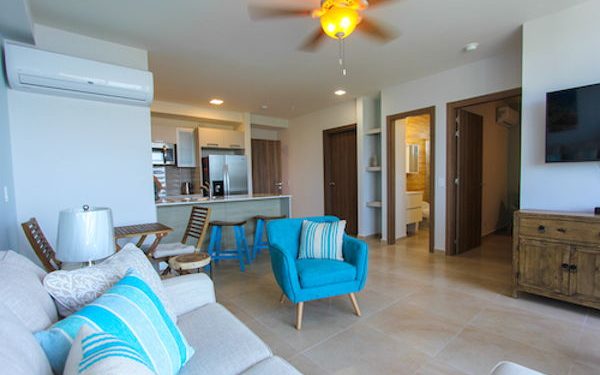 Either way, there's plenty of room to move about (and enjoy your meals) in the living area.
You can also double up on these units for a 140-square-meter apartment with three bedrooms and two bathrooms… getting roughly the same space as those roomy Tower A apartments but at a lower square-meter price (US$2,500 versus US$3,325 per square meter).
Whichever way you go, you'll always be in sight of the ocean… and just steps from the sand…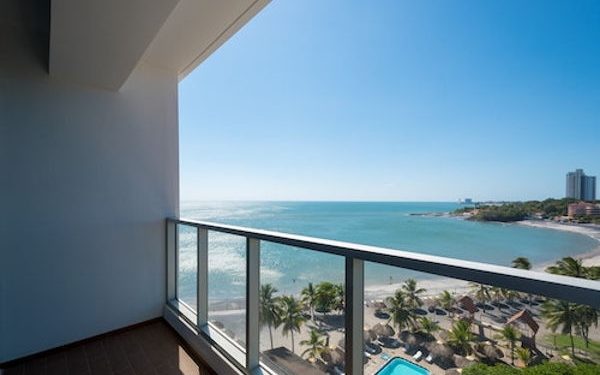 Buy To Let?
As well as its growing expat population, Gorgona is a popular escape for Panama City residents. Being one of the closest beaches to the city, it means less time crawling along the Pan-American Highway during the mass exodus on weekends and holidays. The developers at Royal Palm have installed a private road so visitors can bypass town and get straight to the beach.
In low season, you could rent your apartment here for US$100 a night, US$500 a week or US$1,000 a month. Those prices go up to US$140, US$900, and US$2,000, respectively, in high season. (Bear in mind these figures are conservative for the area.)
Property management is available with a number of local agencies from US$150 a month. Commission on rental income ranges from 15% to 20%. This gives you a complete hands-off approach, where you sit back and wait for payday…
These Royal Palm apartments also qualify for tax breaks. Buying one of the 70-square-meter units means you won't have to pay property taxes for 10 years.
Buyer-Friendly Financing Is Available
Terms here are extremely buyer friendly. With either a 10% or 20% down payment, you can enter a 10-year financing plan with the developer—no pre-approval required.
With 20% down on one of the 70-square-meter units, your interest rate is just 4%. (You'll be forgiven for reading that figure twice—local banks typically charge 7% to 8%.)
But, as I mentioned earlier, you don't need 20% down to take advantage of this opportunity. If you opt to go with just 10% down on one of the Tower B units, you can spread out your deposit into 10 monthly installments of US$1,750.
Not just that, but you'll:
Pay zero interest for those first 10 months
Get your apartment keys after your very first US$1,750 payment
This kind of financing deal is not easy to come by. And, by placing your apartment into the rental pool, you can easily cover your monthly repayments.
If you have any questions at all, Liz is standing by to help…
Again, she has just five sets of keys at the US$175,000 price. So, if you're interested in one (or even two) of these 70-square-meter apartments, be sure to get in touch as soon as possible.
Lynn Mulvihill