The real estate market in Cali, Colombia, is the most exciting scene I've witnessed in a long time. This is an attractive city, with low property prices, a low cost of living, low cost of ownership, and high rental returns.
Best of all, prices start at less than US$66,000 for a nice apartment in one of the best neighborhoods.
Bottom line, Cali is hard to beat. It's the least expensive market I've found in a modern city in Latin America. This is a hotbed of real estate bargains. Properties here are a real steal.
Getting a feel for what a city is like and for the lifestyle it offers is an important step in getting to know a city's real estate market. And at resale or rental time it will help you to know who your potential buyer or rental client might be. Follow this link to read my previous article on Cali to see why it's a good place to invest or retire.
Cali is Colombia's third-largest city, after Bogotá and Medellín, with a population of almost 2.5 million. Situated about 1,000 meters above sea level (3,250 feet), it enjoys warm weather all year, with refreshing evening breezes.
It's a modern city with good infrastructure, including modern public transit and drinkable water. Cali offers everything from new, upscale shopping malls to mom-and-pop tiendas and giant open-air markets that have been in operation for centuries.
Cali is best known as the undisputed world salsa capital. People come from the world over to learn and dance the salsa in Cali's hot clubs, discos, and dance schools.
Crime can be a problem in parts of Cali, and certain sectors have high levels of gang-related violence, including homicides. I avoided the areas with high crime rates, and stuck to the safe areas, as you should—not only in Cali but in any big city.
For the expat, part-time homeowner, or someone who wants to own a rental, I prefer the western part of downtown, centered roughly on the neighborhood of El Peñón. The properties are inexpensive…and the neighborhoods are tree-lined, walkable, and colorful, with lots of amenities.
This area—among gentle hills near the confluence of the Cauca and Cali Rivers—is where you'll find cafes, nightlife, and the city's best restaurants. When people want to see what makes Cali tick and get a feel for the lifestyle, this is the area they come to.
To get oriented, follow this link to see the Google Map of the Cali neighborhoods we visited on this scouting trip.
San Antonio
San Antonio has the look of a Spanish-colonial historic center. It offers well-maintained colonial architecture, along with its many cafes and restaurants. And while there are not many expats in Cali, I saw more in San Antonio and Granada than in the rest of the city.
Nearby, my favorite walkable downtown areas were El Peñón, Granada, and Centenario.
Granada and El Peñón 
Granada and El Peñón have excellent dining districts (called zonas gastronómicas), with loads of restaurants, clubs, and cafes. Granada's reputation for gastronomía is a bit better than El Peñón's, but I liked them both.
Centenario
Centenario—with its shady, tree-lined streets—is within walking distance of San Antonio, Granada, and El Peñón, and has the least expensive real estate in this part of the city. Centenario was formerly a quiet, high-end residential area. It's now more commercial than residential, but it still offers plenty of good property buys and residence options.
On the edges of these neighborhoods, you'll find Santa Teresita, Santa Rita, and Normandía. These barrios are mostly high-end residential areas, but they are also within walking distance to the popular gourmet and club districts.
Santa Teresita and Santa Rita
I found Santa Teresita and Santa Rita to be similar in character. Both are an easy walk to El Peñón, both are located on opposite sides of the rushing Cali River, and both are greener, quieter and somewhat more expensive than the restaurant/club districts. Follow this link to see the Cali River from Santa Teresita.
Normandía
Normandía is on the opposite side of the river from El Peñón, and is a perfect location from which to enjoy El Peñón, Granada, and San Antonio, from a quieter residential setting.
Here are a few of the best properties I found in the area. Remember, a square meter (m2) equals 10.76 square feet; just multiply the meters by 10 to get a quick estimate.
My favorite apartment in Normandía has 2 bedrooms and 2 baths, with 89m2 of living space (958 sqft). It is located right on the river that separates Normandía from the restaurant district in El Peñón, with tall riverside trees and a river view on the famous park Gato del Rio. They're only asking US$78,000 at today's exchange rates (160 million pesos). This unit would be a great rental option.
Also in Normandía, on a quiet side street, we looked at a three-bedroom, two-and-a-half- bath modern apartment with a separate maid's suite and a study. Total living space is 154m2 (1,657 sqft). It is sunny and bright with three balconies. The asking price is US$112,000 (230 million pesos). This property is just 10 minutes' walk from the square in El Peñón.
I was told that this building used facial recognition to open the garage door, and I was impressed…until I realized that it was a security guard (who knew the owners' faces) opening the door manually. So much for technology…
In El Peñón, we toured a two-story penthouse, with 3 bedrooms, 2 baths, and a large balcony overlooking the river (you can hear the sound of the river clearly in the penthouse). With marble floors, beautiful wood trim and granite counters, the asking price is just US$146,300 at today's exchange rates (300 million pesos).
Also in El Peñón, a somewhat-smaller apartment has a large terrace of over 56m2 (600 sqft) in a quiet area just two blocks from the square. With 2 bedrooms, 2 ½ baths, and a study, the living space is 106m2 (1,141 sqft). The asking price is US$80,500 (165 million pesos).
A good example in Centenario is a three-bedroom, three-bath unit of 157m2 (1,690 sqft). It's centrally located near the commercial center and the famous Avenida Sexta, the hub of downtown's salsa scene. With a good-sized balcony, the asking price is US$65,900 at today's exchange rates (135 million pesos).
One of the most impressive properties was in Granada, for sale by a local expat. This ninth-floor apartment is in the heart of Granada's best restaurant district and is within walking distance to everything, including the supermarket. With one apartment per floor, it has views from all sides. The 3-bedroom apartment has 197m2 of living space (2,120 sqft), and the asking price is just US$151,200 (310 million pesos). The owners have just refurbished the property, and everything is in great shape.
Take a look at the living room of this unit…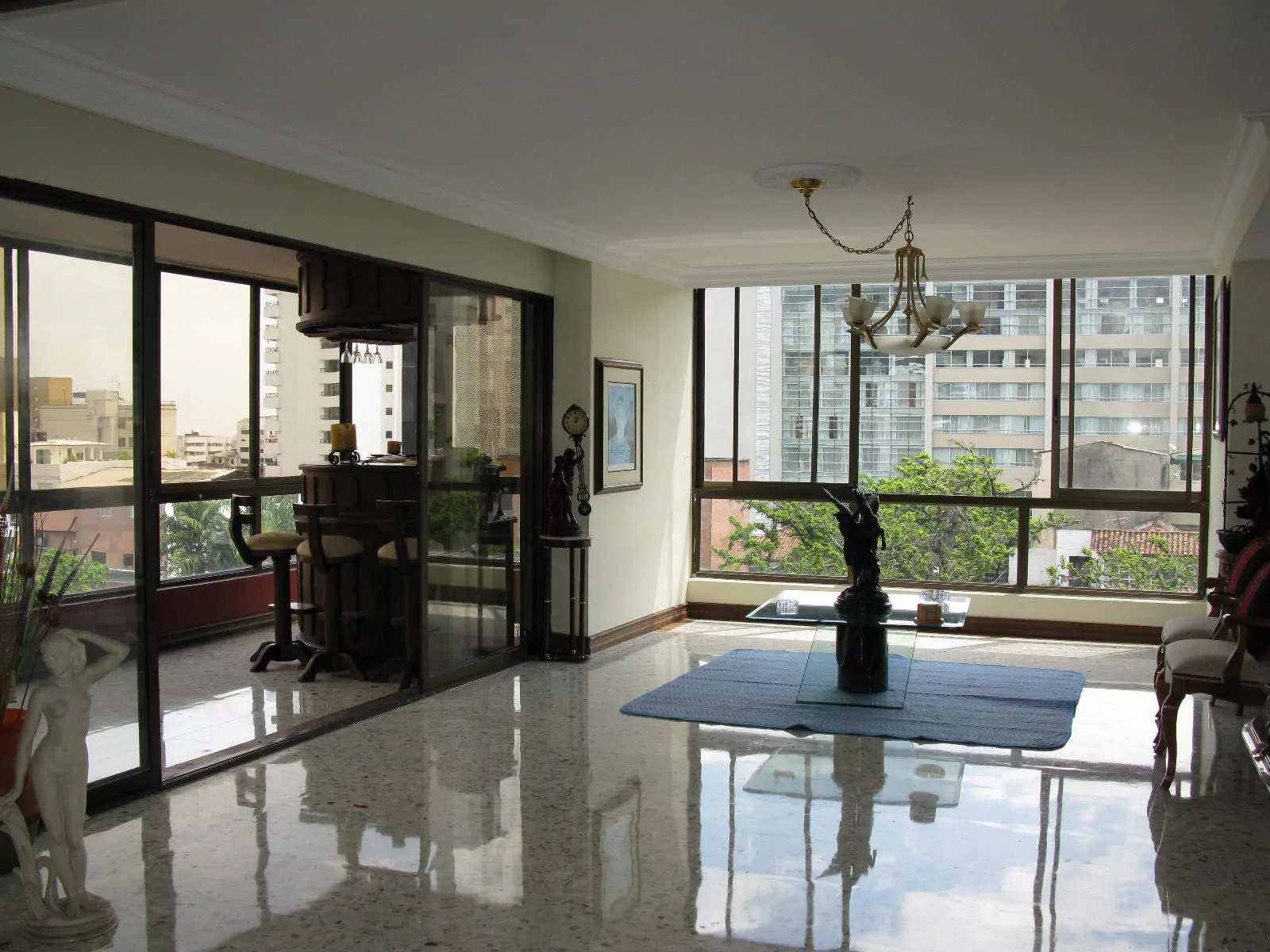 With just one apartment per floor, every room has a view
Let's put all this into perspective. The average price in the neighborhoods I've discussed here is US$699 per square meter, or US$65 per square foot. Today, anything less than US$1,500 per square meter is a real bargain.
Take a look at these comps from around Latin America:
| | |
| --- | --- |
| City | Price per m2 |
| Cuenca, Ecuador | US$987 |
| Panama City | US$2,073 |
| Fortaleza, Brazil (Aldeota) | US$1,309 |
| Medellin, Colombia (El Poblado) | US$1,436 |
| Montevideo, Uruguay (Punta Carretas) | US$2,558 |
| Montevideo, Uruguay (Centro) | US$1,524 |
| Cartagena (Centro Histórico/Castillogrande) | US$3,230 |
| Popayán | US$761 |
| Santa Marta | US$1,895 |
| Bogotá (Rosales) | US$2,571 |
| Cali | US$699 |
Remember that all real estate in Colombia trades in Colombian pesos (COP), so prices vary in dollar terms with the exchange rate.
My preferred real estate agent in Cali is Alba Lucia Polanía, of Coldwell Banker. You can write to her in English at albalucia.polania@coldwellbanker.com.co, or see her agency's website here ( https://www.coldwellbanker.com.co ), also available in English. Alba didn't show me all of the properties I mentioned above, but she's my best contact in Cali.
If you're looking for a large, well-organized expat community, or don't plan on learning any Spanish, Cali is not a good choice for you.
But if you like city living, warm weather, nightlife, restaurants, and cafes—with super-bargain properties and a low cost of living—then Cali may be a great choice for you.
I see a great opportunity in Cali for owning a profitable rental that could generate a handsome non-dollar income. I'll have all the details in a future Overseas Property Alert within three weeks.
Lee Harrison
Editor, Overseas Property Alert
MAILBAG
***
Letters To The Editor
Lee,
I've been to Medellín. You guys keep saying it has near perfect weather but you never mention how often it rains. It rains a lot…too much.
Anonymous
Yes, it does rain. Whenever I use the words "green and lush" with any frequency, you can expect rain. Since Thanksgiving, it's rained an average of once or twice per week. Now (in mid-March) we're getting sunny mornings with afternoon thunderstorms. Historically, May and October are the two rainiest months of the year, while December through March are the driest. But in Medellín, there's some chance of at least a shower almost every day of the year.
Lee,
Which countries don't use the U.S. dollar? I don't want to go to a country that does. I am a British and an American citizen, 60-years-old, and want to live overseas. I have a 10-year-old daughter and would like somewhere that she would enjoy. Any info would be appreciated.
Thank you,
Brenda
The U.S. dollar is the official currency in several countries, including Ecuador, Panama, El Salvador, and East Timor. Other countries—such as Bermuda, Belize, The Bahamas, and Hong Kong—peg their currencies to the U.S. dollar, so buying there may not give you the currency diversity you're looking for.
Still other countries use their own currency, but trade real estate in U.S. dollars; places like Uruguay or Nicaragua.
My favorite dollar-independent countries right now are Brazil, Chile, Colombia, and Spain (with Brazil and Chile also being fairly economically independent). As for your 10-year-old daughter, she'll love any of them.