In 1989, Italian schoolteacher Mauro Morandi was sailing between Corsica and Sardinia when the engine of his catamaran gave up. He washed up on the shores of Budelli—an island that had gone from hosting thousands of tourists a day to being placed under environmental protection. When Morandi showed up, the only inhabitant was the island's caretaker who was preparing to retire. Morandi took the job and has been living the hermit life on pink-sand Budelli ever since.
Now 81 years old, Morandi made headlines recently—not only for being in one of the last corners of Italy that's coronavirus-free… but for being an expert in self-isolation. Living in a former World War II shelter, he spends his days clearing the shores of washed-up plastic, maintaining the pathways, and collecting driftwood that he crafts into sculptures and furniture which he sells to visitors. (That's way more than I've managed to achieve in any of my lockdown days.) Reading and meditation are part of Morandi's daily life… as is a little time on Instagram where he shares images of his natural surroundings with more than 45,000 followers.
Although it does hold some appeal, most of us probably wouldn't want to live the hermit life full time. The islands we'll look at today offer an escape from the fast pace of modern life… but with neighbors and entertainment in easy reach…
In some of these places, you'd be close enough to a big city that it would be easy to stay full time and enjoy a comfortable, active life. Others make for an ideal investment property or vacation escape.
Of course, if you're an artist or writer, the full-time hermit life is always an option…
Faial Island, Portugal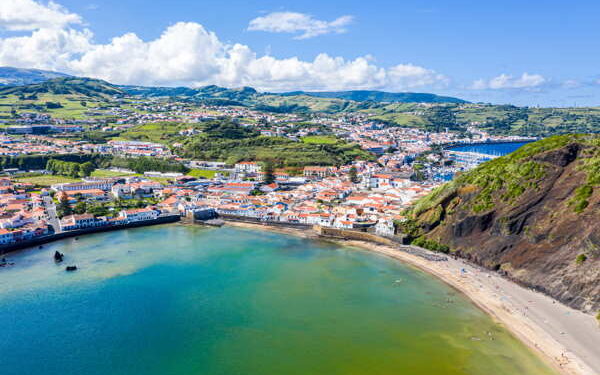 Nine islands make up the Azores archipelago—an autonomous part of Portugal that lies in the Atlantic Ocean. Faial Island, with a population of 15,000, has a dramatic volcanic landscape, sandy beaches, and is a popular yachting destination.
On the west side of Faial, near a small village with little traffic, is this 60-square-meter house with a view to the ocean. The area offers true privacy, but you're within 20 minutes of the city of Horta. The property has a living room/kitchen, one bedroom, bathroom, another small room with independent entrance, and a patio lhttps://lantaislandproperty.com/eading to the garden. The beach is just five minutes away, and within 10 minutes you'll find a coffee shop, restaurant, and small supermarket. Price: 60,000 euros (US$65,675).
Isla Taboga, Panama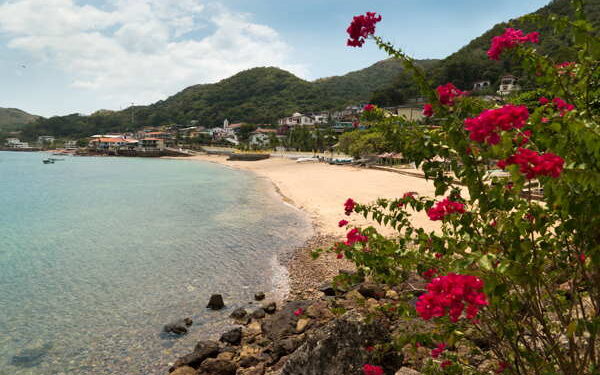 Only 20 kilometers offshore from Panama City, Taboga could almost qualify as one of its neighborhoods. It's close enough that you can enjoy the conveniences of the capital, but far away enough that you're removed from its chaos. Taboga is home to about 1,300 inhabitants: Native Taboganos of mixed origin, Panamanians from the mainland, and about 300 expats (mostly made up of British, Canadians, and Americans).
This three-bed home is situated on a quiet street, not too close to neighbors. It has a kitchen, pantry, living room, dining room, bathroom, laundry room, storage, and balcony. Outside is a terrace, private swimming pool, and large yard. The rooftop offers a 360-degree view over the ocean and mountains. Price: US$250,000.
Caye Caulker, Belize
"Go slow. We have two cemeteries and no hospital" reads a sign on Caye Caulker—the second largest of the Belizean cayes. The island lies 21 miles northeast of Belize City and 11 miles south of better-known Ambergris Caye. Caulker has retained more of the traditional island flavor than Ambergris. Development is slower here and seems to attract a more laid-back type of tourist and resident.
In the neighborhood of Eden Isle, this one-bedroom, one-bath home is built on stilts for a commanding view over the Caribbean. Its style is open-plan living with high ceilings, lots of windows, and Belizean hardwood throughout. Those looking for a greener living solution will appreciate the wind turbine and rainwater catchment vats already in place. Price: US$249,000.
Isla Mujeres, Mexico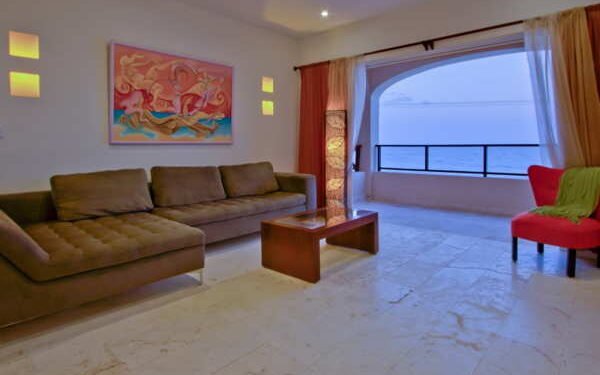 Just 13 kilometeres off the coast of Cancún lies the Caribbean island of Isla Mujeres. The best beaches are in the north—the rest of the island shores are mostly rocky, though popular with surfers, snorkelers, and divers. That said, at just over 4 square kilometres, the island is small enough that you're never too far from anything. At the southern tip, you'll find a lighthouse, the ruins of a Mayan temple, and a sea turtle sanctuary. Isla Mujeres is easily accessible from Cancún via high-speed ferry.
This two-bedroom condo is on the second floor of the Isla 33 complex and has been operating as a successful rental. The unit has a gourmet kitchen with a large dining area and breakfast bar. From its balcony, you can enjoy an unobstructed view of the ocean. The complex has multiple pools, underground parking, and 24-hour security. It's close to restaurants and entertainment and just 10 minutes from the famous white-sand beach of Playa Norte. Price: US$350,000.
Itamaracá, Brazil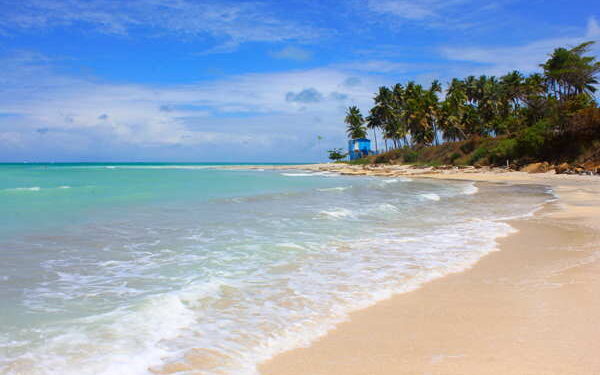 A laid-back island off the coast of Pernambuco in northeast Brazil, Itamaracá boasts miles of sandy beaches, a small, attractive colonial town, and stunning turquoise waters. The beaches are soft-sand, and the waters are warm and calm thanks to a nearby offshore reef that protects the island from the open sea. Covering just under 70 square kilometers, Itamaracá is a popular weekend and vacation destination for mainlanders.
For those looking to make an income overseas, this property would make an ideal guesthouse. With indoor space of 325 square meters, it has 10 bedrooms (including five suites), two bathrooms, a kitchen, pantry, three living rooms, and a living area for service staff. Outdoors is a garden, swimming pool, and sports court. Price: 1.2 million Brazilian reais (US$228,200).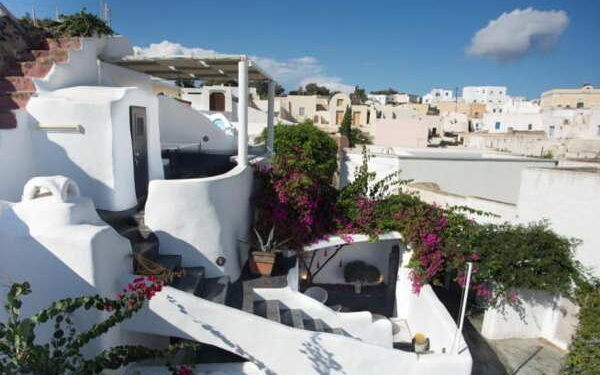 One of the most romantic destinations in Europe—if not the world—Santorini is a draw for couples of all ages and a favorite wedding location. Santorini is made up of a group of five islands, all of which are part of an active volcano. What the islands lack in powder sand (beaches here are a mix of volcanic sand and pebbles), they make up for in their stunning volcanic landscapes surrounded by the clear waters of the Aegean.
What could be more romantic than this renovated cave house? Built into the volcanic rock back in 1929, it's located in the quiet village of Megalochori on the main island of Santorini. The villa has a fully equipped kitchen/living room, two double bedrooms (each with ensuite bathroom), courtyard, and terrace with dining area and heated plunge pool. The village has a good selection of tavernas, restaurants, and shops. The property is just seven minutes from the airport, and Athens is just a 40-minute flight away. Price: 350,000 euros (US$378,200).
Hvar, Croatia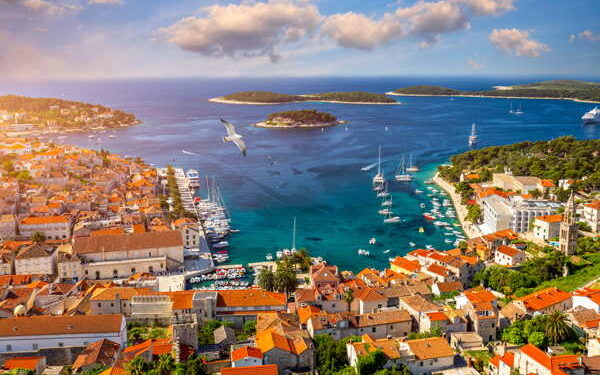 Out of Croatia's 1,200 islands, Hvar is known to locals as the country's "premier island." But it receives plenty of outside praise, too—both Condé Nast and Forbes ranked Hvar on their respective lists of the top 10 most beautiful islands in the world. Its natural beauty is undeniable—pristine sea (some say the cleanest in Europe), dramatic slopes of vineyard terraces, pre-historic caves, narrow stone streets, historic churches, castles, ruins, a UNESCO site—all in a setting of grapes, olives, lavender, and breathtaking hills and coastline.
This house, dating back 600 years, has been restored in a way that enhances its old charm. Covering 95 square meters, It has a kitchen, living room, dining room, two bedrooms on the first floor, a bathroom, a third bedroom in the attic, and a small courtyard. From the roof terrace, you have a view of the Adriatic and the island of Brac. The home has satellite TV, broadband internet, a telephone, and electric heating. Price: 259,000 euros (US$279,800).
Koh Lanta, Thailand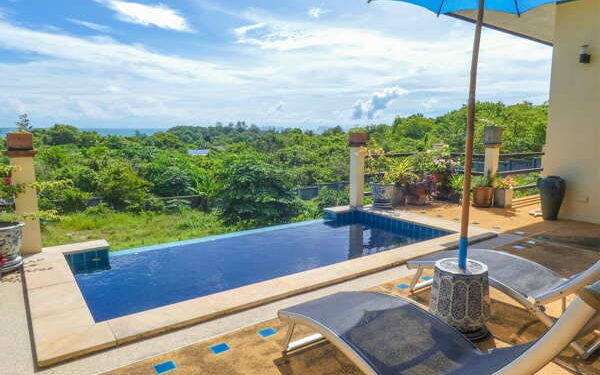 Renowned for its diving and snorkeling, the island of Koh Lanta is located just off the coast of Krabi in southwest Thailand. It has a long coastline with more than a dozen powder-sand beaches, so there's plenty of room on the sand even in high season.
From this apartment in a favorite expat estate, you'll have views over the Andaman Sea. The property has three bedrooms, two bathrooms, an open dining/living area, a fully equipped kitchen, a utility/laundry room, and a private pool. It's in a quiet residential area just 500 meters from Relax Bay. The cosmopolitan area of Long Beach, with its 5-kilometer beach and choice of bars, restaurants, and shops is just a short drive away. Price: 5.8 million Thai baht (US$176,100) via 90-year leasehold.
Menorca, Spain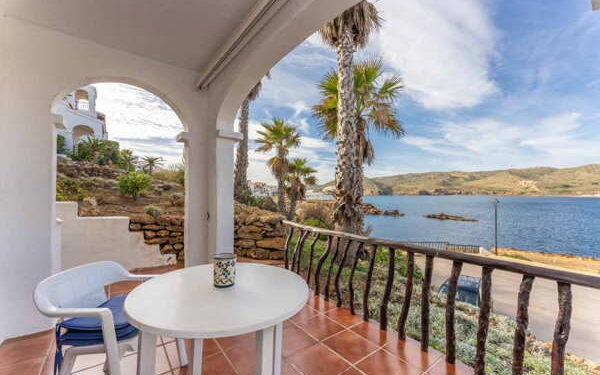 Worldwide, it's the lesser known of the three main Balearic Islands. But little Menorca sees its fair share of European visitors—the United Kingdom and Spain making up the bulk of the numbers. Declared a Unesco Biosphere Reserve in 1993, it's a natural paradise… and boasts both prehistoric formations and Roman archaeological sites.
In a quiet cul-de-sac, within walking distance of the beach, this apartment would make an ideal investment. It has three double bedrooms (all with views to the ocean), two bathrooms, a large kitchen, and a dining room/lounge with doors opening to a covered terrace with sea views. The property is close to bars, restaurants, small supermarkets, and a water park. For more amenities, the island's capital, Mahon, is 15 kilometers away. Price: 240,000 euros (US$259,200).
Lynn Mulvihill