Top Takeaways From The 2023 Global Property Summit
"Be in the market."
Lief Simon kicked off the 2023 Global Property Summit with this advice last week.
In other words, you need to be ready to act when a deal crosses your path… and you need to be able to recognize a deal in the first place.
In case you missed it, the Global Property Summit brought together Lief's international network of contacts and correspondents for three days of intel-sharing and deal-making.
Industry leaders revealed insights about their markets and presented attendees with unique investment opportunities from around the world.
This year's event featured more than two dozen deals, all fully vetted and hand-selected to help attendees achieve diversification and make money.
If you couldn't make it last week, you can still take advantage of everything that those in the room got access to with the recordings of the summit.
Meantime, here's a rundown of my top takeaways…
 #1. Be In The Market
 Lief shared a story about a guy from Tennessee who was looking to make a property investment in Costa Rica…
He spent about four years scouting but never pulled the trigger because he wanted the best possible deal… not the best deal for him today.
Each time he came across something good, he thought he could do a bit better. Eventually realized that the market had passed him by because prices were so much cheaper four years earlier.
Don't be that guy.
You don't want to sit on the sidelines for so long that a couple of years from now, you look back and think, "I should've invested in [INSERT PLACE] back then."
You want to find a good deal—one that fits your portfolio, investment parameters, risk profile, etc.—today.
You always need to educate yourself and do due diligence when investing anywhere, and you should ease into this. Take baby steps… but take a step.
 #2. You Have Options For Financing
 It's not easy to arrange financing with a local bank as a foreigner overseas. Where it is possible, it might not make sense because of unattractive terms (like double-digit interest rates)…
That doesn't mean you don't have options for leveraging your investment capital overseas. The big alternative is developer financing, which was highlighted across all three days of GPS.
Essentially, you pay for the property in stages while the developer gets the cash flow he needs to cover construction costs. If you buy preconstruction, you can usually take advantage of deep discounts as well.
At GPS, attendees heard about multiple opportunities that offer developer financing with favorable payment terms.
Here are a few examples:
Beach bungalows worth US$89,000 in a certain South American country: secure with a 25% deposit and pay the rest over 24 months. Payments are so low that you can put them on your credit card.
Units worth US$150,000 to US$200,000 in a preconstruction residential building in Latin America's top offshore haven: secure with 10% down (less than US$17,000) with developer financing of up 75%.
#3. Overseas Markets Are A Different Beast
Borrowing to buy property overseas is not the only thing that works completely differently than it does in the States…
Multiple listing services, for instance, don't exist in most places. This means that real estate agents only have access to their proprietary listings. If they don't have what you ask for, they show you something else… Whatever they have.
This means extra legwork for you when it comes to shopping for property. You should work with more than one real estate agent. It's the only way to get an idea of everything that's available.
You might be surprised to learn what's included and what's not included in your purchase (or even in your rental). If you're buying construction, the kitchen, for instance, may not come with a stove, a refrigerator, cabinets… the things you expect to have in a kitchen.
Even when buying resale, what you see is not necessarily what you get. You have to negotiate for anything you might want… things like the lighting fixtures, the water heater… even the flooring in some cases.
#4. IRR Vs. Yield
How do you analyze and compare different opportunities? Everyone has their own opinion and strategy when it comes to which financial tools to use.
Lief talks about Internal Rate of Return (IRR), which allows you to compare opportunities that project irregular cash flows over multiple years.
IRR also takes into account zero-cash projects, like preconstruction projects that won't generate rental income for a number of years and agricultural investments, which can also take time to start producing.
We also talk about yield, and net yield specifically, to consider and compare rental investment opportunities. This gives you the most realistic overview when comparing one rental property to another… especially properties in different countries.
Net yield is your net income (in other words, what remains after deducting all expenses—property taxes, rental management fees, utilities, an amount for maintenance and repairs, HOA fees, etc.) divided by your total investment in the property.
Your total investment in the property is more than just the purchase price. It includes things like closing costs, including transfer taxes, attorney fees, registration fees, and any renovation, improvement, furnishing expenses, and more.
Other groups talk about gross yields, which is the gross rental income earned in a year divided by invested capital. This doesn't give you a real picture of your return on investment because operating costs can be considerable.
Management fees can be as high as 25%… even 35% in some markets for a property being rented short-term. That alone could take a 15% gross yield down to 10%.
Currency conversion rates can work for you or against you…
If you make a purchase when the rates are favorable, you lock your home in at that rate. If the rates swing back to historical averages in the future, you could realize a U.S. dollar appreciation in the value of the property.
On the other hand, they can work against you. GPS co-host Lee Harrison gave an example from his time in Uruguay…
"When I first arrived, the Uruguayan peso was at 35 to the U.S. dollar. By the time I left, it was 18 to the dollar, which doubled my expenses. My property tax went from US$700 to US$1,400 based on the exchange rate alone."
Lee couldn't have predicted a change like that. In fact, it's nearly impossible to predict that you're going to make money on a currency transaction in advance.
Being invested in multiple currencies can be a stabilizer in a sea of constant fluctuation.
Right now, the U.S. dollar remains strong by historic standards, and you have currency advantages in key markets. Dollar holders have 46% more buying power in Brazil and 39% more in Colombia than they did five years ago. GPS featured specific opportunities in both countries.
#6. Diversification
 Investing in property overseas can provide income, privacy and tax advantages, low-cost vacations, and maybe even residency perks. We see it as the surest way to build wealth long term.
The big plus on top of all of this is diversification.
Overseas property creates opportunities for diversification in terms of market, currency, type of investment, and type of property. It ensures that you have options, no matter what happens in your home country.
You don't need millions of dollars to create a diversified portfolio. Lief shared how he would divvy up US$200,000 using the opportunities available at GPS to achieve this…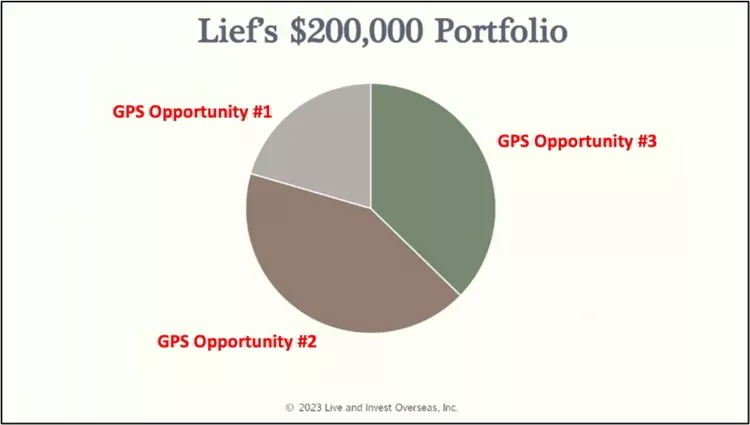 Find out exactly how Lief broke this down with the 2023 Global Property Summit recordings.
Unique, Fully Vetted Investment Deals
Half of GPS is about education; the other half is about opportunity.
The summit is the table where Lief's global network of property scouts present their findings.
Last week, people in the room at GPS got exclusive access to a menu of more than two dozen fully vetted investment opportunities from around the world.
From a European agricultural investment in a luxury food item that projects annual payments over 30 years (that Lief is personally invested in)… to branded hotel residences on a tropical Caribbean island that's ideal for rental but that you can also use yourself… to a hard-money investment in the local housing market of a Latin American country that offers a fixed return of 30% within 24 months…
It also featured some never-before-seen opportunities, like a property investment in the second-most popular European vacation spot that starts at under US$30,000 and offers strong appreciation potential… a low-cost vineyard lifestyle investment (that Lief has a stake in) in South America that comes with a turn-key rental program… and unique European projects for under 175,000 euros, presented by a well-established real estate group…
This year's selection of opportunities is diverse, with something to suit every portfolio and lifestyle objective. Even if you weren't in the room with us last week, you can still get access to these projects with the 2023 Global Property Summit recordings.
Sincerely,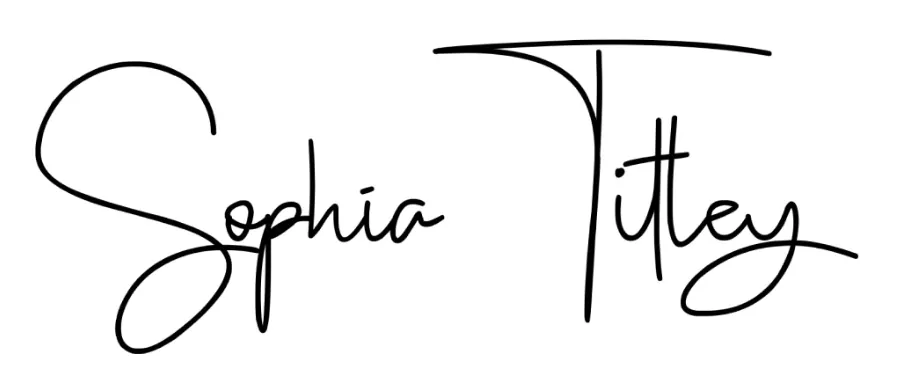 Sophia Titley
Editor, Overseas Property Alert