One of my all-time favorite Christmas movies is "Home Alone." To me, hearing the first few notes of John Williams' "Somewhere In My Memory" is an instant double-shot of Christmas.
I was 13 years old when I first watched Kevin McCallister take on "Wet Bandits" Harry and Marv. And, even then, the star of the show was unmistakable…
The McCallister home.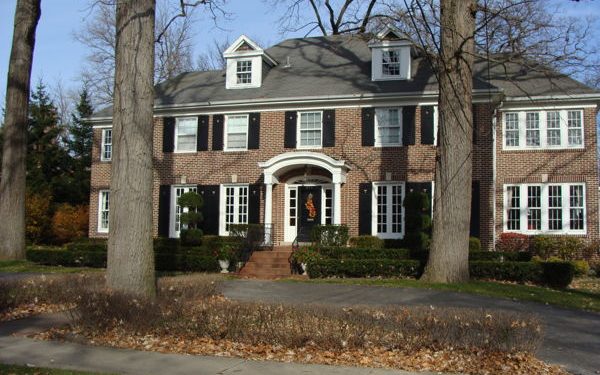 I'll give you Joe Pesci or John Candy either, but I think we can at least agree that the movie would never have been the same with anything less than that 390-square-meter colonial Georgian beast.
It gave me the impression that all Americans lived in homes five times the size of my family's mid-terrace red brick in southeast Ireland—that was, at most, equal to the space of the McCallister's basement and attic combined…
Little did I know that the average U.S. home size in 1990 was a modest 190 square meters… less than half the size of 671 Lincoln Ave., Winnetka, Ill., the real-life address of the "Home Alone" mansion.
You'd think an iconic movie home like this would be priceless. But it seems that even the ghost of Macaulay Culkin's childhood isn't enough of a selling point…
In 2011, 671 Lincoln came up for sale with an asking price of US$2.4 million. After nearly a year on the market, it finally sold for US$1.585 million… or just over US$4,000 a square meter.
How much is the famous home worth today?
Just last month, a similar Lincoln Ave. property sold for US$1.95 million. Applying its square-meter price of roughly US$4,600 would put the McCallister home at US$1.8 million… still well below that original 2011 asking price.
As you look at property in different markets around the world, bear in mind this important lesson inspired by the movies…
Appreciate such things as preserved moldings and parquet floors… a view of the ocean from every room… the rumors that Leonardo DiCaprio was seen around town last week…
But always remember to compare any asking price with current market values. Not the listed asking prices… but actual recent selling prices.
On that note, I'll leave you to return to your Christmas Eve celebrations… and your own favorite holiday movies.
Nollaig Shona to you and yours.
Lynn Mulvihill