Plus: "I Need Help Moving Abroad…" Managing IRAs And Mutual Funds From Overseas
Uruguay's Punta del Este and Chile's Viña del Mar are the most famous beach resorts in South America. I lived in Punta del Este for almost six years and visit Viña del Mar frequently. Both offer an amazing lifestyle and a high quality of life for the money.
Since the cities are both located in economically and politically stable countries—and offer First-World environments—I'm often asked to compare the two. In fact, I started the notes for this article in 2006…
Viña del Mar is the #1 resort in Chile, while Uruguay's Punta del Este is probably #1 in all of South America. (Yes, lots of people from Rio de Janeiro come to Punta del Este on vacation.) Let's take a look at them side-by-side.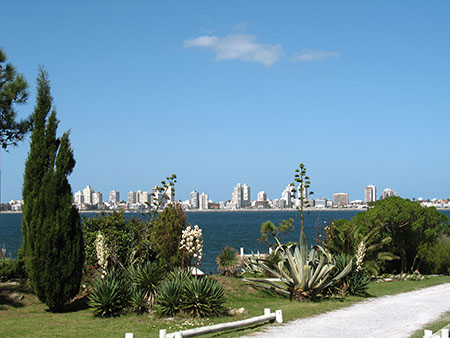 Punta del Este as seen from Isla Gorriti, just offshore
In Some Ways, Punta Del Este And Viña Del Mar Are Very Similar
Both of these popular beach destinations are elegant, First-World resorts in First-World countries. They enjoy
well-maintained roads and have a reliable infrastructure with drinkable water.
Dining and diversion: They both offer a wealth of fine restaurants, plenty of cafés, and exciting nightlife. Punta del Este has a far higher density of these things, but either city will have plenty to offer.
Walkability: Punta del Este and Viña del Mar are both walkable cities. In Punta del Este's Peninsula and Viña del Mar's downtown, you could easily do without a car.
Climate: The weather is similar in both cities. Both have four mild seasons, and neither has ice or snow. Punta del Este is a few degrees warmer in the summer with an average high of about 77°F (25°C). Punta is also a few degrees cooler in the winter with an average high in July of 58° (14.4°C). Overall, the climates are too similar to make any real difference in your choice.
Expat community: Neither city has a large, organized expat community. There are expats in both… but while they may get together on occasion, they otherwise tend to be blended into the community. If you want to hang out with North Americans and speak mostly English, there are better beach resorts out there for you.
Access: Getting to the States is lousy from both Punta del Este and Viña del Mar, both of which are about two hours from their international airports. You'd need to fly to Montevideo or Santiago respectively… about 9 1/2 hours from Miami in both cases.
Crime and safety: Punta del Este and Viña del Mar are both safe cities in countries with honest cultures. I'd give Punta del Este the edge here, because it's small and wealthy… but not enough of an edge to pick one over the other on this criterion.
Rental returns: These are not spectacular in either location right now, so neither is a place to buy strictly for rental income. Gross yields in Viña del Mar will be about 4.7%, while in Punta del Este you might go to 7%. But even in Punta, you'll net less than 5%. Both cities, however, should easily cover your cost of ownership if you choose to rent, with a few bucks to spare.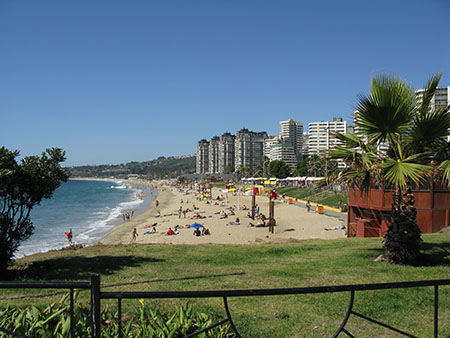 Viña del Mar's popular beach in December
Yet Punta And Viña Differ In Many Important Ways

Image: Punta del Este is more famous and prestigious than Viña del Mar, and it attracts famous people. People are proud to own a home here as they would be on the French Riviera. This tends to inflate the prices, so unless it's important that you see Michael Caine on the beach or bump into Shakira in the grocery store, its notoriety won't be an advantage. The seasonal vacation atmosphere lends Punta a festive atmosphere, which isn't quite the same in Viña.

City services: Viña del Mar is more of a full-service city, with a population of over 300,000. Punta del Este is not what I'd call "full-service" as it's mostly geared toward tourism. Only when considered together with the adjacent city of Maldonado (population 62,000) can Punta del Este be considered to provide a full complement of services. Punta del Este has a full-time population of around 10,000 but receives about 500,000 summertime visitors from around the world, so the seasonal change is far greater than that of Viña del Mar.
Viña del Mar is "open all year," while Punta del Este slows way down in the winter months of June through September, with some businesses closed. I used to love it when the tourists went home, but it'll be a bit quiet for some.

Beaches: The beaches are world class in both cities. But Punta has better beaches and far more beaches with homes within close walking distance. In Viña del Mar, beaches are just one aspect of a large, multi-faceted city. In Punta del Este, they're the main reason most people are there.

English: I found more English-speakers in Punta than in Viña del Mar, at least in my own personal experience… especially in the tourism-related businesses. And among the people, many educated Argentinians and Uruguayans speak excellent English. But you'll need more than just English to enjoy either of these cities to their fullest.

Healthcare: Also good in both cities. But Viña del Mar has more and larger facilities, being a larger city. I was quite happy with the healthcare facilities in Punta del Este, but for major care most people consider going to Montevideo, around two hours away. You'll have more sophisticated care closer at hand in Viña.

Residency: It is easier to obtain residency in Chile than in Uruguay. It's fairly easy to qualify in either country, but Chile's process is faster and easier. Both countries offer a path to citizenship, although Uruguay's can be faster, with one option requiring only three years of residency, compared to five years in Chile.

Cost of living: Viña del Mar has a lower cost of living, especially for dollar holders at today's exchange rates. Your day-to-day costs will be about 25% cheaper in Viña del Mar, except for restaurants, which are 37% cheaper according to Numbeo.com.
You'll Pay Less For Properties In Viña Del Mar, But With Less Inventory
Viña has a more diverse offering of real estate with a larger percentage of homes suitable for full-time living. But for beach properties like the examples below, Punta del Este has far more inventory.
Between the two, I think Punta del Este would be more liquid when it comes time to sell your property.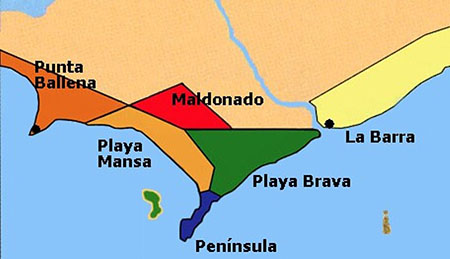 Punta del Este has three major beach areas: the Peninsula, Playa Mansa, and Playa Brava. The beaches are better on the Playa Brava side of the Peninsula, and the waves are bigger. On the Playa Mansa side, the beaches aren't as nice, but the water is calmer. If you're looking for a house for full-time or long-term living, I like Mansa better. I lived on the Brava side, which I believed to have more of a demand for vacation homebuyers and rentals.
I saw a waterfront apartment go on sale for US$7.5 million, and it was only on the market for a week. Luckily, there are more reasonable properties there.
Here Are Some Property Examples From Punta Del Este

On Playa Mansa, a third-floor apartment is available with 88 square meters (947 square feet) of living area, including three bedrooms, two bathrooms, and balcony. It comes with one covered parking space. Built in 1976, the property is being sold furnished, and the building provides a doorman and enjoys water, beach, and dune views directly on the waterfront. The asking price is US$275,000.
On Playa Mansa, ocean-view apartments with two or three bedrooms (and one to two baths) with about 75 square meters of living area sell for between US$195,000 and US$700,000.

On Playa Brava, a 12th-floor apartment is on offer with 100 square meters (1,076 square feet) of living space, including three bedrooms and two bathrooms. The property comes with one garage space. The building amenities include gym, indoor and outdoor pools, game room, sun room, and a 24-hour doorman. The asking price is US$350,000.
On Playa Brava, ocean-view apartments with two or three bedrooms (and one to two baths) with about 75 square meters of living area sell for between US$255,000 and US$490,000.

On the Peninsula, we found a tenth-floor apartment overlooking the famous Plaza de los Artesanos. This 110-square-meter (1,183-square-foot) apartment has water views of both Mansa and Brava beaches. With three bedrooms, two baths, and one garage space, it comes furnished, and the building has security and a swimming pool. Built in 1995, the asking price is US$370,000.
At the Peninsula, ocean-view apartments with two or three bedrooms (and one to two baths) with about 75 square meters of living area sell for between US$220,000 and US$1.1 million.
Here Are Some Property Examples From Viña del Mar
The city of Viña del Mar is the place to be, in my opinion. But many savvy homeowners and investors are heading to Reñaca and Concón to the north, and to Recreo to the south. Here are a few examples.

In Viña del Mar, with 17th-floor views to the ocean, Viña del Mar, and Valparaíso, a 120-square-meter (1292-square-foot) apartment has three bedrooms, two bathrooms, a maid's quarters, and a spacious wrap-around balcony. Located close to shopping and two blocks from the best beaches, the building offers pools, garage parking, and a gym for the asking price of US$588,000 (priced in U.S. dollars).

Also in Viña, a hillside, 80-square-meter (861-square-foot) apartment with panoramic views of Viña all the way to Reñaca includes three bedrooms, two baths, and a balcony. The building, located in a quiet residential area, offers swimming pools, green areas, and covered parking. The asking price is US$122,000 at today's exchange rates (80 million Chilean pesos).

In Reñaca, a 70-square-meter (753-square-foot) condo has two bedrooms, two baths, and an enclosed terrace. The master bedroom, living room, and terrace all face the ocean and coast of Reñaca. The building incudes two pools, gym, sauna, laundry, and garage parking for the asking price of US$175,600 today (115 million Chilean pesos).

Heading south to Recreo, a 95-square-meter (1,022-square-foot) apartment on an upper floor of a hillside high-rise has stunning Pacific views, with three bedrooms, two baths, and terrace. The included garage space has storage, and the building offers an ocean-view gym, 24-hour doorman, indoor and outdoor pools, laundry, event and game rooms. The asking price is US$221,400 (145 million Chilean pesos).
Which City Is Best For You?
Both Punta del Este and Viña del Mar would make an excellent choice for a second home or vacation home. It's mostly a matter of personal choice.
For full-time living, however, I like Viña del Mar because of its larger size and full complement of city services. It's "open all year," so you'll always have plenty to enjoy.
But for a vacation getaway or part-year residence, I'd choose Punta del Este for its beaches, warm waters, and festive atmosphere.
Lee Harrison
Editor, Overseas Property Alert
***
Letters To The Editor
Hi Lee,
I've just read your recommendation of Taganga, Colombia, and examples of places for sale, starting at US$50,500.
I lived in Colombia years ago and know this area well. Are you able to direct me to a trusted real estate agent who can show me these or other deals?
Thanks so much,
Carrie
Canada
The realtor I've worked with in Santa Marta (including Taganga) is Efrain Negrette. He does not speak English, but as a Spanish-speaker, you'll enjoy working with him. You can contact him through his Santa Marta real estate website (https://www.miapartamentoensantamarta.com/).
***
Hi Lee,
I've lived in Minneapolis for 21 years, and I'm ready to get out of the cold. I won't qualify for retirement status for several more years, but envision doing freelance work from a porch with a view of a beach.
While I've seen lots of do-it-yourself checklists, do you know if there are any companies that facilitate the expatriation process, covering real estate, banking, moving, and visa options?
I guess I'm looking for an international relocation consultant or project manager.
Thanks in advance!
Anne
I'm sure someone is offering the service that Anne is seeking… but I'd strongly recommend against it.
The reason is that it's hard enough to assimilate and to hit the ground running with a new life abroad when you do it yourself… if someone else does the work for you, you'll be overwhelmed and lost when you get there.
Live and Invest Overseas offers a course, called "52 Days to Your New Life Overseas." This course (I've taken it) not only gives you the "how-to" info, but it also covers the underlying thinking behind each step… as well as some of the problems you'll face and how to manage them.
I think that if you take the course, you'll land in your new country with confidence… if a project manager packages you up and sets you down in a new country, your chances of settling in there are really diminished.
And you may also be interested in attending the Retire Overseas Conference. You'll learn about 20 countries and be able to speak directly with dozens of people who have already made the move.
***
My brother moved to New Zealand where he has established residency. He has retirement funds (IRA) with Charles Schwab. He was recently advised that since he no longer resides in the U.S., they will be closing his account.
Upon researching this, he found most major brokers (Merrill Lynch, etc.) have similar rules or policies.
If he simply withdraws his money, he faces significant taxes. Does he have any viable options for these funds?
Jim
I called Charles Schwab about this issue, and they got back to me this morning. First, they said that you may keep your Schwab IRA. When moving abroad, they need a letter from the account holder stating that they're now living overseas—one letter for each account holder—and then you can keep it.
There are however, restrictions on the purchase of mutual funds while living abroad, in IRAs and other accounts… from any broker. This is an old restriction that has only recently been enforced (post-FATCA) by virtually every fund company and broker. So as an overseas resident, you may trade equities and ETFs, and sell mutual funds… but you can't buy mutual funds.
The restrictions were based on two issues. One is that mutual funds may make tax-treaty claims in other countries that require them to certify that all investors live in the United States. The other is that it's illegal to solicit overseas business for SEC-registered funds (including to U.S. expats), since this could easily violate the host country's laws.
The easiest fix is to maintain a U.S. address as the mailing address for your brokerage accounts. (This is my advice, not Schwab's.) I'd do this for credit cards, too. If you don't have a property in the States, use the address of a parent, child, or sibling.
Have a question? You can write to Lee here.