Lush Forests With Pacific Sunset Views And Luxury Living 
My earlier report looked at the city of Puerto Vallarta (PV), including its famous Centro and Romantic Zones. This is the most popular area of PV, and it's perfect for some expats and entrepreneurs… but it's not for everyone. Some will find it too noisy, bustling, and touristy to provide the atmosphere you may be looking for.
But outside the town proper, situated in a thick, tropical forest, you'll find cooler temperatures and a peaceful, relatively tranquil setting.
Head South From The Romantic Zone For Peace And Tranquility
The areas south of the Romantic Zone are collectively known as Vallarta South, which includes the prestigious areas of Amapas, Conchas Chinas, and Mismaloya. This area is known for its treed, quiet setting, cooler temperatures, and luxury properties… not to mention some of the best views I've seen anywhere, at any price.
Just to refresh your memory, here's another look at the area map I used earlier.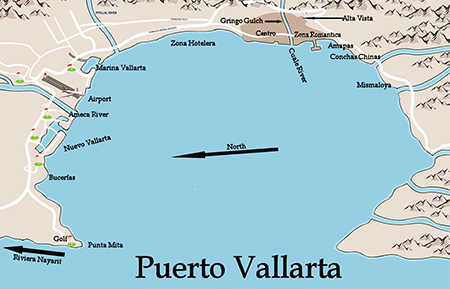 Puerto Vallarta offers different sectors with different lifestyles
Amapas lies just south of Puerto Vallarta proper, between Alta Vista to the north and Conchas Chinas to the south. It's in a lush, green, almost-jungle setting, and the sharp hillside makes for some dramatic views.
This area is still easily walkable to the Romantic Zone, with its restaurants, cafés, and amenities. In mid-January I found this a pleasant walk… but that won't be the case in July's heat and humidity. You'll want to take a taxi, at least for the uphill walk back from town.
Amapas is growing quickly, and one broker claimed that it's easily the most active area for foreign property buyers at this time. People come for the peace, quiet, the lush setting, and the views… within walking distance of the bustling downtown.

 For a real taste of luxury, I have to show you this beautiful, seventh-floor condo in an upscale development. It has two large bedrooms, with a possible third (now being used as a TV room). The huge terrace and marble floors are awesome, and the finishings in this unit are completely first-rate in every way.
If you want to know that you're working with a cut-no-corners developer, check out the gym… it's the first thing they skimp on. The gym in this place is better-equipped and better-kept than the one I pay to belong to.
Check out this photo, courtesy of Wayne Franklin of Tropicasa.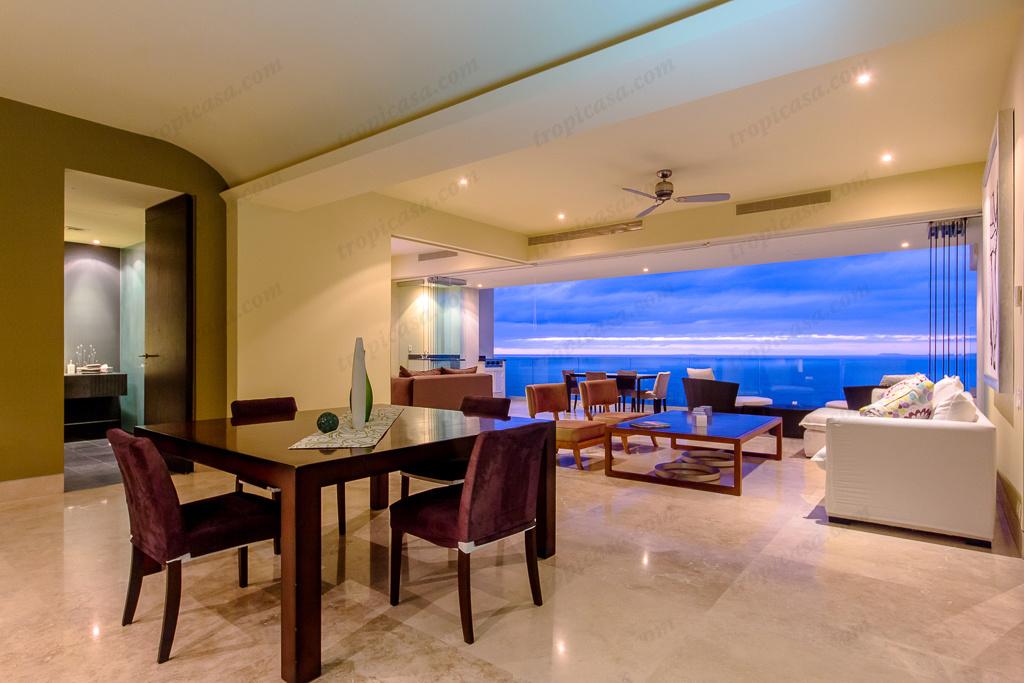 Just five minutes from Centro, the asking price is US$625,000.

 Also in Amapas, I saw a two-bedroom unit with (again) amazing views at a lower price. Each bedroom has its own private bath (there's a guest bathroom, as well) and the condo has a laundry room and an immense kitchen.
Fully furnished and still an easy walk to town, the asking price on this one is US$289,500.
Conchas Chinas is one of the most upscale sectors of PV. Properties here are relatively expensive, with condos starting at around US$300k, and single homes going into the multi-million dollar range. Many of the properties are vacation homes that are unoccupied most of the year, and the homeowners are mostly Canadian and American, with a few wealthy Mexicans, as well.
Conchas Chinas is divided by the highway that runs southbound out of PV. The uphill side is almost a rain forest setting, while the lower side has some nice luxury properties at or near the beach.

 In the lower section of Conchas Chinas, there's an old-style, two-bedroom, two-and-a-half-bath condo on the market, with a generous 173 square meters (1,866 square feet) of living area, on two levels. This is a great location with ocean and pool views, and a 2-minute walk to one of the best beaches in town. It's a small building of only six units, and the asking price is US$300,000… completely furnished.
This is an inexpensive offering in a prestigious area. I saw a number of listings here for upwards of US$700k, so the sky's the limit if you'd like a more luxurious property.
Mismaloya was my favorite setting in Vallarta South. It took almost 20 minutes to drive down from PV, but it feels much more remote than that. It's cooler here than in PV, I'm told, by almost 10°F (about 5°C)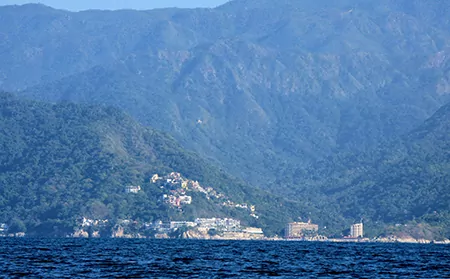 Mismaloya feels like it's at the end of the line. There's a small, attractive village here that seems to be home to a few expats. But what really got my attention were the magnificent properties hidden away in the lush, hillside forest.Mismaloya is where they filmed the 1964 movie "Night of the Iguana," with Richard Burton and Ava Gardner (Elizabeth Taylor was scandalously on the set with Richard Burton but not in the movie). It was the film that put Puerto Vallarta on the map.
Properties are fairly expensive here, as well, and the local population is mostly Canadians and Americans.

 On the beach of Mismaloya, I did come across a reasonably priced property, part of the Jolla de Mismaloya complex. It's a large, three-bedroom, three-bathroom condo with wide coastal views, beach access, and noticeable breezes. The complex offers a heated pool, off-street parking, concierge reception desk, elevator, gym, and gardens. Maid and laundry services are available. This furnished, 170-square-meter (1,828-square-foot) condo has an asking price of US$265,000.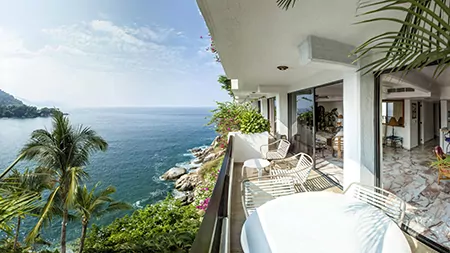 The city of Puerto Vallarta has a lot going for it, although many of the city's amenities are things you can find at other places in coastal Mexico… and I could argue in favor of a number of them.
Is Vallarta South For You?
But one thing you won't find elsewhere is the large inventory of elegant, hillside condos and homes, tucked away in a thick forest—with amazing Pacific and sunset views—within such an easy distance of town… maybe within walking distance of town.
If you'd like a quiet, wooded setting with PV's amenities close at hand, then Vallarta South may be right for you.
Lee Harrison