"The coast of Abruzzo, Italy, is anything but monotonous."
I'm quoting native Italian and Live and Invest Overseas colleague Monia Di Guilmi, who has a real passion for the area on the Adriatic Sea she calls home. In fact, I so loved the story she shared with me about the rickety fishing huts dotting the beaches, I had to share it with you here.
First, a little background about this stunning and varied stretch of coastline…
Along the Abruzzo coast you'll encounter flat sandy beaches geared for tourists where you can rent beach umbrellas and deck chairs near bars and restaurants that offer tasty treats throughout the day and into the night. With lifeguards to keep you safe, you'll find all types of entertainment including beach volleyball, live music, dance lessons, and sporting activities.
But if you prefer a quiet spot to relax while listening to the placid waves of the Adriatic Sea, the Abruzzo coast also offers solitary, wild beaches where you can spend a laid-back day walking the dog or reading a book.
The Abruzzo coast also has dramatic scenery with high cliffs and pebbly beaches of unique beauty. The sea is mild and perfect for swimming. In the summer it reaches 28°C (more than 82°F) so you can swim from the end of April to the beginning of October.
The Trabocchi Coast 
One of the most singular areas on the Adriatic is the Trabocchi Coast—Costa Dei Trabocchi—on the southern edge of Abruzzo, Chieti province. Beginning in Ortona and ending in San Salvo, this 70-kilometer (43.5 miles) coast is characterized by trabocchi, fishermen's stilt huts. 
Historically, these lodges were used by fishermen to avoid deep waters and collect various fish, like anchovies, sardines, sea bream, and sea bass. Using an ancient technique, fishermen lower large fishing nets from the huts to the sea, then leave them for a certain period of time (approximately an hour or two), and when they lift the net the day's catch is entwined in it.
Romance On Stilts
Nowadays some of the trabocchi offer you the extraordinary opportunity to dine on freshly caught fish while seating in the original stilt hut. The atmosphere is romantic, especially in the evening. Dozens of bulbs light the hut, its floor gently moves with the rhythm of the waves while the moon shines off the calm sea.
The fish is cooked in a simple, traditional way, served with local white wine… usually a Pecorino or Trebbiano d'Abruzzo. Dinner in a trabocco, fresh fish and superb local wine, costs around 50 euros (US$58) a person… which some may consider pricey, however, the atmosphere makes for an unforgettable evening.
Monia recommends booking your dinner in advance, because the space in a stilt hut is limited. Also, try to arrive a bit early to enjoy watching the sunset on the Adriatic Sea.
As you travel along this stunning coast you'll find diverse landscapes and one-of-a-kind beaches, from the sandy and low beaches of Ortona, Vasto, and San Salvo, to the scraggy beaches in Fossacesia and Torino di Sangro, as well as high and rocky coastlines in San Vito Chietino and Rocca San Giovanni.
Abruzzo offers one of the highest number of Blue Flag beaches in Italy. A "Blue Flag" bespeaks the beach's high environmental quality standards. Also, in 2015 the Trabocchi Coast was declared a UNESCO World Heritage Site.
Beautiful Properties To Discover In Southern Abruzzo 
The Trabocchi Coast is an excellent location to buy property for investment, vacation, or retirement purposes. Here are a few interesting options currently for sale, near this shore:
Torino Di Sangro 
This large palazzo dates back to the Middle Ages… the villagers claim the foundation is 900 years old. Over a 12-year period, an American couple completed the latest of several restorations to achieve a distinct mix of classic Italian character and American modern comfort.
Among the four stories you'll find impressive vaulted ceilings, exposed bricks, and outdoor patios with sitting and dining areas cradled in natural caves. On the ground floor there's an airy master bedroom with two balconies and a fireplace, while the next floor offers larger bedrooms, some with barreled ceilings,  with balconies along with a small kitchen, bathroom, and entrance with original flooring.
The top floor features a second kitchen that opens directly into a panoramic terrace, a large bedroom, and another bathroom. The terrace enjoys a fantastic view of the Adriatic Sea, the Majella mountain, and nearby hills scattered with vineyards and olive trees.
Each floor has its own entrance, so the house could be used as a large family house, an Airbnb, or rented as self-contained units. Located only 7.2 kms (4.5 miles) from the Trabocchi Coast, you can be the next owner of this 306.5-square-meter (3,300-square-foot), partially furnished property for 320,000 euros (US$370,500).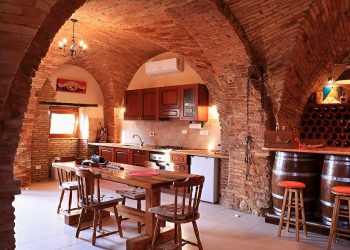 Luxury Property Near The Trabocchi Coast
This property is situated on the outskirts of Torino di Sangro along the Trabocchi Coast, only a five-minute drive from the town center or the beach.
The property contains two buildings measuring 200 square meters (2,153 square feet) each. The main building, the Hazelnut House, has two floors with a large kitchen that opens to a spacious porch perfect for outdoor dining. The living room features vaulted ceilings, exposed bricks, and a fireplace. Upstairs has two large bedrooms and two bathrooms. Both bedrooms open to a panoramic terrace facing the garden.
Next to the Hazelnut House is the Fig House, featuring three self-contained units currently being used as a bed-and-breakfast and short-term rentals. Each space offers a large kitchen, living room, two large bedrooms, two bathrooms, and a private porch or terrace where you can enjoy an al fresco meal. With independent entrances for each unit, several families could live on the property but not be in each other's way.
All living areas have been lovingly restored using reclaimed materials to the effect of blending into the surrounding landscape. The properties are sold fully furnished.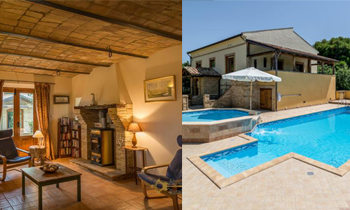 The property boasts a beautiful garden with mature trees and manicured lawns. Specialty items include a paved patio, large swimming pool, barbecue area with giant chess board, outdoor kitchen, boules court, and a large, flat lawn measuring 5,000 square meters (over 53,800 square feet). The land also enjoys an orchard with olive, orange, grapefruit, apple, and pear trees.
All told, the estate consists of 7 bedrooms, 4 kitchens, 8 bathrooms, 3 sitting rooms, and 5 terraces. This luxury property is listed at 770,000 euros (US$891,500),
Casalbordino
A three-story palazzo in the historic center of Casalbordino is a short walk from bars, shops, and restaurants. Near a pedestrian area and a small, quiet piazza, it was fully restored in 2013.
The main entrance opens to a large room with vaulted ceilings and exposed bricks. A wide marble staircase leads to the first-floor living and dining areas where two arches separate vaulted ceilings made of exposed, polished bricks. It also has a modern kitchen, separate pantry, and half-bathroom.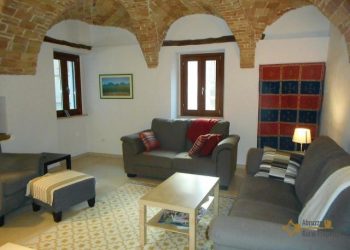 Climbing the stairs past a Juliet balcony, the second-floor landing contains a study area, two large master bedrooms, and a bathroom with a large shower. The bedrooms have air conditioning and one of them opens onto a balcony overlooking the piazza.
On the third floor, walk through large French doors to a private patio (currently used as an exercise studio). Above it, from an unfinished tiled terrace you can enjoy wonderful panoramic views. A pleasant mix of modern features and old character, this home is listed at 175,000 euros (US$202,600).
Of course, photographs don't do these properties justice. To see these homes in person, click here to reach Monia—our preferred, bilingual Abruzzo real estate agent who'll be happy to help you find your perfect Italian dream home.
Wendy Howarter